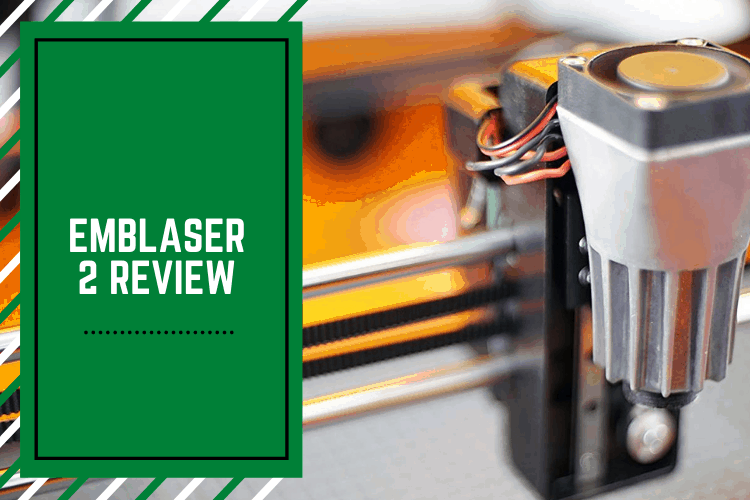 With this in-depth Emblaser 2 review, you will know by the end if you should buy this laser cutter and engraver.
Having a laser cutter and engraver is no longer something that people wished they had or could afford. It has turned into a must-have piece of equipment that isn't out of the financial reach for most people. The Emblaser 2 is made by Darkly Labs who are based in Melbourne, Australia. With a laser cutter and engraver at home, you can use it for a variety of DIY projects.
Let's get straight into our Emblaser 2 review where we'll look at its different features, pros, and cons as well as some potential alternatives.
Key specifications of Emblaser 2 laser cutter and engraver
You can find the key specifications of the Emblaser 2 laser cutter and engraver below.
Overall Dimensions
540mm x 720mm x 200mm
Build Volume
500 X 300 X 50 mm
Laser
Laser Diode, 5w
Cooling
Air Cooled
Connectivity
WiFi, USB
Software
LightBurn (Windows, Mac OS, and Linux)
Warranty
1-Year Limited Warranty

3-Year Warranty on Laser Diode

Latest price
Click here find the latest price
Core features of Emblaser 2
A laser cutter and engraver opens up many possibilities for your DIY projects at home. Adding one to your collection of tools is no longer a dream for most people and it isn't going to cost the earth either. While they can often be a bit more expensive than many other tools that you can buy for home projects, the Emblaser 2 was created to offer an affordable option. This means that most people can afford to buy one.
So, what are the core features of this laser cutter and engraver?
Automatic Laser Height Control
The Emblaser 2 comes with LightBurn which is a well-known piece of software that is used with many laser cutters. It is available for Windows, Mac OS, and Linux.
When used with the Emblaser 2, it sets the height and offset automatically and the software makes adjustments as it sees fit. This is a really handy feature of the Emblaser 2 and helps to ensure accurate engraving and cutting across a wide range of different materials.
Class 1 Solid State Diode Laser`
The Emblaser 2 has a diode laser and comes with a 445-455nm wavelength. 5w is the average radiant power of this laser cutter and engraver too.
It is actually very powerful and offers a safer and more affordable alternative to CO2 laser cutters. There is a 500 x 300 x 50 mm build volume too.v
While it isn't the most powerful laser cutter and engraver out there, it offers a good level of power and precision for the price. With a width of 100-150um when it comes to the precision of the light means you'll get accurate cuts that are even too.
Safe to use
If you are a bit worried about using a laser cutter and engraver you'll be glad to know that the Emblaser 2 is a very safe machine to use.
The laser doesn't automatically turn on when you power up the machine. There is a laser enabling switch that you need to press. This can be turned on and off whenever you want and it also won't come on when the lid is open. You'll also find a fire safety system that alerts you if the material being engraved or cut catches fire.
You still take the necessary safety precaution when using the Emblaser 2 and this includes investing in safety gear as required, but for first-time users and experienced engravers, it is a safe machine.
Automatic Laser Optic Calibration
Through the powerful LightBurn software, the Emblaser 2 has automatic laser optic calibration.
What this does is it sets the lens with the best focal length and it achieves this without having to use any additional fixtures or parts. Not only does it help with having accurate engraving and cutting but it really adds to how easy the Emblaser 2 is to use.
One of its key selling points is ease of use especially for beginners and the automatic laser optic calibration is a big part of this.
Supports a wide range of file formats
The Emblaser 2 and the LightBurn software that you get with this laser engraver and cutter is compatible with a large number of file formats. This opens the doors to be able to use the Emblaser 2 more widely and it also contributes to how easy it is to use.
You shouldn't need to convert file as it supports:
.ai – Adobe Illustrator
.pdf – Adobe Portable Document Format
.dxf – Drawing Exchange Format
.svg – Scalable Vector Graphics
.bmp – Bitmap
.jpg/.jpeg – Joint Photographic Exports Group
.png – Portable Network Graphics
.gif – Graphics Interchange Format
.tga – Truevision
Camera and WiFi connectivity
Two really good features of the Emblaser 2 is the fact that it comes with a camera and it also has WiFi connectivity as well.
The camera allows you to keep an eye on the work that the laser engraver is doing remotely if you want to. It means you don't necessarily need to be standing right beside the Emblaser 2 the whole time that you are using it – although we would recommend that you don't leave it unattended for a long period of time.
Its WiFi connectivity is great as well. It means you can connect several devices to it and there are also USB connections available too.
How does the Emblaser 2 perform?
Overall we have found that the Emblaser 2 is a powerful laser cutter and engraver that does a really good job.
It is a handy tool to have for a wide variety of DIY projects and the workflow is very intuitive. The machine is easy to use overall which is great if you aren't particularly experienced in using this type of machine.
The presets that come with the software especially in relation to using different materials as well as the automatic calibration further adds to its usability. It helps the Emblaser 2 perform at the highest level because you have most of the settings already in place. If you are new to laser engraving and cutting you don't need to spend a lot of time setting things up. While there is a bit of a learning curve it isn't huge.
We found the results very consistent, engraving, and cutting of high quality and it is a very precise piece of kit as well.
Pros of Emblaser 2
Here are the things we liked most with the Emblaser 2.
Ideal for beginners
The Emblaser 2 is easy to use. Even if you haven't operated a diode laser cutter and engraver j? before you will be able to use this one without any problems. There is a learning curve like most machines – such as power tools – but it isn't a large one. The presets and straightforward software with intuitive workflow means you'll pick up the ins and outs of the Emblaser 2 quickly.
Safety is a key component2
A big pro of the Emblaser 2 is that it is safe to use. You need to press a switch to turn on the laser so it won't automatically turn on when you power up the machine. It also won't turn on if you have the lid open. While experienced users of laser cutters and engravers might be comfortable using this machine anyway, new users will be safe in the knowledge that it has these additional measures in place.
Good range of presets and LightBurn software
The LightBurn software that you get with the Emblaser 2 is very powerful and straightforward to operate as well. It features a range of presets for whatever materials you are using and the automatic adjustments and calibration are great features too.
Camera and WiFi
The onboard camera allows you to keep an eye on how your cuts and engraving process is progressive remotely. While we wouldn't advise not being next to a laser cutter for a long period of time, it is a handy feature if you need to do something else quickly. The WiFi is also a great addition so you can connect various devices and it provides a nice alternative alongside USB connectivity.
Supports many file formats
The Emblaser 2 supports a wide range of different file formats including .ai, .pdf, .dxf, .svg, .bmp, .jpg/.jpeg, .png and more.
Cons of Emblaser 2
There are some downsides to the Emblaser 2 that we haven't yet touched on in our review..
The laser could be more powerful
While it is a diode laser, it could be a bit more powerful than 5w and for the price you are paying, there are perhaps more powerful lasers out there. Don't get us wrong, it is fairly affordable for what it is however the Emblaser 2 certainly isn't the most powerful laser engraver and cutter out there.
Support could be a bit better
Another downside to Emblaser 2 is that getting help if something goes wrong could be quicker. There are various options that you can use to get in contact with Darkly Labs – they have a support section with tutorials and an active community – but the response times from Darky Labs Support were a bit slow. Just something to keep in mind should anything ever go wrong with the Emblaser 2.
Are there any alternatives?
An alternative laser engraver that is in and around the same price as the Emblaser 2 is the TEN-HIGH 40W Laser Engraver.
It uses a C02 laser as opposed to the diode that the Emblaser 2 has, however, the build volume is close to the Emblaser. It features an engraving speed of 30mm per minute and it can also cut through a variety of materials such as plywood, acrylic, felt and various fabrics. It is fairly easy to use and it is ideal for a desktop laser engraver.
The TEN-HIGH 40W Laser Engraver isn't a bad machine at all and if you want a CO2 laser that is almost the same cost as the Emblaser 2, this is a fine choice to go for.
If you want a slightly cheaper option than the Emblaser 2 and also one that uses a CO2 laser like the TEN-HIGH, go with the Ruida Controller 40-50W CO2 Laser Cutter & Engraver.
It comes in a bit less expensive than the Emblaser and it features a 400 x 400 mm working area with a 40-50w laser depending on what model you choose. The Ruida Controller 40-50W CO2 Laser Cutter & Engraver has a water cooling protection system and is compatible with various software which includes Coreldraw.
It is a bit more 'no-frills' than the Emblaser 2 but if the cost is an important factor and you do want to save a few dollars, it is a decent option that will do what you need it to.
FAQs
Final thoughts
The Emblaser 2 is an affordable desktop laser cutter that could be more powerful but it's still a good machine Overall the Emblaser 2 is a good device that cuts and engraves a wide variety of different materials.
It uses a 5w diode laser and while we would have liked it to be a bit more powerful, it still does a decent job. There are many things that we do really like about the Emblaser 2. This includes the automatic laser height control and the laser optic calibration. Combined with the LightBurn software and the various presets that are available, it makes this a very straightforward machine to use.
Safety is a big selling point with the Emblaser 2 as well. It has several good safety features which includes the fact that the laser doesn't automatically turn on when you power it up, and it also won't turn on when the lid is open.
For the price the Emblaser 2 is affordable. It essentially does what you need it to do. It does fall down in a few areas. The aforementioned laser could be a bit stronger and the response when you need support could also be quicker.
So, is it worth the money?
We think yes.
It could be better in some areas and you can get a better laser cutter and engraver if you want to pay some more money. However, as an affordable option that is easy to use especially for beginners the Emblaser 2 is worth it.
Read More: