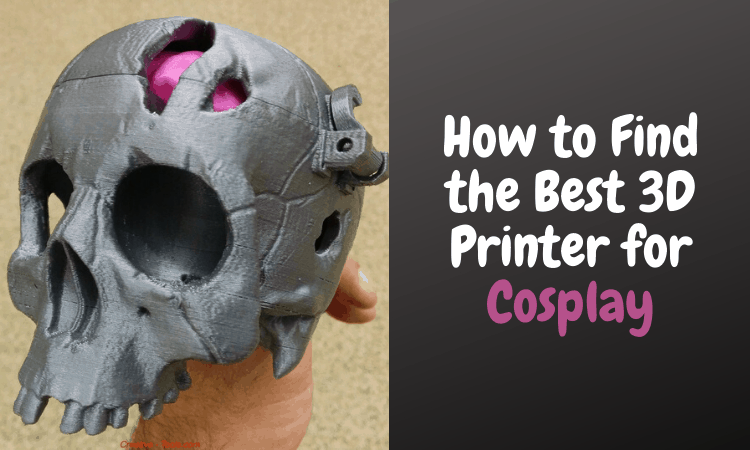 Cosplayers are a passionate bunch. They are willing to spend a lot of money to come up with bigger, better, more elaborate, and more intricate costumes at every cosplay event. Money.com reports that some enthusiasts spend more than $1,000 on one costume alone. What's more, around three out of four cosplayers buy anywhere from one to four costumes a year.
The thing is, it is rather challenging to find cosplay costumes at retailers.  For some people, they have the option to buy from a costume or props maker. Others prefer to use 3D printing for their cosplay needs. And with all the choices out there, we can understand how daunting choosing a 3D printer can be.
How to find the best 3D printer for cosplay?
You will need to consider the building capacity, filaments supported, and price of different 3D printers for you to decide on the best one for your needs.
If you're new to cosplaying or 3D printing, don't worry, we will lay it all down for you to easily understand what you need to look for.
These are the best 3D printers for cosplay in 2020:
Ultimaker 2 3D Printer [Best Overall]

Monoprice Maker Select Plus

[Best Affordable]
Raise3D Pro2 Plus [Best Dual Extruder]

Dremel Digilab 3D20 Idea Builder

[Best Fully Enclosed]
Anycubic Photon [Best Small Format Highly Detailed]
But First, What Are You Printing?
The first rule of any purchase is to know what you're going to do with it. With 3D printers, it helps to know what kind of items you intend to create. You should be able to answer these questions:
How big is the design?
How durable should it be?
Where are you going to use it?
Once you have a clear idea of the things that you are going to print, you can then check out what types of 3D printers you will need for your cosplay costumes and props. To choose the best one for your needs, you will need to consider the building capacity, the filaments that the printer supports, and the price.
Build Capacity: The Size of Prints You Can Produce on a 3D Printer
Cosplay costumes are wearable, so you probably need a 3D printer that has a large build volume (print volume). Unfortunately, most home 3D printers can only handle smaller build sizes. Buying a 3D printer with big build sizes means that you have fewer welds in your cosplay costume. The fewer welds that you have, the more durable your costume or props will be.
There are, however, some options, such as the ADIMLab Updated Gantry Pro 3D Printer, which can handle maximum build sizes of 12.2 by 12.2 by 16.1 inches. The ADIMLab 3D printer has a lattice glass platform and comes almost wholly assembled. It can handle different kinds of plastic, soft rubber, metal, and other types of materials.
People who own this 3D printer likes the fast build times, the affordable price, and the excellent print quality. The technical and customer support is also a plus, while others note that it is easy to use. This printer sells for less than $400, making it one of the most affordable 3D printers that can handle big builds.
You can also consider the Sindoh 3DWOX DP200 3D Printer, which sells for significantly more at around $1,300. This printer, however, has a smaller build size at 7.9 by 7.9 by 7.3 inches. What makes it pricier are the advanced features like the embedded camera that allows you to view what is being printed from your laptop, smart devices, or PC. It also has a touch screen menu as well as WiFi connectivity.
Another option you have is the Creality CR-10 V2 3D Printer, which sells for less than $550. It can handle build volumes of up to 11.8 by 11.8 by 15.7 inches. This easy to use 3D printer has a user-friendly interface and has rapid prototyping features. It's tough and durable with its all-metal frame plus it has excellent print quality.
Small Build Capacity for Details
However, if you are planning to use your 3D printer for the fine details, check out the home 3D printers that can do the job but are generally more affordable. For example, there's the ELEGOO Mars 3D Printer Liquid Resin which sells for less than $300.
Even at that price, you can create intricate and elaborate designs with your prints. The printer has a 2,560 by 1,440 2K high-definition layer resolution. It's also quite fast, printing at 22.5 millimetres per hour. That's equivalent to printing a 30-megabyte STL 3D model in just one minute. You can print objects as large as 4.7 by 2.7 by 6.1 inches.
The 3D printer uses an industrial steel ball design that makes it easy for you to use. It also features a large touch screen that allows for easy and quick operation. Some of the designs you can pull off with this 3D printer are found in this video:
Another 3D printer that you can buy is the ANYCUBIC Photon UV LCD 3D Printer, which is highly praised for its superior print quality. This printer is best for small builds up to 4.5 by 2.6 by 6.1 inches (also available with liquid resin additive manufacturing capability).
If you have any need for highly detailed costume parts, you would want this printer's high accuracy, smoother quality, and speed. You can also print several models on one build plate without taking up too much time.
How much detail is possible with the Anycubic Photon to 3D print cosplay? See it for yourself:
Filament Type
When creating a 3D printed cosplay costume or prop, you would probably need to print in different colours and filament types to achieve the look that you want. The type of filament you use is going to affect the durability or strength of your cosplay costume, parts, props, or armour.
Filament Type
PLA
ABS
PETT
TPE
Nylon
PC
Strength
High
High
High
Medium
High
Very
Flexibility
Low
Medium
Medium
Very
High
Medium
Durability
Medium
High
High
Very
High
Very High
Easy to use
Yes
Medium
Yes
Yes
Medium
Medium
Print temperature range (

°C)

180 – 230
210 – 250
220 – 250
210 – 230
240 – 260
270 – 310
Print bed temperature range (

°C

)
20 – 60
80 – 110
50 – 75
30 – 60
70 – 100
90 – 110
Shrinkage/warping
Minimal
Yes
Minimal
Minimal
Yes
Yes
Soluble
No
Yes
No
No
No
No
From this table, you will find that only ABS plastic is soluble: you can dissolve it in acetone, ester, or ketone. If you need the cosplay prop to be very durable, use polycarbonate filament.
If you are going to use TPE, make sure to consider that the finished print may not be as durable as when you use other materials. On the other hand, you can use TPE if you need your print to be flexible, whereas PLA filaments often produce stiff prints. Furthermore, some filaments might be easier to use than others. Now let's take a look at each filament type more closely.
PLA
Polylactic acid is a very popular filament for 3D printing enthusiasts. It's easier to print and it needs a low printing temperature. Plus, it does not need a heating bed and also does not emit bad odours when you print.
PLA is available in a wide variety of colours. It is also biodegradable. However, PLA can be quite brittle, so you should not use it for movable cosplay parts, or those that might be dropped or twisted. PLA also deforms when temperatures rise to at least 60 °C.
These types of filaments have a very attractive price. For instance, the HATCHBOX PLA 3D Printer Filament sells for around $23 and you get one kilogram of odour-free 3D printing material that doesn't warp as much as other materials.
ABS
Acrylonitrile butadiene styrene is another widely used filament for 3D printing, and it's better than PLA in some ways. This material is used for LEGO bricks and some bicycle helmets.
ABS prints are very durable and they can withstand hot temperatures. The downsides of this are that you will need to print on a heated bed so that it doesn't warp during cooling. Print with ABS filaments can also be a problem because it emits a very bad odour.
You can buy these HATCHBOX PLA 3D Printer Filament for less than $25 and get 12 different colours and an 80 stencil ebook. All in all, you have 240 linear feet of a filament made only from the finest and premium grade material.
PETG
Polyethylene terephthalate is better known as polymer and is widely used in the manufacture of water bottles. A type of PET, called PETG, is now used for 3D printing.
PETG, where the G stands for glycol-modified, can absorb moisture from the air. This property means that if you don't print in a dry and cool place, the quality of your print might now be as good as you hoped it to be. It also scratches easily.
Overture Clear PETG Filament sells for less than $25 and you get a kilogram of the material. It's clog-free and bubble-free and doesn't tangle as much.
TPE
Thermoplastic elastomers are very flexible because of their rubber-like characteristics. They are also very durable and have been used for household appliances, shoes, and medical supplies.
TPE filaments are soft and easy to stretch. If you need something flexible for your cosplay costume, this is the filament to use. However, TPE can be more challenging to extrude and might be a bit harder to control. Printing with TPE may also take longer than when you use other filaments.
You can also use thermoplastic polyurethane, such as the Priline Yellow TPU Filament, which is both elastic and soft. The rubber-like characteristics make it ideal for flexible props. This product is harder than TPE, which makes it easier to extrude.
Nylon
You should use nylon filaments for printing parts that require flexibility, durability, and strength. Another benefit of using nylon is that you don't have to buy different varieties for your cosplay costumes: you can just dye each one before you print.
However, it does absorb moisture from the air, which means you will need to print in a cool and dry area for you to make sure that your costumes are in the best possible quality. Further, nylon filaments tend to be more expensive than other types of filament.
Check out the Dremel Nylon 3D Printer Filament. This filament has very minimal rough edges when printed and can have a very durable and stable print. It promises flexibility and durability, more than what you can get from other filaments.
Polycarbonate
You can also use polycarbonate filaments, which is probably the strongest in this list. It's resistant to heat and impact. Polycarbonate can withstand high temperatures up to 100 degrees Celsius.
This is a very strong and durable filament, with medium flexibility. Polycarbonate is transparent, which is why it's widely used in bulletproof glass and scuba masks. Polycarbonate, however, absorbs moisture from the air. It can also be somewhat difficult to use, too, and it's not as flexible as TPU.
A product like the Polymaker PC-Max 3D Printer Filament allows you to have stronger, harder, and easier prints.
Aside from these filaments, there are also special types that give your prints a different look. There are wood-filled PLA filaments that have wood fibres in them. You can also check out metal filaments such as gold or bronze. There are also biodegradable filaments for those who are environmentally conscious and conductive ones for electronic projects.
So what are the best
Which 3D Printers Should You Buy
Different 3D printers support different kinds of filaments. Choose one that supports the type of filament that you want and, if possible, choose a 3D printer that can support several types of filaments.
The Monoprice Maker Ultimate 2 3D Printer works with just about any filament. You can use PLA, PLA Plus, ABS, ABS Plus, TPU, PET, TPE, metal, and wood fill filaments with this 3D printer. It also has an auto-levelling bed that guarantees that the first few layers of your prints stick together. It also has a removable glass build plate and filament detector (sometimes referred to as a filament sensor). It costs around $550.
If that price point is too much for your budget, then you can check out the Monoprice MP10 Mini 3D Printer, with its assisted levelling bed and resume printing function. It works with PLA, ABS, PETG, nylon, wood and metal fill.
Price
As you have noticed, most of the 3D printers we have recommended so far are priced moderately. However, there are cosplayers who are working under a tight budget. Some beginners might also like to test out 3D printers first before committing to a more expensive one. Check out the XYZprinting da Vinci miniMaker 3D Printer, which sells for less than $200.
Even at that price, it has everything you'd want in a 3D printer. It's easy to use and can handle PLA, PETG, and tough PLA. You can buy an optional extruder so that you can print with carbon fibre and metallic PLA. It also features an auto-levelling bed and printing speeds of up to 120 millimetres per second.
At the other end of the spectrum, there are professional custom makers that will want the convenience of getting a 3D printer that can print large objects while also having other nifty features. It has a sizable build capacity at 22.3 by 22.3k by k20.5 inches.
The Ultimaker 2+ 3D Printer sells with a whopping $2,500 price tag. It offers four different nozzle sizes from 0.25 to 0.80 millimetres that you can swap out to obtain better details with a speedy print. It also has a resolution of 20 microns.
Other Things You Should Look for
There are some other technical features that you should consider. For example, you want a 3D printer with high print resolutions and fast print speed. You will also want to choose an auto-levelling print bed for your 3D printer. If you plan to use different filaments, you should choose a 3D printer that has a higher maximum temperature for the bed and nozzle.
Easy to Use
Another criterion for the best 3D printer for cosplayers to buy is how easy it is to use. The good news is that there are a lot of printers out there that are quite intuitive to use so there's not much of a learning curve for you. There are some basics that you should know, however, such as how to control the temperature, filament consumption, and print speed.
Expect to have a bit of challenging first days: you can't be expected to have perfect prints the first time around.
FAQ's About 3D Printers
What is the best 3D printer for cosplay?
The best 3D printer for cosplay would largely depend on what you need. If you need one that can handle large builds, then get the ADIMLab Updated Gantry Pro 3D Printer or the Sindoh 3DWOX DP200 3D Printer. Or you can splurge on industrial-grade 3D printers.
For those who are sticklers for details, get the ELEGOO Mars 3D Printer or the ANYCUBIC Photon UV LCD 3D Printer. Both of these 3D printers have very high accuracy and speed. The prints they make have a good level of detail.
For those who make their own costumes, it helps to have a 3D printer that is compatible with a lot of different filament types. The Monoprice Maker Ultimate 2 3D Printer is ideal for this purpose.
What size 3D printer do I need?
According to Tom's Guide, you should choose a 3D printer with a build area of 5 x 5 x 5 inches. This size is good enough for most prints that you have to make.
However, if you are planning to build armours and larger pieces, buy something with a bigger build capacity.
Can you 3D print an armour?
Yes. And here are some tutorials to help you do it.
How much does it cost to 3D print a helmet?
It depends on the type of filament you use, and whether you already have a 3D printer at home. According to several enthusiasts, you can expect to spend anywhere from $750 to $2,000 to 3D print a helmet.
The more important question, however, is whether it's a good idea to 3D print a helmet. The answer seems to be leaning towards a "no" because of the prohibitive costs, the need for a 3D printer with large print areas, and how the helmet might be too brittle for frequent wear.
Looking for the Best 3D Printer for Cosplay Is Now Easier
Having a clear budget and knowing what you're planning to print will help you choose the best 3D printer. Fortunately, there are now several products available that you can choose the best one for you.
After choosing the best 3D printer that supports the filaments you want to use and falls within your budget, you should also look at how easy it is to use. And then finally, look at the technical details to figure out if it has the print resolution and printing speed you want.
Recommended Reads: