Latest posts by Jodie Chiffey
(see all)
The 3D printing industry has come on leaps and bounds in recent years. While the concept has been around for decades, it is only recently that it has become an option for consumers to purchase a 3D printer and there are many models now available to buy. Even though they aren't exactly cheap, many 3D printers aren't completely out of most peoples' budgets either.
The opportunities that come with 3D printing are exciting and may potentially solve many problems in the future, but this doesn't mean that they will not be used by companies for 3D printed objects that may leave many people jobless.
Today, we're going to have a look at one 3D printer, in particular, the Lulzbot Taz 6 3D Printer. If you are interested in 3D printing and the possibility of purchasing a new 3D printer, check out our Lulzbot 3D printer review and find out if this printer is totally for you…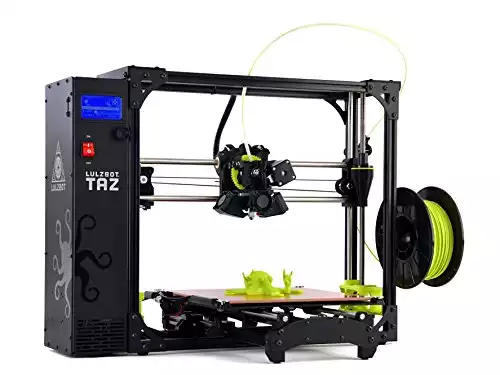 Lulzbot Taz 6
We're going to have a look at the many features of Lulzbot printer below but these are the main specifications of this wonderful 3D printer. If you are completely new to 3D printing you might find our glossary of 3D printing terms useful.
| | |
| --- | --- |
| Build volume | 11" x 10.8" x 9.8" |
| Print speed | 200 mm/s |
| Filament types | ABS, PLA, HIPS, PVA, Exotics, PCTPE, PC-ABS, Alloy 910 |
| Filament diameter | 3mm |
| Extruders | 1 with the option of an additional extruder |
| Connectivity | USB, SD card |
| Warranty | 1 Year |
| Our score | 8/10 |
| Latest price | |
Features:
The Taz 6 3D Printer comes packed with a wide range of great features and in this review, we're going to go through the most important ones with you.
Design
With a minimalist industrial styled design and built from extruded aluminum, the Lulzbot Taz 6 isn't radically different from previous models from an aesthetic point of view.
It does feature various upgrades through. The automatic print bed leveling system is one. It detects its level by using four metal discs situated at the corner of the 3D print bed. This means that the print bed doesn't need to be set manually and the calibration of the printer is a lot easier and more straightforward.
Polyetherimide (PEI) is the 3D Print material that covers the print bed and it is able to reach 248 degrees Fahrenheit.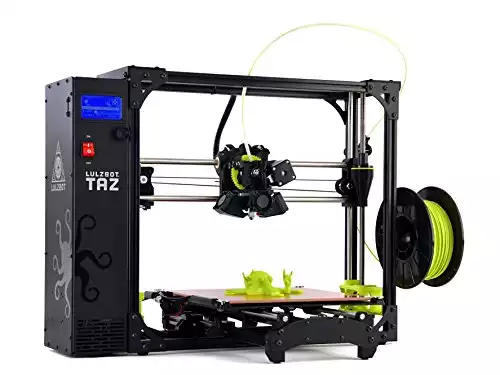 Setup
While the overall set up of the Taz 6 is pretty straightforward, you do have to carry out some of the processes yourself. This includes setting up the base of the printer as well as installing some screws for the print head and connecting cables. It isn't wildly complicated and all the information you need is there for you to follow.
It should take about an hour or to properly get the 3D printer setup. The software is easy to install and it is just a case of plugging in the USB cable or SD card ad adding the flexible filament.
Interface
The Lulzbot Taz 6 comes with an LCD screen where you control the printer and you can also use Cura which is an open-source software too.
The interface itself is very straightforward if you are used to 3D printing and while it looks simple it allows for you to control many powerful features of the device. It is located in the upper left-hand corner of the printer itself and allows for easy access.
If you are upgrading from your first printer to this 3D model then you'll find the interface very user-friendly and fairly straightforward to use. It is certainly one of the better ones out there and doesn't make this overly complicated either.
Printing materials
The range of printing materials that Lulzbot Taz 6 is able to work with is impressive. You can use 29 types of filament with this printer and these can be purchased directly from Lulzbot.
You will be able to use 3mm filament that has been provided by any supplier. We should put a note of caution here though because if any issues arise from using materials that haven't been provided by Lulzbot will not be covered by your one year warranty.
There are certain materials that Lulzbot recommended you don't use with Taz 6 such as carbon fiber filaments as this may cause damage to the extruder. The wide range of materials that you can use with this model also means that you can keep the overall cost of 3D printing down. You can opt for more budget-friendly materials than some other Lulzbot desktop 3D printers out there.
Print Process
The control screen makes the print process pretty easy. You can move the printhead, set temperatures and extrude filament with some simple steps. The one thing that the process doesn't necessarily show is a lot of feedback. While you do get the percentage complete bar and some technical information about the process, you don't get a significant amount of data.
That being said, I think it is one of the most user-friendly and straightforward print processes for a 3D printer. It is a fairly hassle-free experience using this 3D printer which hasn't always been the case on other models I have used. OK, there are some failed prints due to a number of reasons but this is definitely the exception as opposed to the norm.
One other thing to be wary of is the noise. It isn't deafening but it does make various sounds so it is just something to consider in terms of where you are actually doing the printing. As it is a desktop printer you might want to have a think about where you put it in your home.
Print Speed
The good thing about the Taz 6 is that you can quickprint profiles in no time. Although if you want high quality then this will obviously take longer and it all really depends on what you are printing and how long it'll take. I've found that it is actually one of the quickest 3D printers available at the minute. Really it all depends on what it actually is that you are printing.
I found that a low-quality print of the 3D Benchy model took just less than one hour to complete. A medium quality print took slightly longer while the high quality preset on the printer did it in around 1 hour 20 minutes. The finished 3D model was great and while you can certainly tell the difference between the quick speed and high-quality finishes, the Taz 6 passed the test admirably.
Print Quality
There are different quality settings to the Taz 6 that I've touched on above.
Even the quick print and low-quality models are very good and while they need some clean up they still get very good pass marks. The 3D Benchy model came out well on all the different speed and quality settings while the Gear Bearing that has many intricate details were produced to a high standard as well.
Are there better 3D printers out there that will produce higher quality? Sure, but for the cost of the Taz 6, I think it definitely offers a high-quality print for its price.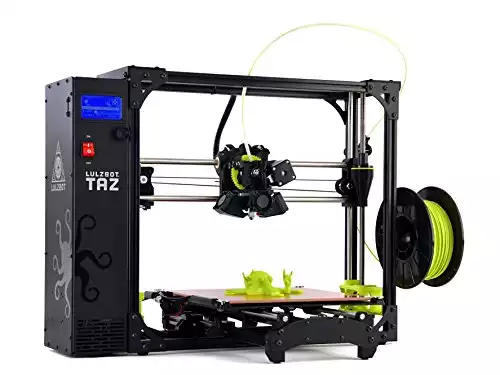 Pros of Lulzbot Taz 6
There are several advantages that this 3D printer has over some of the others out there at the minute.
Seamless 3D printing with good quality – The Lulzbot Taz 6 is one of the quickest 3D printers available in its price range. While you have a range of quality and speed options, it is able to produce small intricate models in a short space of time. They will require some cleanup and finishing but even at the fastest print speed, they come out well.
Setup is easy due to the new automatic bed leveling – while previous models meant that this has to be done manually, with the Taz 6 you benefit from automatic bed leveling. It means you don't need to do this yourself and instead, it relies on four metal discs to do this for you. The setup process only takes about 60 minutes too.
Supports many materials – By being able to use 29 types of filament, you have a wealth of options to choose from for your 3D printing. It also helps keep the cost down too as you will be able to purchase more affordable options for this printer than you would with other models.
Help and support – Lulzbot has one of the best support systems for 3D printer users. This includes tutorials and a range of materials to help you. They are also in the process of setting up a Discourse too so you can get in contact with them easily and you can still browse through their forum.
Cons of Lulzbot Taz 6
While I think that the Taz 6 is a great printer and perhaps on the higher end of the Lulzbot desktop 3D printers price scale, it is still pretty affordable. It does have a few drawbacks that I need to make you aware of.
Noise – It might not be the loudest 3D printer available but it doesn't exactly run on stealth mode either. The printer makes various noises throughout the process and it is just something to keep in mind.
No wireless connectivity – While the Taz 6 uses both USB and SD card functionality, there is no wireless connection available. It means you can't print directly from a smartphone or a tablet device for example.
Alternatives to Try
Creality CR-10
Our Recommendation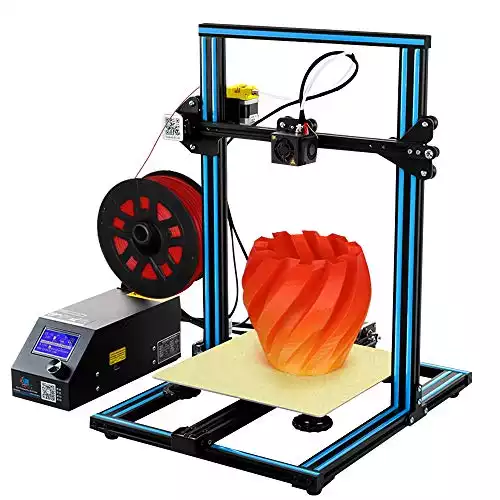 Creality 3D Printer CR-10S | Creality 3D Official
The CR-10S comes with a convenient monitor that will detect when the printer has run out of filament, automatically pausing the print, and will alert the user to restock the Filament before continuing. Say goodbye to wasted Filament and time.
Check price
Buy at Amazon.com
We earn a commission if you click this link and make a purchase at no additional cost to you.
If you are looking for a more basic model and one that doesn't take up as much space as the Lulzbot Taz 6 then the Creality CR-10 is an option.
It has a build area of 11.8" x 11.8" x 15.7". This 3D printer has a more budget-friendly price too so if you can't afford to splash out on the Tav 6 then you may want to consider this printer. You won't get the same capabilities as the Tav 6 and it doesn't have the same level of performance but it is a good 3D printer nonetheless.
Read our Creality CR-10 review to find out more.
Zortrax M300
/p>
Another alternative to the Lulzbot Taz 6 is the Zortax M300. It is a bigger 3D printer with a build area of 11.8" x 11.8" x 11.8" although it will cost you more money. One downside to this printer is that it doesn't offer open source hardware which can limit what you can do with it. If you want a bigger 3D printer then this is an option but it has several limitations compared to the Taz 6.
While this 3D printer has USB and SD card capability, it does not feature WiFi so you can't print directly from a smartphone or a tablet.
FAQ's About the Luzbot 3D Printer
Does the Taz 6 support laser engraving?
Potentially. While the Taz 6 doesn't have laser engraving functionality built-in – such as the Bibo 2 – it is an open-source platform. You can buy different extruders that can potentially be adapted for laser engraving with this 3D printer but it isn't a standard feature.
Where do I get guides and support material?
Lulzbot has a wide range of support print material that you can use to get the most out of your 3D printer. The printer comes with a start guide and user manual which will get you off and running and if you head over to the Lulzbot website you will find a lot of information.

They also have various support options such as email and phone while they are moving onto a Discourse for further support.
Is this 3D printer open-source?
Yes. Lulzbot is an open-source platform so it means that there are many possibilities for developing and making the printers even better than they are out of the box. Many 3D printers don't have an open-source design so you are quite limited to what you can do with it if you want to extend its functionality.
How many print speeds does it offer?
The top print speed for the Taz 6 is 200 mm/s. There are various print speeds and qualities that you can choose from with this 3D printer although it is recommended that you keep it between 30 – 50 mm/s to get the best results.
Final Thoughts
Overall the Taz 6 is a significant step forward from the Tav 5 and if you are eager to pack your first 3D printer away and go for a better model then this certainly offers this.
It has a wide range of features that allow you to print high-quality models. While they may take a bit of touching up it still offers something that is better than many of the other printers in its price bracket. This printer isn't the cheapest out there but it isn't completely out of most peoples' budgets either.
While I would like the Taz 6 to have WiFi connectivity and perhaps be slightly less noisy, these aren't major complaints and don't really detract from how good the printer is overall.
With the Tav 6 you get:
An automatic print bed leveling system
Ability to use 29 types of filament
Easy to use UI with open source hardware
High-quality prints with good speed
I really recommend the Lulzbot Taz 6. Overall I would rate it as a solid 8/10. It offers everything you need in a desktop 3D printer and if you can afford the price it is hard to go wrong.
Recommended Reads: