Latest posts by Total 3D Printing Team
(see all)
The Printrbot has quickly become one of the more popular – if unheralded – 3D printing machines. While it hasn't been heavily advertised by any means, the Printrbot has gained a strong following and many fans. Part of the allure is the incredibly attractive price-point. It's hard enough to find a quality 3D printer under $1000, let alone $500. The Printrbot currently retails online for around $350.
It's a great middle ground between a "build it from scratch" and an off the shelf operational 3D printer. There is set-up required, but if you have ever put together furniture from IKEA, it's about the same level of complexity.
This might turn some buyers off, but chances are if you are into 3D printing you are probably mildly technically savvy already. In fact, putting the machine together is actually a great learning experience. The practical hands-on application provided me a greater appreciation and understanding of the 3D printing process.
In this article, I'll be covering the key features, Pros and Cons, and providing a comprehensive rating at the bottom. Having tested out a few different printers, I've been developing a rating system to evaluate and compare.
Just to clarify, this is a Printrbot Simple review, not a review of the Printrbot Simple Metal machine (I'll save that for another day). Please feel free to comment, ask questions, and share your experiences (if any) with the Printrbot Simple at the bottom of the page in the comments section.
Key Features of the Printbot Simple
Open Architecture: Printrbot has nothing to hide and is very friendly to modifications and improvements. In the 3D printing space, you'll find either "closed" systems or "open" systems. There are pros and cons to each. A closed system is usually a more refined and commercialized offering with plug and play functionality. It's designed more for the casual printer, or the person who doesn't want to be getting their hands dirty with customized parts. These companies are often also trying to protect proprietary knowledge about their systems. Open systems like the Printrbot are more dynamic, allowing for specialization and modification according to the ability of the printer.
Easy to Follow Instructions: Although it definitely feels like a DIY project, the Printrbot Simple comes standard with easy to follow instructions. It's a good happy medium between building from scratch and paying for a ready to go out of the box desktop 3D printer.
Cost Effective Components: Part of why the Printrbot can be offered at such an attractive price is that it makes use of cheaper parts. For example, the Printrbot uses little tie wraps (laser printed) as opposed to the more traditional (and expensive) metal bearings and mounts. What this means is that the system is great for home and light commercial use, but probably not for larger scale industrial or commercial activity in a 24 hour (or even 12 hours) environment.
Uses Free Software: Printrbot does not come standard with software, which allows you – the user – to specify and select the best software for your needs. Fortunately, there are a lot of good open source options out there. Printrbot recommends using Repetier and/or Cura, but others work well too.
Product Specifications
Below you can find the key specifications for this printer:
Build Area
4″ x 4″ x 4″
Print Speed
60mm/sec
Filament Types
PLA
Layer Resolution
100 microns
Extruders
Single (1)
Nozzle Diameter
0.4mm
Open/Closed System
Open
Warranty
3 month
Our Score

7.7

/10
Price
(see here for latest)
Printrbot Pros
I've highlighted some of my favorite things about this machine below:
Great Learning Mechanism: As mentioned previously, being able to put the printer together from a kit, really helped me understand the mechanics behind the device. Later on, when I needed to troubleshoot the system, I could more readily assess the problem areas. Furthermore, since its not an insanely expensive product, I'm more inclined to push the limits, experiment, and try new things with the Printrbot. I wouldn't necessarily feel comfortable doing this with a $2000 piece of equipment.
Thorough Support Documentation: Thankfully, the Printrbot team has assembled excellent documentation both in terms of building instructions (for the kit) and additional online support. There are a number of great communities online with followings for the Printrbot as well.
Small Footprint: This can be a "pro" or "con" if the build area is too small for your projects, but one of the great things about this 3D printer is that it has a very small footprint. It's not going to take up too much space at all and can fit comfortably on most desks. The fool dimensions are 11 X 10 X 8. It also comes in at a relatively light 10 pounds.
Comparable Features to Other Printers: While the price is significantly lower than most 3D printers on the market, the Printrbot really don't sacrifice much in the way of features. A 100-micron layer resolution, 0.4mm nozzle diameter, and 60mm/sec print speed is very comparable to some of the better selling desktop 3D printers selling for close to twice as much!

Excellent Customer Reviews: The people have spoken and it seems that a lot of people really like this printer! This was the first thing I noticed and one of the main reasons I decided to test this printer out sooner rather than later. It presents a great entry-level opportunity to gain exposure to 3D printing and – despite the lower grade construction – the machine is quite reliable for small batch personal/prototyping use.

Awesome Price:

At first I couldn't believe how affordable this system was, especially after seeing all the positive reviews. Maybe people are expecting much more with the more expensive printers, but spending $349 for a 3D printer is practically unheard of. That's right, you can have a fully functioning 3D printer for less than $350! Hopefully, this becomes the trend and 3D printers become more accessible to the masses.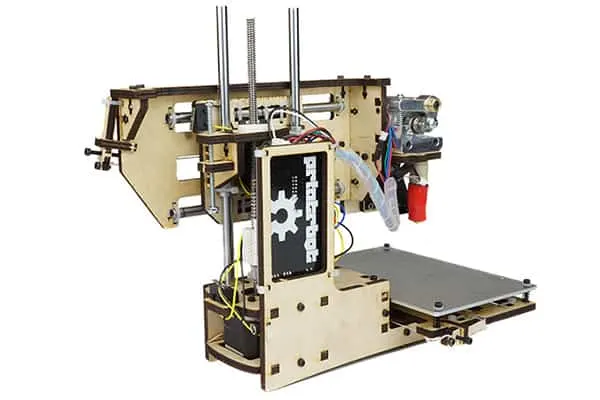 Printrbot Cons
The following are some of the cons that I noticed. Definitely worth considering, but not necessarily a deal-breaker for the price.
Small Build Area: I've alluded to this before, but the small build area will limit the size of projects you'll be able to undertake. 4 X 4 X 4 inches is among the smallest build volumes of any 3D printer that I've tested. That said, it's perfect for learning, testing, prototyping, and generally experimenting with 3D printing. It's probably more of a starting point than an ending point.
Basic Design: Once assembled, the Printrbot really feels very "bare bones". It's the antithesis of the MakerBot and Cubify style printers. The engine box is completely exposed, for example. This can be a turn off for some, but I really didn't mind. It's completely functional and does the job for small-scale print jobs.
Basic Materials: Again, part of what makes this printer so affordable is that it uses a lot of cheaper alternative materials, including polymers (instead of traditional metal). Over time, this will invariably affect the durability of the machine, but on the flip-side, parts will be more affordable to replace.
Only PLA Printing: The Printrbot will only be able to print with PLA material. While this is the most common material, many other 3D printers are able to print in at least two formats (usually also with ABS material). This is because the Printrbot does not come standard with a heated printing bed. If you know this before you buy, you won't be surprised.

Sweat Equity Required: If you are investing in a DIY 3D printer kit, chances are you are willing to roll up your sleeves a bit. Just as a disclaimer – despite the excellent instructions – there is some learning curve involved. Some technical inclination will be needed, or at least the willingness to learn.
Printrbot Video Review
The following is a good overview of what to expect from the Printrbot in action:

Overall Recommendation – Worth the Effort?
On the whole, I really like this little printer for a lot of reasons. First, the price is unbeatable. Second, the open architecture and easy to assemble kit is a great learning experience. And third, it's actually a very reliable system, despite the lower cost components and "DIY" approach.
Don't expect a state of the art refined desktop printer, because the Printrbot is not this. It doesn't try to be too much. It's a fun, experimental, and affordable 3D printer. It's ideal for learning and/or for light commercial or home use.
Judging by the loads of positive feedback I've seen online and heard from friends, you can't really go wrong with this investment. You can check out the latest pricing below.