Latest posts by Total 3D Printing Team
(see all)
The da Vinci Mini 3D printer is one of those printers that want to make 3D printing available to the masses. Its key goal is to allow everyone, regardless of experience, to start printing 3D objects and discover the practical as well as the fun aspect of this technology. As a starter 3D printer, it offers great quality and also comes at an aggressively low price, making it even more accessible to everyday people.
XYZ printing has made more high end 3D printers in the past, and they have a good record of good products on the market, and the da Vinci Mini is part of that family, applying everything the company has learned and made a product for everyone.
Making a budget-friendly printer has its own challenges though, and it requires some clever engineering work to make the product successful.
In the following sections, we will list the core features of the XYZprinting da Vinci Mini 3D Printer as well as the Pros and Cons. At the very end, you will find the final summary of this 3D printer with an overall rating.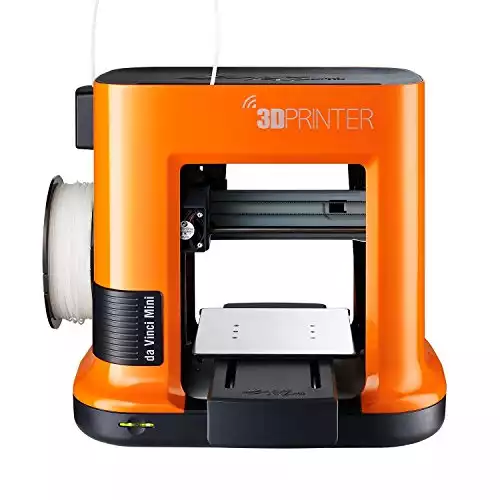 Da Vinci Mini Wireless 3D Printer | Amazon
The da Vinci Mini streamlines its printing function through a single-button print design as well as providing different colored LEDs to indicate printing conditions.
Buy at Amazon.com
We earn a commission if you click this link and make a purchase at no additional cost to you.
Core Features of the XYZprinting da Vinci Mini 3D Printer
Eco-friendly: The da Vinci Mini is specifically designed to print using PLA plastics. This means that the materials that are printed are non-toxic as well as biodegradable, as the plastics themselves are made from corn statch. Having such an eco-friendly means that there is no danger of toxic fumes while printing, as well as no toxic smell in the room that the printer works.
This can be a very important feature for many, as not everyone has a maker space or access to a garage to place their 3D printer and instead use a living room for example. XYZ printing also makes their own PLA filaments, that are extensively tested and guaranteed to be DEHP free and heavy metal free, making them as safe as it gets for the environment.
Single Button Operation: The 3D printer only has one button. No display and no menus or codes are on the 3D printer. Instead, there is a single button and a status LED. It feels very limiting at first, but the implementation is very clever and makes the use of the printer as easy as pressing a single button.
Everything is controlled by a computer or another device and all the printer has to do is just print the object that it is instructed to. Ease of use being a priority, this is a pretty compelling feature compared to a more complicated multi-button, multi-menu screens on other 3D printers.
Wireless Functionality: An excellent addition to any 3D printer is the ability to connect wirelessly, thus print and control the 3D printer from anywhere on a home network. As some prints can take many hours to print, and sometimes up to a day to complete, being able to monitor the printing process of the print job no matter where you are located in the house is a very cool thing.
The printer connects to the local network using WiFi and then by using the XYZware software suite, you can control, setup and print from any device. Check out this video about if you are interested in the preparation time and how to prepare the Da Vinci 3D Printer.
Software: While it is very common for 3D printers to come with their own slicing software, it is not often that you get a whole suite of software and library to do everything from modeling to slicing. XYZprinting offers their own slicing software called XYZware as well as their own 3D modeling software to actually make 3D models, called XYZmaker.
And if that was not enough, you get access to a huge 3D model library with more than 4500 free objects to choose from. If you are a student, you get even more love, by having access to the online curriculum education program, XYZprinting STEAM.
Price: It is pretty clear that to make a starter 3D printer for the masses, a competitive and budget-friendly price is required. The da Vinci Mini comes at just $289.95.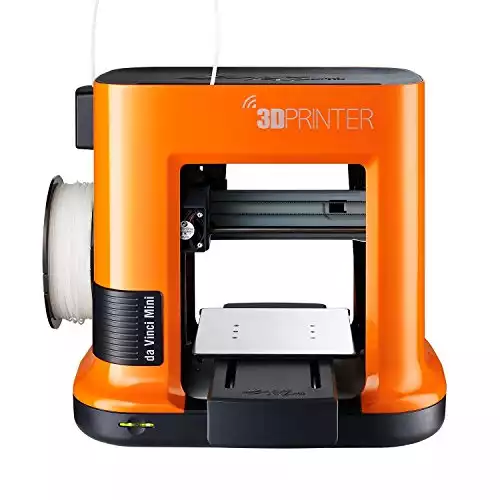 Da Vinci Mini Wireless 3D Printer | Amazon
The da Vinci Mini streamlines its printing function through a single-button print design as well as providing different colored LEDs to indicate printing conditions.
Buy at Amazon.com
We earn a commission if you click this link and make a purchase at no additional cost to you.
Key Specifications
The following are the key specifications of the XYZprinting da Vinci Mini 3D Printer:
Printing Technology: FDM(Fused Deposition Modeling)
Build Area: 5.9 x 5.9 x 5.9 Inches (150 x 150 x 150 mm)
Layer Resolution: Software selectable from 100 to 400 microns (0.1 to 0.4mm)
Filament Diameter: 1.75mm
Max Extruder Temperature: 500°F (230°C)
Nozzle Diameter: 0.4mm
Product Dimensions: 15.35″ x 13.19″ x 14.17″ (390 x 335 x 360 mm)
Product Weight: 24.25 lbs (10 kg)
Connectivity: USB, WiFi (802.11 b/g/n)
Software: XYZware
File Types: .stl , XYZ Format (.3w), 3mf
Pros of the XYZprinting da Vinci Mini 3D Printer
Ease to use: The most important aspect of this printer. It is very easy to use, even for total beginners that have never done 3D printing before. The software is very easy to work with and navigate, the printer itself is very simple with a one-button operation, and no other setup required by the user to start printing right away.
The printer is also designed very well; it is a simple design that shows and focuses on the important pars and hides all the technical parts. This is a very good design choice, hiding away all the electronics, as it makes the first impression much more welcome and not overwhelming.
Smart Filament: If you buy filament from XYZprinting, you are also unlocking another great feature of this printer. It can read smart filaments, that have their own chip inside, and can let the printer know if you are running out of filament.
Nobody wants to start a big print and after many hours realize that your print failed because there was not enough filament. This will never happen if you use XYZprinting PLA (Polylactic Acid) filament. Furthermore, you can actually swap the print head for a laser engraver module, thus, you can engrave your imagined designs on Paper, Cardboard, Leather, Wood or Plastic.
Smart Self Leveling: Further incorporating the ease of use idea, the print bed is able to level itself before every print, making operation even easier. This feature is always welcome to any price range 3D printer, especially to printers that are intended for new users.
Wireless connectivity: The printer can be wirelessly connected to a home network via WiFi. After doing that, XYZware can detect the printer from a computer or a mobile phone and start working right away. You can do everything from the software with no need to touch the printer.
Another big plus for people that do not want to mess around with complicated print settings and just want to print right away.
Cons of the XYZprinting da Vinci Mini 3D printer
Filament Limitations: This is a common thing among cheap 3D printers, but there have been cases of printers at this price range that can print more than PLA. This printer can only print in PLA, and trying to print in any other material will probably fail, as it is also missing a heat-bed.
No Heated Bed: Continuing from the previous con, the print bed is not heated on the da Vinci Mini 3D printer. This means that you can not get that extra stickiness that is mostly used for ABS plastics. But that does not mean that PLA can not benefit from it, as it does help depending on the print and the objects characteristics. With no heat-bed, painter's tape and glue are the only way to make sure the object sticks to the print bed.
One Button Operation: While having just one button on the printer looks like heaven to beginners, more advanced users would appreciate some more options. You are relying on the software to get all the settings right and get everything setup. This is by no means a bad design, but it is a big limitation to customers that want to use the printer offline.
Some Alternatives to Consider
The da Vinci Mini is a very good entry level 3D printer. But before going out and buying it, you might want to check out the following 3D printers that offer similar features.
1) Monoprice Select Mini 3D Printer
The Select Mini is a very versatile printer that comes at an even lower price. It is a very good alternative to the MOD-t, as long as you are ok with the not so modern look.
2) New Matter MOD-t 3D Printer
This is one of the few 3D printers on the market that offer similar ease of use and a pleasant appearance at a low price. Obviously, there will be more compromises in order to hit that clean and premium design.
Frequently Asked Questions
How do you connect your da vinci mini to wifi?
To connect the XYZ Printing da Vinci Printer, you have to assure that it is connected to your computer via USB. You can remove it once you are wirelessly connected. Also, you have to make sure that the XYZware on the operating computer is also connected to the same network.
Click the "eye" icon in the bottom right corner;
Click Printer Monitor, and then My Printer;
Open the wireless settings and scan for wireless networks;
Select the network that your computer is connected to;
Now all you have to do is name and password and you are good to go;
How do I improve print quality?
If you want to improve the print quality you have to check the distance between the print bed and the nozzle. See if it is too big. Also, check X or Y axis belts and make sure they aren't too loose.
Modify the print bed level;

Modify all belt tension;
Conclusion
When summing up the XYZprinting da Vinci mini Review, you can clearly see that XYZprinting delivers a very promising 3D printer. The da Vinci series of 3D printers are expanding in the 3D printing market right now. The da Vinci Mini incorporates some features, hardware, and software of its bigger brothers in a small and tidy package while costing way less.
If you need a new quality 3D printer to get started, and you love to have the easiest possible operation and full support from users and software that can do anything from 3D modeling to 3D slicing, then the da Vinci Mini is a very good option to consider.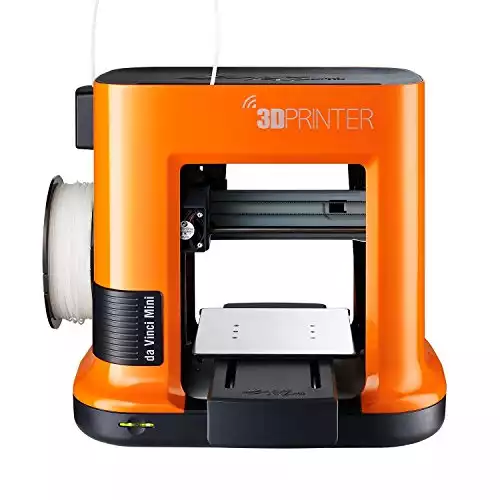 Da Vinci Mini Wireless 3D Printer | Amazon
The da Vinci Mini streamlines its printing function through a single-button print design as well as providing different colored LEDs to indicate printing conditions.
Buy at Amazon.com
We earn a commission if you click this link and make a purchase at no additional cost to you.
Further Read