Latest posts by Total 3D Printing Team
(see all)
The Flashforge 3D printer is one of the more recognizable and widely used 3D printers available right now. Flashforge has effectively carved out a niche by providing quality 3D printers in the mid-range of price and performance. Rather than building one from a kit, their printers have a polished "professional" feel and are ready to go right out of the box.
Still, it's for sale at a nice discount compared to more established brands like the Makerbot. The Flashforge Creator has also made my list of the best 3D printers ("mid-range" award).
In this article we will be conducting a thorough 1st generation Flashforge 3D printer review to see how it measures up. We'll include the good and the bad points for fairness sake, letting you make the call on if its a good printer for your needs.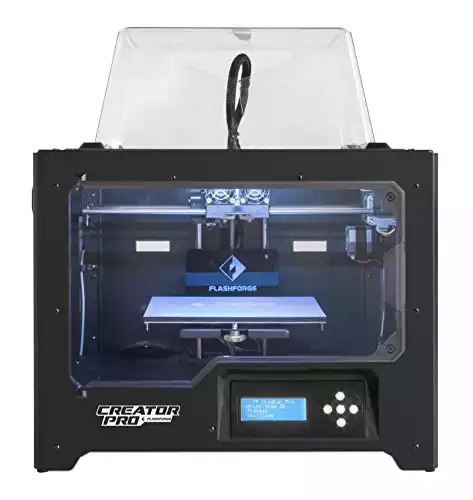 Main Features of the Flashforge 3D Printer
The standard Flashforge offering is a relatively robust mid-grade printer, that sells on the following core features:
Heated Print Bed: This might not sound that nice, but having a heated print bed can greatly expedite the printing process and ensure decent quality products. The Creator comes standard with this important feature.
Intuitive Interface: Because the Creator was designed partly for ease of use, the interface is well designed and "makes sense" Were some 3D printers appear to be a "work in progress" the Creator has a finished consumer product feel to it. Buttons are separated out so that you don't accidentally click the wrong one and mess with your project. The wooden case is also a nice touch from an aesthetic standpoint.
LCD Screen: The LCD screen lends an added professionalism to the machine and is very easy to monitor for print status updates.
Open Source Software: While the hardware of the system is a "closed architecture", Flashforge has opened up the software for a variety of suites. One of the most popular is the MakerBot software – referred to as Makerware – which is a well developed and supported tool set for managing .STL files.
Dual Extruder: Any 3D printer will tell you that a dual extruder enhances the creative capabilities of the designer. While keeping the price tag reasonable, Flashforge has managed to include a second extruder.
Fully Assembled: Unlike many of the partial builds and DIY kits out there, the Creator comes fully assembled with plug and play functionality. From start to finish, you will be up an running in about an hour after un-boxing.
Supports Common Filaments: ABS and PLA material both work well on the Creator and are completely compatible with the machine.
Warranty: the Creator comes with a 3 month (parts and labor) warranty after purchase.
Unlimited Customer Support: Flashforge provides lifetime support for all of their products. From what I hear, their support is actually pretty knowledgeable.
Specifications of the Flashforge Creator
For another look at the core specifications of the Flashforge Creator, see below:
Build Area
8.9" x 5.7" x 5.9"
Print Speed
40-100mm/sec
Filament Types
ABS or PLA
Layer Resolution
100-500 microns
Extruders
Dual (2)
Nozzle Diameter
0.4mm
Open/Closed System
Closed
Warranty
3 month
Our Score

7.7

/10
Price

Around

$700 (see here for latest)
Pros of the Creator
Some of the things we really liked about the Creator are as follows:
Great User Experience: Overall, this printer provides a good user experience from A-Z. While it might not be the quickest or the most precise system on the market, it does feature a professional grade interface that is intuitive and reassuring for users. This is even more of a plus for more non-technically oriented people or folks trying out 3D printing for the first time.
Great Customer Support: A lot of companies promise lifetime support without actually providing decent expertise. Flashforge does customer support right. Whether by phone or email, their support staff is top notch and knowledgeable. Most problems are responded to within 24-48 hours.
Dual Extruder = Great Value: Having the second extruder is a great value for this machine. This is likely the cheapest price you will find for a pre-assembled 3D printer dual extrusion technology.
Better Than the Replicator: The Creator is based off of the open-sourced Replicator 1 design, however I found it to be a much better system overall (more precision, reliability, and better price point).
Good Price Point: The similarly featured MakerBot Replicator 2 is almost twice as expensive as the Creator with comparable features. Spending about $1000 for a printer of this caliber is great value for the money. Be sure to check out this listing first, if you are in the market.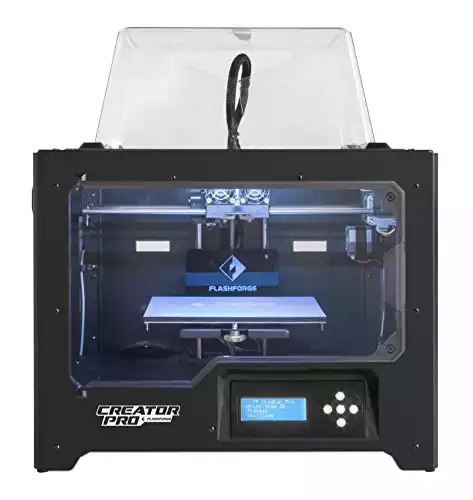 Cons of the Creator
Confusing Websites: Flashforge is a Chinese-based company, but they have a separate US-based team and website (both in English). If you are looking up information or resources, you'll often get ping-ponged back and forth between the two. While it's a relatively minor gripe, they would do well to streamline their online interface and resources into a more manageable system.
Build Area: I kept wishing the build area was larger than in it is. In pictures, the Creator appears to be larger overall than many of the desktop 3D printers, but in reality the build area is average at best. This is fine for smaller projects, but you will need to look elsewhere for larger endeavors. Again, it really depends on the size and ambition of your project(s).
A Little Noisy: I personally don't mind. After all, this machine is creating 3D objects. It's not going to sound like your old paper printer. Still, I've seen some people complaining that it's noisy. I guess compared to some of the other 3D printers, it is a bit more noisy.
Open Casing: This is a relatively minor gripe, but the open casing of the printer can allow side drafts. In some – pretty rare – cases, this can cause the print to warp. A simple solution is to add panels around the outside (see this link for an example). Many printers have similar issues, so it's not entirely fair to critique FlashForge in a vacuum.
Clone of MakerBot? I've heard this criticism of the Flashforge series before so I went ahead and compared it to my Replicator Desktop to see what's different. 1) the Flashforge has fewer LEDs. I personally don't care about this. In fact, I've heard of the LEDs causing the MakerBot's to short out. 2) The buttons on the Creator are much more robust. You can actually feel that you are "clicking" something vs the mushy feeling of the MakerBot's. Finally, a lot of the parts are very similar – if not identical – to the Makerbot series. It's a little "less refined" overall than comparable Makerbot's, but it's also much cheaper.
Still Requires Patience: This isn't really specific to the Creator, but I still should point it out. I always like to stress that 3D printer is still very "beta" in terms of overall development. At this point most printers are in the range of 50-75% solutions. There are not designed for the average consumer (yet), but they are becoming increasingly accessible to even moderately inclined technical people. If you are willing to invest some time and can take a bit of a learning curve, it's still a wonderful and revolutionary technology.
A Quick Note About 3D Printers (In General)
Be prepared to replace a wide variety of parts over time. Good quality printers will last a while, but like a car, will have routine maintenance and replacement parts that are needed. I don't say this to scare anyone away from 3D printers, but just so that you know what to expect up front. Things you may need to eventually replace can include, Nozzles, Fans, Thermo-couples, cables, and plungers (among the most common).
Flashforge Creator Unboxing Video
Before I purchased the Creator, I watched the following video to get a feel for whether it was just a cheap knock-off or a legit printer. It's not my video, but it's a good one!
Update: The New Flashforge Creator X
While the older Flashforge Creator continues to sell well and has lots of fans, Flashforge has a more recent version that's worth checking out depending on your needs. You can read more about it here in full, but here is a quick overview.
Aluminum Build: The first thing you will notice is a new aluminum plate build (no wood), delivering a sleek overall impression. The construction is also more durable, leading to fewer print inconsistencies over time.
New Build Plate: It also comes standard with a high-temperature build plate that is a sturdy 6.3mm in thickness. This helps prevent some of the quality control issues due to improper heating. This wasn't a huge concern for the original Flashforge Creator, but it tended to crop up with extended use.
LED Lights: The addition of LED lights help illuminate the build area, providing some additional clarity to spot build imperfections.
Final Take – Is the Flashforge a Good Value?
The Flashforge Creator is a very solid offering overall, with no major problem areas in general. You are not likely to be disappointed with the purchase and knowing that quality customer support is always available provides good peace of mind. The Creator is not the highest performing 3D printer on the market, but it is an excellent pairing of added features, ease of use, reliability, and price.
You can find a good price at this listing here, or see below for real time pricing.