Flashforge Dreamer Review [2021]: Worth the Price?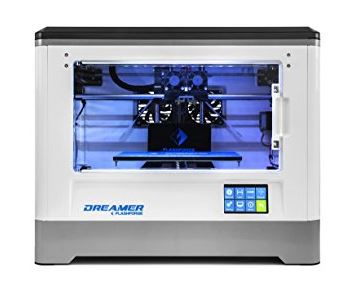 The Flashforge Technology Company is only five years old but is one of China's largest producers of 3D printers and accessories. While the company is relatively new, they haven't wasted any time and have introduced 14 products to the market that include 3D printers, scanners and accessories of all types. Their product line consists of 7 series, among which is the Flashforge Dreamer.
The unit has a very sleek and modern look, appearing as if it is a piece of hi-tech equipment that belongs in a high-level laboratory or science center of some kind.
The price is reasonable with an MSRP of just over a thousand dollars and the unit has caught the attention of many 3D printing enthusiasts around the globe.
Let's take a closer look at the Flasforge Dreamer 3D Printer and find out what it offers, what it does not offer, and where it rates among other 3D printers in its category.
Getting Started with the Dreamer
The Flashforge Dreamer does have a nice modern design and appearance but it has been stated by some users as looking very similar to a microwave. It is roughly the same size as a small microwave and the front of the unit has a clear viewing area with a keypad style set of buttons on the bottom right corner.
"Due to its small size, it can easily be moved from room to room or to different locations without a hassle or multiple people involved."
The unit looks "finished" as opposed to some 3D printers that look like they are a prototype unit or something you put together in your garage. The build area is totally enclosed build chamber which adds an element of safety to operating the Dreamer and you can easily watch the printing process (real time) through the viewing area on the front.
The entire outside area of the printer is plastic which may, at first, make it seem less than high quality. However, after working with it for a while, we found the fit and finish as well as the overall unit to be put together very well. Sometimes appearances can be deceiving.
"Setting up this 3D printer was much easier than other units in its price range."
After you unbox the unit, there are only a few easy steps to complete and you should be ready for your first printing job to begin in a snap. The first step is to attach the included extruder which is done with two small screws which only takes a minute to do. Once the extruder is attached, you move onto loading the included filament as the unit normally comes with a roll of PLA and a roll of ABS filament (ABS prints).
Loading the filament is done by initiating the extruder heat-up process by making a selection on the touchscreen. Once the extruder is ready, the filament is simply fed into the top of the extruder. Once this is complete, you are ready to begin experiencing what the Dreamer can offer.
3D Printing and Features
Before using the Dreamer, many expect the print quality to be a bit on the average side, given its lower price range. However, we were pleasantly surprised with excellent print quality that was comparable to the Replicator 2 in many cases. You could not see the various layers and the detail was as good, if not better, than the MakerBot unit.
"The unit comes with two extruders which make a significant difference if you are accustomed to working with a unit that only has a single extruder."
Beyond allowing you to print in many different colors, the dual extruder also does a much more efficient job of printing all aspects of your design. If you have gotten accustomed to printing without color, you will be amazed what a difference 3D printing in color actually makes.
The system management software (flashprint software) is intuitive and very easy for both experienced and beginner 3D printing enthusiast to learn and use. It offers a range of customization options such as adjusting the build plate temperature settings, extruder temperature settings and a variety of ways to work with your designs.
Additionally, most of the system default settings are appropriate for a wide range of 3D printed products so most of the time you can avoid changing settings constantly.
The build area is a bit smaller than some 3D printer models with dimensions of 9.1 x 5.9 x 5.5, which does limit you on the size of products you can print. That should be large enough for most users that are not constantly printing larger objects but the average size of products you plan to print is something to consider with this unit.
One of the immediately noticeable aspects of using the Flashforge Dreamer 3D Printer was the lack of noise while printing. It is not completely silent by any means but it is very quiet, making it suitable for use even in places where you have concerns about disrupting others close by. The unit has slots for a USB cable connection as well as an SD card, depending on how you prefer to use the unit. It is Wi-Fi capable and only weighs about 30 pounds.
The printing speed of the Dreamer is above average as it is rated at 200mm per second and we found it did not slow down to a slow crawl when printing products with a high level of detail, a welcome change and great feature from other models. It is very flexible as it can utilize a wide range of filaments such as Nylon, HIPS, PVA, PLA and ABS, not to mention several others as well.
With resolutions down to 100 microns, the Dreamer 3D printer provides you with excellent detail and very high-quality 3D printing. Many models in similar price ranges do not offer this type of printing resolution and it helps open up your choice of product designs to print.
Key Features of the Dreamer 3D Printer
Build Platform area 9.1 x 5.9 x 5.5 inches
USB and SD card compatible
Wi-Fi connectivity
Resolution range 100-500 microns
Speed-200mm per second
Dual Extruder print functionality (dual extrusion)
Stable print bed
Internally mounted spool (spool holder)
Maximum plate temperature 120°c
STL/X3G 3D file types
Compatible with PLA filament, PVA/HIPS/ABS/Nylon as well as others
3.5-inch touchscreen
Downsides of the Dreamer 3D Printer
As mentioned above, the plastic exterior seemed a little cheap at first but we quickly got over that once we saw the unit in action. However, it would be nice to see them do something to spruce the plastic just a bit and give it a better feel.
Other than that, the only major complaint some might have would be the limited build area size. You can deal with this in various ways. You can either choose to stick with smaller products, print multiple pieces of a larger product that will ultimately fit together or avoid buying the unit if your needs are not a good fit.
Flashforge Dreamer Alternatives
Here at T3D, we've covered a few other Flashforge printers recently. You may want to consider these as alternatives:
Final Thoughts on the Flashforge Dreamer Review
The Flashforge Dreamer 3D Printer is an excellent FDM 3D printer that we have no issue recommending as a solid consideration for anyone looking to experience 3D printing. It stands out from even some more expensive units, especially with the error-free use that seems to be no problem with the Dreamer but a problem for many other models available.
While it may not be at the top of the tier in any one single category, it does almost everything extremely well from operating quietly to offering high-quality prints to efficient printing speed.
Bottom Line: The unit is probably one of the best all-around units that we have reviewed to date and it will be a good fit for many beginners and mid-level 3D printer users. If you have been considering making the plunge into the 3D printing world or you are looking for a unit that is going to offer more than a basic unit you bought years ago, then this model is well worth considering.
Where to Buy: For the latest pricing and deals, check out this listing.