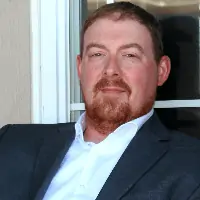 Latest posts by Justin Caldwell
(see all)
Flashforge intended to target education with their Inventor 2 3D printer, so if you're looking for a solid plug and play option for your school, this may be one of the best choices. This upgrade to the now-retired Flashforge Finder is said to be as intuitive as using your smartphone.
With fully-enclosed components, a plethora of safety features, and modern connectivity features, everyone will have fun learning how to use it. It's a high-quality 3D Printer solution for today's classrooms.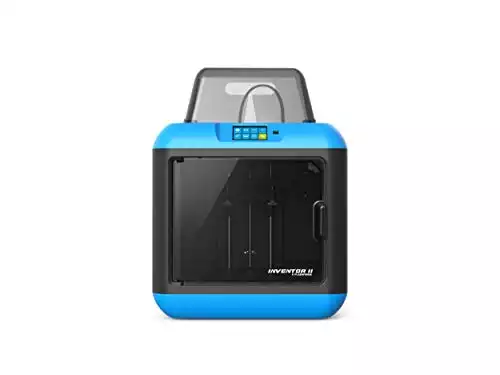 About Makers Empire
The Flashforge Inventor 2 is made by Makers Empire, an Australian company focused on design education and providing custom tools and solutions to schools. Their goal is to assist educators in harnessing the power of 3D technology.
With this technology, they can teach design thinking, STEM sciences, and project-based learning. They develop simple tools that take the guesswork out of using the printer and put the focus back in learning how to implement the concepts.
The company is only five years old, but they've already penetrated forty countries around the globe to reach over one million students with their vision to empower children to become creators and problem solvers.
They believe every child should have access to 3D technology. The team is comprised of experienced business managers, developers, and educators. Most of them have children of their own and believe in the power of education.
They all want to make a difference by reinforcing values like learning, inspiring, empathizing, and innovating.
The Flashforge Inventor 2 was made to be simple and intuitive. The design is attractive and the features make it safe for kids.
Getting Started with the Flashforge Inventor 2
This plug and play 3D printer comes with everything you need to set it up and get started right away. Everything is self-contained. Simply plug it in and you're ready to go. It's compatible with Wi-Fi so you don't need a wired connection.
Start printing in just four clicks on the touchscreen.
If you do choose to forego Wi-Fi, you can connect it to any computer with just a USB cable. It's compatible with Windows, Mac, and Linux. Plus, downloading the smartphone app means you can connect to it from wherever you are.
Flashforge Inventor 2 Design
The entire printer is self-contained. It has an attractive cube design of white and blue. All components are hidden rather than exposed. This prevents damage to the printer itself when being used by multiple inexperienced people and it protects children from touching incredibly hot components.
The touchscreen design is intuitive, much like your smartphone. It's an important addition to a 3D printer for kids because they catch on so quickly to technology that it makes the transition from a smartphone or computer to the 3D printer much easier and more seamless.
The removable print bed makes it easier to remove printed objects from the printer when they're done, without having to reach inside the unit and risk damage to the components or the printed item.
The only problem with the all-in-one design and the hidden components is that it makes maintenance on the extruder and any other moving parts much more difficult. If you're one who likes to service your technology on your own, this one is harder to take apart than others.
Flashforge Inventor 2 Specs
The Flashforge Inventor 2 has a build volume of 150mm x 140mm x 100mm, which is much bigger than the previous model. The single extruder is compatible with PET, PLA, and TPU, but you can also turn the built-in filament guide off so you can use other materials.
Using biodegradable PLA filament is recommended for indoor use in the classroom, and it also has a high-quality 50-400 micron layer resolution for detailed build designs.
Here are some additional specs for those who like to keep track:
Printing technology: Fused Filament Fabrication (FFF)
XY positioning precision: 11 microns
Z layer resolution: 2.5 microns
Nozzle diameter: 0.4mm
Filament diameter: 1.75mm
Frame and body: Plastic alloy
Printer dimensions: 420mm x 420mm x 570mm
Extruder quantity: Single
Connectivity: USB, Wi-Fi, SD card
File input type: .stl, .obj, .3mf, .ffp
File output type: .g/.gx
OS compatibility: Windows XP or newer, Linux, OSX
This 3D printer is on the more expensive end of the spectrum, but it's also much safer and worth every penny for the education of students. It's sleek and high quality with plenty of built-in features that make it easy to use.
Flashforge Inventor 2 Software
Flashprint is Flashforge's proprietary slicing software. It comes standard on the Inventor 2 and contains both linear and tree support. It enables you to split models into several different parts for printing in different stages.
Flashforge Inventor 2 Features
Features like built-in software, a touchscreen, and Wi-Fi make this 3D printer insanely easy to use. It also includes a door sensor, and will automatically pause your print job if the door is open to the chamber. Once the door is closed, printing automatically resumes.
Safety features like this make it one of the best choices for the classroom and for children.
In addition to that, you'll also notice that it's one of the quieter 3D printers available, so you can run it in the background while still conducting a lecture or a class session.
The Happy 3D mobile app allows all users to create models on their smartphone and then send them to the printer. You don't have to have a connected computer in class for your students to easily queue their builds. The only requirement is that you lift that in-class cell phone ban so they can get to work.
The touchscreen displays the model before printing so you can confirm accuracy before beginning.
Automatic calibration also takes the fuss out of bed levelling. Because this is done automatically, your students can focus on learning the design process rather than fiddling with the technology.
The onboard camera sends up to date footage to your app so you can monitor your build from anywhere. It doesn't require babysitting or being close by.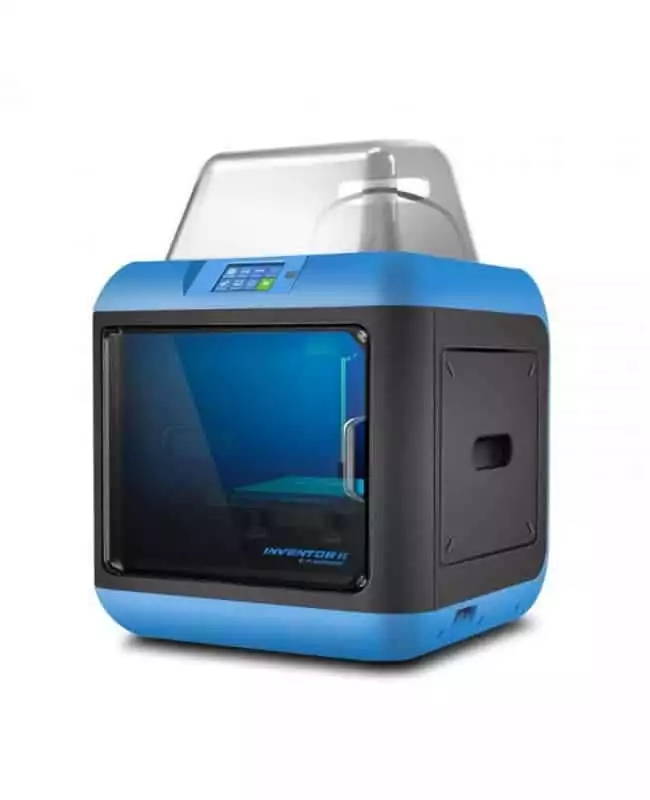 Why Go With The Inventor II? | Amazon
The Inventor 2 is a great pick for KIDS or beginners looking to get familair with 3D printing in a lower stress environment. A great buy for schools, libraries or STEM encouraging parents!
Buy at Amazon.com
We earn a commission if you click this link and make a purchase at no additional cost to you.
Flashforge Inventor 2 Alternatives
If you're a beginner or you're looking for a quality 3D printer for the classroom, here are some other options that may interest you.
This is the previous Flashforge model. It's smaller than the Inventor 2, but it's also less expensive. In fact, it's about half the price. It comes in red and black, and the Finder Lite comes in yellow and black.
Other than size, price, and colour, the only difference you might find is the lack of a mobile app. It's still built with the same touchscreen and safety features. It's also very quiet. If you can deal with a smaller size and you want the cheaper price, this is a great solution.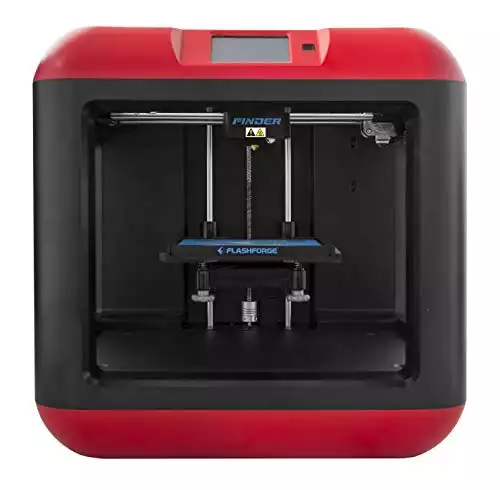 FlashForge Finder 3D Printer | 3D Printers Online
Beginners benefit from the slide-in build plate, assisted bed-leveling, and intuitive color touchscreen. And parents and teachers appreciate its quiet and safe operation. The Finder uses only non-toxic PLA, and the heated components are safely encased.
Check price
Buy at Amazon.com
We earn a commission if you click this link and make a purchase at no additional cost to you.
Read More:
Here's another plug and play option right out of the box. It was also built with children and education in mind. It has automatic bed leveling, a touchscreen, built-in software, Wi-Fi, an internal camera for monitoring progress, and a completely enclosed design.
The primary difference is the build volume. On the QIDI, it's 170mm x 150mm x 160, so it's slightly larger than the Inventor 2. For the price, you're better off getting a QIDI Tech X-Maker, but you will be giving up the mobile app and exotic filament choices.
Despite its enclosed design, nozzle changes on the Monoprice Voxel are very easy. While other enclosed 3D printers take around half an hour to change nozzles, this one doesn't.
It also includes auto-leveling, but the cool thing about this one is that it comes enabled with cloud services right out of the box. Set it up quickly and you can control and print from anywhere with a Wi-Fi connection.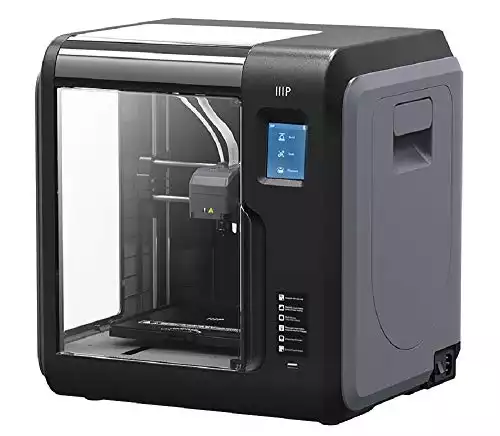 FAQ
The world of 3D printers is confusing to some, and if you're a beginner or you want to use one for education, here are some frequently asked questions that may have you wondering.
Can kids use 3D printers?
It is safe for kids to use select 3D printers, and always with supervision. Companies like Makers Empire are intentionally building 3D printers designed with the classroom in mind.
However, not all 3D printers are right for all kids. 3D printers have very hot components and very complicated mechanisms. Until the child learns how to use it appropriately, it's important that an adult is there to help.
Any of the 3D printers listed in this review are safe to a certain extent. They're enclosed and made with certain safety features that do what they can to protect little hands.
Safety should always be your first concern when getting a 3D printer for children to use, so do your research and choose wisely.
What is the best 3D printer for a beginner?
Flashforge makes some of the best 3D printers for beginners, including the Finder, the Inventor 2, the Adventurer, and the Dreamer. Not only that, but they're backed by a company who has a heart for education and designs their printers with that in mind.
Outside of the Makers Empire models, you'll find great beginner 3D printers in a lot of different places. Monoprice and QIDI are just a few of the other options.
Can you make toys with a 3D printer?
Speaking of children, many people want to know if they can print toys in their 3D printer. Since many toys are made of plastic, it's natural that you might want to design your own if you have a 3D printer, and you can.
You can create your own designs or download models from the internet and create them at home. It's easy to make almost anything with a 3D printer. The sky's the limit, toys included.
Is PLA kid-safe?
If you're going to be letting kids use the 3D printer, you may wonder if the filament is safe for them as well. PLA is bioplastic, so it's non-toxic. It's the safest material for kids to learn to print with. While there are 3D printers out there for kids that have interchangeable filaments, most come standard with PLA, which is the best option.
The Verdict: Flashforge Inventor 2 Review
Beginners, students, and teachers alike will find that the Flashforge Inventor 2 is one of the best 3D printers for kids to learn. It's geared toward education and built with the safety of children in mind.
It's easy setup and quiet printing make it ideal for the classroom. The build volume is larger than its predecessor, but it's also more expensive. This may turn some people off, but it's well worth it for the safety features.
It also includes a mobile app and a camera to monitor progress remotely, so even if the class is over before the build is done, your students can keep tabs on their projects. If you're in the market for a beginner 3D printer for kids, this is one of the better options available.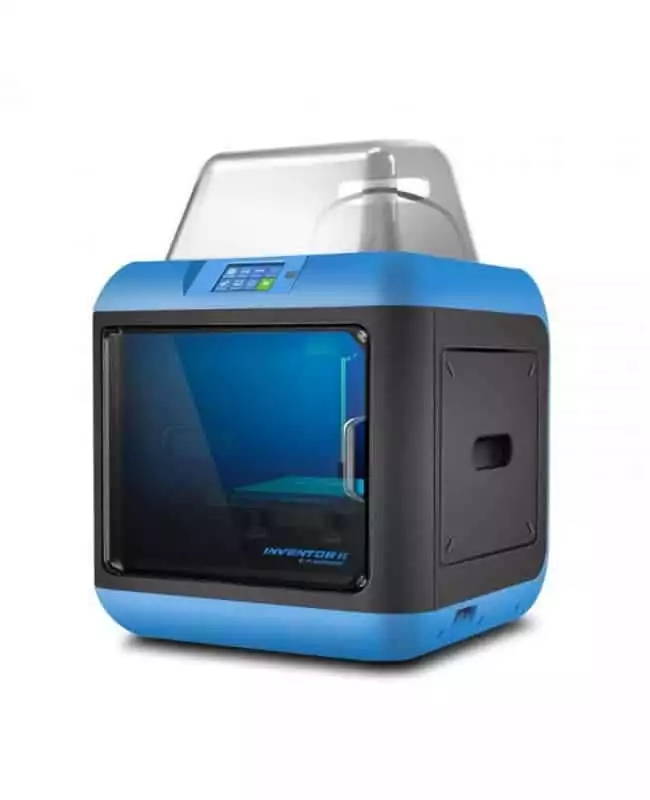 Why Go With The Inventor II? | Amazon
The Inventor 2 is a great pick for KIDS or beginners looking to get familair with 3D printing in a lower stress environment. A great buy for schools, libraries or STEM encouraging parents!
Buy at Amazon.com
We earn a commission if you click this link and make a purchase at no additional cost to you.
Recommended Reads: