Latest posts by Jodie Chiffey
(see all)
Our BCN3D Epsilon review is going to show you the ins and outs of the different features this 3D printer has and how it performs. It is a newcomer onto the market as it was only released at the start of 2020.
Made by the Barcelona based, BCN3D, this 3D printer has been designed as a midway point between home and desktop 3D printers and those that can print on an industrial scale in the 3D printing industry. The price range reflects this but you can find out more about how much 3D printers generally cost here.
Let's start by looking at the key specifications of the Epsilon 3D printer.
Key specifications of BCN3D Epsilon W50
The BCN3D Epsilon is a pretty large printer that is designed to be a step up from home desktop 3D printers but not at the same size and power of those that are used for industrial 3D printing.
Here is a list of the 3D printing specifications.
| | |
| --- | --- |
| Build volume | 420 x 300 x 400 mm |
| Build plate maximum temperature | 120 °C |
| Extruder maximum temperature | 300 °C |
| Filament types | PLA, PVA, PET-G, TPU, ABS, PP, PA, Fiber filled materials. |
| Filament diameter | 2.85 mm |
| WiFi connectivity? | Yes |
| Operating System | MacOS, Windows and Linux |
| Warranty | 1 Year |
| Our score | 9/10 |
| Latest price | Click here find the latest price |
Core features of BCN3D Epsilon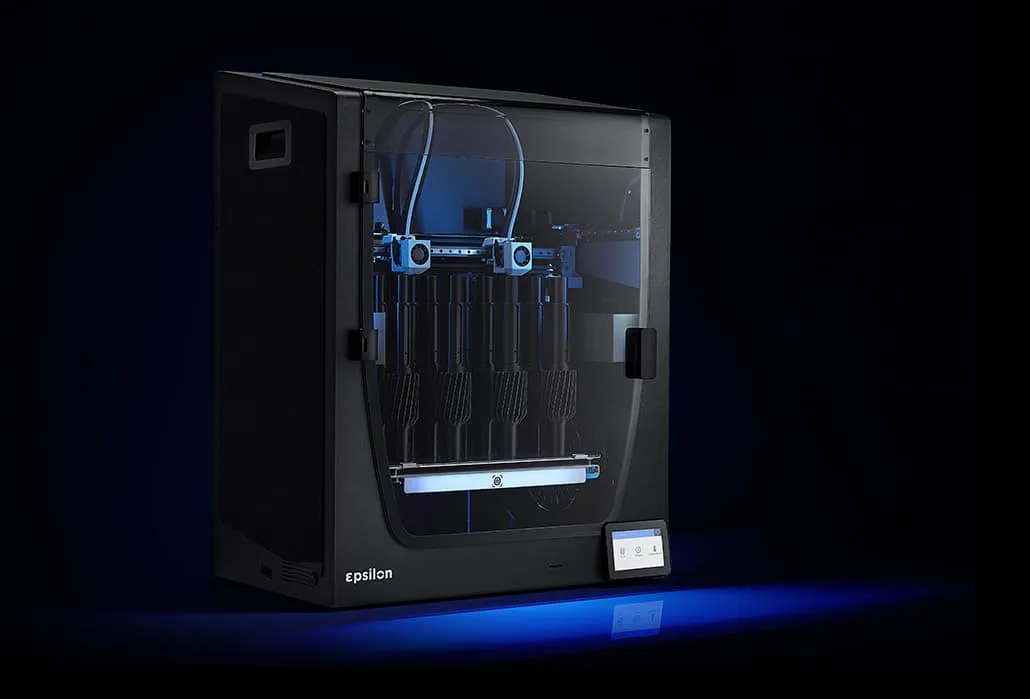 The BCN3D Epsilon 3D printer has a range of different features that will suit a wide number of industries. We've gathered the core features of this 3D printer to show you what it has to offer.
Design
The BCN3D Epsilon 3D printer looks really good. Even though the actual design of the printer isn't really high on our list and we're more concerned with how it functions, this is still a good printer from an aesthetic point of view.
If you have this sitting in an office for example it won't be an ugly addition by any means. The printer is pretty big and sits in the market between a desktop 3D printer and an industrial model so you will need a bit of space to house it.
One thing to note is that the printer does make a fair bit of noise. This isn't the actual printing process as such but rather due to the HEPA filters and the fan – so it is something to be a way of depending on where you are going to place the printer and what other work will be carried out in the vicinity.
Two IDEX printheads
One of the big things you'll notice with the BCN3D Epsilon W50 is the two IDEX printheads. I suppose this is one thing that sets this type of printer apart from some of the more affordable models on the market.
There are two independent print heads on the Epsilon and this has two major benefits. One is that you can print from two different materials and the second is that you can divide up the work for 3D printers between the two print heads as well. Essentially you are getting the processing power of two 3D printers in one.
3D Printing Mirror mode
The mirror mode on the BCN3D Epsilon W50 is a pretty unique feature and it allows you to print two opposite parts of a print at the same time. Essentially it means that instead of creating two different models and having them print twice, you can create one model, mirror it, and get two parts from that single model.
Automatic pausing
If you encounter any issues with the filaments, the print on the BCN3D Epsilon W50 will be automatically paused. For example, if the materials run out or if there is a problem with feeding it through, the filament flow sensors will cause the print to pause until the user prompts it to start again after the issue is fixed.
This is good because it should prevent any issues from the print coming from a filament problem.
You can also track the progress of your prints through a monitoring system as well.
Isolated chamber
The isolate chamber is equipped with both carbon and HEPA filters.
One issue that has been fixed with the BCN3D Epsilon 3D printer is around the chamber and no notification being generated to tell you that the chamber is open – if it is, your 3D print won't start. This did lead to some confusion initially as to why the printer was firing up however with the latest firmware update, you now get a notification to tell you to close the chamber door if it is open which cuts down on the time you'll spend troubleshooting.
3D Printing Software
The open-source nature of many 3D printers means that different software can be used and with the BCN3D Epsilon 3D printer you can use the well-known program, CURA. This has been slightly modified by BCN3D for specific use with their printers and the Epsilon in particular.
The good news is that the modified version of CURA is very easy to use and navigate your way around. Even if you are someone that has never used a 3D printer before let alone the software to operate one, you shouldn't have any issues at all with using this program. It is very straightforward and you'll have your prints ready to go in no time at all.
How does the BCN3D Epsilon perform?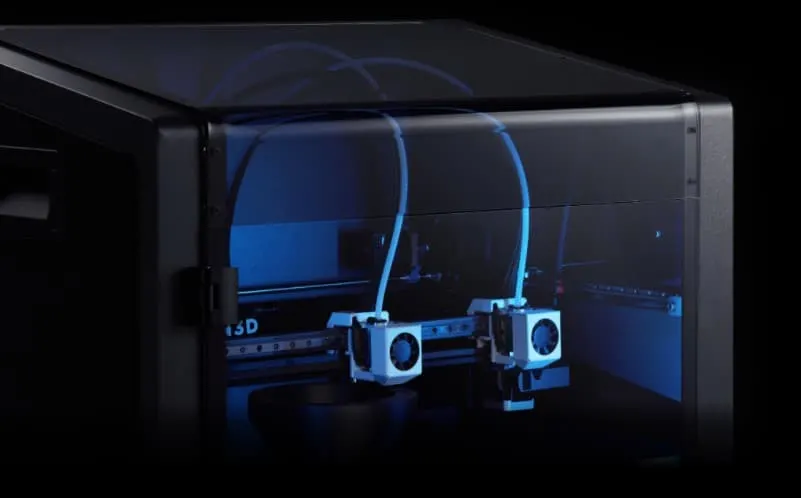 The BCN3D Epsilon W50 has a range of great features that set it apart from the desktop models – although you can find various dual extruder 3D printers including the Signmax which is also from BCN3D.
So, how does this 3D printer actually perform when it comes to 3D prints?
We've found the BCN3D Epsilon W50 to be of particularly high quality. One feature and something that will expand the possibilities of what you can do with this printer is the two IDEX printheads. These do a great job of allowing you to print with different materials at the one time and we especially like the mirror mode too.
All the prints we've seen from this machine have been of great quality. It is also a highly reliable 3D printer as well and prints that last several days have come out consistently. Being able to use the BCN3D Epsilon W50 over a few days and having it running over that period of time is another feature that sets it apart from some desktop models that wouldn't cope too well with this.
We didn't find any delamination or warping of the models that were printed either.
Overall the BCN3D Epsilon performed as we expected it to and produced high-quality 3D prints with precision and accuracy.
Pros of BCN3D Epsilon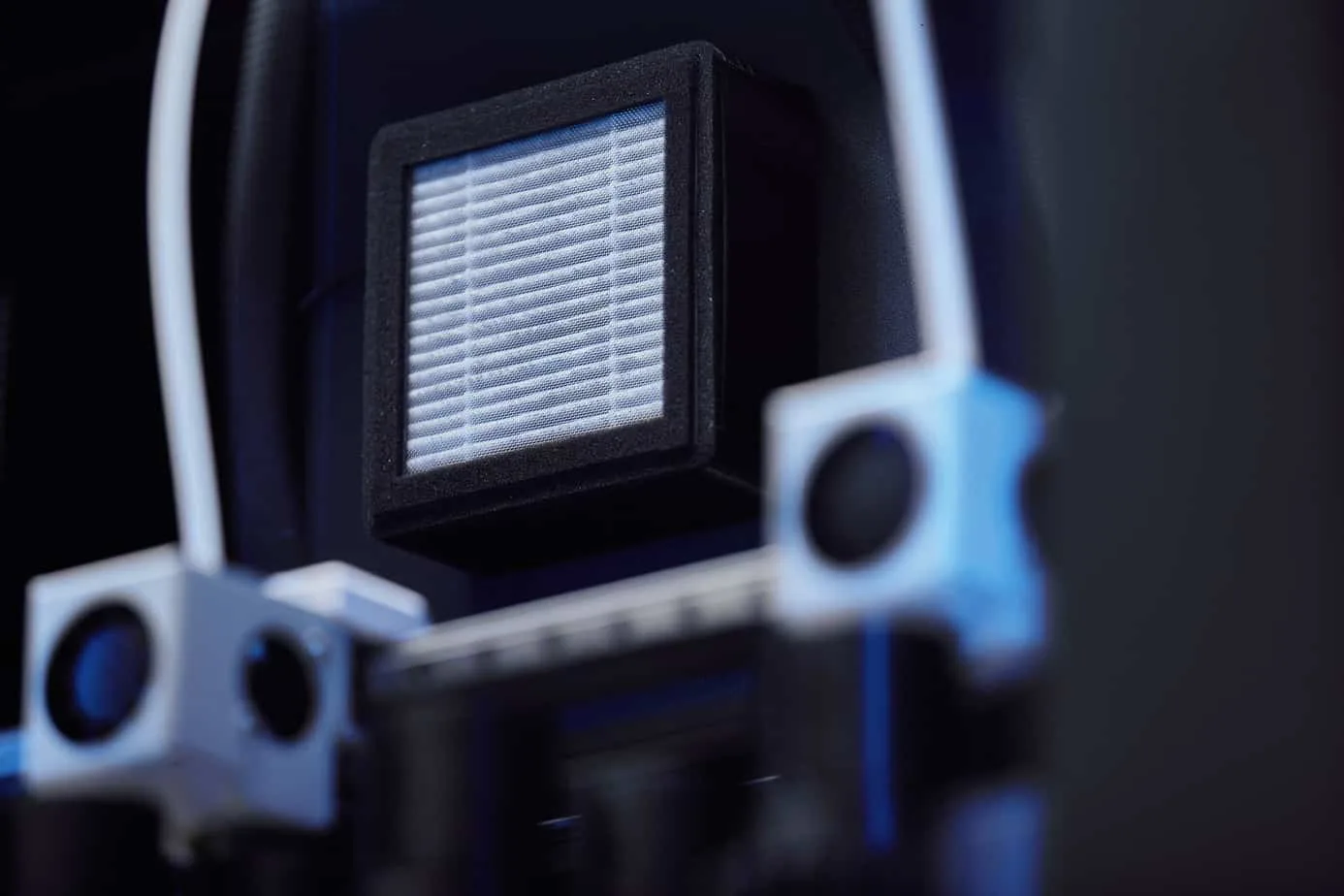 The BCN3D Epsilon W50 has many great features that set it apart from other models in its price range. These are the best.
Two IDEX printheads
The two IDEX 3D printer printheads on the printer open up a realm of possibilities that you won't find with many other 3D printers that are in and around this price bracket. It means you are able to print with two materials while you can also divide up the work and basically harness the processing power of two 3D printers in one.
3D Printing Mirror Mode
Tied in with the two IDEA printheads, the fact that you can print in mirror mode is another major benefit of the BCN3D Epsilon W50. Rather than having to create two models for two prints, you can simply create one model and have it mirrored so the result is two prints of the same model.
Big workspace
Using this 3D printer on a bigger scale then you would need for a home or small office printers means needing a larger workspace. The 420 x 300 x 400 mm printing volume is ideal for printing off sizable models and also using this on an industrial scale.
Cost-effective model
With all the great features this printer offers, you'd think that it'd come with a really high price tag but that isn't the case. It is above what you'd pay for a home 3D printer that's on a desk but it is lower than many other 3D printers that are designed to be used in small businesses and offices.
Easy to use software
The open-sourced CURA software is used for the Epsilon and it has been slightly modified by BCN3D to suit the capabilities and functions of this printer. It is very easy to use and get to grips with so even if you have next to no prior experience of using CURA or software for a 3D printer, you'll get on fine.
WiFi connectivity
The Epsilon has WiFi connectivity which you'd expect on a printer in this price range but it is still a bonus as you'd be surprised how many 3D printers come without it.
Cons of BCN3D Epsilon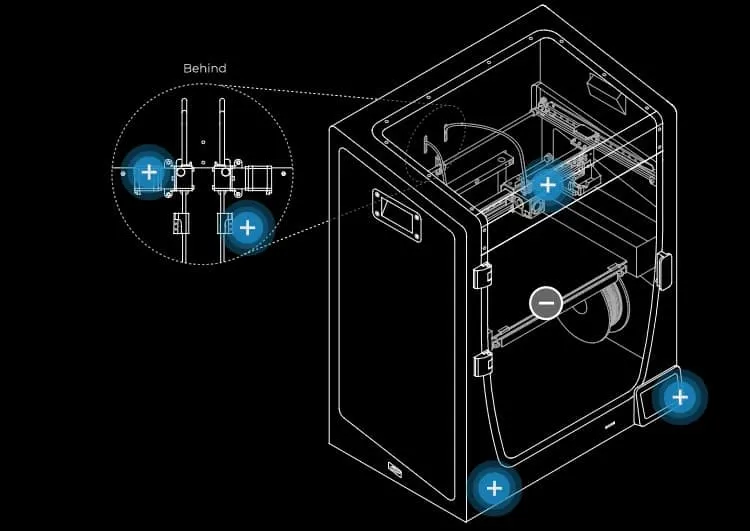 Not everything is plain sailing with the BCN3D Epsilon W50 and we need to make you aware of a few disadvantages to using this printer.
Noise
To be honest we have come across a lot of 3D printers that make noise and a lot of printers that make more noise than the Epsilon W50. That being said, the Epsilon W50 isn't exactly quiet so it can be a disadvantage if you have it sitting in an office where you are doing other work especially if it is running for several days.
Accessories
One thing that is a fairly big drawback of this printer is the accessories provided namely the spatula, Magigoo glue, and pliers. They are the same as previous BCN3D models and while it isn't enough to put us off buying one, we'd expected a bit of an upgrade in this department.
Use of shims
Again, a drawback but not one that detracts from the printer overall. If you are printing in independent dual or mirror mode we'd recommend using shims when lowering the printheads. It isn't a massive extra job but it is another process that needs to be carried out if you want accurate and high-quality prints.
BCN3D Epsilon W50 Alternatives?
BCND3D Epsilon W27
The Epsilon W27 is the smaller sibling of the W50 (in the same Epsilon series).
The main difference between the BCN3D Epsilon W50 and the BCN3D Epsilon W27 is that the W50 has a significantly larger build volume at 5o liters, compared to the W27 at 27 liters. The W50 also has a larger build plate at 400mm compared to 220mm on the W27.
They are still both considered large format 3D printers, with industrial shop floor use cases.
BCN3D Sigmax R19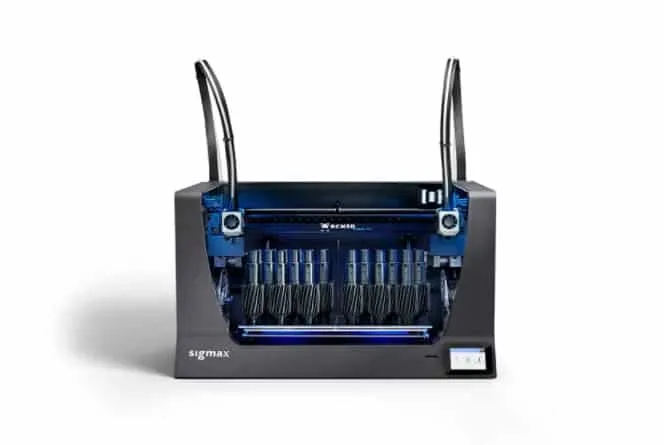 One of our alternatives to the Epsilon is the Signmax R19 which is also made from the Barcelona based BCN3D.
It offers similar features such as independent dual and mirror modes and IDEX printheads. The Sigmax R19 is a bit smaller than the Epsilon so it may be more suitable if you only have a small workplace. The build volume is smaller as a result (420mm x 297mm x 210mm) as is the max extruder temperature of 280 °C and there is no WiFi connectivity.
The bonus is that the Signmax R19 is cheaper (a good bit cheaper as well) and it will still print high-quality models although it doesn't offer some of the same features as the Epsilon which is the model up from this. We had a look at the Sigmax R19 before which you can find here.
Raise3D Pro2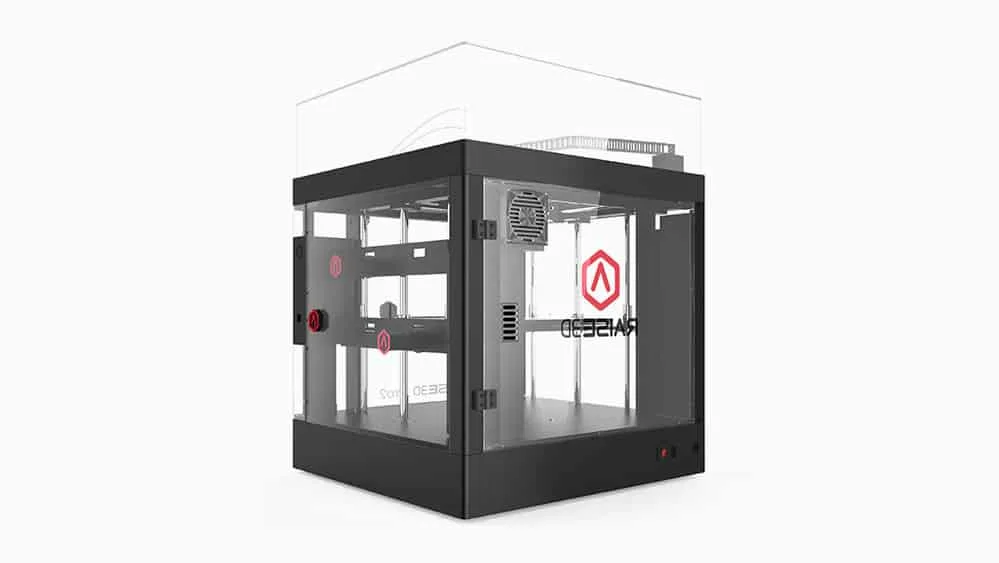 The Raise3D Pro2 is in and around the same price range as the Sigmax R19 so it is going to be cheaper than the Epsilon and it is another independent dual extruder 3D printer that is worthy of consideration.
With a built-in camera, HEPA filter, touchscreen, and wireless technology, it is a very good device that offers high-quality prints. The hot end can reach temperatures of up to 300° C and the build volume is very good as well coming in at 305 x 305 x 305mm.
While it is a bit smaller than the printers from BCN3D, the Raise3D Pro2 offers a wide range of features which is very good for its price.
FAQs About the BCN3D Epsilon
Does the BCN3D Epsilon W50 have WiFi connectivity?
Yes. Unlike one of its predecessors, the Sigmax R19, it does come with WiFi connectivity which is a great addition to a printer that is already packed with features.
Can I print engineering-grade materials with the BCN3D Epsilon?
Yes. The Epsilon from BCN3D allows you to use a range of materials such as PLA, PVA, PET-G, TPU, ABS, PP, PA, Fiber-filled materials and the 300° C max temperatures are ideal for using with an engineering-grade filament.
Does the BCN3D Epsilon printer come with software?
The printer uses the open-source software CURA which is well known and widely used with many 3D printers. It isn't hard to operate and BCN3D has slightly modified it to fit in better with the Epsilon.
Specifications:
– Windows: Windows Vista or higher, 64 bit
– Mac OS: Mac OS 10.11 or higher, 64 bit
– Linux: Ubuntu 14.04 or higher, 64 bit
– Intel Core 2 or AMD Athlon 64 or newer
– 205 MB available hard disk space
– 4GB RAM memory
What is the max temperature for the BCN3D Epsilon?
The build plate temperature can reach up to 120 °C while the max temperature for the dual extruders is 300 °C.
What is mirror mode on the BCN3D Epsilon?
Mirror mode means that you can use the two IDEX printheads for two prints but you only need one model.
Final Thoughts: BCN3D Epsilon W50 Review
Overall you'll be hard-pressed to find a better printer than the BCN3D in its price range.
That isn't to say that it is perfect. For some people, the cost may outweigh some of the more impressive features and it is really going to depend on what you need a 3D printer for and how long you plan to use it which will decide if it's worth the money.
It does suffer some other issues such as noise with the carbon and HEPA filters but the good news is that the latest firmware has fixed the notification problem when the isolated chamber was open.
Aside from that – this is a very good 3D printer. The BCN3D Epsilon comes packed with what you need for high-quality prints including the two IDEX print heads, automatic pausing to prevent filament errors, mirror and dual modes, a large build volume, high temperature, and the software is very easy to use as well.
If you want something that is a step up from the many desktop printers out there and can perform to very high standards, you can do a lot worse than the BCN3D Epsilon.