You have decided to give 3D printing a try, and you're interested in using resins to create your works of art. How do you choose the best resin 3D printer?
While there are many features, specifications, and characteristics that you should consider, choosing a resin 3D printer should focus on three things: price, speed, and build quality.
But it's really not as straightforward at that because there are things that you should decide on first. Read on and find out how you can find the best resin 3D printer out there, and what makes them the best for you.
DLP or SLA? Which One Should You Choose?
There are two main types of 3D printers based on the light source. There's digital light processing printers and stereolithography printers.
Stereolithography
SLA is the oldest printing techniques used today. SLA printers use lasers to do its work.
The laser light is guided by a pair of galvanometers that directs these beams of light to the right coordinates. As the laser beam travels over the liquid polymer, the material hardens.
Digital Light Processing
DLP printers use photopolymers to create the model you want. It uses a traditional light source such as an arc lamp.
These printers have a vat for the polymer, which is exposed to ultraviolet light in layers. The first layer of the polymer will harden and then the printer will print the next slice until the model is finished.
Unlike SLA printers, the light is not concentrated in a single spot. Instead, DLP printers form the whole layer at once.
DLP and SLA: What's the Same?
No matter what you choose, you will need a photodegradable initiator substance or resins that can interact with light to form carbene-like compounds, cations, or free radicals. These compounds are necessary for polymerization to take place, and to create your printed object.
DLP and SLA: What's Different?
As you can guess, the main difference between these two technologies is the light source. DLP printers use UV light with SLA uses a laser.
The UV light in DLP printers remains in place as it produces your print layer by layer. In stereolithography, the beam moves around point by point.
Benefits of SLA Printers
These mechanisms affect how accurate the printed model will be. SLA printers are more accurate because the lasers go to where the point of curing is.
As such, SLA printers produce better quality prints.
Benefits of DLP Printers
However, DLP printers work faster than SLA printers. So if you do not need finely detailed prints, you might be able to save time with a DLP printer.
If you need to change the light source, UV lights are generally more affordable than laser lights.
DLP printers allow you to adjust the intensity of its UV lights, so you can have different effects on the resin. With the lasers in SLA printers, you cannot get the same variance in effects unless you change the laser light with the right beam intensity.
DLP printers are typically easier to maintain. SLA printers require calibration, which is typically done by a professional. What's more, an SLA printer has a much more complex architecture, so if something goes wrong, you will need a professional to come in and take a look.
DLP vs. SLA: Which One Should You Choose
Which technology should you be using? Here's a simple guide
Choose an SLA printer if:
You require a high level of accuracy and resolutions for your prints.
You don't like dealing with subtle remnants or jaggedness in the edges of your prints.
You need to print several intricate and smaller parts at the same time.
Choose a DLP printer if:
You want faster prints.
You don't want to do too much post-curing.
Your prints are not that detailed.
You want a more reliable printer because DLP has fewer moving parts.
You want DIY maintenance that is also affordable.
You want to save money.
LCD Printers: Some Things You Should Know
Another less common 3D printing technology is LCD. It's very much like DLP printing, but instead of using a projector, LCD uses an array of LED lights for its UV light source. The LCD acts like a mask, so it reveals only the pixels that are needed to create that particular later.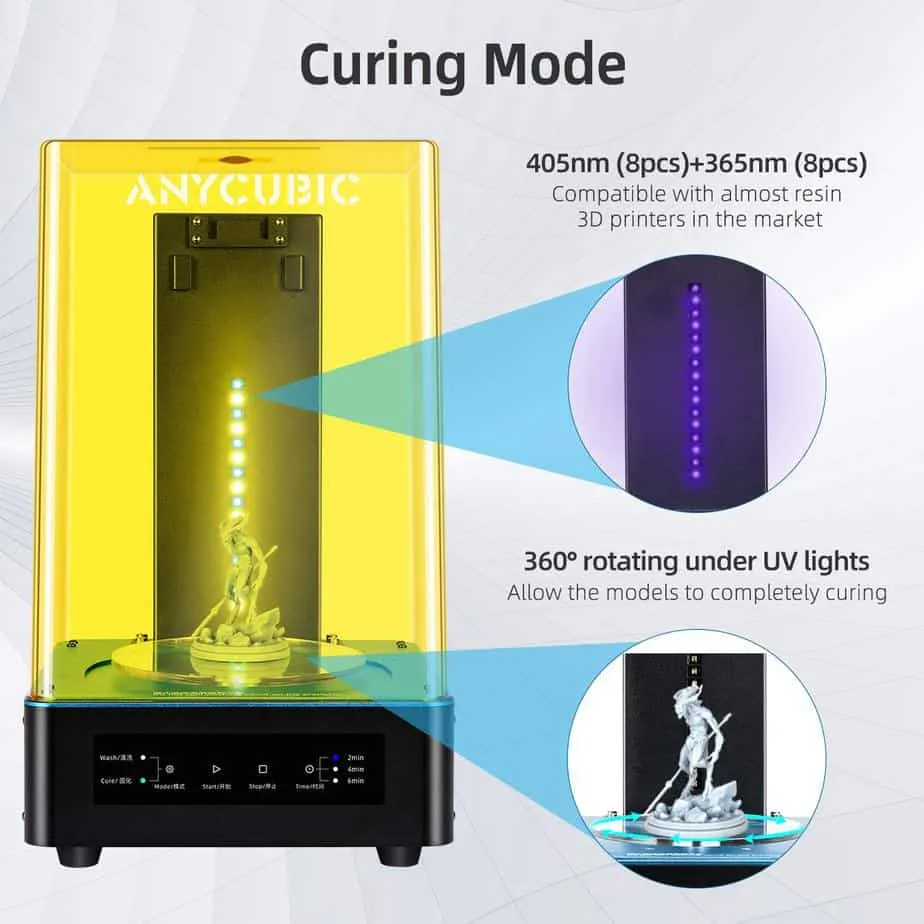 Unlike both DLP and SLA printers, LCD printers do not have a mechanism that directs lights towards particular parts of the resin.
What's more, DLP is more of a professional's 3D printer. Compared to desktop LCD printers, DLP devices are more expensive.
Build Volume Should Be Your First Consideration
Our Pick
We love the Anycubic Photon | Amazon
Dead simple to set-up, comes pre-assembled, intuitive touch-screen and exceptional level of detail. This machine empowers CREATORS, without expecting you to be a mechanic. The small - but precise - print bed is perfect for miniatures.
Buy at Amazon.com
Buy directly at Anycubic
We earn a commission if you click this link and make a purchase at no additional cost to you.
Once you have decided on an SLA, DLP, or LCD 3D printer, it's time to narrow down your choices.
Build volume will determine how big a model you can print on your 3D printer. A big build volume will allow you to print a large model in one piece. You don't have to spend time to assemble smaller pieces to get your 3D model. Plus, if you're forced to print on a smaller scale, you lose some important details on the model.
If the printer you use allows you to print different models in one go, a bigger build volume will also allow you to produce more products in the same batch. And even if you don't need it now, you may need a printer with a large printing capacity in the future.
However, printers with large build volumes often have hefty price tags. If you're not into professional 3D printing, you might want to consider a 3D printer that will accommodate most of your printing needs. For instance, if you're printing miniatures for a diorama you're working on, then you can probably forego having to pay extra for a larger 3D printer.
What's more, large build volumes equate to bigger printer dimensions. If you only have a small space, there is no way you can fit a big 3D printer in there.
A Word About Build Volumes
You should know that there are printers that oversell their products' build volumes. A ZDNet article showed that actual widths and depths can differ from those stated by the manufacturer. The typical printer will print anywhere from 0.1 to 0.4 percent smaller models than what is written in the manual.
For instance, the biggest differences in their tests were found in the Dreammaker Overlord Pro Plus with a claimed build volume of 4.9 by 4.9 by 11.0 inches (125 by 125 by 280 millimeters), but can only print objects of up to 3.1 by 3.1 by 10.0 inches (79 by 79 by 255 millimeters).
What 3D Printers Should You Consider?
What are the best 3D printers with sizable build volumes? Look for:
Uniz Slash+
Formlabs Form 2
Flashforge Hunter
Peopoly Moai
Uniz Slash+
Uniz Slash+ offers you a build area of 7.5 by 4.7 by 7.9 inches (190.5 by 121.9 by 198.1 millimeters). Plus, with all that capacity, it prints with impressive speed. It's also designed to be precise and accurate.
This 3D printer has a resolution of 2,560 by 1,600 pixels at 75 micrometers. It works with several resins and is very reliable.
However, this is one very expensive SLA printer, costing close to $2,900.
Formlabs Form 2
Formlabs Form 2 gives you excellent quality prints, easy to use software, and powerful features that make it t a shoo-in for those who are serious about 3D printing.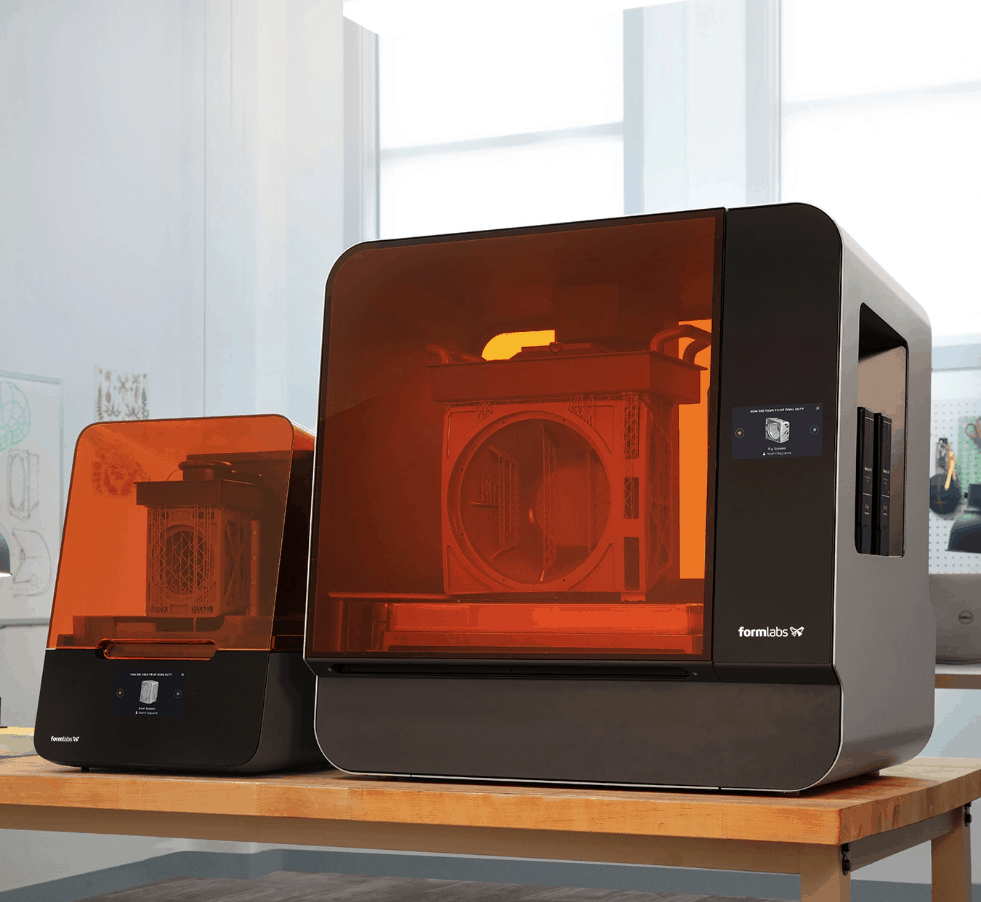 It works with third-party materials and the setup is pretty simple. The prints come out with sharp and clean edges, with a lot of intricate details. It also prints out very fast.
However, this is not the printer for those looking for bigger build volumes. It costs around $3,500 and the consumables start at $150 or more.
Flashforge Hunter
Flashforge Hunter comes from a company with a reputation for affordable yet high-quality 3D printers. And the Hunter does not disappoint.
It's an excellent plug and play 3D printer and has shorter print times than most other SLA printers. It gives you a bigger build area as well at 5.7 by 5.7 by 6.9 inches (145 x 145 x 175 millimeters).
This DLP printer is also very quiet. You will love just how easy it is to use. However, like other 3D printers we have here, it's also very expensive, costing around $4,000.
Peopoly Moai
We know that you are hating how 3D printers with big build areas also cost a lot. The Peopoly Moai is one excellent and huge 3D printer that doesn't cost as much. It sells for $1,200.
Peopoly positions the Moai as an affordable yet powerful 3D printer. It has a build volume of 5.1 by 5.1 by 7.1 inches (130 by 130 by 180 millimeters).
What's more, the Peopoly Moai has an open design that makes it different from the rest. And unlike most other SLA printers, you can adjust the intensity and exposure of the lasers on this printer.
However, this printer needs some assembly, and you might end up getting frustrated trying to put it together even before you start printing.
Further, you will also need to replace the print tray frequently, and preparing your prints needs a lot of tweaking.
A Bigger Print Area Means a Higher Price Tag
If you need a 3D printer that is able to handle big prints, then you should save up and save for a long time. These 3D printers will cost you a lot.
A side-by-side comparison of our recommendations follows:
Features
Build volume (mm)
Resolution (μm)

Speed (mm/hr)

Uniz Slash+

High-resolution 3D prints
Very fast printing speed
Works with a wide variety of resins
Consistent and reliable
Accurate

192 × 120 × 200

75

200

Formlabs Form 2

Compact size
Modern and sleek design
Easy to use
Wi-Fi connectivity
Excellent customer service

145 x 145 x 175

25

30

Flashforge Hunter

Works quietly and fast
Optimized DLP projector
Models print out in high-resolution
Works with third-party materials and resins
Easy to use and intuitive user interface.

145 x 145 x 175

62.5

10

Peopoly Moai

Very affordable
Over the top printer resolution
Speedy prints
Stellar customer service
Models look like they were done by a professional
Perfect for big and complex structures
Works with a variety of resins

130 x 130 x 180

70

85
Cost: Should You Buy Really Expensive Printers?
Perhaps the biggest consideration most people have when they are choosing a resin 3D printer is how much it's going to cost them. Some people may think that the more expensive printers are better: they have bigger build volumes, higher resolutions, and are more accurate.
For the most part, these may be true, but there are exceptions to the rule. For example, if you are looking for budget-friendly options, you can take a look at:
Monoprice Mini Deluxe
The Monoprice Mini Deluxe costs around $500. But even at that price, the LCD printer delivers excellent prints with resolutions of up to 20 micrometers.
It measures 7.8 by 7.8 by 16.0 inches (198 by 198 by 406 millimeters). It's compact and small, making it very easy to move around where you want it.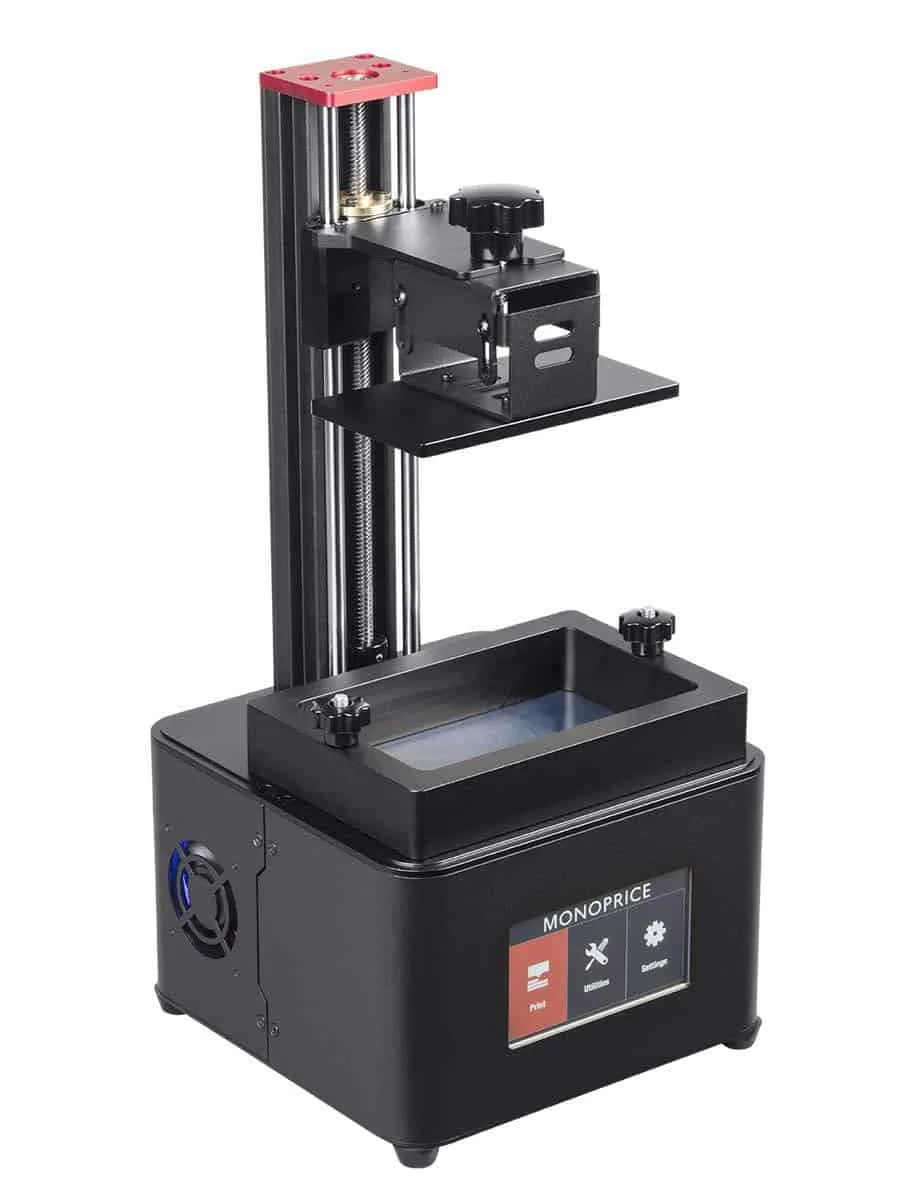 But it does come with some tradeoffs. For instance, some users might find it difficult to configure.
The compact dimensions of this printer also mean one thing: a small build area measuring 4.7 by 2.8 by 7.8 inches (120 by 70 by 200 millimeters).
Moreover, you might find yourself maintaining this printer more often than what you'd like. You will need to change the base of the vat after every 10 to 20 prints. To do that, you will need to remove 18 different screws and then put back the whole thing after you're done.
Anycubic Photon
Anycubic sells the Photon printer for around $170.
It's going to be difficult to top this printer at this very low price. This LCD printer gives you 2K resolution at 47 micrometers. It also comes assembled right out of the box.
Photon is the 3D printer that others have copied or improved on. It's still on several best-of lists because of its price, decent printing capabilities, powerful LEDs, and its firmware. It also has a decent build volume of 4.5 by 2.6 by 6.1 inches (115 by 65 by 155 millimeters).
Photon also has a vibrant user community that has ensured that you can get help when you run into trouble, gives you tips and tricks, as well as suggest how to improve your printing with this printer.
However, this device can only print 20 millimeters per hour. See how Photon compares to its upgraded version, Photon S here.
Our Pick
We love the Anycubic Photon | Amazon
Dead simple to set-up, comes pre-assembled, intuitive touch-screen and exceptional level of detail. This machine empowers CREATORS, without expecting you to be a mechanic. The small - but precise - print bed is perfect for miniatures.
Buy at Amazon.com
Buy directly at Anycubic
We earn a commission if you click this link and make a purchase at no additional cost to you.
SparkMaker
With a price tag that hovers around $260, you will be surprised at the set of features that this LCD 3D printer gives you. It comes with a full high-definition 1080-pixel LCD that allows for precise printing.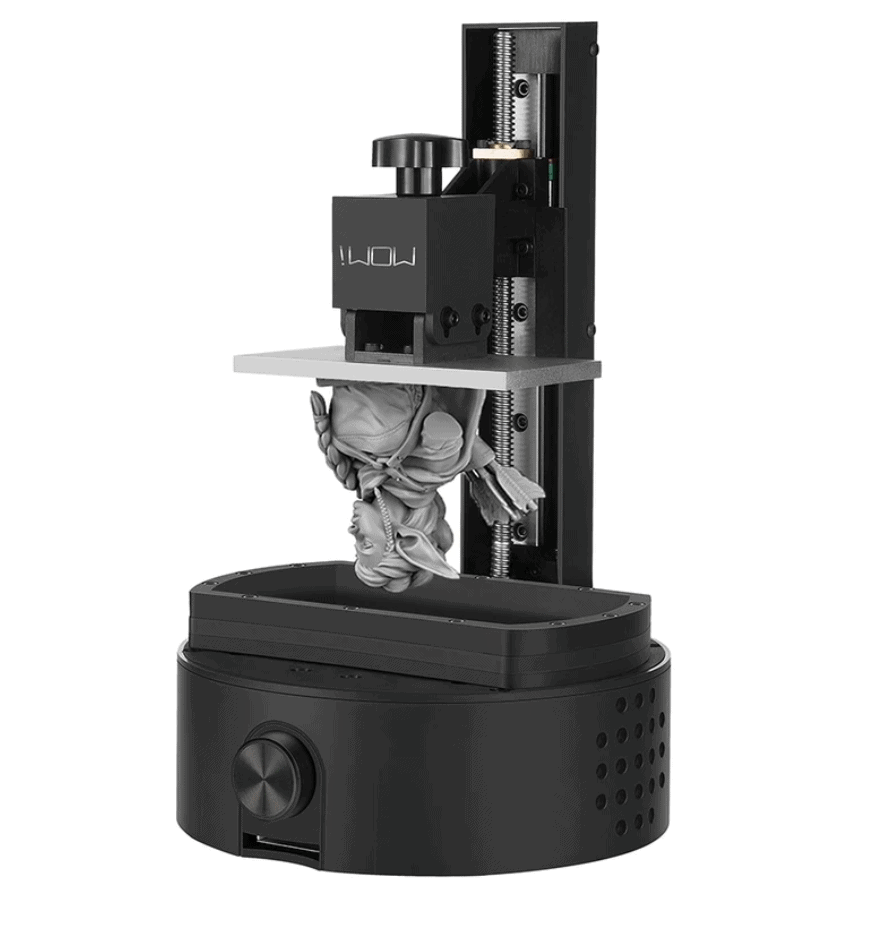 With a 57-micrometer XY resolution and 42 UV LED light sources, you can have some of the best quality prints from this machine. You don't have to worry about assembling it; too, making it ready to go once you get it out of the box. The manufacturer delivers it to you with everything in place and the leveling done.
It does have a smaller build volume at 3.9 by 2.2 by 4.9 inches (98 by 55 by 125 millimeters), but that is to be expected because of its compact size. This printer measures only 6.7 by 6.7 by 10.8 inches (170 by 170 by 275 millimeters).
Affordable But Slow
These three 3D printers are going to be some of the most affordable options you have right now. They don't sacrifice on resolution and features, but they tend to be on the lower end as far as 3D printers go.
These will be perfect for you if you're just starting out and trying to decide whether 3D printing is something that you really want.
A side-by-side comparison of these three printers will help you choose the best affordable resin 3D printer:
Printers
Features
Build Volume (mm)
Resolution
(μm)
Speed (mm/hr)
Monoprice Mini Deluxe

Affordable
High resolution
Fast printing
LCD touchscreen
Compatible with third-party resins
No problems sourcing inexpensive spare parts

120 x 70 x 200

20

30

Anycubic Photon

Has its own slicer
Easy to set up and use
High resolution
Excellent quality prints
Easy to follow instructions for assembly and cleaning

115 x 65 x 155

47

20

SparkMaker

Affordable and compact resin printer.
Very quiet.
You can use third-party resins.
Easy to use and comes with a dedicated slicer software

98 x 55 x 125

57

25
Managing the Trade-Off
As you can see, there is a trade-off when it comes to price, build size, and speed of 3D printers. The bigger the build size, the more expensive a 3D printer gets. The faster a printer finishes the job, it gets more costly.
The best resin 3D printer would be somewhere along the middle. If you're not particularly looking to print huge pieces in one go, but would like something that's faster than most 3D printers without the very high price, then you can consider the following:
Features
Build Volume (mm)
Resolution
(μm)
Speed (mm/h)
Price Range
Wanhao Duplicator 7

Sturdy and durable
Easy to use
Works with low-cost resins
Vibrant and supportive community
Excellent quality prints

120 x 68 x 180

25
35

$400 – $500

Micromake L2

Affordable
Very precise
Has a post-curing hood
Multi-language user interface
Built-in 6 gigabytes of storage
Printing is speedy
Simple to use
4.3-inch high-definition LCD touchscreen

108 x 65 x 200

57
20

$500 – $600
Best Resin 3D Printers: Other Characteristics You Should Consider
Aside from the price, speed, and build volume of the resin 3D printer, you should also look at the following characteristics in order to choose the best one for your needs:
Accuracy – A 3D printer's accuracy will determine whether or not the printed model will look like the digital design you created in your slicer or CAD program.
Durability – A 3D printer can cost anywhere from less than $200 to thousands of dollars. If anything, it will be a bummer if your printer breaks down or needs a lot of maintenance. Aside from the interruption of your work, all the troubleshooting and maintenance will add costs to your printing.
Materials – Some 3D printers work only with resins from the same manufacturer. Others will not work with certain kinds of resins. To get the most out of your 3D printers, it should be compatible with different kinds of resins, to ensure that you have the flexibility to create all the 3D models you can think of.
Customer service – A 3D printer may be very complex. It's a technology that most people, especially beginners, will not be familiar with. Having excellent customer service can get you out of any potential problems you might have with your printer.
Best Resin 3D Printers: Frequently Asked Questions
We try to answer some of the questions that are related to resin 3D printers.
1. Why should you care about resin 3D prints?
Resin printers often have better quality prints than comparable fused deposition modeling printers. This is because lasers or projectors can easily render fine details on resin. As such, they produce more accurate models.
Further, printers using filaments may have more accidents as upper layers may not fuse with the bottom layers as solidly as you would want to.
So, if you're going for models that have intricate designs, consider resin 3D prints.
2. Is cheaper necessarily better?
In the case of resin 3D printers, you should decide against printers that are cheaper but have lower print quality. Spend a bit more for a more precise 3D printer because it may spell the difference between coming up with a great model, or tons of frustration.
3. What are some resins that you should know of?
There are a lot of materials that are used for resins. Thermoset polymers make it easy to have attractive 3D models with its smooth finish, high level of detail, and sturdiness.
Standard resin produces sturdy and high-resolution models. These are usually used to print prototypes.
Clear resin is like standard resin, but you can see what's inside because it's almost transparent.
Tough resins are for those models that need to be stronger, more elastic, and can withstand a tremendous amount of pressure.
Aluminum resin is resistant to wear. It's the perfect material for those parts that need low friction and flexibility. Aluminum resin often results in a 3D model that has a smooth surface.
There are also specific types of resins for engineers, doctors, dentists, and other professionals. Plus, there are heat resistant resins, as well.
Rubber resins are perfect for parts that will be compressed or bent.
Ceramic-filled resin produces stiff models with a very smooth finish. This resin has pieces of ceramics or glass in it.
Follow This Guide and Buy the Best Resin 3D Printer Today
https://www.amazon.com/dp/B0874Y2KNL?tag=total3dprintinglasso-20
The best 3D printer for you is the one that will meet your printing requirements. It should have a large build area, prints quickly, and is budget-friendly.
You may not be able to do the models you want to create if your 3D printer doesn't have enough space to build it. Conversely, a 3D printer that takes a long time to complete your model might not be a good idea. And lastly, you may find the best resin 3D printer with a huge build area and fast speeds, but it may not be budget-friendly.
As such, you should strike a balance between the prices, speed, and build capacity.