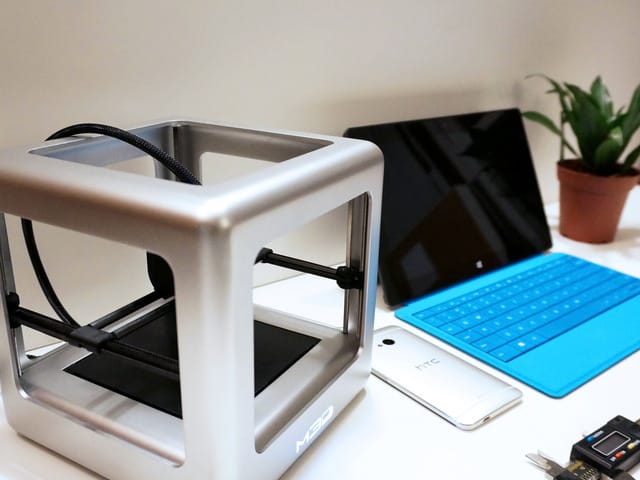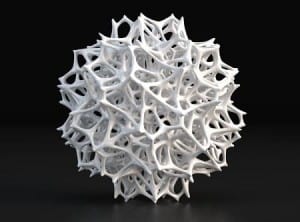 3D printing and additive manufacturing is a booming industry as it is now an accessible technology for virtually anyone with the desire and willingness to learn. In the past few years we have witnessed a far-fetched idea enter into the mainstream, with commonly available technology and 3D printing packages.
Hundreds of years after the Gutenberg press, printers are once again revolutionizing the way we do business, manufacture products, and conceive new possibilities.
While the market is ever-evolving, more and more companies are successfully cementing themselves within the printing industry.
This is resulting in more advanced, powerful, and user-friendly 3D printers than before, for all sorts of printing applications (FDM, nylon, titanium, etc…). It can become overwhelming trying to decide which printer from which company is right for you.
There are varying levels of ability among these devices and as well as different price points. For new and even intermediate to advanced users, comparing the features and capabilities of each printing system can be a daunting task.
In this resource page we will be going in depth with a variety of different criteria to help you – the aspiring 3D printer -make an informed purchasing decision. Please feel free to comment with your own experiences or questions at the bottom of this page.
My At a Glance Recommendations
Here's the quick take of my absolute favorite printers right now…
Criteria to Evaluate 3D Printers
Price:

Simply put, how much does the device cost? There are many different price points, but not all of them offer equal value. For example, there are plenty of recent additions to the sub-$1500 market, but not all of them are necessarily fully functional for what you will need. Similarly, some of the more expensive models are not always worth the high price tag. Generally, a lower price-point is favorable but not always worth degrading the other factors listed below.

Capacity:

This is also fairly straightforward, but still important. You may also see this referred to in the industry as "build area" or "build volume" base on the size of the built plate or print bed. There are a range of sizes of 3D printing machines, from large commercial-style appliances with massive build volume to the small desktop 3D printer with just enough build volume for small models. Depending on what your goals are, this will be an important factor. A smaller size device is excellent for experimenting and learning how 3D printing works, or for producing small models or products. For larger endeavors it follows that a larger capacity printer will be required.

Ease of Use:

3D printers require varying degrees of skill and usually have a learning curve initially. However, some are more "user friendly" than others. Ease of use and simplicity to operate is an important criteria to judge one of these devices. Again, depending on what you will be using your printer for, this category should be weighted more or less.

Precision:

Different printers have varying levels of precision. The key factors to consider here are usually "layer resolution" and the diameter of the print nozzle. Generally, the lower the better i.e. more detailed and exact.

Adaptability:

Some machines are ideal for making small toys or jewelry while others are good for large scale models and mock-ups. While almost every 3D printer can be used for a variety of applications, some are definitely better than others

at certain tasks.

This is a critical category to consider before investing in any machine.

Speed:

How fast can it get the job done? This is particularly useful for people looking to scale their operations beyond the initial experimentation phase. The industry standard for print speed typically floats around 100mm/sec.

Durability: Maintenance, servicing, part replacement, build plate, etc… Like all machines, 3D printers inevitably run into problems that require fixing at some point. Especially with so many new models on the market, this can be an important "hidden cost" to consider before investing in one. For an investment of this size, durability does matter.
The Best 3D Printer for Beginners
So, you just heard about 3D printing from a friend and you are intrigued by the possibility of creating anything you want right at your own desk. The only problem is you have no idea where to start. You google 3D printer and see prices ranging from $400 to $4,000. How do you know how much you need to spend?
Luckily for you, we are here to help you make that decision. While there are many things to look at like size, speed, shape, etc. for beginners we are interested in two factors, 1.) ease of use and 2.) price. Focusing solely on these two factors we recommend the Flashforge Finder. With this 3D printer you will be creating in no time without hurting the bank account.
The Flashforge Finder is a fully assembled and fully enclosed 3D printer that is ready to print just about as soon as it comes out of the box. It uses a nontoxic PLA, which is a great filament for beginners.
Setup of this 3D printer couldn't be easier. Simply pull it out of the box, plug it in, adjust a few settings, and your ready to print! It comes equipped with an assisted leveling system to help make sure all your prints come out perfect. As well, you'll quickly notice the beautiful touch-screen panel where you can easily control all aspects of the printing process.
The Flashforge Finder was designed to make 3D printing simple. The new Flashprint software comes with presets for high quality prints and 2D image to 3D model capability. From the hardware to the software you will not have any problem getting into the world of 3D printing using this machine.
The best part? You can get the Flashforge Finder for $400.
Pros: Easy to use, fully enclosed, quick setup, wallet-friendly price
Cons: Limited customization, only PLA filament, small build area
Best uses: Small parts and toys, Educational purposes
Here are some great alternative 3D Printer options for Beginners:
The Best Affordable 3D Printer Under 1000 (mid-grade)
Just a few years ago it was almost impossible to find a quality 3D printer for under $1000. However, with the growing popularity of the industry, almost every company has a great printer that is under $1,000.
Since there are so many awesome printers now, it makes this category a little tricky to pick. I went with the 3D printer I am most excited about and is still fairly new to the market. Easily, my favorite model for an affordable 3D printer is the Rostock Max v3 Kit. By taking on a circular shape rather than the square shape we typically see with 3D printers, the Rostock Max v3 really sets itself apart.
This 3D printer is not like your standard 3D printer. Rather than the nozzle moving on an x, y, and z axis rods, it utilizes a delta setup. This means it uses a three pulley system to move and position the extruder. This delta setup enables the extruder to move at much faster speeds. This printer can reach up to 300mm/sec.
I really enjoy the fact that this is a kit printer. In other words, you essentially assemble the entire machine. You can get the printer pre-assembled, but that will cost you an extra few hundred dollars. But, I love to build things, and these kit 3D printers are an awesome way to spend a weekend afternoon.
The Rostock Max has a build area of 10.5" x 15.8". Also, it comes with a heated bed and auto calibration. With the simple click of a button, your 3D printer will prepare itself to print for you. Also, customization is almost endless. There are thousands of videos and forums online where you can find ways to improve and tweak the machine to constantly improve its performance.
For under $1,000 you are getting everything you paid for and even more with the Rostock Max v2 Kit.
Pros: Auto-leveling, large build area, nozzle speed, customizable
Cons: Challenging setup, large footprint
Best uses: Prototyping, experimentation, mid-large sized objects, tall objects
Check out more mid-grade 3D Printer options under 1000:
The Best Budget 3D Printer Under 500
As you may know by this point, the 3D printing industry is growing rapidly, which means printers are getting more affordable. These days, just about anyone on any budget can get there hands on a 3D printer. You must remember though that not all 3D printers are the same.
Sometimes you only get what you pay for when you go for a budget friendly printer. However, that is not the case with the da Vinci Jr 1.0 Pro from XYZprinting. This 3D printer easily gets you the most bang for your buck, and it is our choice for the best budget printer.
XYZprinting has made a name for itself with high quality printers for all users from beginners to advanced printers. Their 3D printers are easy to use and some of the best on the market. The da Vinci Jr 1.0 Pro comes with everything you need and more. It is a compact printer that creates like a professional.
This 3D printer runs on the XYZware PRO software, which has seen many upgrades. It is a functional and user-friendly software that allows you to quickly setup new prints. You can control all aspects of the print including the nozzle and print bed temperature and various print support settings. It is a great software to pair with a great 3D printer.f
The da Vinci Jr 1.0 Pro features a flawless auto-calibration system and the ability to use any 3rd PLA filament with its temperature adjustable extruder. Also, you can upgrade the nozzle from the standard 0.4mm to 0.3mm and print with a layer resolution of 50 microns. That level of detail is unheard of at this price range.
Did we mention its fast? The da Vinci Jr 1.0 Pro has the capability for its extruder to reach speeds up to 250mm/sec. Your prints will be done in no time with speeds you typically pay thousands of dollars for.
If you're on a tight budget, but you want to be able to create like a professional, the da Vinci Jr 1.0 Pro is the 3D printer you need.
Pros: Affordable, high-quality prints, fast, customizable
Cons: Small build area, limited connectivity options
Best uses: Small prototyping, Professional designs, and objects, Small parts/accessories
Check out more budget friendly alternatives under 500:
The Best DIY 3D Printer
I previously discussed the Rostock Max v3 3D printer with you all, which is one of my favorite DIY printers these days. The downsides are it is fairly complicated to setup and comes with a price that some people may not be able to afford.
The 3D printer I believe is the best for all you DIYers out there is without a doubt the Creality CR-10. An absolute beast of a printer, the CR-10 packs all the power and features you need in a minimalist design that you get to build yourself.
One reason I believe this is the best kit 3D printer is the assembly is extremely easy. You don't need any soldering equipment and you don't need to be an electrician or engineer. Many of the parts come pre-assembled for the most part. Setup should take you about 30 minutes. Just enough to give the satisfaction of creating your own 3D printer, but not long enough to cause the major headaches and confusion that other kits are known for.
Once you have assembled your CR-10 you quickly realize how awesome this printer is. It has a large build area, 11.8" x 11.8" x 15.8", a full metal frame, and a heated bed. Pretty much everything you look for in a quality 3D printer, but for a great price and small footprint unlike some of the other massive fully-enclosed printers.
Now that you've noticed all the physical features, you must be wondering how it prints, right? Well let me tell you, it prints like the best of the best. You will get a layer resolution between 50-400 microns, print speeds up to 200 mm/sec, and nozzle diameters from 0.4mm to 0.2mm. The CR-10 can create some of the most beautiful and professional looking objects I have ever seen produced by a 3D printer.
The best part? It is all open source and fully customizable. Users of the CR-10 have created a fairly large online presence from videos to blogs and forums. The is an almost endless supply of tips, tricks, and ideas on how to improve and custom your CR-10. Upgrading and replacing parts on a printer couldn't be easier now that you have the help of thousands of other like-minded 3D printing enthusiasts.
With the easy setup, large build area, and precision printing, this 3D printer could easily cost over $1000. Instead, you're able to get this DIY CR-10 from under $500!
Pros: Large Build area, great price, easy assembly, metal frame
Cons: Noise level, no real customer support
Best uses: Experimentation, mid-large sized objects and models, replacement/upgrade parts
Here are some additional DIY Printer Options you should consider:
Best 3D Printer for Overall Performance and Quality (Under 2000)
Surprisingly, our experience with a number of 3D printers has unveiled a lesser known contender as the top 3D Printer for overall performance.
You can certainly make a case for including 4-5 other printers in this spot, so some of this is subjective. The MakerGear M2 is by far the most reliable and efficient 3D printer that we have tested.
The machine comes mostly assembled, although you may need to break out the tools for a few final configuration requirements. Thankfully, MakerGear has a strong community and excellent customer support. This, coupled with a 6-month warranty, is enough to provide peace of mind prior to purchasing.
One of the strongest selling points of this machine is the precision and quality of the items it produces. There are many printers with mediocre print quality, but MakerGear has raised the bar significantly. This point is reinforced by the solid construction of the machine itself. Many 3D printers are made out of plastic – which is fine – but raises questions about the long term durability. The MakerGear M2 features CNC produced metal with a welded frame.
The MakerGear features a slightly larger build area than most machines at 8″ x 10″ x 8″. Print speeds range from 80-200mm/second.
The 0.35mm nozzle diameter is what allows the M2 to provide superior printing precision. Most 3D printers have a nozzle diameter of 0.40mm and above. It might not seem like much, but for delicate projects it can be the critical difference.
For filaments, the M2 will work out of the box with either PLA or ABS material. A big plus here is that they do not use proprietary cartridges. This means that you can use a variety of filaments from various suppliers without being locked into expensive recurring filament replacements.
MakerGear is an open source company, but they do recommend using the Simplify3D software as it appears to have the best compatibility.
The higher grade material and precision of the M2 does mean a higher price tag, but at less than two grand it is still very competitive with other higher end printers.
Pros: Larger than average build area, open design, no proprietary filament cartridges, more precise than most, good for intermediate and above, made in the USA, quality material, and low maintenance
Cons: More expensive than most at $1500-2000/unit, and not the best for beginners (check MatterHackers for the latest prices).
Best uses: Replacement parts, mid-size consumer products, models and mock-ups, precision/finely detailed products.
Why Go with the MakerGear M2?
Superior, tested, performance. MakerGear is THE most reliable brand on the market,, and their best selling and award winning M2 is no different. Flexible enough for most projects and filaments, without any of the headaches of knock offs.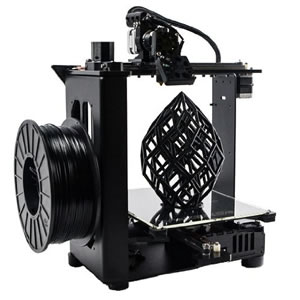 We earn a commission if you click this link and make a purchase at no additional cost to you.
Check out more high end 3D Printer options:
The Best 3D Printer for Experimenters
For this category, I am looking at 3D printers that try to break down barriers. I want a printer that is pushing the limits on what is possible and enables users to do the same.
This printer should not only create stunning objects for you, it should inspire you to think outside-the-box. It should make you want to try new methods, materials, programs, and designs.
With all of this in mind, only one printer fits this description is the printer from the Lulzbot Brand, LulzBot TAZ 6. The newest edition of a long-running printer series that has constantly appeared on lists of the best 3D printers year after year.
The signature model from Aleph Objects and big brother to the impressive LulzBot Mini, the TAZ 6 is impressive in every category. Read the full Lulzbot Mini Review here.
Equipped with an advanced extruder with dual cooling fans, modular design and it can get up to 300 degrees celsius. This allows for quick and easy upgrades to various filaments. Speaking of different filaments, TAZ 6 is compatible with more than 30 different materials. You can print with pretty much anything you can think of.
The TAZ 6 runs on the impressive Cura Lulzbot edition software. A free software so no paying for upgrades. And it is open-source so you and your coding buddies can take a crack at it and see how you can improve and tweak the system to better fit your needs.
This 3D printer is built to last. From its advanced extruder to the all aluminum frame, and the heated bed, this machine shouldn't give you any troubles. The company believes in the quality of its work so much it will back it with 1 year warranty with tech support for all your troubleshooting needs.
Don't let me forget the specs. The TAZ 6 has an 11" x 11" x 9.8" build area, 50-500 micron layer resolution and reaches speeds up to 200mm/sec. And if one extruder isn't enough, you can always upgrade and make it a dual extruder system!
The ability to print with so many filaments and easily switch between them makes this a great 3D printer for those who want to try new things and test new methods. The open source software lets you really tweak the system to benefit your wants and needs. I truly cannot think of a better printer for the curious mind.
Of course, such an amazing printer does not come cheap. You will need to be willing to put down about $2,500 to make this machine yours.
Pros: Open Source, dual extruders, filament options, advanced extruder, warranty and support
Cons: Expensive, open frame means more noise
Best uses: Prototyping, advanced designs, unique objects, unique material
Here are more great 3D Printer alternatives for experimenters that you should check out:
Best 3D Printer Under 100
I've been seeing a few cheap 3D printers popping up below $100 recently and I often get asked if there are any good options here.
The short answer is: right now, sub-$100 3D printers are NOT worth it. They are generally poorly designed, have low quality components, and won't last as long as even a budget model for $75 to $100 more.
That said, the CHEAPEST options I would look at are:
Types of 3D Printers
The following sections break down all the various 3D printer types and uses.
Best 3D Printers By Filament & Use Case
While the above recommendations make our best 3D printers list as general budget based picks, here are some specific guides for different filament types:
3D Printer Comparison Chart – Find the Top 3D Printer for the Money
If you are still undecided about which 3D printer is best for you, we've compiled a comparison chart below with a summary of the key features for a head-to-head comparison.
| Brand/Model | Build Area | Print Speed | Filament Types | Layer Resolution | Extruders | Nozzle Diameter | Open/Closed System | Warranty | Price |
| --- | --- | --- | --- | --- | --- | --- | --- | --- | --- |
| FlashForge 3D Printers, New Model: Finder | 5.5" x 5.5" x 5.5" | 40-200mm/sec | PLA | 100-500 microns | Single | 0.4mm | Closed | 3 month | About $1,199 here |
| SeeMeCNC Rostock MAX v3 DIY Kit | 10.5" x 15.8" | 300mm/sec | Customizable | 100-400 microns | Single | Customizable | Open | N/A | Around $599 here |
| XYZprinting da Vinci Jr. 1.0 Pro. 3D Printer | 5.9'' x 5.9'' x 5.9" | 40-100mm/sec | PLA / PETG / Tough PLA | 20-400 microns | Single | 0.4mm or 0.3mm | Closed | 12 month | Around $977 here |
| HICTOP Creality CR-10 3D Printer Prusa I3 DIY Kit | 11.8" x 11.8" x 15.8" | 200MM/sec | ABS, PLA, HIPS, PETG, Nylon, Exotics | 50-400 microns | Single | 0.4mm to 0.2mm | Open | N/A | Around $499 here |
| MakerGear M2 | 8" x 10" x 8" | 80-200mm | ABS or PLA | 10-250 microns | Single | 0.35mm | Open | 6 month | Around $1825 here |
| LulzBot TAZ 6 3D Printer | 11" x 11" x 9.8" | 200mm/sec | ABS, PLA, HIPS, Wood (PLA), Metal (PLA, Nylon, PET, Polycarbonate, NinjaFlex/SemiFlex TPU, and more | 50-500 microns | Dual | 0.5mm | Open | 12 month | Around $2220 here |
| Robo R2 Smart Assembled 3D Printer | 8" x 8" x 10" | 250mm/sec | Customizable | 20-300 microns | Single | 0.4mm | Open | 12 month | Around $799 here |
| MakerBot Replicator Z18 3D Printer, Firmware Version 1.7+ | 11.8" x 12." x 18" | 100mm/sec | MakerBot PLA | 100 microns | Single | 0.4mm | Open | 6 month | About $2000 here |
More 3D Printer Reviews
3D Printer Comparisons