[mv_video doNotAutoplayNorOptimizePlacement="false" doNotOptimizePlacement="false" jsonLd="true" key="nd14ryrbzli9xcrhogux" ratio="16:9″ thumbnail="https://mediavine-res.cloudinary.com/v1626791769/rjezfgmesdwgt3fx7qbf.jpg" title="The Best 3DPrinters on the Market 2021″ volume="70″] Trying to find a 3D printer can be overwhelming, and that is why we have compiled this guide of the best 3D printers on the market in 2022.
Whether you are a novice, experienced user, on a budget, or if you require a resin or filament desktop 3D printer, we have all the information you need. We will also outline what you need to think about before making a purchase.
You will find an in-depth analysis of each printer below, but here is a quick snapshot of the top 3D printers that you can buy today.
At a glance: the Best 3D Printers on the Market in 2022
3D printing and additive manufacturing is a booming industry as it is now an accessible technology for virtually anyone with the desire and willingness to learn. In the past few years we have witnessed a far-fetched idea enter into the mainstream, with commonly available technology and 3D printing packages.
Hundreds of years after the Gutenberg press, printers are once again revolutionizing the way we do business, manufacture products, and conceive new possibilities.
While the market is ever-evolving, more and more companies are successfully cementing themselves within the printing industry.
This is resulting in more advanced, powerful, and user-friendly 3D printers than before, for all sorts of printing applications (FDM, nylon, titanium, etc…). It can become overwhelming trying to decide which printer from which company is right for you.
There are varying levels of ability among these devices and as well as different price points. For new and even intermediate to advanced users, comparing the features and capabilities of each printing system can be a daunting task.
In this resource page we will be going in depth with a variety of different criteria to help you – the aspiring 3D printer – make an informed purchasing decision in search of the best 3d printers 2022. Please feel free to comment with your own experiences or questions at the bottom of this page.
Things to Consider When Buying a 3D Printer
There are a number of important factors to consider before purchasing a 3D Printer.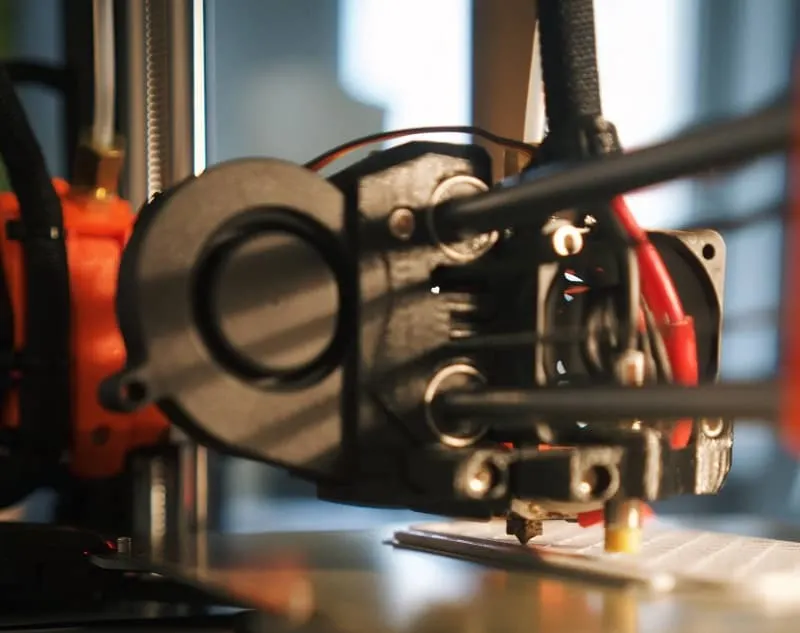 Cost of Top 3D Printers
3D printers have come down in price for the average consumer in recent years, and you can find many affordable models on the market at a reasonable price range.
However, just because one 3D printer machine costs far more than another model doesn't necessarily mean that it is better and more suited to what you need. Set yourself a budget and try to stick to it as much as possible, although you should also consider what you need from a 3D printer. While cost is important, it is all about buying a 3D printer that meets your specifications.
Print quality and speed
The print quality is a vital thing to consider when buying a 3D printer because you don't want to spend a lot of money, only to find out that the quality of the objects is sub-par.
Many 3D printers produce models and lightning-quick speeds; however, these aren't always the best in terms of actual quality. It does depend on how much you spend, as the further in the price you go up, the more likely you will find a 3D printer that has quick speeds and provides high-quality prints.
Ease of use
3D printers have become much easier to operate as they have become marketed more towards a wider audience. However, some 3D printers may still require a steep learning curve before you get the hang of it and start to produce good quality prints.
Every 3D printer will have a learning process, especially if you haven't used one before.
While you don't need an engineering degree to operate a 3D printer these days, some will be easier than others, and you'll need to consider how much time you have to spare to learn how it works.
Customizable options
Extending the functionality of your 3D printer can turn a pretty basic model into a powerful one. Printing technology has come a long way in recent years, but you can still customize your 3D printer to boost its overall capability.
Some 3D printers have many customizable options where you can add different components, allowing them to do different things. Others will be much more rigid in their design, so extending its functionality will be limited.
It really depends on what you need from a 3D printer. If you want to print off some basic models as a hobbyist, you probably don't need many customizable options. However, if you are going to be carrying out more complex tasks and prints, you may need additional features, and that is when an open-source 3D printer might be better.
Software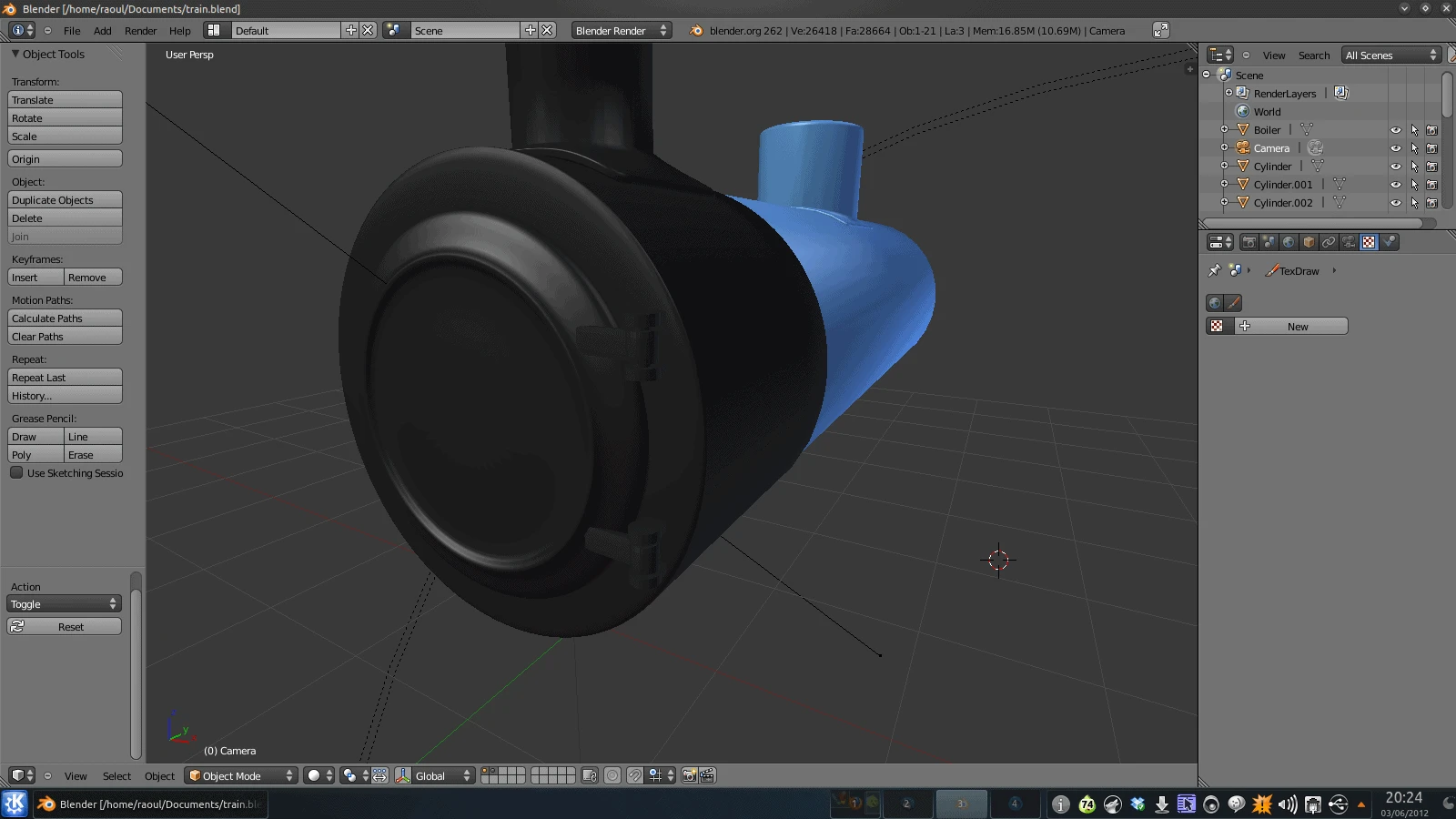 CAD software is what you need to create your models and get them ready to be printed as real, live objects.
You may get access to CAD software when you purchase a 3D printer machine, and this will let you design models and get them ready to print. However, if you want to use CAD programs such as AutoCAD, for example, you'll need to take this out at an additional cost.
Certain CAD software is more straightforward to operate than others, and you will also need to factor in how much this is going to cost in addition to the 3D printer itself.
Build volume
Build volume refers to the dimensions you can print objects into with a 3D printer.
Simply put, the larger the build volume, the bigger models you can produce. Of course, a larger build volume isn't always better, and you should weigh this up with the kind of objects you plan to print.
Resin or Filament
The final thing to consider before buying a 3D printer is whether it uses resin or filament.
These are the materials that are fed into a 3D printer to create printed objects.
Resin is the material that SLA 3D printers use, and it is usually associated with a higher quality of printed objects. The trade-off with using resin is that the printer is likely to be more expensive and, in many cases, the printing speed is slower.
Filament refers to a wide variety of plastics, and it is what FDM 3D printers use. You can still get high-quality models with an FDM printer; however, there is often a bigger chance of something going wrong because it relies on more moving parts and processes. That being said, FDM 3D printers usually are cheaper, the most common types of printers on the marker, and they are favored by beginners and hobbyists.
Best 3D Printers in 2022
Now that you have a better idea of what to look for when buying a 3D printer, let's look at the best 3D printers on the market.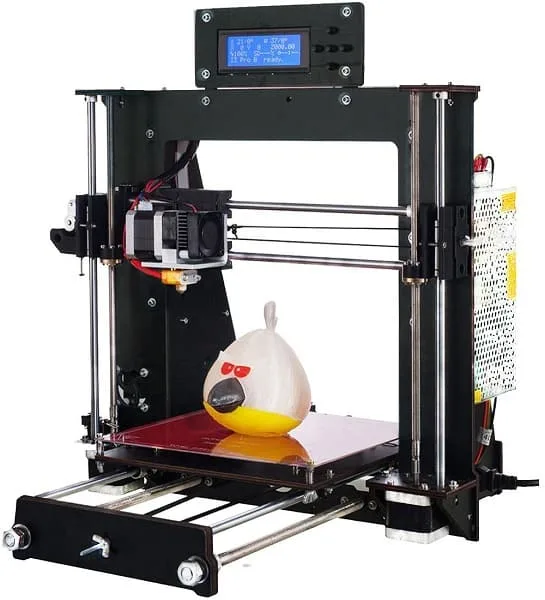 The Original Prusa i3 MK3S+ is our top pick for the best 3D printer overall, regardless of what you need it for, and wins our best 3d printer 2022 competition.

This desktop 3D printer offers fantastic print quality, and it is also compatible with a wide range of filaments, including PLA, PETG, ASA, Polycarbonate, and Polypropylene. The spring steel sheets ensure that your objects won't stick after they have been printed, and the sheets are removable too, which makes maintenance a lot easier. You can also benefit from a build volume of 25 x 21 x 21 cm.
You will also find a power loss recovery feature which is incredibly handy. For example, if the 3D printer suddenly loses power 8 hours into a 3D print, it can pick up right where it left off, and you don't need to start the whole process again.
The Original Prusa i3 MK3S+ does have a couple of drawbacks. One is that the user interface can feel a little outdated although it is very functional, and the cost of this printer isn't the cheapest. However, this is 3D printer kit provides everything you need to create high-quality models and prints for a reasonable cost.
Best for Beginners
Prusa i3 MK3 | Prusa3D
Basic features magnetic PEI Spring steel sheet EINSY RAMBo Base plate Silent Trinamic drivers with 256 microstepping Maximum travel speed: 7.874 in per second. The Original Prusa i3 MK3S+ is the latest version of their award-winning 3D printers.
Check Price
We earn a commission if you click this link and make a purchase at no additional cost to you.
Pros
A very powerful 3D printer that is packed full of features

It is compatible with a wide range of different filaments

Power loss recovery feature and good build volume

Removable print sheets
Cons
The user interface can feel slightly outdated

Isn't that cheap but powerful for what you pay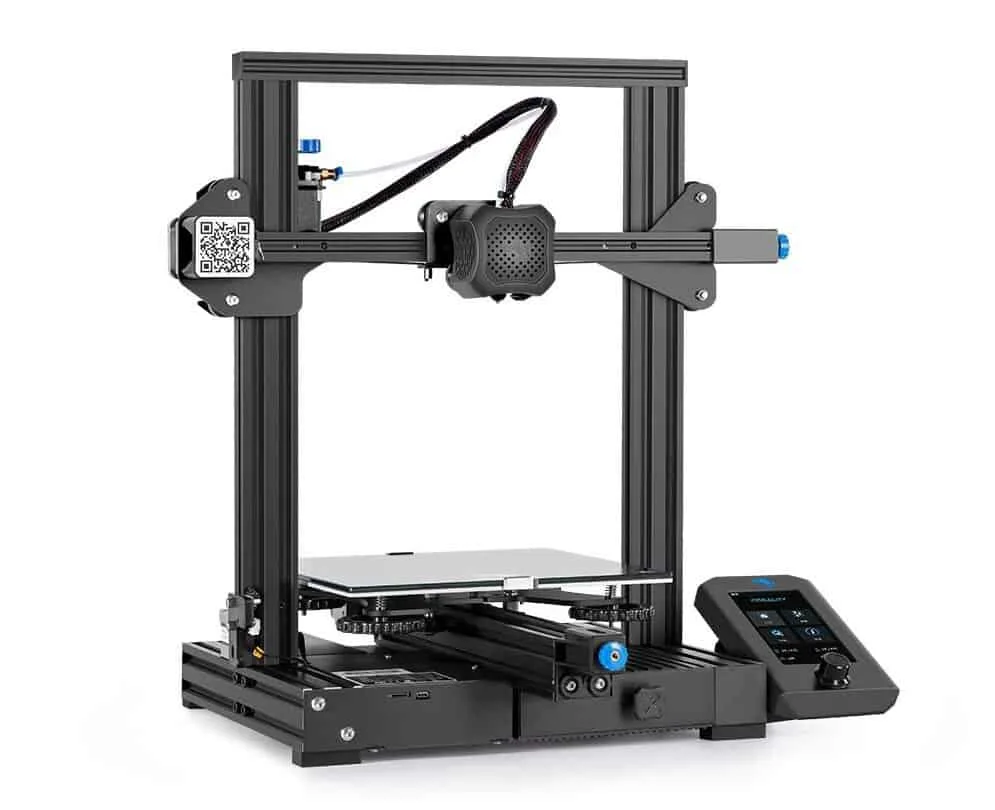 If your budget is tight but you still want a robust 3D printer, the Creality Ender 3 V2 is the best choice.
This 3D printer comes in at a really attractive price and has a ton of great features that will allow you to create quality printed objects.
This includes a tempered glass print bed which helps the overall finish of your models, while the build volume is a very decent 22 x 22 x 25 cm. One great feature of the Creality Ender 3 V2 3D printer is the CPU and stepper motors because they are very quiet. You can easily use this 3D printer at home or in an office without putting up with a lot of noise.
It is compatible with various filaments, including proprietary filament, PLA, TPU, and PETG, as well as different 3D printing software such as Cura.
Some downsides to the Creality Ender 3 V2 desktop 3D printer are the sub-par way the filament is loaded which can impact on the printing process, and there is also a detachable display that isn't really necessary in the design.
However, for what you pay, you will get a powerful 3D printer that is ideal for anyone who is on a strict budget but still wants high-quality prints.
Pros
Decent build volume and filament compatibility

Really quiet 3D printer

Can be used with different 3D printing software

Sold at a very attractive price
Cons
Issues with how the filament is loaded

Detachable display which isn't really needed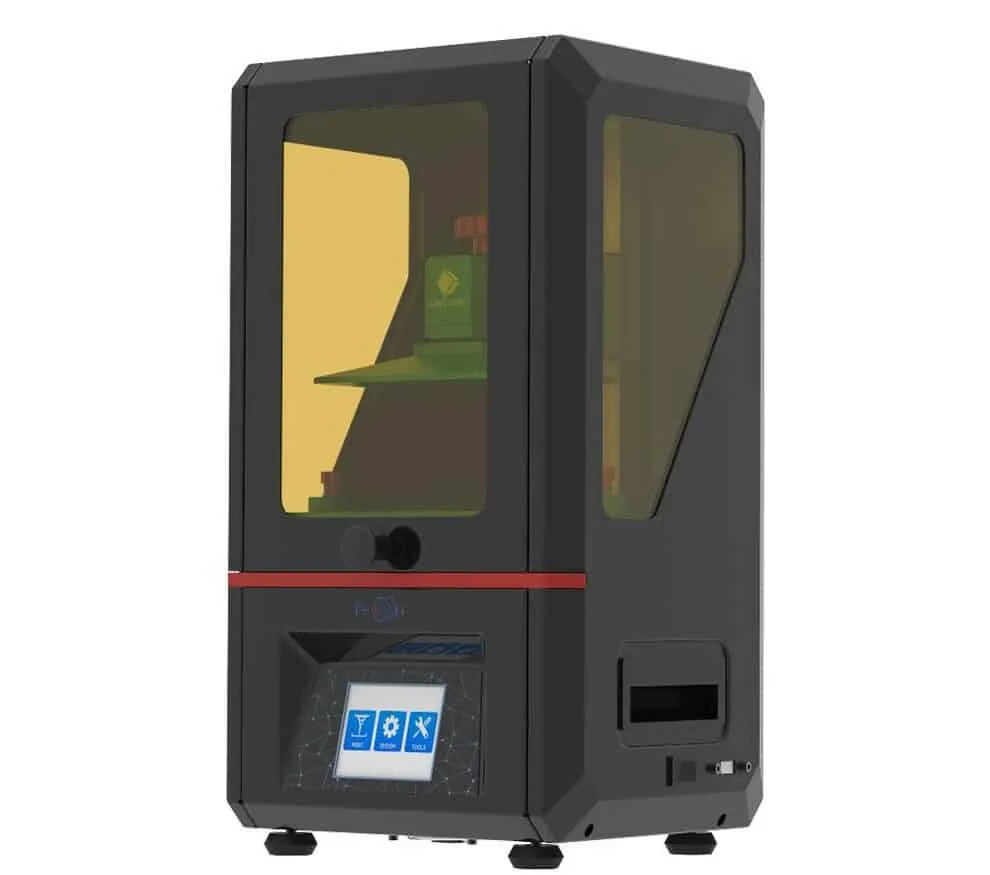 If you want to opt for a 3D printer that uses resin, go with the Anycubic Photon.
This compact 3D printer comes packed with a large number of fantastic features. This includes WiFi and USB connectivity, 2K Monochrome LCD panel, and it is 90% preassembled, so it is as close to straight out of the box as you will get. You also get access to slicing software with this purchase.
We looked at this 3D printer previously, and while some people will prefer the Photon S, there are many reasons we still love the original.
The print speed is a bit slow, and you do need to clean it more often; however, this is down to the fact that it uses resin, so this problem isn't unique to the Photon.
As a resin 3D printer, it is hard to beat the Anycubic Photon as it is available at an attractive price and offers a lot of great functionality.
Our Pick
We love the Anycubic Photon | Amazon
Dead simple to set-up, comes pre-assembled, intuitive touch-screen and exceptional level of detail. This machine empowers CREATORS, without expecting you to be a mechanic. The small - but precise - print bed is perfect for miniatures.
Buy at Amazon.com
Buy directly at Anycubic
We earn a commission if you click this link and make a purchase at no additional cost to you.
Pros
Fantastic resin SLA 3D printer

It comes at an attractive price

USB and WiFI connectivity as well as an LCD panel

You get access to slicing software
Cons
Print speed is slow, but this is typical for resin printers

Will need cleaning and maintenance more often
Monoprice Voxel – Best 3D printer for beginners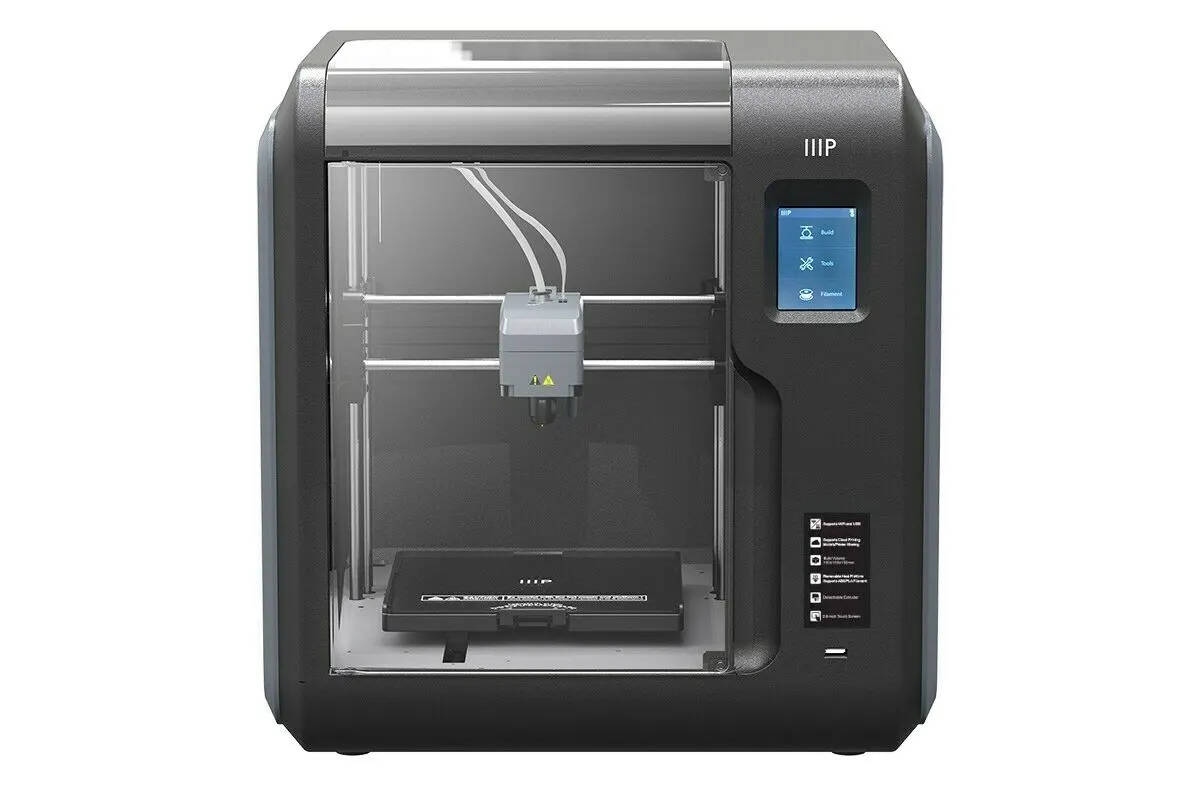 If you are just starting out on your 3D printing journey, the Monoprice Voxel is the top pick.
The reasoning for this is that it is very easy to set up, so you won't be spending hours and hours trying to assembly it, and this printer is very reasonably priced too. With USB and WiFi connectivity in addition to a very quiet operation noise, there are many things to really like about this 3D printer.
It also has assisted leveling which will cut down on beginner mistakes while it is compatible with commonly used software such as Cura.
All in all, this desktop 3D printer is the perfect starting point to beginning 3D printing as the Monoprice Voxel has everything you need without having to know a lot about how 3D printers operate.
Monoprice Voxel 133820 3D Printer | Matter Hackers
Easily navigate between printer functions using the built-in 2.8" Color IPS touch screen. The simple to use menu system makes selecting models stored on the built-in 8GB memory or running the single-tap assisted bed leveling system a breeze.
Check price
Buy at Amazon.com
We earn a commission if you click this link and make a purchase at no additional cost to you.
Pros
A beginner-friendly 3D printer that is reasonably priced

Has WiFi and USB connectivity

Assisted leveling for calibration
Cons
You will probably want to upgrade when your skills improve
LulzBot Mini 2 – Best intermediate 3D printer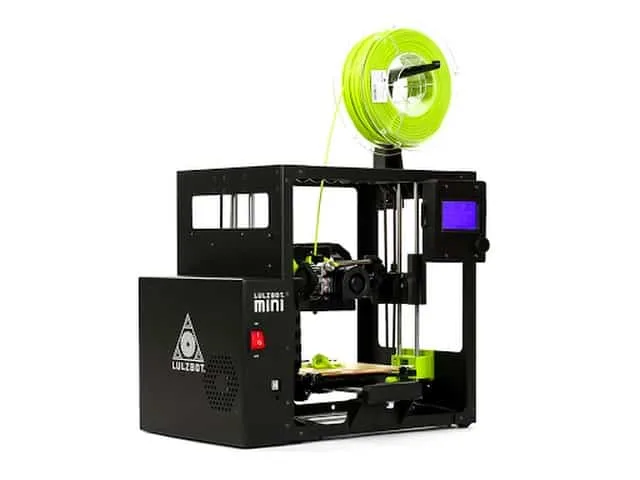 The LulzBot Mini 2 is a perfect choice for enthusiasts or businesses that want to make the step up to intermediate 3D printing.
This is an FDM 3D desktop printer that provides a range of features if you want to take your 3D printing to the next level. This includes being able to work with a number of different materials, a quick print job that is still very high-quality, a borosilicate glass print bed, and an E3D Titan Aero extruder.
It is a quiet printer as well so it is ideally suited to office or home use, and it also comes with self-cleaning and self-leveling technology. Given its fairly high price point, we would have liked WiFi connectivity but it does have USB and SD card options.
Pros
Great printer for intermediates and those wanting to make the step up

USB and SD card connectivity

Self-cleaning and self-leveling technology
Cons
Is quite an expensive model compared to other printers

Doesn't feature WiFI connectivity
BCN3D SIGMA D25 – Best dual extrusion 3D printer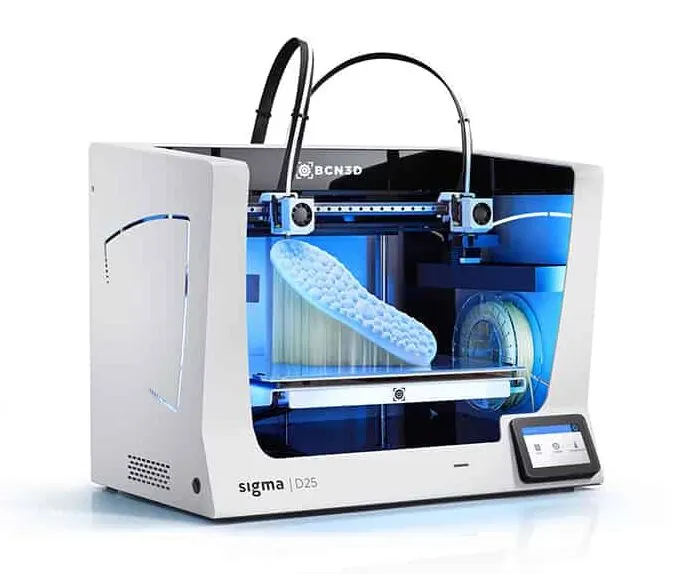 Dual extruder 3D printers have a lot of advantages over those that use a single extruder.
This includes faster print speeds and you can also work on multiple 3D models at the same time. The BCN3D SIGMA D25 is the pick of the bunch when it comes to dual extruder printers, although it certainly isn't cheaper.
BCN3D is one of the most popular makers of 3D printers due to their open source philosophy. This printer has wireless capability, allows you to work on more than one model, and it is ideal for producing large parts due to its bigger build volume.
It has closed print chambers that can create some post-processing issues, so it perhaps isn't ideal for a novice. However, the BCN3D SIGMA D25 is a highly functional and top-quality dual extruder printer that packs quite a punch.
BCN3D Sigma D25 3D Printer | Matter Hackers
The Sigma D25 iterates on the celebrated Sigma design by increasing the printable volume without increasing the printer footprint, repositioned the extruders for more efficient filament pathing, and upgrading the sturdy construction of the printer itself.
Check Price
We earn a commission if you click this link and make a purchase at no additional cost to you.
Pros
High-quality dual extruder 3D printer

Offers quick print speeds

It is quite easy to set up and install
Cons
This printer is costly

Isn't great for beginners
Which is the best 3D printer in 2022?
The 3D printer you buy depends on what you actually need it to do.
We have found that the Original Prusa i3 MK3S+ is the best all-rounder as it comes with everything you need to create high-quality objects regardless of your skill level. This includes working with a range of filaments such as PLA, PETG, ASA, Polycarbonate, and Polypropylene, a great power loss recovery mode, and the build volume is a decent size too.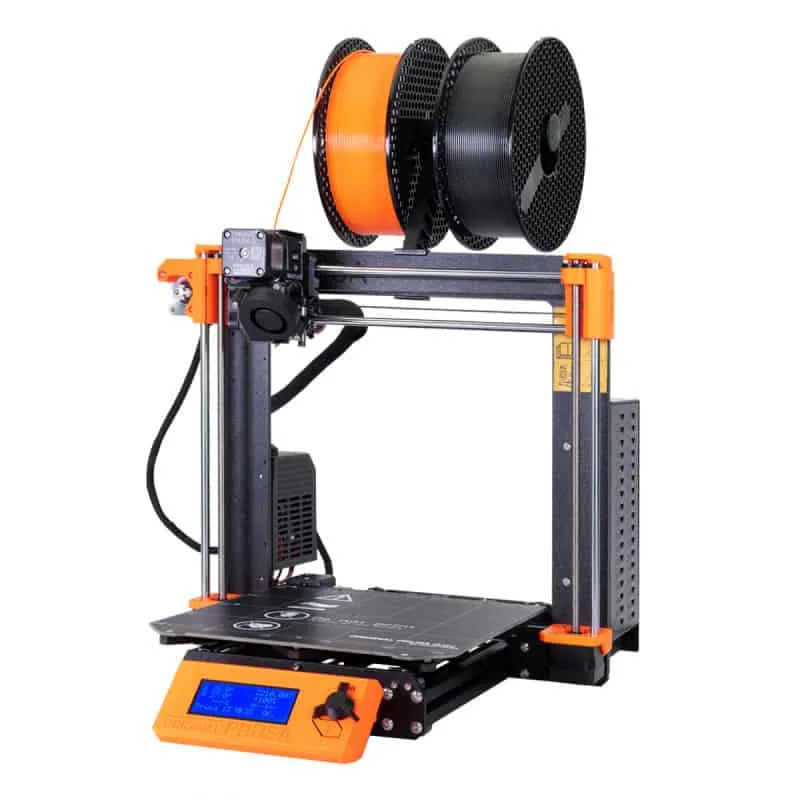 Novices can use this 3D printer because it isn't overly complicated, and the removable spring steel sheets are a nice addition. It has some drawbacks, such as an outdated UI, but this doesn't impact its overall performance.
However, if you are looking for something more specific to what you are using a 3D printer for, we would recommend:
The Best 3D Printer for Beginners
So, you just heard about 3D printing from a friend and you are intrigued by the possibility of creating anything you want right at your own desk. The only problem is you have no idea where to start. You google 3D printer and see prices ranging from $400 to $4,000. How do you know how much you need to spend?
Luckily for you, we are here to help you make that decision. While there are many things to look at like size, speed, shape, etc. for beginners we are interested in two factors, 1.) ease of use and 2.) price. Focusing solely on these two factors we recommend the Flashforge Finder. With this 3D printer you will be creating in no time without hurting the bank account.
The Flashforge Finder is a fully assembled and fully enclosed 3D printer that is ready to print just about as soon as it comes out of the box. It uses a nontoxic PLA, which is a great filament for beginners.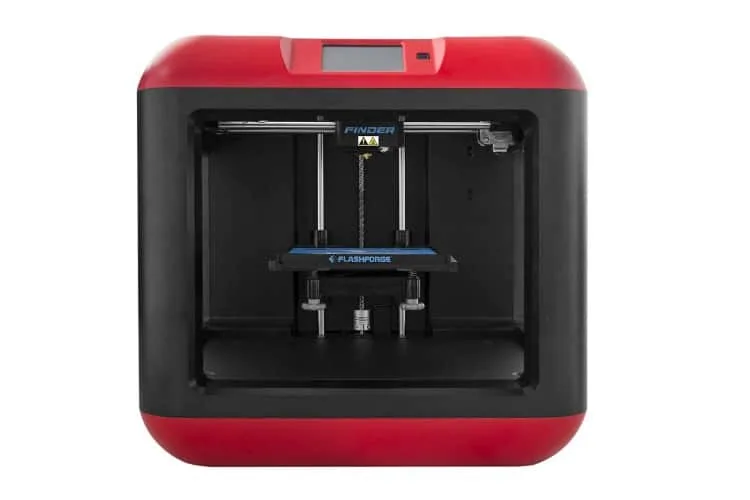 Setup of this 3D printer couldn't be easier. Simply pull it out of the box, plug it in, adjust a few settings, and your ready to print! It comes equipped with an assisted leveling system to help make sure all your prints come out perfect. As well, you'll quickly notice the beautiful touch-screen panel where you can easily control all aspects of the printing process.
The Flashforge Finder was designed to make 3D printing simple. The new Flashprint software comes with presets for high quality prints and 2D image to 3D model capability. From the hardware to the software you will not have any problem getting into the world of 3D printing using this machine. The best part? You can get the Flashforge Finder for around $400.
Pros:

Easy to use, fully enclosed, quick setup, wallet-friendly price

Cons:

Limited customization, only PLA filament, small build area

Best uses:

Small parts and toys, Educational purposes
Here are some great alternative 3D Printer options for Beginners:
The Best Affordable 3D Printer Under 1000 (mid-grade)
Just a few years ago it was almost impossible to find a quality 3D printer for under $1000. However, with the growing popularity of the industry, almost every company has a great printer that is under $1,000.
Since there are so many awesome printers now, it makes this category a little tricky to pick. I went with the 3D printer I am most excited about and is still fairly new to the market. Easily, my favorite model for an affordable 3D printer is the Rostock Max v3 Kit. By taking on a circular shape rather than the square shape we typically see with 3D printers, the Rostock Max v3 really sets itself apart.
This 3D printer is not like your standard 3D printer. Rather than the nozzle moving on an x, y, and z axis rods, it utilizes a delta setup. This means it uses a three pulley system to move and position the extruder. This delta setup enables the extruder to move at much faster speeds. This printer can reach up to 300mm/sec.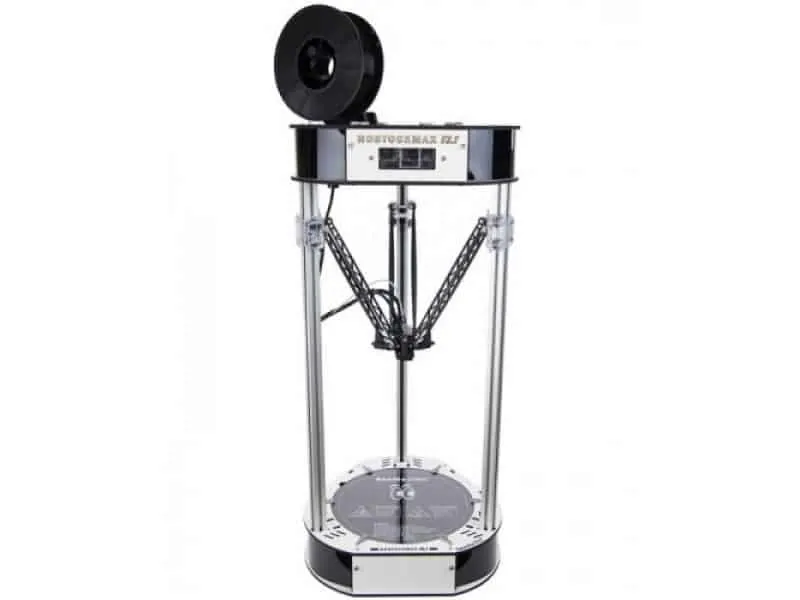 I really enjoy the fact that this is a kit printer. In other words, you essentially assemble the entire machine. You can get the printer pre-assembled, but that will cost you an extra few hundred dollars. But, I love to build things, and these kit 3D printers are an awesome way to spend a weekend afternoon.
The Rostock Max has a build area of 10.5" x 15.8". Also, it comes with a heated bed and auto calibration. With the simple click of a button, your 3D printer will prepare itself to print for you. Also, customization is almost endless. There are thousands of videos and forums online where you can find ways to improve and tweak the machine to constantly improve its performance. For under $1,000 you are getting everything you paid for and even more with the Rostock Max v2 Kit.
Pros:

Auto-leveling, large build area, nozzle speed, customizable

Cons:

Challenging setup, large footprint

Best uses:

Prototyping, experimentation, mid-large sized objects, tall objects
Check out more mid-grade 3D Printer options under 1000:
The Best Budget 3D Printer Under 500
As you may know by this point, the 3D printing industry is growing rapidly, which means printers are getting more affordable. These days, just about anyone on any budget can get there hands on a 3D printer. You must remember though that not all 3D printers are the same.
Sometimes you only get what you pay for when you go for a budget friendly printer. However, that is not the case with the da Vinci Jr 1.0 Pro from XYZprinting. This 3D printer easily gets you the most bang for your buck, and it is our choice for the best budget printer.
XYZprinting has made a name for itself with high quality printers for all users from beginners to advanced printers. Their 3D printers are easy to use and some of the best on the market. The da Vinci Jr 1.0 Pro comes with everything you need and more. It is a compact printer that creates like a professional.
This 3D printer runs on the XYZware PRO software, which has seen many upgrades. It is a functional and user-friendly software that allows you to quickly setup new prints. You can control all aspects of the print including the nozzle and print bed temperature and various print support settings. It is a great software to pair with a great 3D printer.f
The da Vinci Jr 1.0 Pro features a flawless auto-calibration system and the ability to use any 3rd PLA filament with its temperature adjustable extruder. Also, you can upgrade the nozzle from the standard 0.4mm to 0.3mm and print with a layer resolution of 50 microns. That level of detail is unheard of at this price range.
Did we mention its fast? The da Vinci Jr 1.0 Pro has the capability for its extruder to reach speeds up to 250mm/sec. Your prints will be done in no time with speeds you typically pay thousands of dollars for. If you're on a tight budget, but you want to be able to create like a professional, the da Vinci Jr 1.0 Pro is the 3D printer you need.
da Vinci Jr Pro 3D Printer | Amazon
The da Vinci Jr. 1.0 Pro uses an intuitive 9-point calibration detection system that accurately determines the distance between the extruder and the print bed, allowing you to print perfectly from 20 to 400 micron resolutions.
Buy at Amazon.com
We earn a commission if you click this link and make a purchase at no additional cost to you.
Pros:

Affordable, high-quality prints, fast, customizable

Cons:

Small build area, limited connectivity options

Best uses:

Small prototyping, Professional designs, and objects, Small parts/accessories
Check out more budget friendly alternatives under 500:
The Best DIY 3D Printer
I previously discussed the Rostock Max v3 3D printer with you all, which is one of my favorite DIY printers these days. The downsides are it is fairly complicated to setup and comes with a price that some people may not be able to afford.
The 3D printer I believe is the best for all you DIYers out there is without a doubt the Creality CR-10. An absolute beast of a printer, the CR-10 packs all the power and features you need in a minimalist design that you get to build yourself.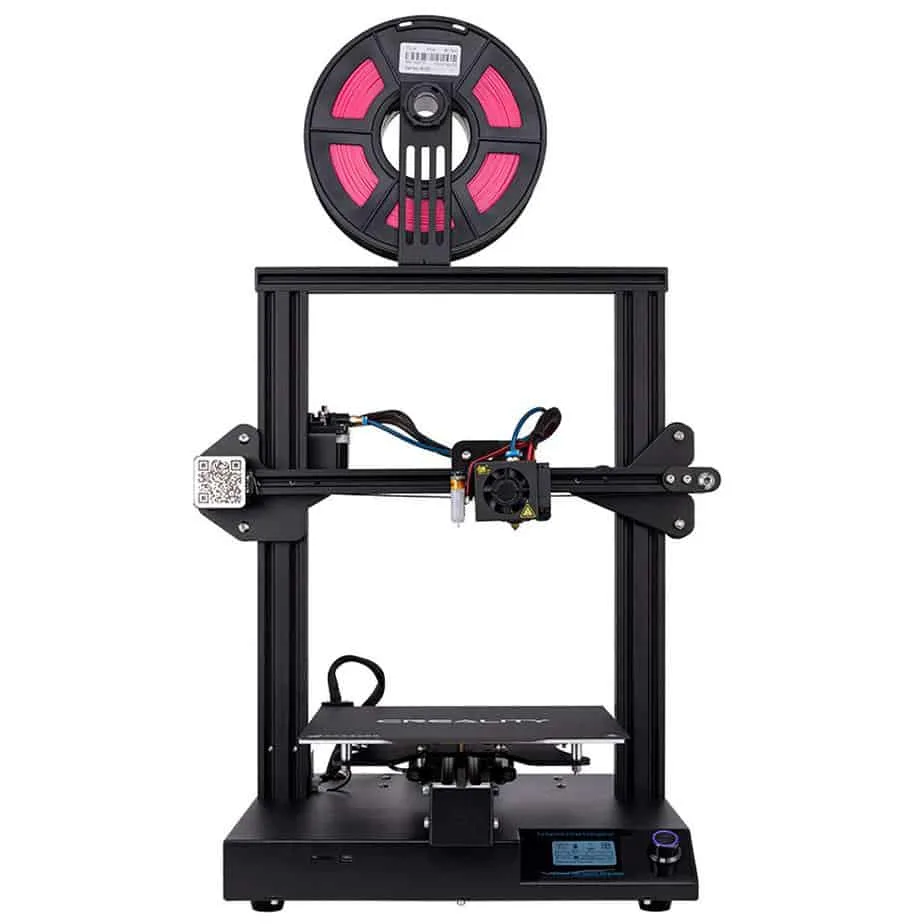 One reason I believe this is the best kit 3D printer is the assembly is extremely easy. You don't need any soldering equipment and you don't need to be an electrician or engineer. Many of the parts come pre-assembled for the most part. Setup should take you about 30 minutes. Just enough to give the satisfaction of creating your own 3D printer, but not long enough to cause the major headaches and confusion that other kits are known for.
Once you have assembled your CR-10 you quickly realize how awesome this printer is. It has a large build area, 11.8" x 11.8" x 15.8", a full metal frame, and a heated bed. Pretty much everything you look for in a quality 3D printer, but for a great price and small footprint unlike some of the other massive fully-enclosed printers.
Now that you've noticed all the physical features, you must be wondering how it prints, right? Well let me tell you, it prints like the best of the best. You will get a layer resolution between 50-400 microns, print speeds up to 200 mm/sec, and nozzle diameters from 0.4mm to 0.2mm. The CR-10 can create some of the most beautiful and professional looking objects I have ever seen produced by a 3D printer.
The best part? It is all open source and fully customizable. Users of the CR-10 have created a fairly large online presence from videos to blogs and forums. The is an almost endless supply of tips, tricks, and ideas on how to improve and custom your CR-10.
Upgrading and replacing parts on a printer couldn't be easier now that you have the help of thousands of other like-minded 3D printing enthusiasts. With the easy setup, large build area, and precision printing, this 3D printer could easily cost over $1000. Instead, you're able to get this DIY CR-10 from under $500!
Creality 3D CR10 3D Printer | Amazon
This printer comes with one of the largest build spaces available. At 12inx12inx15.5in, you can print models that 90% of other printers could not. The unique Bowden extruder design reduces the weight on the X-axis, which delivers better performance even on very high prints.
Buy at Amazon.com
Buy directly at Creality3D
We earn a commission if you click this link and make a purchase at no additional cost to you.
Pros:

Large Build area, great price, easy assembly, metal frame

Cons:

Noise level, no real customer support

Best uses:

Experimentation, mid-large sized objects and models, replacement/upgrade parts
Here are some additional DIY Printer Options you should consider:
Best 3D Printer for Overall Performance and Quality (Under 2000)
Surprisingly, our experience with a number of 3D printers has unveiled a lesser known contender as the top 3D Printer for overall performance.
You can certainly make a case for including 4-5 other printers in this spot, so some of this is subjective. The MakerGear M2 is by far the most reliable and efficient 3D printer that we have tested.
The machine comes mostly assembled, although you may need to break out the tools for a few final configuration requirements. Thankfully, MakerGear has a strong community and excellent customer support. This, coupled with a 6-month warranty, is enough to provide peace of mind prior to purchasing.
One of the strongest selling points of this machine is the precision and quality of the items it produces. There are many printers with mediocre print quality, but MakerGear has raised the bar significantly. This point is reinforced by the solid construction of the machine itself. Many 3D printers are made out of plastic – which is fine – but raises questions about the long term durability. The MakerGear M2 features CNC produced metal with a welded frame.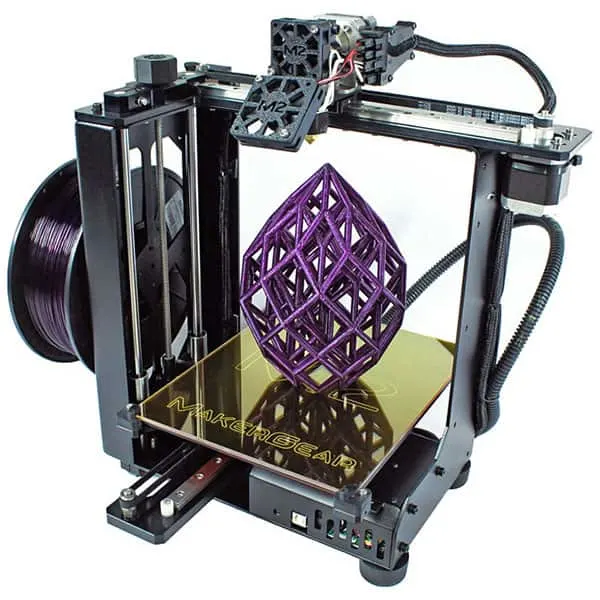 The MakerGear features a slightly larger build area than most machines at 8″ x 10″ x 8″. Print speeds range from 80-200mm/second.
The 0.35mm nozzle diameter is what allows the M2 to provide superior printing precision. Most 3D printers have a nozzle diameter of 0.40mm and above. It might not seem like much, but for delicate projects it can be the critical difference.
For filaments, the M2 will work out of the box with either PLA or ABS material. A big plus here is that they do not use proprietary cartridges. This means that you can use a variety of filaments from various suppliers without being locked into expensive recurring filament replacements.
MakerGear is an open source company, but they do recommend using the Simplify3D software as it appears to have the best compatibility. The higher grade material and precision of the M2 does mean a higher price tag, but at less than two grand it is still very competitive with other higher end printers.
Why Go with the MakerGear M2? | Matter Hackers
Superior, tested, performance. MakerGear is THE most reliable brand on the market,, and their best selling and award winning M2 is no different. Flexible enough for most projects and filaments, without any of the headaches of knock offs.
Check Promos & Discounts
We earn a commission if you click this link and make a purchase at no additional cost to you.
Pros: Larger than average build area, open design, no proprietary filament cartridges, more precise than most, good for intermediate and above, made in the USA, quality material, and low maintenance
Cons: More expensive than most at $1500-2000/unit, and not the best for beginners (check MatterHackers for the latest prices).
Best uses: Replacement parts, mid-size consumer products, models and mock-ups, precision/finely detailed products.
Check out more high-end 3D Printer options:
The Best 3D Printer for Experimenters
For this category, I am looking at 3D printers that try to break down barriers. I want a printer that is pushing the limits on what is possible and enables users to do the same.
This printer should not only create stunning objects for you, it should inspire you to think outside-the-box. It should make you want to try new methods, materials, programs, and designs.
With all of this in mind, only one printer fits this description is the printer from the Lulzbot Brand, LulzBot TAZ 6. The newest edition of a long-running printer series that has constantly appeared on lists of the best 3D printers year after year.
The signature model from Aleph Objects and big brother to the impressive LulzBot Mini, the TAZ 6 is impressive in every category. Read the full Lulzbot Mini Review here.
Equipped with an advanced extruder with dual cooling fans, modular design and it can get up to 300 degrees celsius. This allows for quick and easy upgrades to various filaments. Speaking of different filaments, TAZ 6 is compatible with more than 30 different materials. You can print with pretty much anything you can think of.
The TAZ 6 runs on the impressive Cura Lulzbot edition software. A free software so no paying for upgrades. And it is open-source so you and your coding buddies can take a crack at it and see how you can improve and tweak the system to better fit your needs.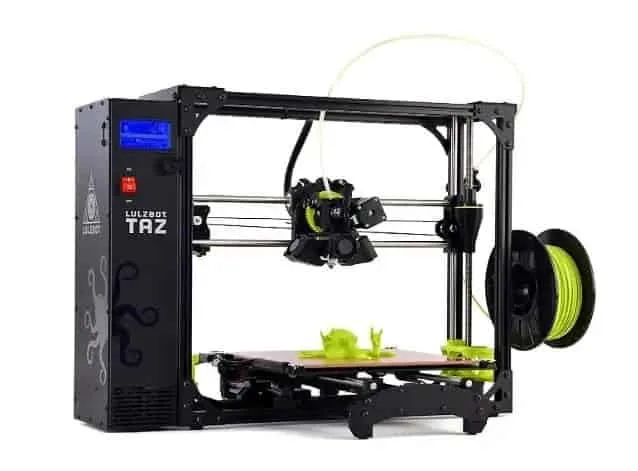 This 3D printer is built to last. From its advanced extruder to the all aluminum frame, and the heated bed, this machine shouldn't give you any troubles. The company believes in the quality of its work so much it will back it with 1 year warranty with tech support for all your troubleshooting needs.
Don't let me forget the specs. The TAZ 6 has an 11" x 11" x 9.8" build area, 50-500 micron layer resolution and reaches speeds up to 200mm/sec. And if one extruder isn't enough, you can always upgrade and make it a dual extruder system!
The ability to print with so many filaments and easily switch between them makes this a great 3D printer for those who want to try new things and test new methods. The open source software lets you really tweak the system to benefit your wants and needs. I truly cannot think of a better printer for the curious mind.
Of course, such an amazing printer does not come cheap. You will need to be willing to put down about $2,500 to make this machine yours.
Pros:

Open Source, dual extruders, filament options, advanced extruder, warranty and support

Cons:

Expensive, open frame means more noise

Best uses:

Prototyping, advanced designs, unique objects, unique material
Here are more great 3D Printer alternatives for experimenters that you should check out:
Best 3D Printer Under 100
I've been seeing a few cheap 3D printers popping up below $100 recently and I often get asked if there are any good options here.
The short answer is: right now, sub-$100 3D printers are NOT worth it. They are generally poorly designed, have low quality components, and won't last as long as even a budget model for $75 to $100 more.
That said, the CHEAPEST options I would look at are:
da Vinci Mini Wireless 3D Printer | Amazon
Compact and productive: The da Vinci mini is 30% smaller than da Vinci Jr. 1.0 and has a 5.9" X 5.9" X 5.9" Aluminum printer bed for larger and finer prints.
Check Price
We earn a commission if you click this link and make a purchase at no additional cost to you.
02/02/2023 12:32 pm GMT
Monoprice Select Mini V2 | Amazon
This printer not only comes fully assembled, it has already been calibrated at the factory. All you have to do is perform a quick check to verify that the print bed is still leveled, in case it shifted during shipping, then load the included MicroSDTM card, load some filament, and start printing the preloaded model.
Buy at Amazon.com
We earn a commission if you click this link and make a purchase at no additional cost to you.
02/02/2023 01:10 pm GMT
Frequently Asked Questions about Top 3D Printers
Do I need an expensive 3D printer?
Not really. It depends on what you will use the 3D printer machine for and what your current skill level is like. You can find very powerful 3D printers used by many businesses and individuals that don't cost a lot of money. Price ranges vary from brand to brand.
What is better – FDM or SLA 3D printers?
FDM printers, which use a filament, are more suited to creating large but fairly straightforward objects, whereas SLA printers, which use resin, are commonly preferred for complex objects and molds.
Can I customize my 3D printer?
Potentially. Some 3D printers are very customizable, and you can extend the functionality by additionally buying parts, or you can even 3D print these yourself in some cases. Other 3D printers are a bit more limited in what you can do, so make sure that you consider this before buying one
Do I get a warranty with my 3D printer?
Yes. All the 3D printers that we have listed here will come with a warranty period but make sure and check the manufacturer or retailer to find out what it is.
What is a dual extruder 3D printer?
A dual extruder 3D printer has two extruders which allow you to work on more than a single model at one time, and they offer quicker print speeds too. This type of printer is ideal if you need fast speeds while printing complex objects.
Are 3D printers easy to use?
It depends. We have listed the best 3D printers in different categories and some will be aimed at beginners while others will be for intermediate and advanced users. There is a learning curve with 3D printing regardless of the model of the printer but some are easier to operate than others
Types of 3D Printers
The following sections break down all the various 3D printer types and uses.
Best 3D Printers By Filament & Use Case
While the above recommendations make our best 3D printers list as general budget based picks, here are some specific guides for different filament types:
More Top 3D Printer Reviews
Top 3D Printer Comparisons