Printrbot's Play 3D Printer is a replacement for the Simple Maker which was a previously released model that was very basic and a very rough design. The Play is a big improvement and offers a 3D printer that is usable and consumer friendly on a wide scale with many features that are attractive for those that are new to 3D printing and experienced 3D printing enthusiasts alike.
It is priced at only $399
best 3D printer models available
. The unit is considered an entry-level unit largely because of its price; however, it does offer many features that are found with premium printers.
Printrbot did an excellent job of balancing advanced design features, controlling the cost of the unit, and still producing a quality printer that is dependable on a long-term basis.
The Printrbot Play Design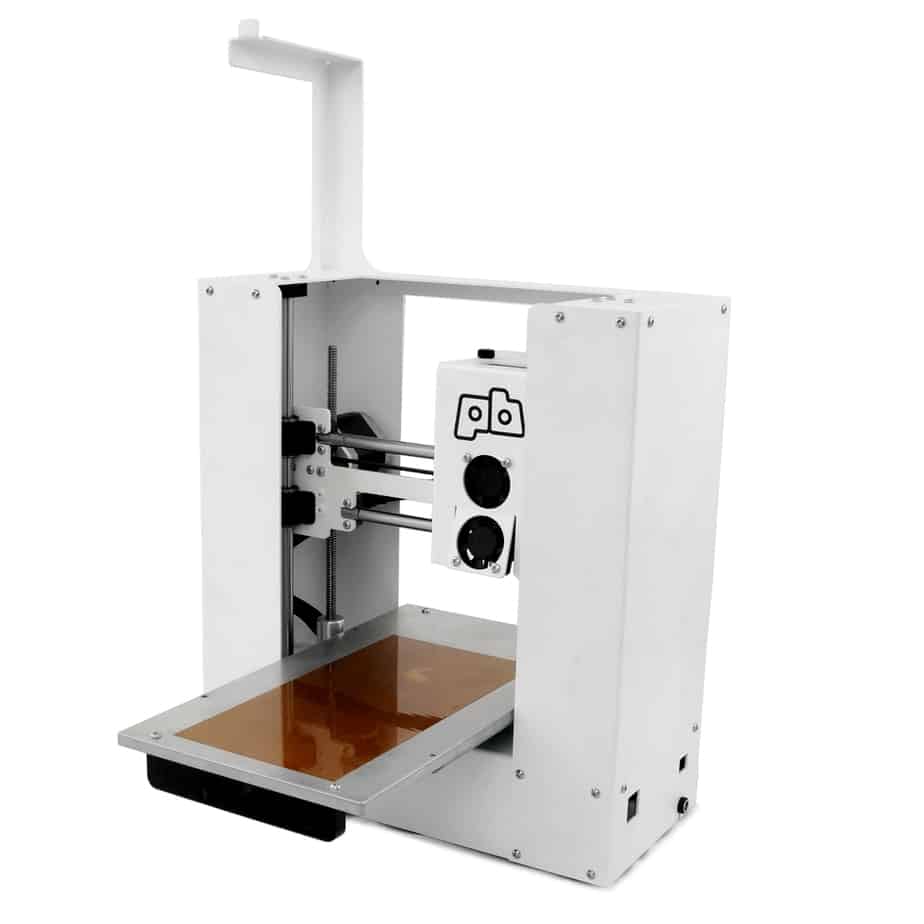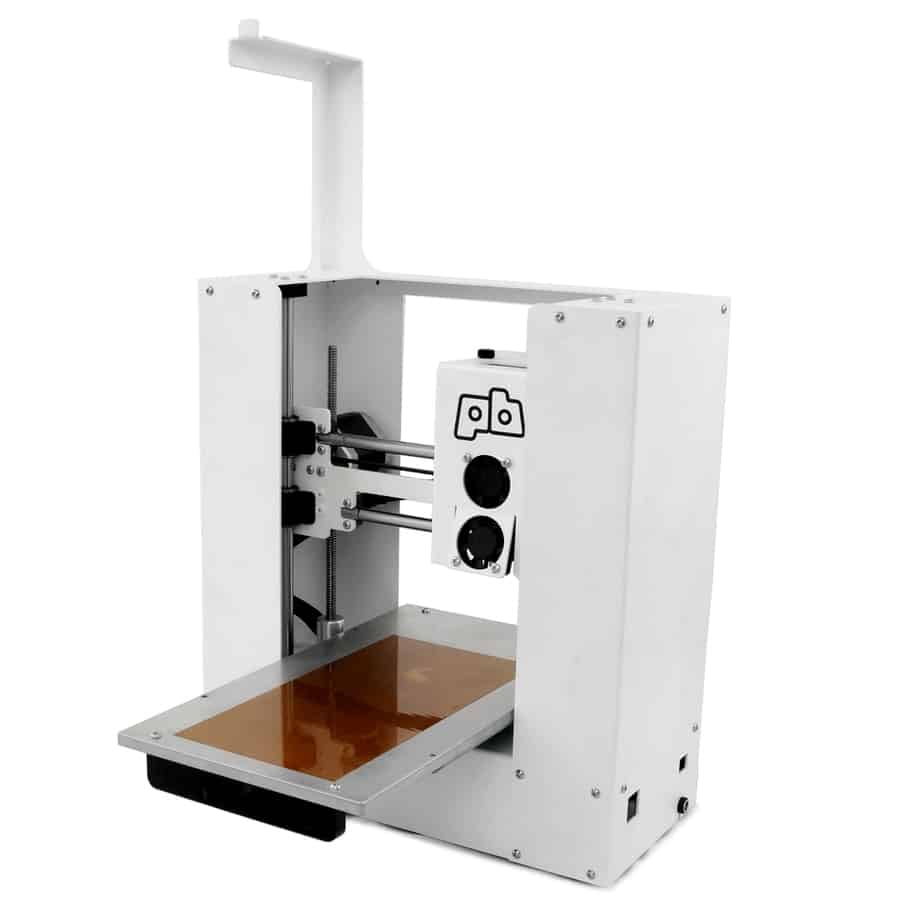 The Play is not exceptional in appearance but is still eye appealing with a white or black frame and many aluminum components which give it an attractive and modern look. The components of the Play offer surprising quality in terms of fit and finish as everything fits together nicely during assembly and there are no rough edges or misaligned pieces.
At even a brief glance it is easy to tell that the designers had a particular focus on quality control and ensuring the final product looked and felt like a
The print bed is somewhat unique as it is simply a solid piece of aluminum with no adjustments necessary, as it is actually securely bolted to other moving parts on the machine. The belt tension is adjustable manually but all other tweaks and settings are handled within the printer's management software.
This style of design keeps things simple and straightforward especially for users who are not very experienced with 3D printing. In fact, it can be a little refreshing to have a simple and solid unit like this as an experienced user as well.
Perhaps the most convincing test of the Play's quality is simply by feeling how the unit fits together. It feels much more sturdy and rigid when assembled than many other 3D printers that are far more expensive.
It gives you a sense the unit is built to last and you won't have to spend a lot of time tightening parts and making sure the structural integrity remains in place even after many printing jobs are completed.
Printing and Features
The Play prints exceptionally well. In fact, the print quality is significantly better than many printers that cost three or four times as much as the Play. The quality tends to not be quite as consistent as perhaps the very high-end machines, especially when printing very detailed products. However, regardless of a few faults in 100% consistency, it offers amazing printing quality for a sub $400 unit.
It is not uncommon to hear users of the Play comment about how this 3D Printing does a better job with many printing jobs than their main printer does.
The printer comes with dual fans, one that is directed towards the print area which effectively cools the PLA as the unit prints and another that is pointed towards the extruder and hot-end. The second operates as an extra heatsink.
With some less expensive 3D printers, you can sometimes experience problems with the PLA clogging up if it is left constantly heating up without an effective cooling mechanism. However, the design of the Play does a great job of avoiding this problem and through multiple tests, we didn't have any problems at all in this area.
The extruder is made of aluminum with a drive gear that is all stainless steel. It has an adjustable tension which is adjusted using a spring-loaded lever. The components are well made and the design is something you would expect to come on a unit that is in a much higher price range in most cases.
Overall, the printing operations are smooth, excellent quality and among the best of any unit that we have tested that is under $1,000. While the Play is not perfect, you will get much more than expected from a sub $400 3D printing unit of this size. In fact, if this is your very first 3D printer it may just raise your level of expectations too much as the Play outperforms many other models that are more costly.
The Play does not have a heated print bed so you are limited to using PLA, as using ABS just isn't practical without a heated bed. Additionally, the hot-end has a high-temperature range somewhere in the range of two hundred forty degrees, so any type of plastics that require higher temperatures are not going to work well either.
The unit does not come with any proprietary operating software but Printrbot recommends using Cura which is available for download on their website or online from various websites.
Features
Build Area 4 x 4 x 5

Resolution-50 Microns

Printing Speeds-80mm/sec maximum

Auto Leveling

Printing Bed is Non-Heated

Structural Build-Powder coated steel with aluminum body

Belt Design-GT2

USB Connection and Micro SD Card Capable

Recommended Software-Cura

Motors-NEMA 17

Overall Dimensions-14 x 11 x 12
Downsides
One obvious downside of working with the Play is the non-heated bed which limits you to working with ABS only. This is probably not a huge limitation for novice users that are trying 3D printing for the first time, but it could be a problem for other users who are more experienced and require more flexibility.
The second limitation of the Play is due to its size. While its small size does offer some conveniences it also limits the size of your build area and thus the size of products you can print. This is a limitation you can't really get around, although, the excellent print quality does make it possible to print multiple smaller parts that will fit together nicely to create a larger final product.
Most of the printers in this price range tend to offer a smaller build area of some type so this is something that most users should be prepared for already when considering the Play as an option.
Final Verdict
The
Based on our experience and other user reviews, Printrbot seems to have avoided some of the common issues that other budget units encounter and obviously has a good process in place for quality control.
Any of the downsides mentioned above are far outweighed by amazing printing quality that will most likely surprise you. We highly recommend this unit for both beginners and experienced users alike who are interested in a smaller and inexpensive 3D printer with excellent quality.
Check out more related Printrbot articles here: