The Top 6 Best Open Source 3D Printers for 2020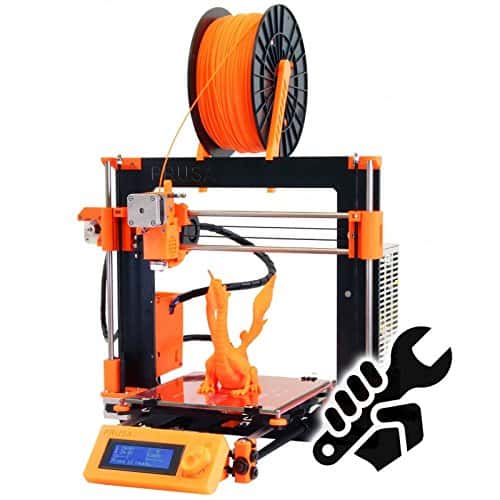 In the relatively short time 3D printing has been around, few things have largely contributed to the growth of the industry. One of the biggest factors is open source printers. Open source printers allow the industry to evolve and grow to fit consumer needs as users themselves find ways to upgrade printers.
Many big names in the industry are known for creating awesome printers with open source technology and these printers are some of the best you can get.
Luckily, for those of us who own or want to own our own 3D printer there are a lot of great options available to us. The hard part is trying to decide which open source 3D printer is the right one to buy. We want to make this decision a little easier for you. Below you will find the 3D printers that we think are the best open source printers you can get in 2020.
To create this list of printers we looked at a few categories to help us rank the printers. Those categories are ease of use, reliability, print and build quality, value for money, and support, which includes customer support from the company or an online community of users.
You will find printers that will give you consistent quality prints all day, printers ready to go right out of the box, and everything from budget-friendly to high-ticket printers. Hopefully, you will find the perfect open source 3D printer you have been looking for on this list.
Here are the 6 best open source 3D printers for 2020:
Why Go with the Lulzbot Mini 2?
Compact, reliable and capable, the Mini 2 is among the best performing open source 3D printers we use (on a regular basis). It's a bit pricey, but worth it for how consistently good it is.
We earn a commission if you click this link and make a purchase at no additional cost to you.
A lot of people in the 3D printing industry want a printer that does not require a lot of tinkering. Being able to pull a machine out of the box, plug it in, and start printing is a huge draw for a lot of people.
Aleph Objects delivers an amazing plug n' play product with the LulzBot Mini 2. In Just 15 minutes you can have the printer unboxed, connected, and printing high-quality objects. The Mini is the smaller of the two LulzBot printers. The Mini is a reliable easy to use printer, which makes it great for anyone from beginners up to advanced users.
Since this printer is the "mini" it has a smaller build area of 152x152x158mm. It is equipped with some more advanced features, such as a self-balancing bed and self-cleaning, all metal nozzle. The LulzBot Mini has essentially unlimited possibilities when it comes to the printing material.
An open filament system with a heated bed and a hot end on the nozzle allows you to print anything from plastics to industrial-grade materials.
As with the other printers on this list, the noise level is one of the biggest drawbacks. There are a few ways to help with the issue with motor adjustments and enclosure accessories. Another downside is the fact is must be connected to a computer.
Since there is no interface on the printer itself, a computer is necessary for operating the machine. Again, not the worst thing in a world. Both are minor issues that shouldn't push you away from this printer.
Starting at $1495.00, but check:
Why Go With the Ultimaker 3?
I'll be honest, the Ultimaker 3 is one of my FAVORITE 3D Printers of all time. Not trying to hype it, but it's still the go-to for reliable performance and durability over time. It actually gets BETTER the MORE you use it... Weird!
We earn a commission if you click this link and make a purchase at no additional cost to you.
Taking over for the Ultimaker 2+ is the latest 3D printer from Ultimaker. We have always been a big fan of Ultimaker machines and the Ultimaker 3 does not disappoint. It maintains the classic sleek white box design and appearance of its predecessors. Although it may look similar, the new features and upgrades of the Ultimaker 3 are what set it apart from the previous models.
The printer has been upgraded to a dual extruder setup giving you the freedom to print with different filament and colors. Along with the dual extruders, it comes with filament feeders and a spool holder big enough to hold two spools of the filament at once.
The Ultimaker 3 also has a great build area, which is 215x215x200 mm. As well, we get more connectivity options with this printer than most of the others on this list.
This printer will connect via USB cable, wifi, or ethernet. Another upgrade for this printer is the new cooling system, which new, low-noise fans help create better airflow. The new cooling system gives you better cooling, bridging and smoother print surfaces on your final product.
Of course, something as advanced as the Ultimaker 3 will cost you a bit more. While we would have this printer higher on the list for its performance and features, not everyone is willing to shell out the money for it. However, if you have the money and are willing to spend it then this printer is a great investment as it will provide you with beautiful, high-quality prints every time.
Where to Buy? Starting at $3495.00, head over to MatterHackers here (they frequently have great bundles).
Further Read:
Why Go With the BCN3D Sigma?
Easy to operate, reliable prints, and outstanding customer service make the Sigma R19 an easy pick for this list.
We earn a commission if you click this link and make a purchase at no additional cost to you.
A top trending printer this year that appears on almost every list of the best 3D printers is the BCN3D Sigma from BCN3D Technologies. The BCN3D Sigma is an absolute beast of a printer with an overall size of 465x440x680mm. The large semi-opened frame 3D printer comes with dual extruders and the ability to handle multiple types of filament.
This printer has a large build area (210x297x210mm) and is most admired for its reliability, print quality, and build quality. It is hard to find a better nonstop and reliable printer than this one.
BCN3D Technologies equipped this printer with an innovative system for the dual extruders, IDEX (Independent Dual Extruder). This system allows each extruder to function separately, which allows users to print some of the most complicated designs.
Some downfalls of the printer are it does not have the ability for wireless connectivity. Also, one of the biggest complaints is the overall noise level of the machine. Since the printer is relatively large for a hobbyist printer, you will need to have a lot of desk space to fit this machine next to your computer.
However, both the noise level and connectivity limitations are easy to forgive with a printer as powerful as this one.
Where to Buy? Starting at $2995.00 (check MatterHackers here for the latest price)
FlashForge Creator Pro
FlashForge Creator Pro makes some of the best printers for beginners that you can buy. For the moderate price tag, you're getting a workhorse of a 3D printer.
We earn a commission if you click this link and make a purchase at no additional cost to you.
The Flashforge Creator Pro is a reasonably priced printer with a sturdy metal frame that creates high quality prints and can handle a lot of them. Any skill level can easily use this 3D printer, however, beginners to 3D printing might run into a few issues that give them a headache or two.
Luckily, there is a huge online community of user groups, videos, and forums that will help you quickly solve any problems you may run into.
The Creator Pro is loaded with great features, such as dual extruders, a metal build plate, and a guide rod. The new guide rod is one of our favorite features as it really improves the stability and durability. It has an average build area of 225 x 145 x 150 mm, but the reduced build area is easily justified with the lower price.
The printer can handle spare parts from many different vendors, which makes it easy to fix or improve your machine.
This certainly isn't a plug n' play printer like some other ones. One of the biggest drawbacks of this printer is the difficulty some have during initial setup. The instructions are rather vague, but again, the online community will surely be a help for anyone struggling with it.
Where to Buy? You can pick up the Flashforge Creator Pro at this Amazon listing.
Further Read: Flashforge Creator Pro Review.
Our Recommendation
The Creality CR-10 was developed in 2016 after the success of the CR-7 and the CR-8.
The primary selling point of the CR-10 is the huge print area and three size variants. The only difference in the three variants is size, so the features and capabilities of the different options are consistent across the board.
While the CR-10 takes a while to heat up to the higher end temperatures and may require an extruder cover to maintain these high temperatures, it only prints as well as your settings, so if you dial into them correctly, it can achieve excellent prints.
While the preparation process can be a bit tedious, it truly lives up to the hype when you use it consistently.
Where to Buy? You can pick the CR 10 up at Amazon here.
Further Read:
Original Prusa i3 MK3
Creality Ender 3 (Prusa i3)
For most useres I recommend STARTING with this Creality Ender 3 Prusa i3 model here. It produces more consistent quality prints and is MUCH easier to assemble, let alone being more affordable. Clear choice for me.
We earn a commission if you click this link and make a purchase at no additional cost to you.
The Original Prusa i3 MK3 is the best open source 3d printer you can find in 2017. This printer creates high quality objects, which easily rival almost any printer out there. Also, the relatively cheap price tag on this machine makes it the best value for your money. It is a simple overall design and one of the most popular printers internationally.
You can either get the printer preassembled, or for slightly cheaper in kit form, and requires zero tuning to begin consistently printing quality parts. The build area is fairly large, 250x210x200mm, and handles multiple types of filaments.
The MK42 heated bed is one of the best new features of the printer, and we can't ignore the "silent mode." This allows for a quitter printing process if the overall weight of the print is under 400 grams.
A couple downfalls that have been noted by users are the noise level, when not in silent mode, and the lack of a dual extruder. While the 3D printer does not have a separate second extruder, you can preorder a multi-material upgrade kit.
This kit will enable you to print with up to 4 different materials or colors. The kit will have 4 feeders that all connect to one hot end, which makes it calibration free and easy to use.
Starting at $599.00 for the kit (check here for the latest price) and $899.00 preassembled (check here for the latest price)
Additional Related Research:
That completes our current list of best open source 3D printers for 2020. Do you have a favorite that isn't on here? Tell us what it is and why I think it should be on the list, and it might just make an appearance on the next one.