Latest posts by Total 3D Printing Team
(see all)
In such a relatively short time, 3D printing has been around, few things have largely contributed to the industry's growth. One of the biggest factors is open source printers. Open source printers allow the industry to evolve and grow to fit consumer needs as users find ways to upgrade printers.
Many big names in the industry are known for creating awesome printers with open source technology. However, over time, some of these companies have run into problems.
For example, Printrbot shut its doors in 2018 because of lackluster sales. Lulzbot was on the verge of closing down, even firing a significant portion of their staff in 2019 before they were bought out.
Makerbot, which was the biggest company that had do-it-yourself printers, stopped offering open source printers. They now sell proprietary 3D printers and patented their technologies.
So a lot has changed since we came out with this list in 2017. Here are the best open-source 3D printers you can buy today.
The Creality CR-10 was developed in 2016 after the success of the CR-7 and the CR-8.
The primary selling point of the CR-10 is the huge print area and three size variants. The only difference in the three variants is size, so the features and capabilities of the different options are consistent across the board.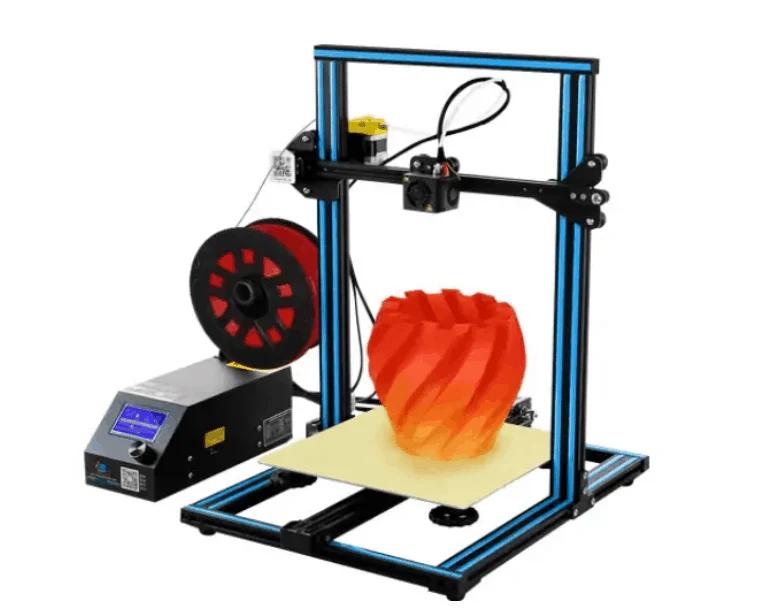 While the CR-10 takes a while to heat up to the higher end temperatures and may require an extruder cover to maintain these high temperatures, it only prints as well as your settings, so if you dial into them correctly, it can achieve excellent prints.
While the preparation process can be a bit tedious, it truly lives up to the hype when you use it consistently.
Pros
Easy to assemble and has a simple design
Easy to troubleshoot
Good for bigger prints with fine details
Removable glass bed
Affordable
Cons
The extruder's placement can be better.
When printing, you often run into tangled filaments
Printer preparation can take effort and time
Specs
Dimensions: 23.6 by 19.3 by 24.2 inches (600 by 490 by 615 millimeters)
Weight: 22.7 pounds (10.3 kilograms)
Build volume: 11 by 11 by 15 inches (280 by 280 by 381 millimeters)
Nozzle size: 0.4 millimeters
Maximum printing speed: (7.9 inches per second) (200 millimeters per second)
Bottom Line
A big Cartesian 3D printer with excellent printing speeds and a huge print volume, you can't go wrong with the Creality CR10. The affordable price is just a bonus.
Further Read:
The Sigma D25 comes from a company operating out of Barcelona. They have been launching open-source printers since they first entered the market, and Sigma D25 is one.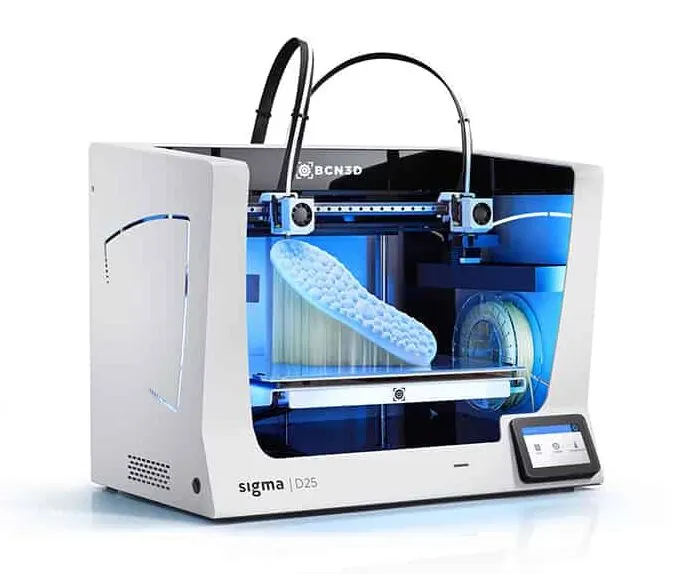 The Sigma D25 is a semi-open 3D printer with a large build volume at 6.5 by 11.8 by 7.9 inches (420 by 300 by 200 millimeters). You can send your files wirelessly, making them easier to print even when you don't leave your desk. What's more, the company is always upgrading the firmware, which you can get over the air.
Here's some of things that BCN3D Sigma D25 offers you:
The Features You Should Know
Multilingual touchscreen. The five-inch display makes it easier for your to operate your 3D printer. It also guides you through the printer's more advanced features. Instructions are available in several languages, including English, Spanish, Chinese, French, Portuguese, and Japanese.
Filament runout sensor. This runout sensor will know when it's time to replace a filament. It will pause the printing and wait for you to reload a new filament.
Bondtech extruders. These extruders have dual drive gears that allow for more precise controls, faster performance, and sharper details than others.
Solid build. The sturdy aluminum frame assures you that the printer is durable and lasts a long time.
Pros
Allows you to print with different filaments together
Makes it easy to print with soluble filaments
Durable and easy to use
Accurate prints
Print one model or two objects simultaneously
Cons
Expensive
Takes a long to calibrate
Specifications
Build volume: 6.5 by 11.8 by 7.9 inches (420 by 300 by 200 millimeters)
IDEX extruders
Filament diameter: 2.85 millimeters
Maximum layer height: 0.
5 millimeters
Maximum bed temperature: 176 degrees Fahrenheit (80 degrees Celsius)
Maximum nozzle temperature: 572 degrees Fahrenheit (300 degrees Celsius)
Full-color touchscreen
Connectivity: Wi-Fi, Ethernet, SD card
Dimensions: 27.2 by 20.9 by 21.7 inches (690 by 530 by 550 millimeters)
Weight: 66.1 pounds (30 kilograms)
Bottom Line
You get an excellent printer that you can rely on to give you well-detailed and accurate prints, as well as the capability to get double the output or using two materials in one print job.
If you can afford this printer, it's definitely worth considering.
Anet A8: Best Value for the Money
Priced at less than $200, this printer got a lot of buzz because of its price and excellent prints. The Anet A8 has an acrylic frame and a build volume of 8.6 by 8.6 by 9.4 inches (220 by 220 by 240 millimeters).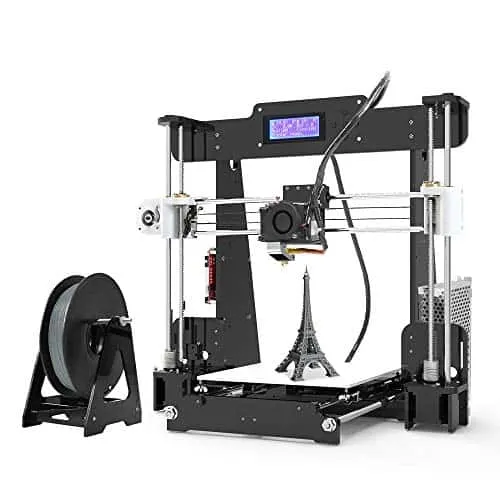 You can use several types of filaments for this printer, including:
ABS
PLA
Nylon
PVA
PP
Woodfill
The kit has literally everything you will need to build the printer. It comes in a box with three slates that make it easier for you to find the parts you need.
But while the arrangement and the packaging were well-thought-out, there was no instruction manual included. There's a USB stick with a digital copy of the manual, but even that is difficult to follow.
You can, however, watch this YouTube video if you get stuck:
However, after setting it up and calibrating it, you will find that this is actually a good printer. It's minimalistic, without a lot of parts that are not necessary to how it works.
More importantly, the models you get from this printer can rival the ones printed by more expensive 3D printers.
Also, this printer can be upgraded and modified. If you find one aspect lacking, you can go to its thriving user community and ask how to improve it. Or you can research on your own for the upgrades and modifications that you can use.
Pros
The low price and great capabilities give you value for money
It can be modified to suit your needs and preferences
You can use this to learn about fused deposition modeling
The active and growing user community
Cons
It's a DIY assembly, and it's not going to be a walk in the park
The instructions for assembling this printer are not that good
confusing user interface
Takes a lot of time and experimenting to get the perfect print
Manual calibration for the default kit, automatic leveling is sold separately
Specs
Print Area: 8.6 by 8.6 by 9.4 inches (220 by 220 by 240 millimeters)
Acrylic plate frame with aluminum base
Single nozzle: 0.4 millimeters
Offline print with SD card
Bottom Line
The Anet A8 might be a pain to build, but done right, you can get excellent prints from it. If you want a budget printer that allows you to learn more about fused deposition modeling, then this will be just perfect for you.
This printer can deliver great prints even at its price. But it does come with a challenge: putting it together can be a headache, and so is the bed leveling process.
You can probably get the automatic bed leveling component for this printer, but it's sold separately. Combine this printer with one of the best 3D modeling softwares to print anything your heart desires.
Check out more related Anet A8 articles:
The Monoprice Mini Delta V2 is great for those who are just getting started in 3D printing. It automatically calibrates, so you don't have to worry about leveling the bed manually.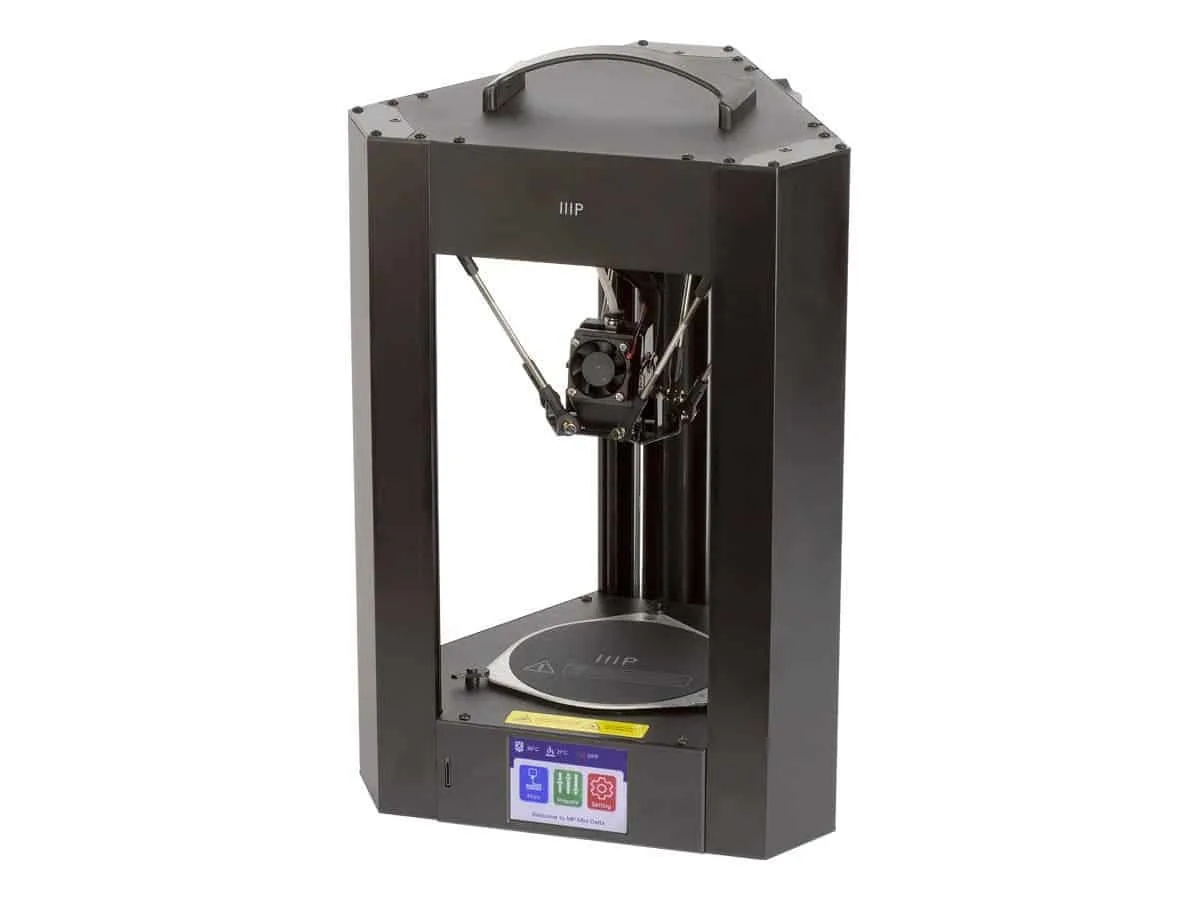 Plus, it comes already assembled. It also has a steel and aluminum frame that gives it a solid build and elegant look.
This printer works with different types of filaments, including:
ABS
Bronze fill
Copper fill
PLA and PLA+
Steel fill
Wood fill
For its price at less than $200, you get professional quality prints with up to 50 microns resolution for each layer.
Monoprice Mini Delta V2: Features You Should Know
The features on this printer are something that you can find on more expensive printers:
Adaptive touch display
Advanced automatic bed leveling
Diagnostic systems
However, you should know that this printer doesn't have the standard Cartesian coordinate system. It's a mini 3D printer with a small build volume, but the Delta form also limits the build capacity of this printer.
Instead of the usual square or rectangle form, you have one that's triangular. And it's open on three sides.
Pros
Comes fully assembled out of the box
Budget printer with professional quality prints
Fast printing times
Solid build with its steel and aluminum frame
Cons
Specs
Build volume: 4.3 by 4.7 inches (110 by 120 millimeters)
Nozzle diameter: 0.4 millimeters
Print speed: 6.7 inches per second (170 millimeters per second)
Supported file types: STL, OBJ, DAE, AMF
Offline printing with microSD card
Connectivity: Wi‑Fi and USB
Dimensions: 14.2 by 17.3 by 18.9 inches (360 by 440 by 480 millimeters)
Weight: 2.2 pounds (1.0 kilogram
Bottom Line
You will like just how easy it is to use the Monoprice Mini Delta V2. From setup to actual printing. It's fast, affordable, and comes with features that don't jive with its price.
It has a smaller print area, and the print quality could be better, but it's easy to recommend this printer at its price.
The Flashforge Creator Pro is a reasonably priced printer with a sturdy metal frame that creates high-quality prints and can handle many of them. Any skill level can easily use this 3D printer. However, beginners to 3D printing might run into a few issues that give them a headache or two.
Luckily, a huge online community of user groups, videos, and forums will help you quickly solve any problems you may run into.
The Creator Pro has great features, such as dual extruders, a metal build plate, and a guide rod. The new guide rod is one of our favorite features as it really improves stability and durability. It has an average build area of 225 by 145 by 150 millimeters, but the reduced build area is easily justified with the lower price.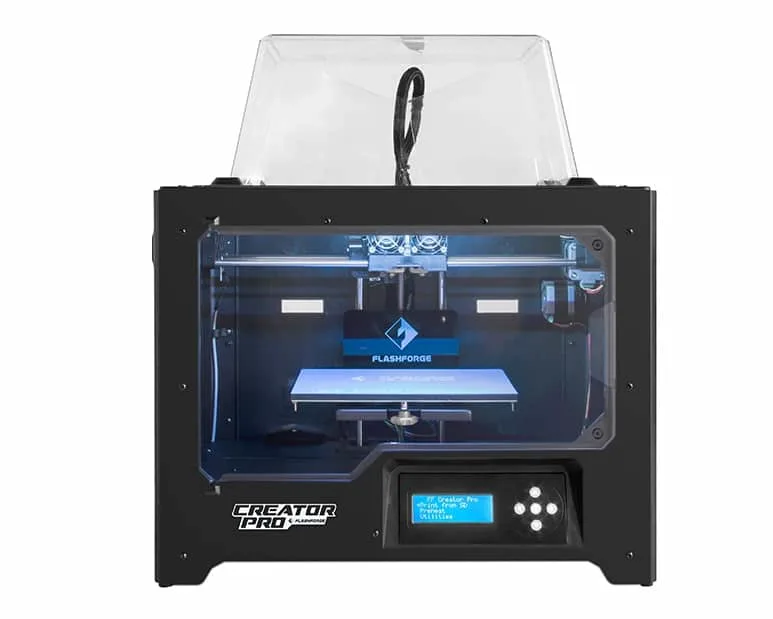 The printer can handle spare parts from many different vendors, making it easy to fix or improve your machine.
This certainly isn't a plug n' play printer like some other ones. One of the biggest drawbacks of this printer is the difficulty some have during the initial setup. The instructions are rather vague, but again, the online community will surely help anyone struggling with it.
Pros
Very affordable with excellent features such as a dual extender and aluminum plate
Quiet worker
Fully enclosed printing area
Cons
Setup is quite complicated with confusing or insufficient instructionsSpecs
Bottom Line
Specs
Build Volume: 8.9 by 5.8 by 5.9 inches (226 by 147 by 150 millimeters)
Maximum layer thickness: 0.3 millimeters
Nozzle diameter: 0.4 millimeters
Materials: ABS and PLA
Connectivity: USB or SD card
Bottom Line
If you're looking for an entry-level 3D printer, then this one is for you. It's affordable, works with the most commonly used filaments, and you can customize it the way you want.
Frequently Asked Questions
Open-source 3D printers are huge, as they can deliver great print quality and still be very affordable. And we know you have questions. Here are some of the queries we got from our readers:
Question: Are there any open-source 2D printers?
Answer: Technically, you can create your own 2D printer at home. But it's not very practical to do so. The components of a 2D printer should be available if you know where to find them. However, as for prepackaged open-source 2D printer comes form years and years of research and development by various companies.
And because of all that mone being poured into research and development, these companies typically patent their work. Printer manufacturers pay other companies to use the latter's technologies and patents. With the cost of the patents and the actual components of the printer itself, it's not going to be economical. Finding an open-source alternative can be challenging because you'd need a lot of time and knowledge in different areas to come up with a basic printer.
All that seems not worth it, considering that some of the best printers out there cost less than $150, such as the Brother MFC-J895DW or the very affordable HP DeskJet 3755, which seels for less than $100 and still gives you great prints.
On the other hand, 3D printers have roots, in the RepRap community, largely a community project. In short, there are no patents to contend with. There is no intellectual property to buy. And the community is very helpful when it comes to finding the components you need to build your printers.
In fact, in the early days of 3D printers, most of these machines were built by enthusiasts. People improved on already existing designs to put their own 3D printers for others to improve.
With 3D printers, if you already have one, you can easily create the parts you need to create a better version. Plus, because you don't have to worry about licenses and patents, these 3D printers were mostly more affordable than what can be bought from the store.
Question: What's the big deal with IDEX anyway?
Answer: Independent dual extruders, or IDEX, is a technology that enables to print heads to work independently. Each of the print heads has its own nozzles and will print in different directions using different materials.
IDEX print heads are not like dual extruders, which have two nozzles on one print head. With dual extruders, you can also print with two filaments having two different materials. still, because the extruders are close together, there is a very high risk of contamination as the other nozzle might ooze and drip filament unexpectedly.
With IDEX, the other nozzle will stay idle far away from the object you're printing. IDEX also offers you two different printing modes: Sync and mirror.
This means that the printer can print a pair of identical parts, either symmetrical parts or the exact same parts. So, if you're using your 3D printing for serial manufacturing, IDEX technology doubles your output.
IDEX also allows for multi-material printing, where you can print a model with two or more materials. Each nozzle on an IDEX print head can have its own temperature. In sum, IDEX technology allows you to do more with your 3D printer. Some of these capabilities are absent even in dual extruders.
Question: What's the big deal with open source, anyway?
]Answer: You might have heard the term open source when it comes to software that you use for your computer. This software doesn't require you to pay a license fee, and you can view their codes and check to see if you can introduce improvements.
Open-source 3D printers are the result of collaboration and user-initiated improvements. In theory, you can get a better 3D printer with excellent features and the latest technologies.
Open source helps encourage experimentation among users. Not only do they have access to the codes and other things that goes behind the scenes, but they also have to worry about infringing on copyrights, patets, and other intellectual properties.
Get the Perfect Open Source Printer for Your Needs
The beauty and benefit of the open-source philosophy are that you get an excellent 3D printer that's loaded with features without paying a steep price. Whatever money that was not paid towards licenses or patents is spent on making the machine better or goes towards a more budget-friendly price tag.
An affordable open-source printer doesn't mean that it's got very few features, as the Flashforge Creator Pro shows. If you'd like to get the most bang out of your money, you can get the Anet A8. Or, if you're serious about 3D printing and want to support the open-source philosophy, there's the BCN3d Sigma D25.