Latest posts by Total 3D Printing Team
(see all)
If you're anything like me, then you're a big fan of the budget-friendly 3D printers. They may not come with all the fancy features and specs of the thousand dollar machines, but they are much more accessible to many more people.
And for the most part, the budget-friendly options print just as well as the more expensive ones with many thanks to open source technology. One of the best budget-friendly options I have seen is the Monoprice MP Select Mini, and now an even better option is out there, the Monoprice MP Select Mini V2.
Monoprice is a California based electronics and accessories company. They aim to make affordable technology and help consumers make simple, fair, and confident choices when purchasing technology. The company has a wide range of products and offer over 6,500 items.
Monoprice's 3D printing area is slowly growing and making a name for themselves amongst many 3D printing enthusiasts. Currently, they offer four different 3D printers and a 3D printing pen. The MP Select Mini V2 is the most affordable 3D printer the company offers.
The second-generation 3D printer from Monoprice met, and exceeded, the expectations of a lot of people. Its predecessor was one of the best-selling mini 3D printers. Now, the new and improved version will try to keep Monoprice's name at the top of the rankings. Not only does the Monoprice MP Select V2 come with new functions and features, but it also has a lower price tag than the original.
This is a very impressive 3D printer option. Below I will tell you all about mine and the favorite testers features, some of the key specs, and the pros and cons of this little 3D printer. If you need an affordable and powerful 3D printer, then this might just be for you.
Features of Monoprice MP Select Mini CoresMini V2
Here are some new and great features of the MP Select Mini V2.
Insulated Print Bed: The heated print bed is just one part of the new build area. You will also notice a preinstalled BuildTak mat, and improved rigidity and stability of the z-axis movements, which added all together allow for very impressive and clean prints.
The heat bed enables you to print with more filament types from more companies. A small upgrade from the previous version, but one I am very excited about.
Dual Cooling Fans: The first version of the MP Select Mini came with only one nozzle cooling fan on the printer, which is located on the extruder. However, the new version now comes with dual cooling fans, one on the extruder and one on the main board. The fans will help maintain the temperature of the hot end and heated bed when printing with filaments that require higher temperature settings.
Color Screen: An improved 3.7" color screen is a nice boost for this little printer. It makes the machine, settings, and printing much easier to control as it is much more functional and capable than the previous version. It lets you control all aspects of the print directly from the printer, which is very nice for printing from a microSD card, or if you connect to Wi-Fi and your computer is in another room.
Solid Construction: Thanks to the printer's heated bed and firm construction, it won't fail mid-print that often, unless you are making a slicing software error and prepare the model inappropriately. The laws of physics still bind this printer, so we definitely recommend printing with support, unless of course, you're are a hundred percent certain you don't need it.
All Metal Composites Extruder: Monoprice now manufactures this 3D printer with an all-metal hot-end extruder. This is small, but great, upgrade as it helps prevent filament jams, and it really opens the possibilities for printing with more types of filament from any manufacturer.
The max temperature of the hot end is +250°C, and the max temperature of the print bed is +60°C. As long as the filament of your choice fits within these specifications, then you can print away.
Key Specifications
Some key specs to point out of the MP Select Mini V2:
| | |
| --- | --- |
| Printing Technology | FDM (Fused Deposition Modeling) |
| Supported | 4.7" x 4.7" x 4.7" |
| Max. Extruder Temperature | 482°F (250°C) |
| Max. Platform Temperature | |
| Build Area | 4.7" x 4.7" x 4.7" |
| Print Speed | 55 mm/s |
| Filament Types | ABS, PLA, Wood Fill, Copper Fill, Steel Fill, Bronze Fill |
| Layer Resolution | Normal: 131 microns; Fast: 200 microns; High Quality: 90 microns |
| Extruder Type | Single Extruder |
| Firmware | Open Source |
| Nozzle Diameter | 0.4 mm |
| Connectivity | Wi-Fi, microSD card, USB |
| Supported Software | Cura Software, Repetier-Host |
| Warranty | 1 year |
| Our Score | 8.4/10 |
| Price | $219.99 (For the latest prices and discounts, check here) |
Pros of the MP Select Mini V2
Now let me go over some of the best features of this mini 3D printer.
Affordable: Did I mention the price yet? This is one of the most affordable printers you will find on the market that isn't a danger to you or your household. It makes a great option as a gift, or for someone who isn't sure about 3D printing and wants to try it without breaking the bank. As well, its predecessor was constantly ranked as one of the best bang-for-your-buck printers on the market.
Considering this is just as good as the last version and even has more features and upgrades, I am sure this printer will be at the top of those lists too. One last thing, did I mention its priced lower than the previous version?
Fully Assembled and Calibrated: The Monoprice MP Select setup is very simple and smooth. However, it might take a bit messing around to find the ideal print settings and start making amazing prints. A great benefit for everyone who gets excited as I do about trying out new things the moment that they arrive. The plug and play capabilities allow the users to start printing in a matter of minutes.
All you need to do is unbox the new printer and start the printing process. Give it a quick check to ensure the bed is leveled, load your filament and insert a card into the microSD card slot. Simple as that. Of course, if you prefer something besides an SD card, don't worry, Monoprice has you covered. You will not find any cheaper option that is more ready-to-print than this.
Connectivity Options: As I just mentioned above, the MP Select Mini V2 has multiple options when it comes to connectivity. Do you have all your printable files loaded on an SD card? Or do you prefer manipulating your models a little on a computer and connecting to your printer via USB cable?
Or is WiFi your best friend, and you enjoy having the freedom to print from anywhere you can connect? Whichever you prefer, this printer will work for you. It can handle all three different connectivity options. Feel free to mix it up a bit and try something new.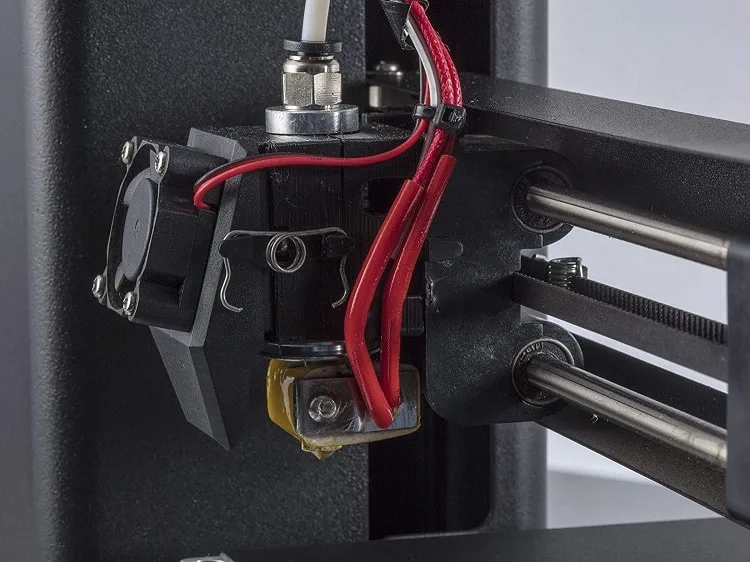 Cons of the MP Select Mini V2
A couple downsides of owning an affordable 3D printer like the Select Mini V2:
Small Print Bed: As you know, this is 3D printer falls into the "mini" category. With that being said, the size of the print bed is less than impressive. This is not the end of the world though as the printer is still fully capable of handling a lot of really cool prints.
Considering the overall print quality combined with the affordability, this is still a great 3D printer for a lot of people. If you need to print larger items, you can simply break the overall design into small sections and combine all finished prints in the end.
Noisy: Many testers reported that this little machine does produce a fairly large amount of noise. A lot of the noise can be attributed to the fact that it doesn't operate within an enclosure. You can easily purchase or build an enclosure if this is too big of an issue for you. Also, keep in mind that most 3D printers are not considered quiet machines as there are so many moving parts to them.
Reviews
"My first 3D printer and I couldn't be more happy. Small learning curve but worth it! Setup was easy and instructions were spot on." – Mark C. on the Monoprice website.
"Total newbie to 3D printing. Followed instructions and was printing within 20 minutes. Have made quite a few little figures and toys with my kids, they love it – definitely a 'next big thing'. Really like how there is nothing to put together, and the low cost of entry makes this technology accessible to anyone now." – Kyle M. on Amazon.
"Almost a year and a half and this thing is going great. It has changed the way I look at my world. I can never go back. There is a bit of a learning curb, but a great facebook users group that will help out at every turn. I had a defective SD card burn out the card slot and did a workaround to use a Raspberry Pi and Octoprint to get the printer WiFi capable. Do this early. It makes this grate and affordable printer that much better." – Christopher R. on the Monoprice website
Alternative Option to MP Select Mini V2
If you are in the market for a budget-friendly 3D printer but don't like the
Monoprice Select Mini V2 | Amazon
This printer not only comes fully assembled, it has already been calibrated at the factory. All you have to do is perform a quick check to verify that the print bed is still leveled, in case it shifted during shipping, then load the included MicroSDTM card, load some filament, and start printing the preloaded model.
Buy at Amazon.com
We earn a commission if you click this link and make a purchase at no additional cost to you.
02/02/2023 01:10 pm GMT
don't worry, there are many other options available to you at a similar price point. One printer I am a big fan of and have written about before is the
Anet A8
. Similar in size and performance, the Anet A8 is another great affordable option.
The biggest difference between these two mini 3D printers is the Anet A8 comes with a completely DIY 3D printer kit. You will get all the parts you need to build your very own 3D printer.
The Anet A8 has a massive online community that is ready to help you along the way. And since it is a self-assembly kit rather than a ready to print option, it comes with a slightly lower price tag than the MP Select Mini V2. Be sure to check it out if you want to see another high performance affordable 3D printer.
Frequently Asked Questions
How do I format a microSD card for Monoprice MP Select v2?
The card should be formatted to FAT32. In some cases, that isn't enough which is why we recommend that you use a card that is 32GB or less.
What exactly makes the v2 diferent from the v1?
The software is actually the same, but, there are some hardware improvements. The V2 has an upgraded all-metal hot end that improves heating and prevents clogging. It also has BuildTak build surface, which means you can print directly onto the build surface.
Furthermore, the print bed in the v2 is insulated, which is supposed to improve the heating of the build surface. Also, there is an added internal electronic nozzle cooling fan and upgraded control knob. And, don't forget the wifi connectivity.
Final Take – Budget Friendly with a lot of Bang for Your Buck
We are starting to see more and more affordable 3D printers. This is very beneficial for the industry as it opens the market to so many more users than before. Some issues follow the cheaper printers regarding durability, and quality of designs and builds. That is not the case with the MP Select Mini V2.
You can confidently purchase this specific 3D printer and know you are getting one of the best bang-for-your-buck 3D printers available. It follows in the footsteps of its predecessor and even takes the lead with upgrades and added features in terms of overall performance.
Rarely do you see a company come out with a better version than it had before for a lower price, but Monoprice made that happen for its loyal customers. This is simply one of the most affordable and reliable 3D printers on the market.
Whether you want to treat yourself or you are looking for a great gift, the MP Select Mini V2 is one of the best options for you. Its power, ease of use, and open source technology will allow you, or whoever owns this printer, to quickly learn the ins-and-outs of 3D printing and begin creating beautiful objects in no time.
Further read: