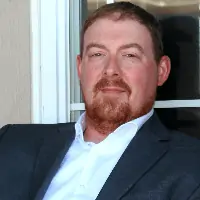 Latest posts by Justin Caldwell
(see all)
If you enjoy printing 3D miniatures, then you'll already know that there are a few things you need to consider when looking for the best printer: cost and quality. There's more to printing off a miniature than just popping the material in and waiting for your perfect little figure to come out. But even if you're just getting started printing your very own 3D miniatures, the good news is that there are
plenty of printer choices.
Whether you are looking for prototypes for a design model, role-playing games, tabletop games, or video gaming miniatures for concept art, there are some better printers for miniatures.
List of the Top 5 Best 3D Printers for Miniature Printing
Best Overall for Miniatures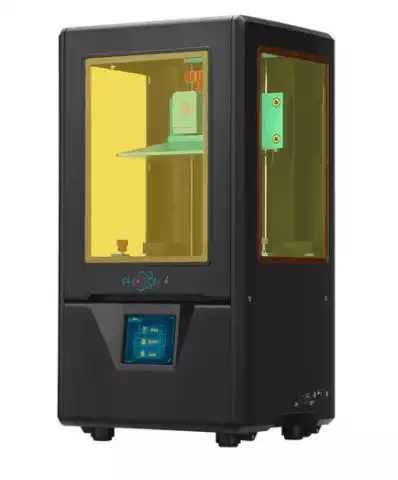 However, before we get too far along in our assessment of the best 3D printer for miniatures, let's begin with some basics of printing technology. For starters, there are two types of 3D printers available to print off your miniatures:
Filament-based printers, also known as FFF or FDM 3D printers
Resin-based, or SLA 3D printers
Both options come with their own benefits and drawbacks, which you'll want to take into account before you get started printing. These are the best 3D printers for miniatures:
AnyCubic Photon S

– Best 3D Printer for Miniatures (Overall)
Our favourite 3D printer for miniatures is
the AnyCubic Photon printer
. This resin-based unit can print your favorite miniatures with incredible quality. The unit is more detailed than almost any other 3D printer on the market and stays within a reasonable price range. The Photon offers a maximum layer resolution that checks in at 25 microns, which is the highest of any of the products on our list. The Photon is a top of the line SLA 3D printer that comes with a UV LED light source. Your miniatures will print from top to bottom. You'll notice this is the opposite direction of the bottom to a top method that FDM printers use. If you're in the market for a 3D printer, you can't go wrong with the Photon, which will create very detailed and smooth products no matter how complex they are. Not much assembly is required with this printer. Right out of the box, it's easy to set up and get going. The unit comes with a solid frame, along with a touchscreen interface that lets you see a preview of your miniature before it prints. The unit provides an easy process for levelling the bed and ships with a slicer that users find simple and user-friendly. When it comes to creating complicated and detailed miniatures, the Photon is one of the best printers on the market for getting the job done.
Best Overall for Miniatures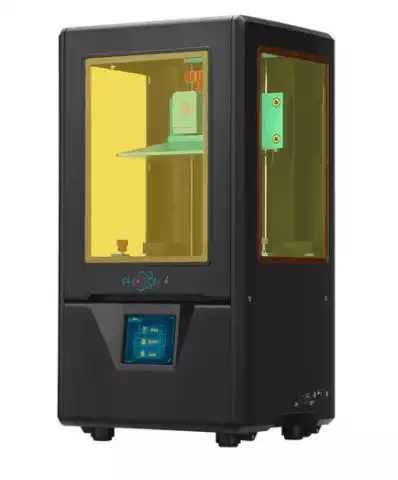 Pros of the AnyCubic Photon S
Simple and easy to set up
Print offline
Comes completely assembled
Intuitive touchscreen user interface
Easy to maintain
Print quality provides amazing detail
Cons of the AnyCubic Photon S
The material can be on the expensive size
Smaller print size than other 3D printers
Special Discount Deal Alert: The Anycubic Photon is on sale for a RECORD price of around $174 here (normally $379). That's $200 off the list price and the steepest discount we have seen ALL YEAR!
Further Reading: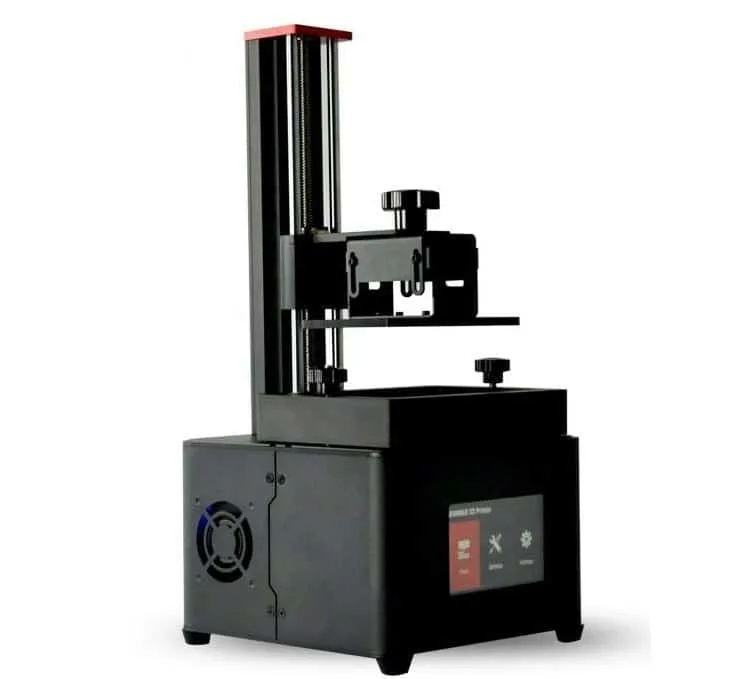 Wanhao 3D printers are one of the more popular filament-based brands in the market. They offer a wide variety of devices, so you're sure to find something that works for you. For the purpose of our list, we're going with the Duplicator 7 as the best 3D printer for miniatures. This 3D printer is a desktop offering specifically designed for users who want only the best when it comes to layer resolution. Similar to the
AnyCubic Photon
, the Duplicator 7 is an LCD SLA 3D printer that comes with a UV LED light source. While these two printers have much in common, they also have a few differences. For starters, the Duplicator 7 provides users with larger printing size. However, Duplicator 7 does not have the resolution capabilities that the Photon offers.
The Duplicator 7
offers plenty of features, including an excellent cooling system, vents that allow for increased airflow, and a solid frame. Wanhao also put the power button on the back of the machine, so you won't accidentally bump into it in the middle of a 3D print job. So if you really like the Photon, but need something that offers more build volume,
take a look at the Duplicator 7
. It's straightforward and easy to use and can 3D print very detailed 3D miniatures. It's not quite as easy as the Photon, but definitely worth the money if you don't need something as advanced.
Best for Large Batch Printing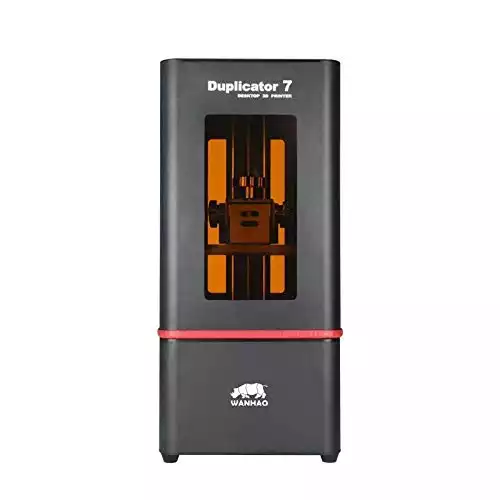 Wanhao Duplicator 7 | 3D Printers Online
The Wanhao Duplicator 7 DLP uses the vat photopolymerisation 3D printing technology. DLP stands for Digital Light Processing. For 3D printing the Wanhao Duplicator 7 DLP selectively cures liquid resin layer after layer in order to build an object.
Check Price
Buy at Amazon.com
We earn a commission if you click this link and make a purchase at no additional cost to you.
Pros of the Wanhao Duplicator 7
Large base
Open material platform
High detail printing
Larger printing size than AnyCubic Photon
Sturdy and stable frame
Cons of the Wanhao Duplicator 7
Materials can be costly
Customer support isn't very reliable
Build volume is limited
Further Reading: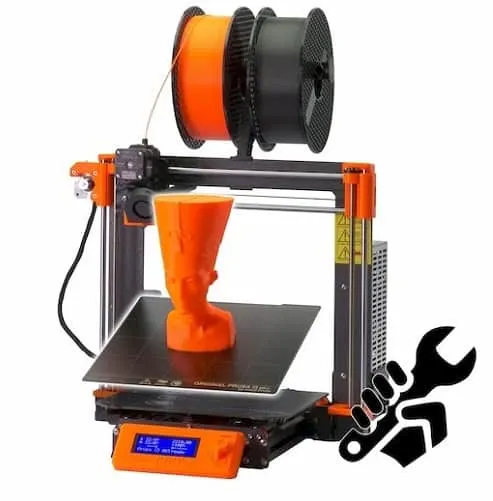 When it comes to value and convenience, it's tough to beat the
Original Prusa MK3 3D printer.
This FDM printer comes loaded with plenty of features, including automated print bed levelling, which is something a lot of beginners need.
The MK3
is easy to assemble. However, you might be waiting a while for it to arrive as it ships out of the Czech Republic. Many who use the MK3 would argue that it's worth the wait given the quality and value the product provides. This medium-sized, open-sourced 3D printer offers an open structure, which makes it great for both hobbyists and professionals. The MK3 has a solid frame that includes a spool holder mounted on top, along with an LCD controller, which comes with a magnetic heated print bed that you can remove if necessary. Additionally, the MK3 boasts a high-quality mainboard that detects shifted layers and runs quietly while printing. The unit also has a filament sensor that can determine if a jam occurs and automatically pauses the current printing job. With the right nozzle and the appropriate settings, anyone using the MK3 3D printer will get high-quality, clean, and detailed miniatures. The unit has the ability to print large models as well, so you don't have to choose between one or the other. Even though this 3D printer doesn't compare with
the AnyCubic Photon
, it's still an excellent option. It's versatile and capable of printing with various materials right out of the box. Plus, you'll get excellent value since you can use it for more than printing miniatures. If you're just getting started in the world of 3D printing and want a stable, high-quality 3D printer that prints miniatures in high-resolution,
the MK3
will get the job done. It comes loaded with plenty of features perfect for beginners, so you won't feel overwhelmed.
Best for Beginners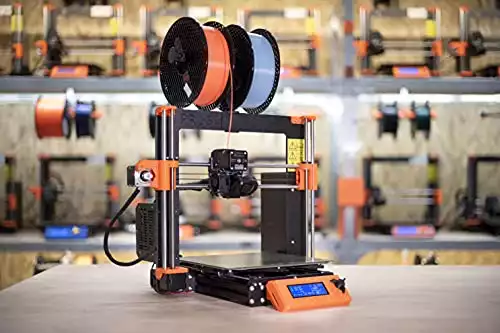 Prusa i3 MK3 | Prusa3D
Basic features magnetic PEI Spring steel sheet EINSY RAMBo Base plate Silent Trinamic drivers with 256 microstepping Maximum travel speed: 7.874 in per second. The Original Prusa i3 MK3S+ is the latest version of their award-winning 3D printers.
Check Price
We earn a commission if you click this link and make a purchase at no additional cost to you.
Pros of the Original Prusa MK3
Great for beginners
Automated bed leveling platform
Excellent 3D print quality
Built-in filament types sensors
Quiet printing process
Panic feature pauses print job if necessary
Magnetic build platform can be removed
Cons of the Original Prusa MK3
No enclosure provided
Translucent materials create issues with filament types sensor
Further Reading: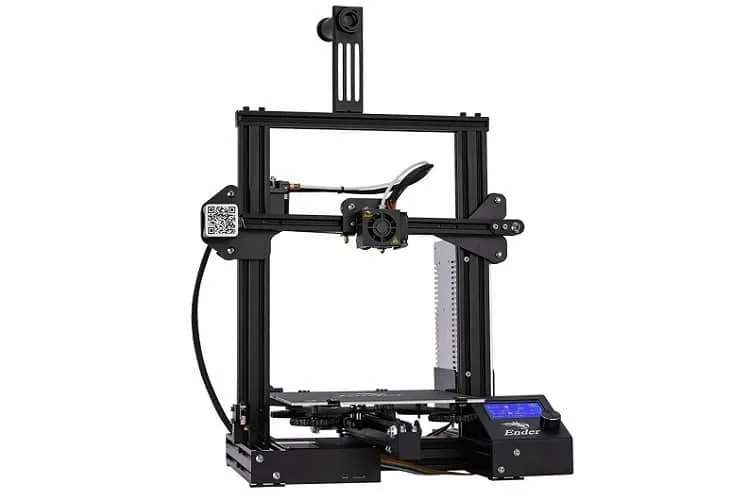 The
Creality Ender 3
, in our opinion, is the top open-source 3D printer for creating miniatures. This 3D printer is available at a really attractive price; however, that doesn't mean it isn't incredibly powerful. The Ender 3 has a good build volume of 220 x 220 x 250mm, while the BuildTak-like heated build plate removes some of the frustrations you get with other budget 3D printers. This includes a higher quality finish to your models, less chance of air bubbles, and you can remove your miniatures from the 3D printer much easier too. Creality has made this 3D printer completely
open-source
which leads to a lot of customizable possibilities. Upgrading and adding on different parts to enhance the functionality of the Ender 3 is a really nice feature. The assembly is straightforward with the Ender 3, and you won't need to spend hours and hours getting this printer ready to go. A potential downside is that the build plate tends to wobble, although we found placing something under the corner to stabilize it solved the issue. Overall, the Ender 3 is our top pick for an open-source printer to create miniatures, and the fact it is available at a bargain price with high-quality results is even better.
Reliable Entry Level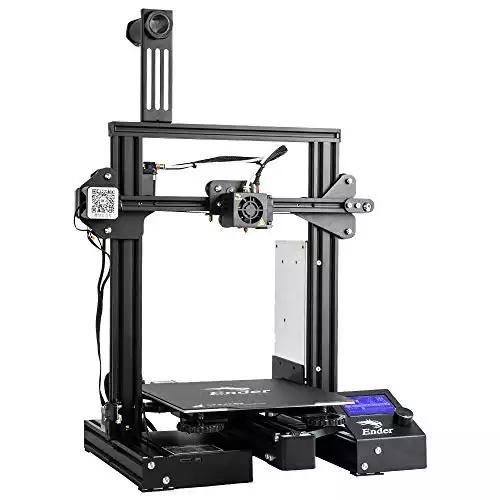 Pros
Open-source 3D printer, so ideal for upgrading and customizing
It has a decent build volume for printing miniatures
BuildTak-like heated build plate creates great prints
Assembly is easy and straightforward, especially for beginners
Cons
Build plate can wobble, which can lead to stability issues
You need to calibrate this 3D printer manually
Further Reading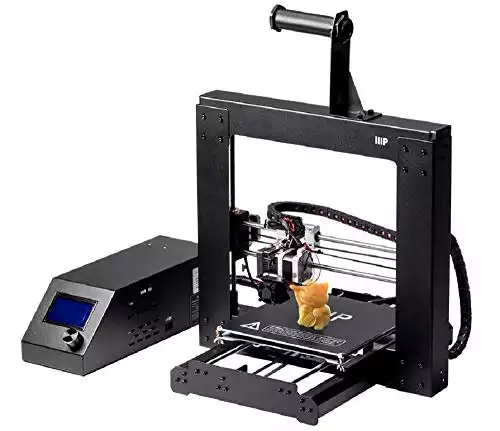 3D printers aren't cheap, which is why it's important to have an option you can afford on a budget. If that's the case for you, check out the Monoprice MP10. This company is known for its budget printers, all of which you can find for a lot less than other printers on this list. With its open-frame 3D printer, the Maker Select is an excellent choice if you prefer the FDM route (fused deposition modeling). The unit comes with a stable and strong aluminium frame and includes a separate controller box for the device. The Maker Select comes equipped with an open-material system, heated printer bed, and a build-volume that's perfect for creating your favourite miniatures. You can connect the unit through USB or print via an SD card if you prefer. Right out of the box, the printer is easy to set up. It comes partially assembled, so you don't have to assemble the whole thing yourself. All you need to do is make sure the frames are securely in place, and you're ready to start printing. Included with the printer are a few 3D model samples, along with some free filament. This gives you the opportunity to start printing once you have everything set up. As far as print quality is concerned, the Maker MP10 runs about the middle of the road. It's not going to blow you away, but it's not horrible either. While the unit can print large miniatures very well, it does have trouble with smaller miniatures, like those in the 28-millimetre range. Overall, the 3D printer is reliable and offers decent quality, especially considering that it's one of the best you can get on a budget. If you fall into that category, the MP10 is a solid option.
Pros of the Monoprice Maker Select
Decent print size (large build plate)
Good print quality
Simple to set up
Heated bed (print bed)
Sturdy frame
Cons of the Monoprice Maker Select
May need upgrades out of the box
Bed levelling is a manual process
Not as good printing smaller miniatures
Further Reading: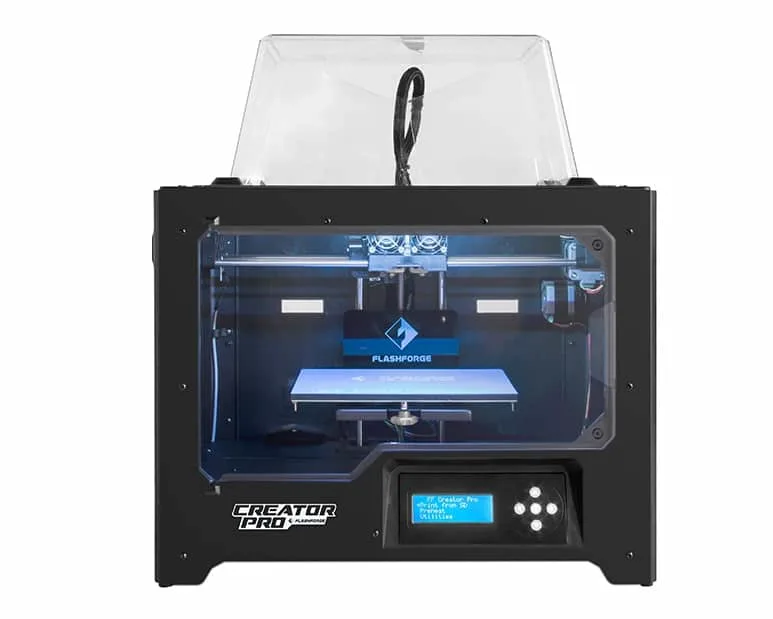 The FlashForge Creator Pro is a dual extruder 3D printer, which makes it one of the more versatile options on our list. For starters, the unit provides new ways for users to print with the filament. This includes printing in dual colours without pausing the current print job. It's more stable and durable than many other open-frame 3D printers since it is built with a robust and sturdy metal frame. It also offers an LCD controller, which allows you to print via an SD card, a heated print bed, and a pair of back-mounted spool holders. You'll also notice that you can remove the acrylic covers, which is handy when you need to perform any type of maintenance on the FlashForge printer. Since this unit comes assembled in the box, setting up the Creator Pro is a very straightforward process. You'll be up and printing in a matter of hours, however, it might make sense to change the stock settings for better results. Once you have everything set up the way you want it, the Creator Pro is an absolute beast. It can print for days with little to no maintenance required on your part. Plus, the unit can print with either ABS or PLA without experiencing any additional problems. The biggest feature the Creator Pro has to offer is its ability to use water-soluble support materials. As a result, the unit can create more challenging miniatures that don't skimp on the details. Additionally, the Creator Pro can print with a wide variety of materials, so you're not limited to just one type. A full enclosure allows the printer to maintain a stable temperature within the printing area, which is a must-have when using certain types of materials, making it a great choice for printing your own game. Plus, the printer can use filaments that aren't specific to FlashForge. However, bear in mind that you may need to create your own spool holders as the ones that come with the Creator Pro are designed specifically for the printer. Overall, the Creator Pro is reliable and creates quality miniatures. It's versatile and offers many features that align with some of the best printers on the market. If you need something that does a little bit of everything, consider the Creator Pro 3D printer.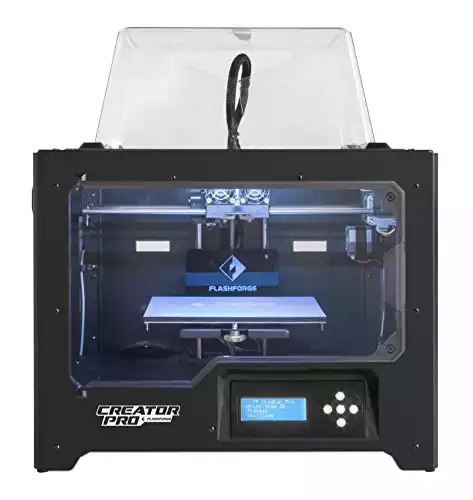 Pros of the Creator Pro
Includes dual extruder option
The metal frame is enclosed
Excellent support
Dual colour printing option
Supports third-party filaments
Solid print quality
Larger build plate
Cons of the Creator Pro
Built-in software is limited
Bed levelling requires manual adjustments
Very heavy
Further Reading: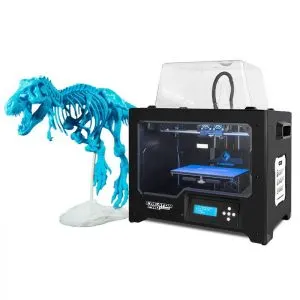 | | | | | | | |
| --- | --- | --- | --- | --- | --- | --- |
| | | | | | | Ender 3 |
| Type | Resin 3D Printer | Resin 3D Printer | ABS/PLA/PETG | ABS/PLA/TPU | ABS/PLA/PVA | ABS/PLA/TPU/PETG |
| Resolution | 25 microns | 35 microns | 50 microns | 100 microns | 100 microns | 100-400 microns |
| Filament | N/A | N/A | 1.75 mm | 1,75 mm | 1.75 mm | 1.75 mm |
| Volume | 4.5×2.6×6.1 inches | 4.7×2.7×7.9 inches | 9.8×8.3×8.x inches | 7.9×7.9×7.1 inches | 8.9×5.8.5.9 inches | 8.7″ x 8.7″ x 9.8″ |
| Connection | USB | USB | SD Card/USB | USB/ SD Card | SD Card/ USB | SD Card/ USB |
| Weight | 14.6 pounds | 26.5 pounds | 14 pounds | 20 pounds | 32.7 pounds | 16.5 pounds |
FDM or SLA 3D Printer?
FDM 3D printers make use of an extruder with a hot-end, which allows for melting the filament. Once the filament is melted, it's then deposited onto the build platform (build plate). This is what creates the 3D model. However, FDM printers do so a single layer at a time.
On the plus side, FDMs are easier to use and come with lower operating costs and a larger build volume than their counterpart SLA printers. With an SLA 3D printer, you'll notice that the post-print process is a little messier than it is with an FDM option.
Keep in mind, though, that FDM printers don't offer the overall quality that an SLA printer offers. With that in mind,
which 3D printer
should you choose when it comes to printing 3D miniatures? We're glad you asked. We did the leg work and came up with a list of the best 3d printers for miniatures..
Where to Buy a 3D Printer
There are plenty of places you can use when you're ready to buy your 3D printer. However, keep in mind that the type of 3D printer you want may dictate where it's available. Like nearly anything else, you can usually find the 3D printer you want on Amazon. If it's not available there, you may also try other retailers like MatterHackers.com.
NOTE: You can order the Anycubic Photon S – our top pick for miniatures –

directly via the Anycubic site here

.
If you can't find the printer you want in any of those places, you can always try to contact the manufacturer directly.
Discount Alert: The Anycubic Photon is on sale for a RECORD around $174 here (normally $379). That's $200 off the list price and the steepest discount we have seen ALL YEAR!
FAQs
Question: How Much Does It Cost to Print a 3D Miniature?
Answer: There are several reasons to print your own 3D miniatures, one of which is cost. The average cost of printing an unpainted miniature typically falls in the $5-$ ten range.
Question: How Long Does it Take Print a 3D Miniature?
Answer: If you aren't concerned with quality, you can print off a miniature object in roughly 10 minutes. However, a more complex, high-quality, and detailed object can take as little as a few hours or as much as a day to finish.
Take a look at the software on your 3D printer to get an idea of how long it will take for your miniature to complete.
Question: Which is Stronger? ABS or PLA?
Answer: While ABA has better properties when it comes to mechanics, it's more difficult to use when 3D printing than PLA. For 3D printers, PLA is ideal if you're focusing on aesthetics. On the other hand, ABD is ideal for strength, stability, and durability.
Something else to keep in mind is that ABS has been known to warp during printing.
Question: What Materials Are Used in 3D Printing?
Answer: There are many different types of materials that are used when 3D printing. We've mentioned PLA and ABS, however, some objects can be printed with titanium, wax, polycarbonate, epoxy resins, and even nylon.
Question: What to Look for in a 3D Printer?
Answer: If you're new to 3D printing, take a moment and read the following tips to give you a good starting point when looking for a printer.
Question: What Do You Want to Print?
Answer: Before you purchase your 3D printer, know what you plan on printing. There is a significant difference between printing devices for your desk and printing large-scale production pieces.
Also, ask yourself how often you will print, how much time you want to invest in 3D printing, and where the 3D printed objects will be used.
Question: What Safety Features are Available?
Answer: Typically, a 3D printer that offers plenty of safety features is well-designed. For instance, a quality printer will probably cool the heated bed and nozzle when a printing job finishes. Additionally, some 3D printers will point the nozzle away from the object if you pause the job.
Question: Is Resolution Important to You?
Answer: You'll notice in the table above that the resolution of 3D printers is measured in a unit called microns. Usually, FDM printers are on the lower end of the spectrum, offering around 25 microns.
By comparison, resin-based printers usually reside on the higher end, around 100 microns. With an FDM printer, you can quickly and easily adjust the resolution. For smoother printing, being able to adjust the belt tension and layer height is paramount. Finally, remember that a resin 3D printer requires precision from their lasers. Keep an eye out for a resin printer that you can adjust based on the micron count detailed in the printer's specifications.
Question: What High-End Features Does the Printer Offer?
Answer: It can be easy to forget about high-end features as you look for a 3D printer that suits your needs. However, if you want things like heated glass beds, touchscreen interfaces, and dual filament options, be sure to add them to your list of must-haves.
Question: What About End-User Support?
Answer: You've found the 3D printer you want to buy, and you're ready to pull the trigger. Before you do, take a moment and look for the customer support offered by the manufacturer. It is just a social media logo, or are there actual ways to reach a real-live person?
3D printing is more complicated than traditional printing, so if something goes wrong or you aren't sure how to proceed in a certain situation, having someone to speak with could make your 3D printing experience.
No Lack of Options for Printing 3D Miniatures
Whether you have plenty of experience with printing 3D miniatures or you're just getting started, there are plenty of options on the market that can get you headed down the right path. No matter your budget or comfort level, you're sure to find a 3D printer that works for you. It's up to you to determine which one makes the most sense for what you hope to accomplish, but when it comes to printing miniatures, it's safe to say you have a wide variety of choices. So make a list, check it twice, then head out and find the best 3D printer for creating your favorite miniatures. Further Reading: How to Find the Best Silicone 3D Printers and How to Find the Best Multicolor 3D Printers.