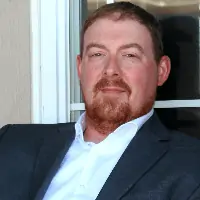 Latest posts by Justin Caldwell
(see all)
The idea of owning a 3D printer is exciting and invigorating as you consider the possibilities that exist. But even though these devices are now manufactured for users like you and me, they were initially made for large corporations or universities.
Fortunately, there exist printers that blur the line a little between mass manufacturing and individual use. The MakerGear M3 is one such 3D printer. Let's take a closer look at this interesting 3D printer.
Great Pick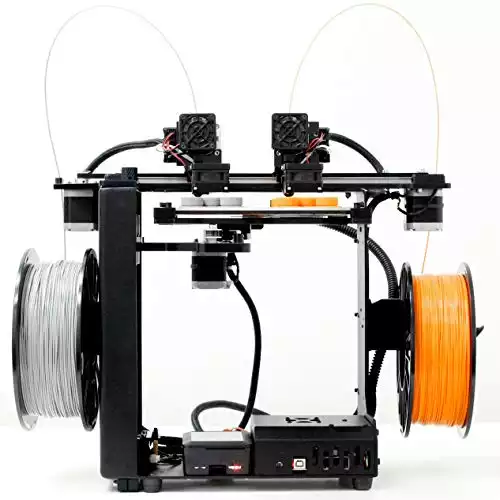 MakerGear M3-ID Desktop 3D Printer
MakerGear's M3 3D printer is a high-quality printer that can easily make the transition from manufacturing to home workshop. We absolutely loved our trials with this model. MakerGear is a TRUSTED brand and this is one of their most precise printers yet.
Check Price on MatterHackers
We earn a commission if you click this link and make a purchase at no additional cost to you.
MakerGear M3
3D printers typically fall into one of two categories: consumer and industrial. The MakerGear M3 falls into the latter category, manufacturing commercial-grade printers for schools and businesses that need them.
Founded in 2009 in Beachwood, Ohio, MakerGear is one of the largest industrial-grade 3D printer manufacturers in the United States. The company focuses heavily on creating and producing 3D printers with the best degree of precision on the market.
MarkerGear's M3 device is a solid steel unit with an aluminum framing. This 3D printer is easy to calibrate and sets up quickly. Once it's done, you don't have to mess with calibrating it again. The M3 has a compact and simple design that still offers plenty of room to print your favorite objects.
Plus, the device supports all metals and can reach a temperature of up to 300-degrees Celsius, which means you can print with nearly any material you want. The intention of the M3 is to provide a device that removes the pain point that's often associated with stock printing kit extruders.
When 3D printers first came into the market, the extruders were typically poorly designed and implemented, causing users problems they didn't expect. Even the best 3D printers at the time experienced these types of issues.
That's why MakerGear chose to become one of the best 3D equipment and printer manufacturers in the world. Their goal is to create 3D printers that set the standard for durability and precision.
Setting Up the MakerGear M3
Overall, setting up your MakerGear M3 is generally simple and straightforward. This 3D printer offers users exceptional quality when printing. Plus, the craftsmanship of the M3 sets the standard for all other companies that manufacture 3D printers.
MakerGear M3 User Guide
One of the best things about the MakerGear M3 is that it comes with a user guide that walks you step-by-step through unpacking and setting up your 3D printer. The M3 offers wifi connectivity through Bonjour Print services, while also including OctoPrint as part of its default package.
OctoPrint, for those not familiar with the software, is a Software-as-a-Service, or SaaS interface that you can pull up in your browser. MakerGear walks you through getting the M3 connected to your wireless network so you can access the printer's full potential.
Another cool feature you get with the OctoPrint software is how the top of the models are printed. OctoPrint pauses the hot end of the printer between layers while the small surfaces are printing.
This type of behavior allows for the material that exists between the layers to cure, which helps to prevent blobs and clumps from forming. As a result, users get a clean top surface that is free of blemishes.
Nozzle Changing
Changing the nozzles on the M3 is a bit different than what you'll experience with other 3D printers. The hot end of the printer is completely taken off while the nozzle is changed out using a proprietary tool.
This task is performed by using a threading process that won't allow the nozzle to go straight into the heater block. As a result, users experience less damage and fewer installation errors in both the heater block and the nozzle.
MakerGear M3 Features & Specs
If you're in the market for a well-built, reliable, sturdy 3D printer, then the MakerGear M3 just might be the printer you need. Hobbyists will have no trouble using this 3D printer, however, keep in mind that it's intended for large manufacturers.
As a result, the M3 has no shortage of features. Let's take a closer look at what the MakerGear M3 has to offer.
Wireless Connectivity
The MakerGear M3 will connect through either Ethernet or wifi connectivity, which users can set up through their browser. Once this is set up, users can control their OctoPrint software and begin printing objects.
Additionally, users can begin to load their favorite designs by using .obj or .stl files. When these are uploaded, they can make adjustments and edits, then send the finished product to the M3 for printing.
Profiled Rails
Instead of using standard round rails for its 3D printers, MakerGear implements profiled rails, which creates precision linear motion. Located on both the y-axis and the x-axis, these rails are used to provide excellent accuracy on the x-y plane.
The printer has shown to have an accuracy as small as 20 microns as it creates objects. With the help of the profiled rails, MakerGear is significantly reducing the chances that imperfections and issues will occur while a 3D object is printing.
Steel Components and Frames
The pieces for the MakerGear M3 printer that users can't buy straight off the shelf are all made of steel. None of the pieces are 3D printed or made of inferior materials. This is quickly evident when you lift the machine, as it checks in at a hefty 26.5 pounds.
Calibration Using True Leveling
Part of the MakerGear M3 that users like is its True Leveling feature that aids in calibrating the 3D printer. This is a particularly useful feature because many 3D printers use a calibration method that requires the user to jump through a series of hoops to get their device properly calibrated.
This is completed by asking the user to look at three pictures and determine which one is closest to what they see in regards to the offset distances between the bed and the nozzle. This step is continued until both the picture and the offset are where they should be.
Hot End
This feature is exclusive to MakerGear 3D printers with its uniqueness lying in the configuration and size of the hot end. The device's heater block is small, which allows for consistent heating of the filament that lies on the z-axis.
As a result, users get a consistent filament feed throughout the printing cycle. Plus, MakerGear printers offer unique nozzles that you won't find on many other printers. These nozzles have female threads as opposed to male threads.
Giving their nozzles this type of flexibility allows MakerGear users to have the option of doing a cold nozzle changeout. Typically this type of change would result in damage to the heater block, however, since the nozzles are female threads, users won't run into this issue.
Cooling
Most 3D printing companies on the market create a cooling system for their devices that is something of a hybrid. Typically these systems work for both the filament and the hot end at the same time.
However, MakerGear's M3 3D printer, the fans are already set up so that they provide cooling explicitly for the area intended, with no bleed over occurring. For example, the cooling fan for the filament is pointed directly at it and sits parallel to the print bed.
Additionally, the hot end fan aim straight at the gearing mechanism used for the extruder. This, along with the heat break that sits in the middle of the heater block and the heat sink, means users won't experience heat creep. Plus, it ensures that the nozzle and heat block are continually hot throughout the print.
Multiple Models
Users will discover two available models of the MakerGear M3. The original MakerGear M3 includes the standard heated build plate, a .35mm nozzle, and wifi connectivity. The MakerGear M3 Dual Extruder also comes with wifi connectivity and a heated build plate.
The latter model also includes two direct-drive tool heads, both of which have an extruder combination and a moving hot end. As a result, users can print objects with two different colors.
Accessories
Also included with the MakerGear M3 are plenty of accessories. These include tweezers, brushes, filament guide tubes, hex keys, an M3 driver, extra fastening clips, and a feeler gauge.
MakerGear M3 Specs
Great Pick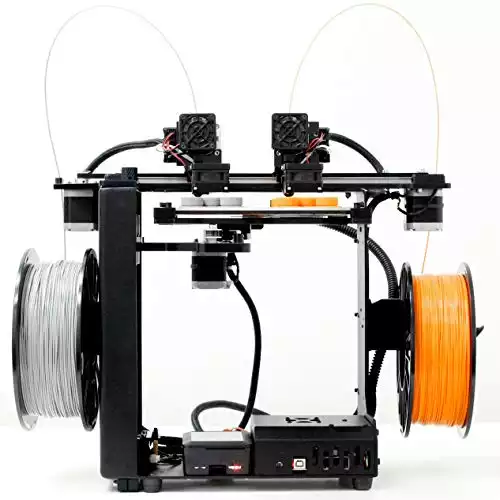 MakerGear M3-ID Desktop 3D Printer
MakerGear's M3 3D printer is a high-quality printer that can easily make the transition from manufacturing to home workshop. We absolutely loved our trials with this model. MakerGear is a TRUSTED brand and this is one of their most precise printers yet.
Check Price on MatterHackers
We earn a commission if you click this link and make a purchase at no additional cost to you.
Here's a look at some of the specs and properties associated with the MakerGear M3 3D printer:
| | |
| --- | --- |
| Technology | FDM (Fused Deposition Modeling) |
| Build Volume | 203mm x 254mm x 203mm |
| Extrusion | Single Extrusion |
| Filament Diameter | 1.75mm |
| Build Plate Temperature | 20-130 degrees Celsius |
| Print Head Speed Range | 30-450 mm/s |
| Assisted Leveling Method | True Level Calibration |
| Nozzle Temperature | 180-300 degrees Celsius |
| Nozzle Heat Up | Less than 2 minutes |
| Build Plate Heat Time | Less than 4 minutes |
| Connectivity | USB, LAN, Wifi |
| Operating Sound | Less than 65 dB |
| Supported Materials | ABS, Nylon, PET-G, PET-T, PLA, TPE, HIPS, TPU, wood composites, carbon fiber composites, metal composites |
Alternatives
Of course, there's always the possibility that the MakerGear M3 isn't your cup of tea. If that's the case, here are some alternative 3D printers to consider.
Creality Ender 3 Pro – Best for the Budget Minded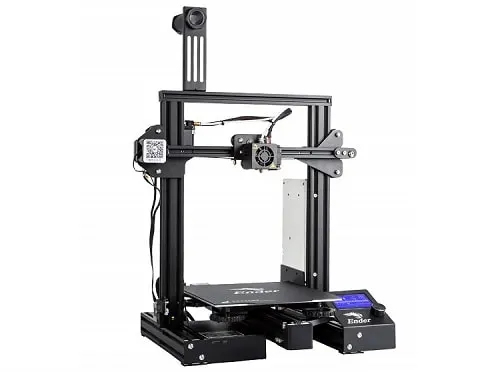 If you're on a budget, the Creality Ender 3 Pro is a solid option.
This 3D printer comes with both a heated bed and LCD, which is basically unheard of at its price point. Of course, part of the reason it's so affordable is due to the fact that you have to assemble the printer yourself.
Arguably the best thing about the Ender 3 is that it has an amazing community. You'll find all the answers to your problems on the Ender 3 subreddit, plus ideas for prints and modifications. Overall, if you have the time and the patience to put your own 3D printer together, Ender 3 might be right up your alley.
Vivedino T-Rex 3 – Best for Those Who Want Everything
For those that don't mind shelling out a little extra money to get what they want, the Vivedino T-Rex 3 is perfect. With this printer, users get dual independent extruders, auto-bed leveling, massive build volume, Trinamic stepper drivers, and an AC heated bed.
The drawback, unfortunately, is that the microcontroller for the T-Rex is a bit underpowered for a 3D printer of its stature. As a result, users experienced reduced speeds, which make printing a painfully slow process. Still, this is an impressive 3D printer with plenty of features.
Taz Workhorse – Best for 3D Printing Enthusiasts
This vibrant and exciting 3D printer will quickly draw you in if you're a 3D printing enthusiast. The Taz Workhorse offers a strong frame, large build volume, and one heck of a sticker price. You'll pay for this amazing 3D printer, but there are plenty of users out there who believe it's worth it.
For example, the Taz Workhorse has a steel nozzle, which allows users to print with exotic filaments. The include filaments that have wood, sand, and metal fillers, which could quickly wear down a brass nozzle.
The drawback to this printer is that it's only a single extruder, but there are plenty of positives to outweigh the few negatives. Its build area is one of the largest in its market, plus the Workhorse lineup is well-known for being durable and reliable, something you don't find with a lot of 3D printers.
FlashForge Creator Pro – Best Portable 3D Printer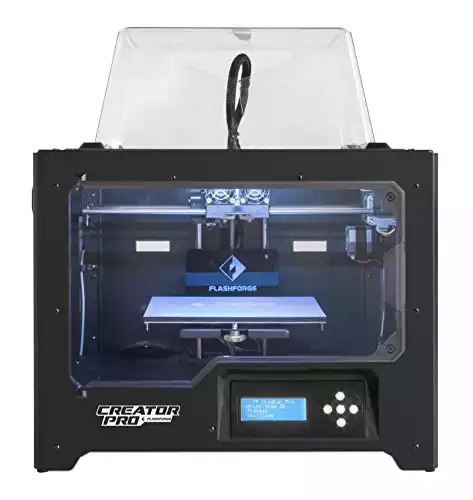 The FlashForge Creator Pro comes with handles on each side, so you can easily move it wherever you need it. Plus, the Creator Pro is a durable printer, so you don't have to worry about causing damage when you move it.
On the downside, the Creator Pro isn't as reliable as other 3D printers. For example, one common problem users experience is the extruder jamming up on them. While this isn't the worst thing in the world, it can be a pain if you have to consistently deal with this type of issue.
Sill, the Creator Pro is an excellent 3D printer with a fantastic community. If you're looking for a solid 3D printer that won't kill your budget, the Creator Pro is an excellent option.
FAQs
There are many questions associated with 3D printers, but here are some of the more commonly asked ones:
How do I prevent clogs?
If you want to prevent clogs in your 3D printer, your best bet might be what's called a Cold Pull. This involved using old filament to stick to the current filament so you can pull it out of the printer. Another option is to remove the nozzle and soak it in acetone to loosen up any clogged filament.
What color filament is best?
Many users will tell you that the best filament color to use is typically plain white. This is especially true if you don't plan on painting your printed objects. While other colors are pretty easy to use, there are users who experience brittle or spotty prints when using a color other than white.
Where can I find ideas for printing?
One of the best places online for printing idea is Thingiverse. This is a massive online warehouse full of 3D printing files. Anything you can imagine is more than likely in this repository.
Final Thoughts the MakerGear 3D Printer
MakerGear's M3 3D printer is a high-quality printer that can easily make the transition from manufacturing to home workshop. However, it's in a manufacturing environment that this printer really makes a name for itself.
If you want precision and quality and you plan on printing a lot of objects, the MakerGear 3D printer is a great choice.
Further Reading on Desktop 3D Printer Options & Professional 3D Printer: