FlashForge is a Chinese based company – Zhejiang Flashforge 3D Technology Co. – and is one of the pioneers of desktop 3D printing in China. In China, they cooperate with academia and government entities to conduct research and design. In recent years they have successfully carried this success over to the US market, where they operate as FlashForge USA.
In 2013 they vastly expanded their distribution network and expanded internationally. Their 3D printing models now sell in over 30 countries. As of today, they are one of the leading desktop 3D printing companies in the world. They tend to undercut the prices of more established 3D printing companies like MakerBot while often closely mimicking their designs.
Their main product lines are the Adventurer, Blacksmith, Creator, Dreamer, and Executor models. Their most popular model is the Creator series, which also happens to be one of the best sellers in the US market.
You can read more about the company at their US company website.
Flashforge 3D Printer Reviews
Below you will find a summary of the major 3D printing offerings from Flashforge. Be sure to check back frequently as we update this page with new releases.
1) Flashforge Creator Review (Wood Case)
The Flashforge Creator is the baseline offering from Flashforge. While the company does not have a true "budget" model, the Creator comes closest to one at just under $1000 per unit. It offers mid-range features for an attractive price, perfect for the intermediate or beginner printer with a budget limit of about a grand.
The key features of the Creator are the "dual extruders" which enables prints in multiple colors. This is the main value proposition for this printer as it is currently one of the most affordable systems with dual extruders on the market. You can read the full review here.
2) Flashforge Creator Pro (Metal Case)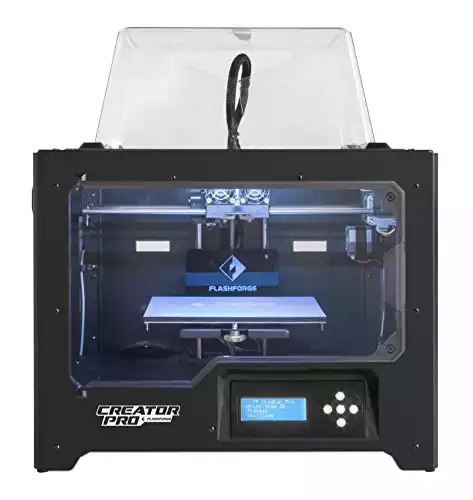 The Flashforge Creator Pro is almost identical to the above, except for the metal casing. We are still working on a full review, but we will link to it here once it's complete.
3) Flashforge Finder
Best Overall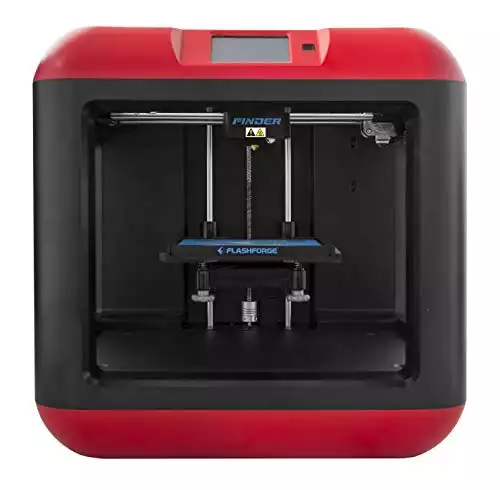 The Flashforge Finder is a closed system aimed at the entry level market. It combines ease of use with an attractive price, ideal for beginners or intermediates. You can read the full review here for further details and ratings.
4) Flashforge Creator X
Our Pick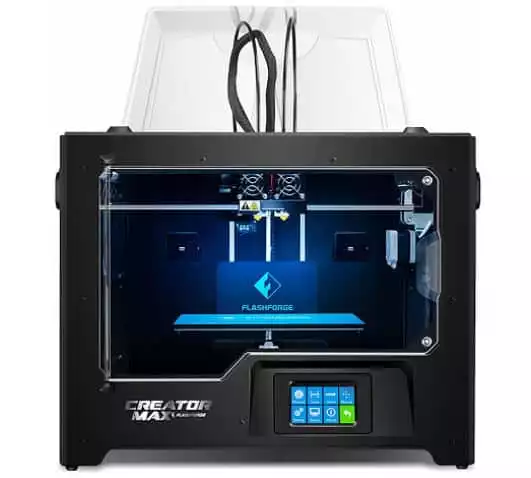 The Flashforge Creator X introduced some notable improvements over the aforementioned printers. The metal enclosed system is now standard (no more wood). While it otherwise "appears" functionally the same, there are some changes worth noting.
First, the Creator X now comes with a professional grade build plate (made of aluminum) that is 6.3mm in thickness and leads to better print quality. Other improvements are a stronger and more durable overall frame. You'll notice fewer tremors and and virtually no more need to tighten bolts after runs. Another minor improvement is the addition of LEDs inside the print area, allowing you to clearly see what's going on. It's nice not to be in the dark anymore.
The things we originally liked about the Flashforge Creator are still there. Dual extruders, PLA/ABS compatibility and an excellent price point. You can check out my recent full review here.
5) Flashforge Dreamer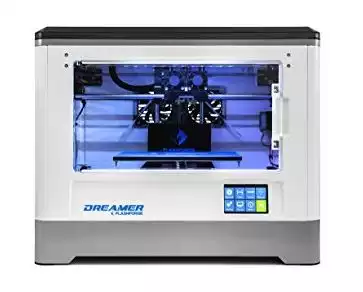 Why Go With Flashforge Dreamer? | 3D Printers Online Store
If you are looking for an easy to use, refined 3D printer for detailed designs, prototypes or parts, the Dreamer is a great tried and tested AFFORDABLE option. The closed-system means cleaner prints and more repeatability, without the mess and DIY adventures.
Check Price
Buy at Amazon.com
We earn a commission if you click this link and make a purchase at no additional cost to you.
The Dreamer is another closed end system that comes with dual extruders. Think of it as a more advanced Flashforge Finder (also double the price). It doesn't have a huge build area, but it's also quite portable and can be easily moved around a work space. You can read the full assessment here.
6) Flashforge Inventor 2
Flashforge intended to target education with their Inventor 2 3D printer, so if you're looking for a solid plug and play option for your school, this may be one of the best choices. This upgrade to the now-retired Flashforge Finder is said to be as intuitive as using your smartphone.
It's easy setup and quiet printing make it ideal for the classroom. The build volume is larger than its predecessor, but it's also more expensive. This may turn some people off, but it's well worth it for the safety features. If you want to learn more, read our full Review.