Latest posts by Melanie Griffin
(see all)
Airwolf is setting new goals for the whole 3D printer world after they introduced the Evo at the 2018 Consumer Electronics Show. They're so confident they've changed the game that they refuse to call the Evo a 3D printer, preferring instead the title an "additive manufacturing system."
Technically, they're right, since all 3D printing can be considered additive manufacturing – that's just a fancy phrase for making objects by layering material onto itself instead of carving it out of something. But does Airwolf earn the right to set their machine apart from everybody else's? Read on to find out!
Introduction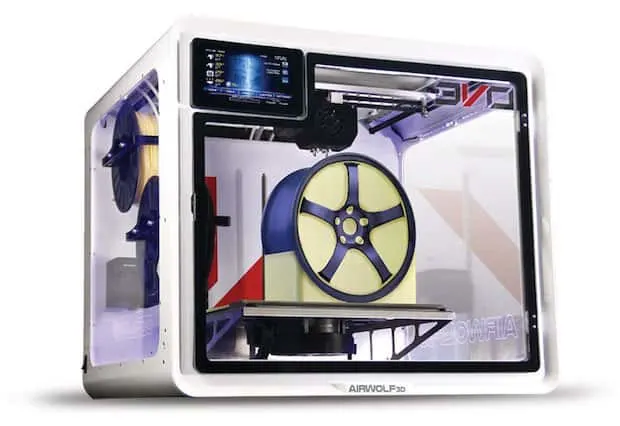 Airwolf has been in the 3D printing/additive manufacturing business since May 2012. Their origin story talks about founder Erik Wolf taking his 3D printer garage tinkering into a full-time company with the help of his wife Eva. Since then, they've expanded to include filaments, accessories, and a line of industrial grade 3D printers aimed at those who need a more robust experience than you can typically get from a desktop model.
They're based in southern California, and in December 2014, they set Guinness world record for most 3D printers operating simultaneously – 159, for those who are curious. Plus each one of those record-breaking printers manufactured prosthetic hands for people in need; Airwolf also partners with various southern California nonprofits for 3D printing education, so they are spreading their enthusiasm to the world.
But, let's get specifically into their Evo 3D printer. They're calling it a manufacturing system because they've added features that they claim propel it beyond the typically 3D printer experience; with this machine, they're looking to bridge the gap between desktop and industrial manufacturing of 3D objects. While they're not the only business to do that, they are one of the first who saw that niche wanting to be filled. And they're definitely adding some impressive new pieces to the experience.
Technical Specifics
Here are the manufacturing details of the Airwolf Evo:
| | |
| --- | --- |
| Print area | 305 mm x 305 mm x 280 mm |
| Printer size | 609 mm x 622 mm x 711 mm |
| Printer weight | 60 lbs/27.22 kg |
| Filament type | 2.85 mm +/- 0.10 mm, Metal, Over 40, incl. ABS, PC, PP, Nylons, TPE, TPU |
| Nozzle diameter | 0.35 Heavy Duty, 0.50 Heavy Duty, 0.80 Heavy Duty |
| Maximum print speed | 150 mm/sec |
| Maximum layer resolution | Above 200 microns recommended |
| Maximum bed temperature | 160 degrees Celsius |
| Maximum extruder temperature | 315 degrees Celsius |
| Connectivity | USB |
| LCD screen | 18 centimeters, onscreen keyboard |
Now that you know the numbers, let's get into the details of how this thing actually works.
Pros
"Zombie mode." This sounds terrifying, but it's actually a super useful setting that's officially named Part-Save. It's the ability to stop printing at any point in the process and save the exact spot in the design where you paused. The Airwolf Evo is smart enough to remember where you left off, and it will start right back as if you never stopped. Although this is not the only 3D printer on the market that is able to save your printing spot, it is one of the smartest to do so. As long as you remember to put the extruder at the same height, it will blend the sessions into a seamless whole that you won't be able to tell apart once your object is completed.
Matrix touchscreen. Intuitive touch screen controls have become the norm in 3D printers at this stage in their development, but Airwolf has taken the existing technology and pushed its usefulness even further with a few simple but drastic changes. First, it's seven inches, or almost eighteen centimeters, across, which gives you plenty of room to take advantage of its next innovation: an on-screen keyboard. It's such an easy addition and it takes your navigation skills to another level.f
Air cleansing system. A lot of common filaments give off noxious fumes when used for printing, but with the Evo, you don't have to worry about that ruining your workspace. Airwolf equipped its latest 3D printer with an air purifier that will suck up all the UFP and VOC emissions your filaments can throw at it, and you'll be able to forget you ever worried about fumes. This is a great feature to highlight if you're planning on using the Evo in confined areas or places where children will be using it, like a school or library. It will give everyone the peace of mind they deserve.
Thermal management. This feature means the Evo will dry your filament as it feeds into the printer, eliminating hours of cool down time at the end of your printing. Airwolf claims this helps manufacture the highest quality parts, so your print will be top notch straight off the print bed.
Ability to print metal. Using metal filaments takes a specific kind of printing environment that can be difficult to replicate on a regular basis. But the Evo has you covered – its reinforced extruder nozzles and other various toughened corners are made to withstand whatever battering your material can give it. Airwolf understands that someone who needs an additive manufacturing system is going to need materials heavier than a typical hobbyist, so they've readied the Evo accordingly.
Build size. Airwolf certainly gives the Evo enough printing real estate to back up the claim that it's an entire system. You can print up to almost thirty cubic centimeters in volume, which makes this additive manufacturing process great for anyone looking to 3D print on an industrial scale.
Multi-material printing. If you've ever had to deal with the start and stop of switching between filaments to get a color pattern or material combination, you'll love the Evo's ability to print with more than one filament at a time. Usually, dual extruders are temperature controlled together, but the Evo's are separate, which means you can adjust each to the specific heat each material will need. It lets you optimize the conditions so you get top performance from each one, seamlessly woven into each other. No stopping and starting required.
Water solubility support compatibility. The Evo's numerous special features let you print a wide variety of projects with an expansive list of materials. The most notable of these is its ability to print water soluble filament for support material at the same time you're printing with another filament. This water soluble filament lets you add it as bracing in areas of intricate detail that may collapse without support before cooling and hardening; once the whole thing, scaffolding and all, is complete, you can soak it in water and pull it out to let the support filament drop away. It's exactly what you need for designs with a lot of gap detail.
Auto-leveling. Making sure your print bed is level before and/or after every single print you complete is a pain but sometimes necessary. Unless you're using the Evo. Its auto leveling bed will save you hundreds of hours of doubt and measurements as you move from project to project without ever worrying if your foundation is laid straight.
Cons
Price. The Airwolf Evo costs up to $7,999, and that's without considering shipping and handling. Granted, that gets you a lot of great machinery, but if you can't afford the money in the first place, it doesn't really matter what a great deal this would end up being. Airwolf is definitely aimed at the top of the line hobbyist at the very least, and preferably at users who make some sort of profit from what they print. It is a great investment if you can monetarily justify it.
Failsafe positioning quirk. The partial save ability of the Evo is a lifesaver, especially in the quality of printing it offers, and Airwolf uses the same principle to help you save your progress when you've run out of material – however, there is a catch. You do have to remember the exact height your extruder was at when you paused your printing; otherwise, your new starting levels will not blend into the old ones and there will be a noticeable drift in your layers. This doesn't sound like a big deal until you've had to pause one printing job for an unscheduled emergency and complete something else before you can get back to your first project. Can you remember all that without measuring or writing it down? We'd get in trouble by telling ourselves we'll totally remember the height, then getting distracted by something else that needs attention to details and messing it up when we get back to it. But if you're meticulous and keep your own notes, the failsafe mode will help you manipulate changing filaments and clogging nozzle issues.
Learning curve. This additive manufacturing experience comes with a handy how-to booklet, instructions for each step, and an online support staff through its store. However, using this equipment is not for the faint of heart. Users who are brand new to 3D printing may be overwhelmed by the possibilities that will make a veteran squeal with glee. It's very much geared towards those who have tried flimsier setups and want more, so be sure to read up on everything to make sure you're not missing out on any special feature. Even those who have used their share of desktop 3D printers may be mystified by certain aspects that aren't typical features on anything except the Evo, so have patience with yourself and utilize the corners of the internet that have figured this beast out before you.
Weight. Anything that touts itself as a complete system is going to have heft. To its credit, Airwolf does offset this as best as it can through its strategic use of aluminum on the Evo; that material is the perfect balance between strength and lightness, but it's not a miracle worker. The Evo weighs in at 60 pounds for the printer itself, and at 150 pounds for shipping weight. This keeps the Evo from being the portable printing factory you might be hoping for. It's not impossible to move it around, and the initial installation is relatively painless for a 3D printer. Its frame keeps everything sturdy without parts moving around when you reposition it but beware of strain if you're planning on regularly touting it to different spots. Do your back a favor and invest in a cart if that's your plan.
Exclusivity of software. Airwolf packages the Evo with its own proprietary software, APEX. It's free, and it's built on the open source slicing engine Cura, but APEX is what you have to use if you want to use any of Airwolf's 3D printing machines. The good news is that once you learn it, you can apply it to everything they make, so if you enjoy the Evo, you can branch out without any trouble. Plus it's free, so if you do purchase an Evo, you'll have plenty of opportunities to practice without worrying about paying for a monthly subscription. But you won't be able to play around with it before buying an Airwolf machine, so if you decide you don't like it, you might have already invested too much to go back. Study up as best you can, look around the corners of the internet that you most trust (like us!), and try to see what you're getting into as well as possible before you commit.
Final Verdict
Airwolf has indeed brought a unique product into the 3D printer world. The Evo is basically its own little ecosystem, with a lot of features built-in that seem unnecessary at first glance but actually, do make 3D printing a lot easier as soon as you run into any outside hiccups. And trust us, no matter how prepared you think you are, something will come up that you won't expect; chances are, the Evo's already thought of and planned for that.
It fits nicely into the manufacturing space it wants to populate; those who can afford its startup cost and already know their way around intermediate 3D printing software will be in for a great additive manufacturing experience.
Recommended Reads