MakerGear Ultra One is a heavy-duty 3D printer created for professional industrial markets. But it can also be used for business, educational, and personal purposes. It boasts a riveted sheet metal enclosure that allows it to print a wide variety of engineering-grade models and large-scale parts.
This ultra-durable and the flexible 3D printer has a build volume of 16 by 14 by 13 inches (406.4 by 355.6 by 330.2 millimeters) and delivers high-quality FFF (Fused Filament Fabrication) prints with speed and precision. It prints at high temperatures, so it can work with a variety of filaments, including Nylon, polycarbonate, polypropylene, metal composites, carbon fiber composites, wood composites, and more 1.75-millimeter filaments.
It also works with a variety of plastic filaments such as ABS, HIPS, PET-G, PET-T, PLA, ASA, BVOH, TPE, and TPU. Its heated build plate, which is made of Borosilicate Glass Plate with a polyimide film coating, can reach a temperature of up to 140 degrees Celcius.
What else do you need to know about the MakerGear Ultra One? Should you buy one for your professional 3D printing needs? Read on to find out more about the Ultra One.
Everything You Need to Know About MakerGear Ultra One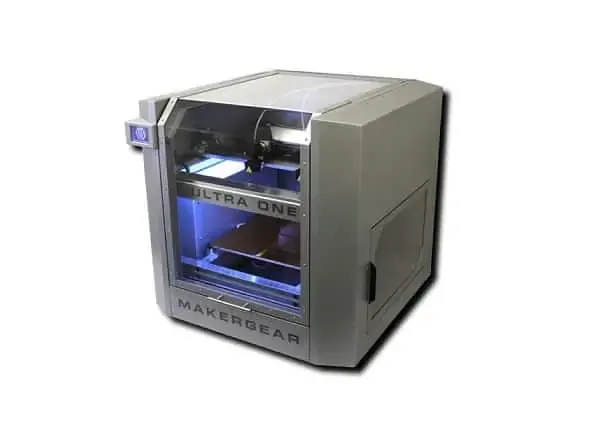 Ohio-based 3D printer manufacturer MakerGear is known in the 3D printing world for its reliability, and you can expect no less from the Ultra One. Priced at $12,500, the Ultra One is different from other industrial printers in that it gives you the flexibility and freedom to pick your filament grade and your filament supplier. As such, you are able to create a broad range of projects while also reducing your production costs.
MakerGear Ultra One Features
Independent Dual Extrusion (IDEX) System
The Ultra One runs two extruders simultaneously and this makes the multi-material printing and use of soluble supports a fast process. Moreover, this independent dual extrusion system allows the Ultra One to provide twice the production capacity of other fixed-head dual extrusion units for single-print jobs.
Touch Probe Leveling
The Ultra One's reliable Touch Probe feature will assist you in manually leveling the bed and will automatically make small adjustments if necessary from one print job to the next.
Once the Touch Probe Leveling feature has determined the levelness of the bed, it will use these measurements to "instruct" the printer to level your bed by adjusting the z-motors at all corners and to maintain this level throughout heavy printing jobs. The printer also generates a mesh of the print surface before it starts printing to compensate for the variations from perfect flatness.
WiFi/Ethernet Connectivity
You can connect the Ultra One to your WiFi network or via an Ethernet cable, allowing you to control it remotely and to monitor printing status.
Complex Printing
You can use soluble BVOH and HIPS support materials to print complex objects. This printer can combine rigid and flexible elements to achieve more complicated mechanical, chemical, and thermal properties. It can also print objects in multiple colors.
Industrial-grade Linear Rails
Industrial-grade linear rails in the motion system offer true CNC reliability. This feature guarantees consistent material performance from the full printer enclosure.
Simplify3D
Simplify3D is the 3D printing industry's leading independent slicing software. It is included in the Ultra One without maintenance fees and with free lifetime updates.
OctoPrint for MakerGear
OctoPrint, fitted especially for MakerGear's control interface, makes the printer controllable from any web browser and highly configurable through plugins. With OctoPrint, you can access features like direct design-to-print integrations and one-click file preparation.
LCD Screen and USB Port
The Ultra One has an LCD screen and USB port to allow you to print files that are stored on your flash drive.
Warranty
The new Ultra One printers come with a 12-month limited warranty. The manufacturer also offers warranty extension options through its MakerGear Protection Plan.
As stipulated in MakerGear's warranty terms and conditions, the company will replace any defective parts on the Ultra One. Replacement parts may either be new or refurbished. These will be shipped via USPS Priority or FedEx Ground, but only in the United States.
There are, however, exceptions to this warranty. For one, the MakerGear hot-end is covered under warranty only if filaments and authentic components from MakerGear are used. Moreover, the one-year warranty does not cover any abuse on the printer.
What You Would Like About the MakerGear Ultra One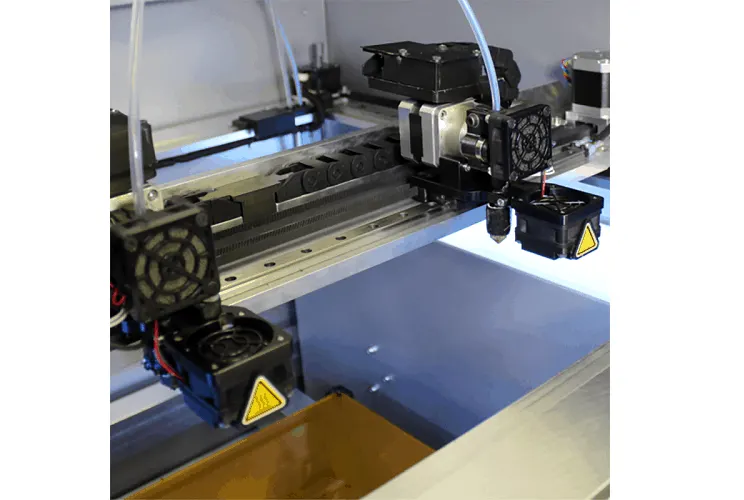 Aside from all the main features of the MakerGear Ultra One that make it an industry-grade 3D printer, you would love its amazing compatibility. It works with a wide range of devices, browsers, and operating systems, including iOS, Android, Windows, Mac, Linux, Safari, Chrome, and Firefox. Its network connectivity options make the Ultra One suitable for any installation scenario.
You would also love the fact that it includes an onboard computer with more than 10 GB of storage capacity.
Users also admire how the MakerGear Ultra One allows them to use nozzles of different sizes. This 3D printer is sold with a 0.5-millimeter standard brass nozzle, but you can also get and use brass nozzles with a diameter of 0.35 to 0.75 millimeters and stainless steel nozzles with a diameter of 0.35 to 0.5 millimeters.
What's more, this printer operates very quietly, thanks to its sheet metal enclosure.
MakerGear Ultra One: What Can Be Better?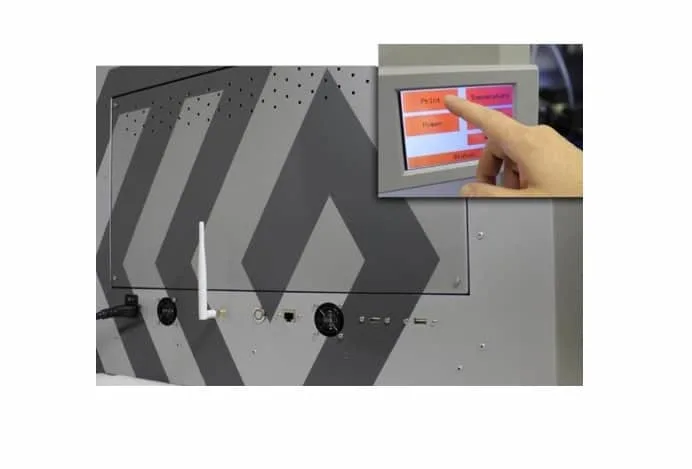 The MakerGear Ultra One does not come cheap at all. With a very steep price tag, this printer is indeed intended for professional industrial use and business purposes.
In other words, many hobbyists would find it an unaffordable, and even unattainable, machine. It is best to consider this printer investment and to use it for printing jobs that would somehow help you recoup your costs instead of using it for personal projects.
Other than its price point, which is not exactly that big of a disadvantage considering how it gives you your money's worth, there isn't a lot of complaints about the Ultra One. There were comments about its lack of an air filtration system, which makes it quite unsuitable for office use. However, MakerGear had explained that the printer will be upgraded to be equipped with a HEPA filter.
Users may also find the Ultra One too tall for typical desktop installation. If you place it on a standard desk, its lid is going to open too high for you to reach.
MakerGear Ultra One: The Bottom Line
The Ultra One is MakerGear's first industrial 3D printer and it is a powerful machine that can print large-scale parts and assemblies with precision. The key is its all-new motion system, which operates smoothly, and massive build volume, which meets speed and reliability for professionals.
Its gantry system is incredibly rigid and is composed of:
X gantry, which contains independent heads driven by fiberglass-reinforced belts and guided by a precision linear rail.
Y gantry, which is driven by two fiberglass-reinforced belts and guided by two precision linear rails.
All in all, the MakerGear Ultra One comes from a 3D printer manufacturer that continues to innovate to bring us products that get better and better and more refined than their predecessors. The Ultra One is its first industrial machine and, by far, the most advanced yet.
So if budget is not the problem and you intend to use your 3D printer for industrial and business purposes, the MakerGear Ultra One would make a great investment. With its flexibility in terms of materials, its high connectivity, its great compatibility, and its high-end performance, you will get your money's worth — if not more.
Alternatives to the MakerGear Ultra One
If you are weighing your options before purchasing, there are some alternatives to the MakerGear Ultra One that is worth checking out. Two are industry-grade 3D printers in that they produce end-user products and commercial-quality prototypes quickly.
Formlabs Form 3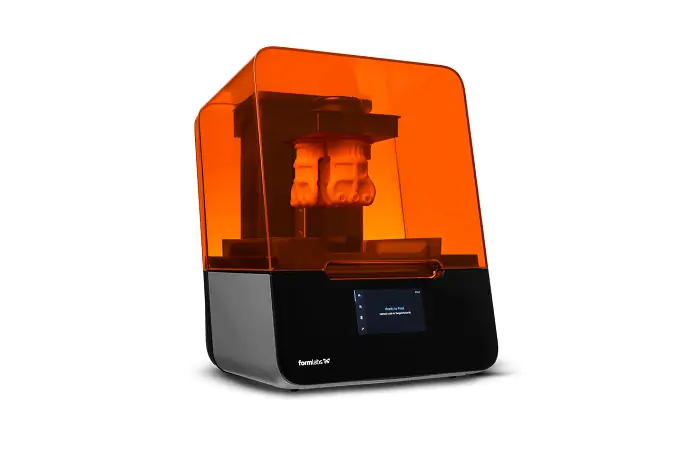 The Formlabs Form 3 is touted as one of the best 3D resin printers for 2020. The Formlabs Form 3 is a versatile laser-based stereolithography apparatus (SLA) printer that is complemented by software that makes it easy to operate.
But while traditional SLA setups utilize a stationary laser, wherein the beam is directed by a pair of mirror-toting galvanometers to trace and cut an object into the resin, the Formlabs Form 3 has the Low Force Stereolithography (LFS), which bounces the laser beam through a chain of a single galvanometer, mirror, and parabolic mirror, and at the same time rowing the entire laser module back and forth along the print's X-axis.
This extended path for the laser beam ensures that the resin is hit perpendicular to any point on the build plate, delivering scalability, and consistent edge-to-edge print quality.
The Form 3 sports Formlabs' all-new proprietary printing system that is distinctive for its Light Processing Unit (LPU). Complementing this new LPU-enabled printing method is an array of print monitoring sensors that are geared toward micromanaging every little aspect of a printing job.
You can pair this printer with a computer and use its large color touchscreen to view the material cartridge used, the paired resin vat, the milliliters of resin used, the final print time, the number of layers, the resolution, and a complete history of prints. The Form 3 has a 145- by 145- by 185-millimeter print volume.
With the Form Wash and Cure stations, you will be able to handle a printing job one-handed, from preparation to post-processing.
Formlabs Form 3: What You Would Like
The Form 3 only takes a few moments to set up and a few moments to start a part-automated print job. It was designed to let you spend as little time as possible manning or operating the printer and more time monitoring the workflow. In other words, this 3D printer provides all the tools you need for oversight and resource management.
You would also love how the Form 3 gives you a superior printing experience through usability print quality. Needless to say, this is a great 3D printer for small-batch, high-detail, and fast prototyping.
Moreover, you would appreciate how the Form 3 has a complimentary wash and cure stations to make washing and curing a hassle-free task, especially since resin is rather nasty stuff. Between flipping the build plate lock open and using the wash and cure stations, minimum input is required on the part of the operator.
What Can Be Better About the Formlabs Form 3
The Formlabs Form 3 has its share of shortcomings. You could experience infrequent artifacts or flaws on your prints, which could be due to either an issue with the disposable resin vats or the dust on the LPU's glass window.
Some users also complain about Formlabs' consumables being pricey. However, in exchange for their reliability, they might be worth the cost.
Pros and Cons: At a Glance
Pros:
Easy to use and one-click, part-automated printing
Has compatible wash and cure stations
High-quality output
Has a compact design
Cost-effective
Cons:
No OFF button
Early issues with dust inside the laser unit
Resin cartridges are a little wasteful
How the Formlabs Form 3 Compares to the MakerGear Ultra One
While both the Ultra One and the Form 3 are high-quality printers that strike a great balance between speed and detail, with high reliability and repeatability, they are different types of 3D printers. The Ultra One is a fused deposition modeling (FDM) printer while the Form 3 is an SLA printer. This means the two use different materials for printing 3D models; the Ultra One uses filaments while the Form 3 uses resin.
Moreover, the Ultra One is more expensive than the Form 3, and it is quite understandable, just considering the former's much larger print volume, among others.
Ultimaker S5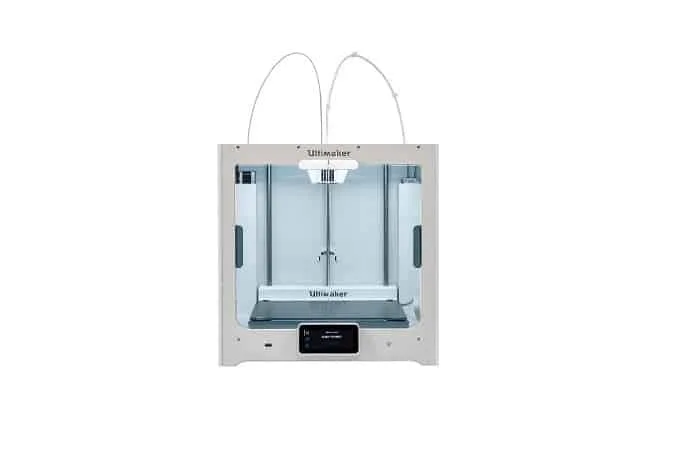 The Ultimaker S5 is considered one of the best dual extruder 3D printers available in the desktop 3D printing market. It is known for its incredible print quality and intuitive guidance, from the setup of a print job to removal. It has a larger-than-life build volume of 330 by 240 by 300 millimeters.
This piece of hardware is designed for the professional, high-end market, including professional designers, engineers, and small businesses. It was also built to run continuously and to maximize uptime. It boasts a layer resolution of down to 20 microns.
Moreover, this printer is compatible with carbon fiber filament as well as high-strength glass. It has an open filament system and can print with any 2.85-millimeter material.
Ultimaker S5: What You Would Like
You would love how the Ultimaker S5 gives you a simple setup, high uptime, and reliable dual extrusion, making it is a complete professional 3D printing solution. Design-wise, you would like how it has a 4.7-inch intuitive touchscreen interface.
You'd also appreciate how you can upgrade your 3D printer. For one, you can get the Ultimaker S5 Material Station and add capacity for six front-loaded material spools. The printer will automatically switch between materials and control for filament humidity. There's also the Air Manager, which will enclose your printer's build chamber and filter up to 95 percent of ultrafine particles.
What Can Be Better About the Ultimaker S5
The Ultimaker S5's $5,995 price tag is considered rather steep for this type of printer. The printer is also relatively slow when it comes to set up and the printing itself. Plus, there are a few kinks that the hardware and the software, Cura Connect, need to be work out between them.
Moreover, while the Ultimaker S5 is capable of multi-material printing, it is not necessarily great with multiple colors. When printing with two different-colored PLA filaments, for instance, the print quality had taken a noticeable dip.
Pros and Cons: At a Glance
Pros:
Easy to use and set up
Exceptional print quality
Has large build volume
Has excellent multi-material capabilities
Touchscreen interface that walks guides you through every step of the printing process
Cons
It is an expensive 3D printer
Has relatively slow print time, depending on layer height
Camera feed sometimes freezes
More difficulties with certain materials
How the Ultimaker S5 Compares to the MakerGear Ultra One
The Ultimaker S5 has a large print volume, but the print volume on the Ultra One is larger. This difference, however, is not that massive. Both printers use filaments, including PLA, ABS, nylon, polycarbonate, polypropylene, CPET, and carbon fiber. They also apply FFF print technology. Both also have dual extrusion print heads.
FlashForge Creator Pro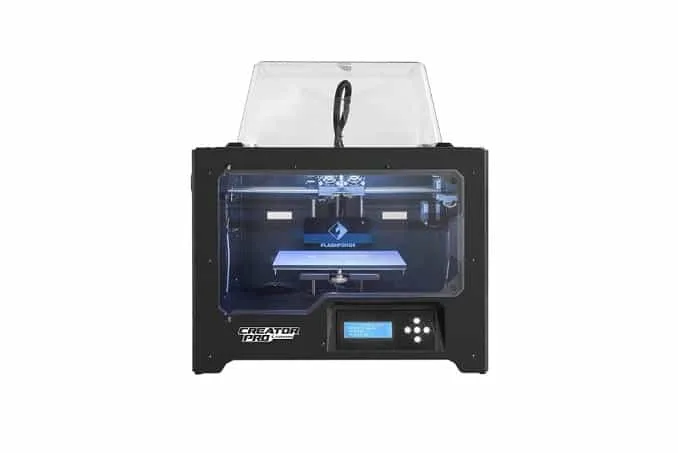 The Creator Pro is one of the more affordable yet capable dual extrusion 3D printers available today. It boasts sturdy construction, a fully enclosed build chamber, and a heated build plate, all allowing for multi-material printing and the printing of temperature-sensitive materials that would typically warp with other printers.
It has a build volume of 227 × 148 × 150 millimeters and a layer height of 100 microns. It is a pretty straightforward printer that is based on FFF technology.
The FlashForge Creator Pro has a versatile dual extruder. However, unlike IDEX systems, wherein the nozzles independently move from each other on the x-axis, the Creator Pro's set-up uses a pair of aligned print heads. This allows for quicker dual extrusion prints since the traveling time of the print heads has decreased. However, there might be a need to tinker and adjust retraction times a bit to prevent material from oozing out the inactive nozzle.
FlashForge Creator Pro: What You Would Like
The FlashForge Creator Pro makes a great budget pick for a dual extruder 3D printer with its relatively low price point. At less than $800, this 3D printer is a good choice for personal use and small- to mid-sized businesses. It allows 3D printing hobbyists to afford rapid prototyping without compromising high-quality products.
Other than the affordability, you would also love how the FlashForge Creator Pro has an active and supportive user base. Moreover, the dual extruder system makes it possible for the Creator Pro to print with a wide variety of materials, including PVA, PLA, ABS, HIPS, Flex, T-glass, and composites like CopperFill, Woodfill, and BrassFill.
Additionally, the Creator Pro comes in a user-friendly and stylish design. It is ready to use out of the box.
What Can Be Better About the FlashForge Creator Pro
The Creator Pro does not have its own software. However, it is an open-source printer and is therefore compatible with a number of slicing software, including FlashPrint, ReplicatorG, Cura, and Simplify3D.
Pros and Cons: At a Glance
Pros
Has a sturdy and stable metal frame
Warp-resistant 6.3-millimeter aluminum build platform
The new heavy-duty z-axis guide rod ensures steady and precise movements
Has an acrylic enclosure for the chamber to insulate and protect ABS prints.
Has an integrated LCD screen.
Cons
Does not have its own slicing software
Not recommended for industrial 3D printing purposes because speed is not a strong point
How the FlashForge Creator Pro Compares to the MakerGear Ultra One
Both FlashForge Creator Pro and MakerGear Ultra One are dual extruder printers, but the Creator Pro does not have an IDEX system. The price points between the two printers are worlds apart, making the Creator Pro a much more recommended unit for personal or hobby printing purposes.
FAQs About 3D Printers
What is the difference between FDM and SLA Printers?
The main difference between an FDM printer and an SLA printer is the materials they use. While an SLA printer uses resin as the material for its models or prototypes, an FDM printer uses filaments, such as those made of plastic, nylon, and other materials. An FDM printer builds a model by melting the filament and pushing it out of its extruders one layer at a time.
Filaments are available in a wide variety of colors and you can use the colors you need. For resin, the color options are very limited. Most SLA printers also require you to use resins from the same manufacturer. This means that if a particular SLA printer manufacturer only offers white, black, gray, and clear resins, you may have to limit your models to just these colors.
Another difference between the two types of printers is the post-processing requirements. With an FDA printer, printed models are easy to remove. But with an SLA printer, removing the finished product can be messy and a bit of a hassle. Additionally, for FDM printer models, you need to remove the supports and any excess plastic, then do some sanding to smoothen out the surface. Meanwhile, SLA models need to be cleaned and cured. You need to soak them in a cleaning solution to get rid of any leftover residue, then cure the resin under high wavelength UV light.
What is Extrusion and What Does it Mean to Have Dual Extruder?
Extrusion is the process of creating models or objects of a fixed cross-sectional profile, where the material is pushed out of a die. In the case of Ultra One, the filament is pushed out.
Dual extruder printers are equipped with two extruders and nozzles. Through a dual extrusion process, you can print 3D models with multiple filaments. With two spools loaded, your 3D printer alternates between these spools printing one at a time.
What is the OctoPrint Feature?
OctoPrint is the interface through which you can access and control your MakerGear printer. Think of it as your car's dashboard, which offers you access to the vehicle's controls.
By navigating to your Ultra One's unique web address, you will be able to get total control of the printer through any web-browsing device. With the OctoPrint feature, you will be able to address and control most of your 3D printing needs and processes, such as heating the printer, preparing your files, monitoring the progress of a print job, and calibration and maintenance.
Is MakerGear Ultra One Worth Getting?
If the budget is out of the question, the MakerGear would make a great investment. It offers precision, accuracy, repeatability, and speed, which you will need if you are printing 3D models and assemblies for commercial and industrial use.
Ultra One also has the largest build volume among all the printers mentioned, so if you want to make big models in one go, this printer is for you. (Here check MakerGear M2, MakerGear M2 vs Replicator 2 and Ultimaker 2 vs MakerGear M2 before making the final choice!)
However, if the price is a big consideration, there's always a much cheaper alternative for whatever it is you need and want in a 3D printer. If you are looking for a 3D printer to use for your hobby, you might want to get the FlashForge Creator Pro. It is a much cheaper printer that is still capable of giving you high-quality prints.
If you are looking for an industry-grade printer that you can pretty much leave as it does its job, you would find Formlabs Form 3's one-click feature attractive. Of course, Ultra One does have the OctoPrint, but Form 3 costs a lot less.
Meanwhile, you may consider getting the Ultimaker S5 if you are looking for a dual extruder printer with a larger build volume than the two other alternatives.
Further read: