Latest posts by Total 3D Printing Team
(see all)
The Monoprice Select Mini is a 3D printer that promises usability and practicality at a fraction of the cost of more expensive 3D printers. It is marketed towards people that want the full 3D printing experience on a budget while still having at their disposal most of the features of high end 3D printers. Ease of use is also a big selling point for this printer.
With a robust metal frame combined with some clever engineering and design choices, Monoprice managed to deliver a very compact and clean 3D printer for commercial home use. It's been rated by many as the best budget 3D printer on the market and that is not far from the truth.
Another great selling point for the Select Mini 3D printer is that it comes fully assembled and calibrated from the factory, so getting started should require minimum effort.
In the following sections, we will list the core features of the Monoprice Select Mini as well as the Pros and Cons. At the very end, you will find the final summary of this 3D printer with an overall rating.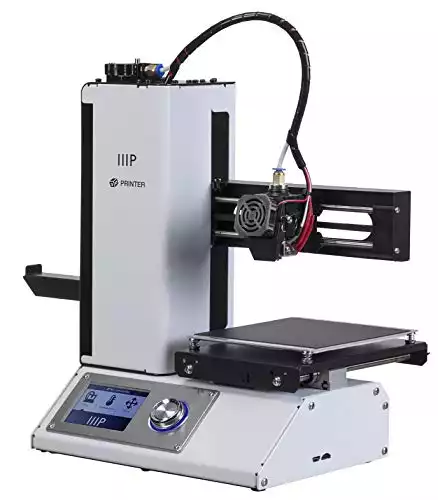 Core Features of the Monoprice Select Mini 3D Printer
Factory Calibrated Print Bed
This is something you don't see very often even in very high-end desktop 3D printers. The print bed, with a build area of 4.7″ x 4.7″ x 4.7″ (120 x 120 x 120 mm) come pre-calibrated from the factory. This means that, if the printer survived the shipment, it can be turned on and start printing immediately with the only setup needed is adding the filament.
Heated Bed
Yes, this very budget friendly printer comes with a heated aluminum print bed. This is unusual for low-end 3D printers, as a heated bed can add a lot to the cost and complexity of the printer. But Monoprice was able to do it while still keeping the price very low.
A heated bed is useful for making sure the print sticks to the print bed while it is printed. This is especially necessary for most ABS type plastics.
Material Freedom
While most budget 3D printers are limited to printing in PLA, which is relatively easy to print, the Monoprice Select Mini give the user the choice to print any material they want.
Thanks to its heated bed and versatile nozzle design, this printer can print in many materials such as PLA, ABS, NYLON and more. Having the ability to print in a wide range of materials gives this 3D printer a huge advantage, as it can be used to print many different items for many different usage scenarios that have to withstand different environments.
Quick Release Filament System
For most budget 3D printers, using one filament for every print is a very common practice, as most budget printers only support PLA. Well, as this 3D printer has the ability to print in many materials, changing the filament might be something you will have to do more often and thanks to the quick release filament feeder, it should be a very easy task.
LCD Display
This 3D printer features a color LCD display that displays information about the print, the time remaining as well as the settings that it is printing as, so as the heat bed temperature, nozzle temperature and print speed. The screen combined with a rotary button, allow the user to setup the printer and do more advanced tasks.
Open Source
As if this printer was not already too good, Monoprice made sure that their 3D printer is compatible with many different slicing software by using the open source and standard G-Code. This is an excellent addition as it gives great flexibility to the user. The compatible software list includes Cura, Repetier-Host, ReplicatorG, and Simplify3D, all of the generating simple G-code.
Simple connectivity
Monoprice kept things simple and standard, by only including a USB port and an SD card reader for loading 3D models. It might look lacking compared to other printers available, but sometimes it is better to have fewer but stable connectivity options than having more that are prone to bugs and problems.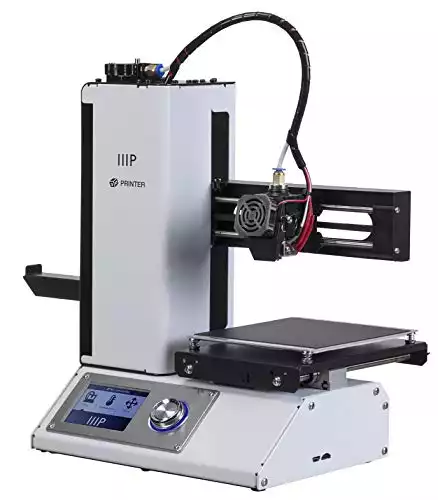 Key Specifications
The following are the key specifications of the Monoprice Select Mini 3D printer.
Printing Technology: FDM(Fused Deposition Modeling)
Build Area: 4.7″ x 4.7″ x 4.7″ (120 x 120 x 120 mm)
Layer Resolution: 100 microns (0.1mm)
Printing Speed: 55 mm/sec
Filament Diameter: 1.75mm
Max Extruder Temperature: 500°F (230°C)
Max Platform Temperature: 140°F (60°C)
Nozzle Diameter: 0.4mm
Product Dimensions: 13.5″ x 11.3 x 7.5″ (343 x 287 x 190 mm)
Connectivity: Micro USB, MicroSD card
Software: Cura, Repetier-Host
Pros of the Monoprice Select Mini 3D Printer
It's simple: Select Mini is a very simple 3D printer. It doesn't have any bells and whistles just to show off. It has all the basic things you need to get started and print working prototypes easily. It is a functional printer and that's where it is focused at.
Heated Bed: This is a huge plus for a printer this small and this cheap. It instantly makes the 3D printer one of the most versatile budget 3D printers on the market. Heated beds are standard on high-end printers and make a huge difference in the print quality when printing with more exotic materials.
Pre-calibrated: A factory calibrated 3D printer is not a common thing, but Monoprice managed to do it. Being calibrated at the factory greatly improves the printers user friendliness and plug and play functionality
Software: The fact that you can use any software to generate standard G-code and print is a huge selling point. The sky is the limit when it comes to this printer.
The price: This printer costs just $199.99. This is probably the most budget friendly printer on the market while offering features that are usually found on $500+ 3D printers.
Cons of the Monoprice Select Mini 3D Printer
High speed fails: While this printer is not the fastest on the market by any means, it is also not one that should be used at its maximum print speed, as prints can fail and have issues.
Calibration: While this 3D printer comes pre-calibrated, you will probably have to calibrate it at some point. Sadly the process can be a bit tricky at first
Inconsistent temperature: The hot end of this 3D printer can be a bit tricky at times. Because of its very simple and cheap design, it can sometime experience variation in temperature during a print, which is never a good thing when printing big and complicated models.
Some Alternatives to Consider
This is a tough one, as there are not that many 3D printers out there that are cheaper or as cheap as the Monoprice Select Mini 3D Printer. But there are some other options to consider that will bring similar results at a similar price range:
This is one of the cheapest 3D printer on the market alongside the Monoprice Select Mini. They have similar features and work in a similar way. Check out our full Da Vinco 1.0 Review here.
2) Monoprice Maker Select 3D Printer
This is Mini Selects smaller brother. It has a bigger build platform and some more features while still providing mostly the same functions. That also means that it is priced higher. So if you need those extra features, then this printer might be worth taking a look at. Check out our full Monoprice Maker Select review here.
Conclusion:
The Monoprice Select Mini is an excellent 3D printer for its price. It is not by any means a high-end, high quality printer. What it is though, is a starter 3D printer. At such low starting price and with so much flexibility both in material and software out of the box, getting started with this 3D printer is really easy.
There really are not many competitors on the market that can get deliver such great 3D printers at that price range. The Select Mini is a unique 3D printer in the 3D printing market and has a lot to offer to beginners or even more advanced users, as it is using open source software and is hackable.
All in all, this 3D printer is the perfect starter printer for anyone who wants to start 3D printing without having to spend a lot of money.