Latest posts by Total 3D Printing Team
(see all)
More and more companies recently are focusing their efforts on making 3D printing available to everyone through seemingly stripped down printers that are difficult to get working consistently and even when you manage to do so they're 'ok' in quality pretty much all the time.
Though one group, 3D Systems, is drawing focus on the office space and how 3d printing is becoming more and more required for a twenty-first century business to function. With the slim pickings that most indie companies have up for an offer that is open source hardware or software, there are few companies that offer everything you need.
Their goals have been as a business solution, encompassing their product in every aspect from their own filament and software down to their own glue for applying to the print bed to help adherence. For better or worse, they want to be your one stop shop for everything your printer requires or that you'd ever need to operate it.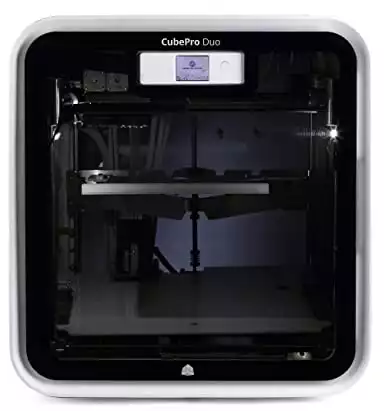 About 3D Systems
The company was founded back in 1986 and is often credited with inventing 3D printing. With this they bring a ton of experience to the table not only as a juggernaut of the industry when compared to the spunky young startups of recent years but also as a developer of 3D printers with decades to hone the art of 3D printing to a consistent and reliable process.
Though have they grown complacent and stagnant over the years? The only way to tell is to scrutinize them as they should have had ample time to iron out the problems and hiccups we often expect from a startup or growing business.
The printer we'll be focusing on is the Cube Pro Duo, which as the name states has the neat ability to extrude from multiple extruders using different materials limited only to the varieties offered in the Cubify store ABS, PLA and Nylon.
About the CubePro Duo – Specifications
Cube Duo Pro
Price

$3,195

Weight:
94 lbs
Build Volume:
242 x 230 x 270 mm
Build Speed:
Unlisted
Layer Height:
70 mm minimum
X, Y Accuracy:
.2 mm
Desktop Space:
578 x 591 x 578 mm
Nozzle Diameter:
Unlisted
Connectivity:
Wifi
Filaments:
ABS, PLA, Nylon
Our Rating

7.3

/10
The spec sheet offered on the website leaves much to desired and is a bad sign for the customer service side of the company. Notably left out were listings of, print speed and nozzle diameter which are rather important and a glaring error on their part. Of all the things actually included in the documentation, the build size is especially promising as it's fairly sizable compared to some printers currently available and it still maintains high detail.
Though it would be nice to see some optional features like a heated platform and an SD card reader at least it's good that they didn't skimp at all when it comes to print quality which should always take priority over flair and frills.
This brings us to the most disappointing thing about this printer; the proprietary filament cartridges which run you 99 USD each. The few benefits they show over standard spools is the ability to display how much filament has been used, which could be argued that you can see the filament on standard reels and gauge the same information, though more importantly, they can tell the hot end of the printer what temperature they need to be for printing. Costliness seems to be a trend with these printers supposed 'accessories' being horribly over priced and underwhelming at best.
The first of which is a replacement build platform costing 150 dollars for a platform with no features and seems to be a regular acrylic panel. other items on offer are 'Glue Packs' which are simply regular clear glue bottles at the laughable price of 20 dollars for two small bottles.
There's also a large disparity amongst customers that seem to either adore their unit or abhor it immensely. The majority luckily being in favor of the Cube Pro, stating it's very reliable and can print almost all day with heavy use and producing immaculate prints, the only complaint being the proprietary cartridges which may be a reasonable trade off. Those who receive a dead on arrival printer found that customer service was horrible at worst and unhelpful at best, so tread with caution.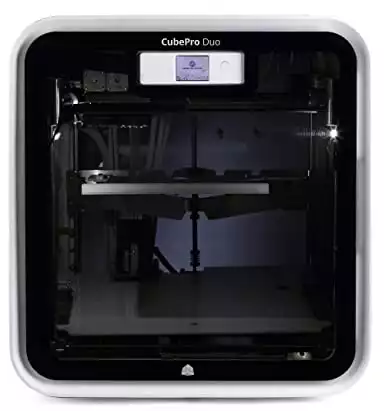 When you actually receive your functioning printer its build volume and consistency are almost unparalleled, with the suite of software fulfilling all the basic functionality you'd expect from a professional company. Though it should be pointed out that the software is just that, professional, with a steeper than average learning curve and a very utilitarian user interface.
Setup for me was quite easy as the machine contains an on board computer for calibrations and first time setup, making the whole process very user friendly and simple.
It's more than a little disappointing to see a disregard for customers when they are what actually shape a business, regardless of all the amazing products and lofty goals, customers are what makes all of it possible and I think in the time 3D Systems has let that go by the wayside too much. Forgetting that that at the end of the day if your customers aren't happy then something needs to change.
Those who received a functioning unit, weren't disappointed. Most owners claim that it's a very good business grade printing that allows their team to prototype, analyze, and rework their prototype effortlessly. Even for people who aren't familiar with the way 3D printers work the software is similar to that of AutoCAD and other 3D design software allow most engineers and design professionals the ease of use to switching between the softwares.
This partnered with the higher capability and complexity of the program also lend themselves to professionals who don't want the torn down and featureless programs that many of your cheaper and more home model printers use.
This is a great step up and I think is a worthy selling point for this machine over the competition though I guess is a drawback to those who would need to learn the environment just to use their shiny new 3D printer. Knowing all of this, it's safe to say you shouldn't get this unless your whole process is able to be supported by the Cube, and its proprietary filaments.
Final Thoughts on the CubePro Duo
All around the Cube Pro Duo impressed, business grade, high resolution, multiple extruders for combinations of colors and materials, with a closed design for even temperature cooling severely limiting warps in the print. The drawbacks can't be ignored though, having terrible customer service and proprietary filaments and hardware leave little room for upgradability and using new filaments that may prove to be exactly what you needed.
This is all a separate issue from the price, which at over $3,000 USD is a bit more expensive than comparable models from other companies. For a good price range comparison, see this article.
It's difficult to say whether or not this printer is for everyone, but easily this is what you've been looking for in a relatively affordable business grade printer for your office or company, It'll perform all day every day reliably and has about the same maintenance as a regular 2D printer would.
With the history of the company, the services they offer should be around quite a while to help you with whatever you'd need to be repaired or replaced for quite a while. If you've needed a printer to complete your array of professional prototyping and only require 2 toned prints and ABS PLA or Nylon, the CubePro Duo should suffice.