Latest posts by Jodie Chiffey
(see all)
This BCN3D Sigma R19 review is going to go over all the features of this 3D printer so that you can decide if it is worth buying or not.
The latest version of the Sigma is the R19 and it is made in Barcelona by BCN3D and is a part of the University Polytechnic of Catalonia. It was released back in 2018 and is one of the many dual extruder 3D printers that have come onto the market in recent years.
It is often confused with the Sigmax which is also from BCN3D but is a larger version of the Sigma R19 with a few additional features.
We're going to show you the key components of the BCN3D Sigma R19, how it performs as a 3D printer, what its pros and cons are and we'll also answer some frequently asked questions about this printer too.
Key specifications of BCN3D Sigma R19
Find the main specifications for the BCN3D Sigma R19 below.
Build volume
210mm x 297mm x 210mm
Build plate maximum temperature
100 °C
Extruder maximum temperature
290°C
Filament types
PLA, NYLON, PET-G, ABS, TPU,

PVA, Composites,

Filament diameter
2.85 mm
WiFi connectivity?
No
Operating System
MacOS, Windows and Linux
Warranty
1 Year
Our score
8/10
Latest price
Click here find the latest price
Core features of BCN3D Sigma R19
The latest version of the BCN3D Sigma is the R19 which comes packed with a wide range of different features. It's a powerful 3D printer but let's look at each aspect of this device and then we'll see how it actually performs.
BCN3D Sigma R19 Design
The latest Sigma from BCN3D has a build size of 210mm x 297mm x 210mm which means it certainly isn't the biggest 3D printer out there but it is still a fairly big size for printing 3D models. If you want to be printing on an industrial scale then you might want to consider something bigger like the newly released Epsilon.
If you have used any of the previous versions of the Sigma (the original or the Sigma R17) or even it's larger model the Signmax you will be familiar with the design. It hasn't strayed very far from previous models which isn't a bad thing as the Sigma looks great and will fit in well in a modern environment.
You get various accessories with this 3D printer as well including lubricants, cleaning solvents as well as metal shims.
Two IDEX printheads
Having two IDEX printheads is what sets the Sigma R19 apart from many other 3D printers and we've found that the dual extruders work perfectly to create models (we'll have a look at how it performs a little later on).
Instead of just having one printhead, the Sigma R19 has two IDEX printheads so you can print off two models at the one time.
Obviously this divides the print area so it does impact on efficiency and how big each print can be although the mirror and dual modes that we'll look at next is a really good feature.
Mirror and dual modes
The Sigma R19 from BCN3D offers two unique printing models – mirror and dual.
The duplication mode with this 3D printer means that you can print two identical models at the same time. It basically splits the printing volume in half with a 50/50 split.
Mirror mode allows you to print off two mirror designs symmetrically. One slight drawback with this on the Sigma is that it splits the print bed 60/40 between the two extruders so it doesn't divide it up equally giving you one larger print bed for one extruder to work with and a slightly smaller one for the other. This is something that is rectified with the larger Sigmax.
Print with two different materials
This Sigma allows you to use two different materials to print with at the one time. It features a multi-material mode which means you can combine the properties of two different materials into the same print.
The dual extruders mean that you will waste a good bit of 3D printer filament as it needs to be purged regularly due to the design. Just something to keep in mind as it is a drawback of how the Sigma has been made.
BCN3D Cura Software
There is a wide range of different 3D printing software out there that helps you, design models, for printing and ultimately get those models printing on your 3D printer.
The BCN3D Sigma uses an adapted version of CURA which is one of the most well-known pieces of software and crucially it is one of the easiest to use. If this is going to be your first 3D printer or if you have limited experience using one, CURA is probably the go-to program to get accurate and easy prints.
It doesn't come with WiFi connectivity which is a downside however you can use an SD card or a USB. The software itself is compatible with Windows, Linux, and Mac so pretty much everyone will be able to use it.
How does the BCN3D Sigma R19 perform?
One of the best things about the BCN3D Sigma R19 is that you can keep it running for a long time and you won't encounter any problems with your prints. It has been designed to print for hundreds of hours at a time.
There were a few issues with larger models that have been printing sticking to the print bed and the heating element doesn't spread the heat too evenly while the nozzle functional parts will need to be cleaned on a frequent basis. The aforementioned filament wastage is another thing to make you aware of.
That being said, the actual prints from the Sigma R19 are of very high quality. We really liked how everything came out even if there are a few bumps on the road along the way. The software is very easy to use so you shouldn't have any problems there and if you are looking for a reliable printer in this price range then you can't go far wrong.
Sure, there are more expensive 3D printers that perhaps don't have the drawbacks of the Sigma R19 however for the price and its affordability it prints off high-quality models.
Pros of BCN3D Sigma R19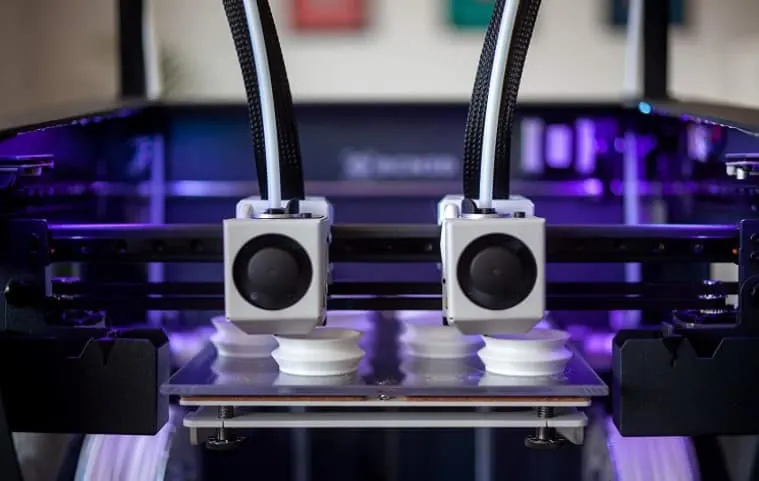 The latest version of the Sigma from BCN3D is packed full of features. Here are the best bits from this powerful 3D printer.
Two IDEX printheads – As dual extruders go, this is a great 3D printer and certainly one of the best on the market for its price. The two IDEX printheads will print off models to a high quality and while there are a few drawbacks when put into mirror mode, the printheads themselves are a great feature.
Can print for long hours – The Sigma R19 is designed to be used over long periods and even when it has been running continuously for days (and even longer) it doesn't impact on the overall quality of the prints it produces.
Dual and Mirror Modes – The BCN3D Sigma R19 allows you to print in what is known as dual and mirror modes. Dual mode prints two identical models at the same time and splits the print bed 50/50 while the mirror mode lets you print off two mirror designs symmetrically.
Fairly inexpensive – There are many cheaper 3D printers out there and there are many models that are much more expensive. That being said, the Sigma R19 is a very reasonably priced printer for what it does and you'll find 3D printers that cost more which don't offer the same features or print quality.
Easy to use software – BCN3D has a slightly adapted version of the popular CURA software to use with the Sigma. If you are new to 3D printing or have limited experience with it, you'll find the software very easy to use and operate.
Cons of BCN3D Sigma R19
There are a few downsides with the latest version of the Sigma BCN3D and while it is overall a very good printer for the price, these are the drawbacks that we encounter.
Noisy – This probably isn't going to detract you from buying the BCN3D Sigma R19 however it is a fairly noisy device. It's just something we think we should make you aware of because it will impact on where you have the printer and the location you will be running it from.
Filament wastage – This is due to the dual extrusion design of the Sigma R19. You will encounter a bit of filament wastage. This is down to the regular filament purges you'll need to do when the 3D printer is in operation – you need to keep the hotends primed – however, it's a price to pay for having dual extruders.
Some issues with mirror mode – Mirror mode allows you to print off two mirror designs symmetrically however it doesn't split the print bed evenly as it is divided up 60/40 between the two extruders.
No WiFi connectivity – While the BCN3D Sigma R19 has both SD card and USB connectivity options it doesn't come with WiFi which can be a drawback for some people. It is something that is present on other 3D printing models from BCN3D but not on the Sigma.
Are there any alternatives?
BCN3D Sigmax R19
You might think that this isn't much of an alternative because it is made by the same people and almost has the exact same name. However, the Signmax R19 is the step up from the Sigma as it is much bigger (the build volume is 420mm x 297mm x 210mm) and does come with various other features.
Really this is an ideal alternative if you need a bigger 3D printer with pretty much the same features and you have a bit more money to spend. It also solves the issue of the 60/40 split with the mirror mode. You can have a look at our review of the Sigmax R19 which you can find here.
TierTime UP 300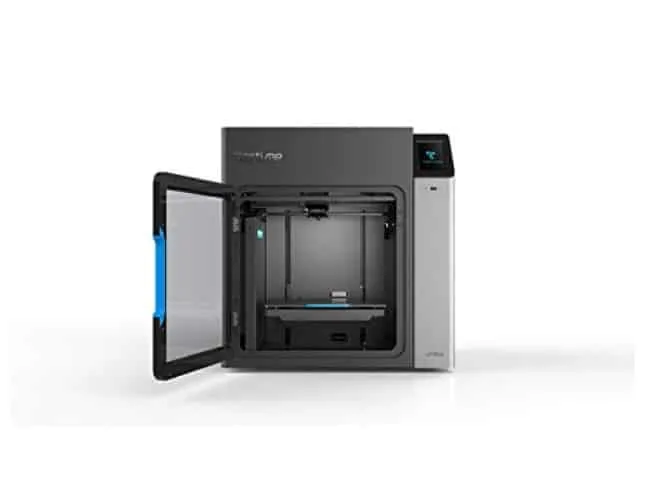 The TierTime UP 300 is a Chinese manufactured 3D printer that comes in around the same price as the Sigma R19. There is a mini version available as well we've had a look at before.
In terms of specifications, it comes with a similar build size of 205 x 255 x 225 mm although with a smaller filament size of 1.75 mm. One of the big advantages this 3D printer has is that it does come with WiFi connectivity as well as USB and SD. Its enclosed design means that it is ideal for plastics like ABS that need high temperatures although the major downside is that it doesn't come with dual extruders.
FAQs
Does the BCN3D Sigma R19 have WiFi connectivity?
No, the Sigma R19 doesn't come with WiFi connectivity although it does have SD and USB functions. The BCN3D Epsilon does have WiFi.
What are dual extruders on the BCN3D Sigma R19?
The Sigma R19 comes with IDEX dual extruders which means you can print with more than one material and in more than one color at the same time.
What materials can I use with the Sigma R19?
The 3D printer supports PLA, NYLON, PET-G, ABS, TPU, PVA, and other composites. Its max temperature of 290°C means that it can use certain engineer-grade materials as well.
Does the BCN3D Sigma R19 printer come with software?
The software that the Sigma R19 uses is a slightly adapted version of the popular open-source CURA which is popular among people that use 3D printers. For beginners especially it is very easy to use.
Specifications:
Windows: Windows Vista or higher, 64 bit
Mac OS: Mac OS 10.11 or higher, 64 bit
Linux: Ubuntu 14.04 or higher, 64 bit
Intel Core 2 or AMD Athlon 64 or newer
205 MB available hard disk space
4GB RAM memory
What is the max temperature for the BCN3D Sigma R19?
The maximum temperature of the build plate is 100 °C while the extruder can reach a temperature of 290°C.
What are the mirror and dual modes on the BCN3D Sigma R19?
Dual-mode means that you can 3D print two identical models at the same time and it splits the print bed evenly at 50/50. Mirror mode is where you can print off two mirror designs symmetrically and the print bed is split 60/40.
BCN3D Sigma R19 Review: Final Thoughts
Let's finish off this review by saying that the Sigma R19 is a very powerful 3D printer that offers high-quality printing and you can leave it to do its work over a long time.
The cost is also very affordable for what you are getting wtih dual indepedent extruders. There are better 3D printers out there that will cost more but if you are on a budget and need a printer that is going to do the job and do the job well, it is hard to look past the BCN3D Sigma R19.
It does have some drawbacks. Namely the fact that it has no WiFi connectivity although it certainly isn't alone in this regard for its price and there is quite a bit of filament wastage with this model. Noise is something else to take into consideration but then again that is often the norm rather than the exception with a 3D printer.
Overall it is a very good device.
Bottom Line Summary on this Sigma printer: It prints to high quality, has a decent size print bed, the IDEX dual extruders are great and there are several printing modes that will make your life a lot easier. Couple this with the fact that it comes with easy to use software and for a 3D printer it isn't going to cost the earth, it is hard to look past the Sigma R19 for high quality and affordable model.
Further Reading on Dual Extruder 3D Printer Options: