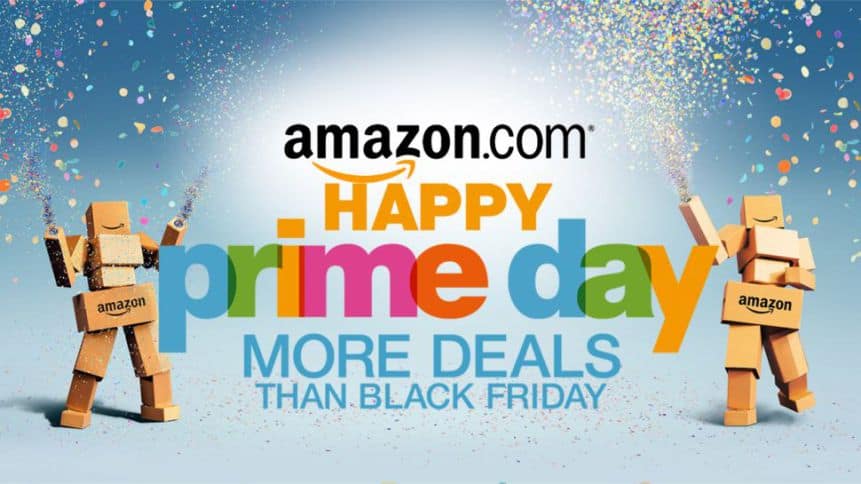 Amazon Prime Day is back and promises to be better than ever for 2021!
Last year, we were caught a little off guard by all the 3Dprinting deals. This year, I made a resolution to not miss a deal.
With this in mind, I've created this handy Prime Day 3D printing deals tracker which I'll be updated in the lead up and during Prime Day with the very best curated deals.
Featured Deals
Best deals under $500
Best Prime Day 3D Printer Deals List
Here goes it goes my list of the best Prime Day 3D printing deals on 3D parts, accessories, and 3D printers:
Early Prime Day 3D Printer Deals
While Prime Day hasn't started yet (officially) this is where we will track some of the early Prime Day deals. These typically occur in the week leading up to the event. Here's an example of some of the 3D printer deals from Prime Early Access Deals:
Amazon Prime Membership

If you don't have one already, you will need to be a member to participate in the deals. If you sign up for a 30-day free trial here, you will be eligible for Prime Deals when they happen.
3D Printer Accessories
3D BEST-Q PLA: It's completely normal that you will need filament in colors in your future projects, so now you have the chance to stock up on 1.75 mm filament that is discounted and comes in multiple colors like black, blue, red, bronze, copper, silver, red, yellow, purple, violet and white. Get them here!
3D Printer Nozzle Change Tool Set: Containing 20 PCs This removal/ change nozzle Tool Set by Usongshine is now available here for 20% off.
UV Resin Curing Light: This powerful 20w curing light comes with a one-year warranty and it's now available here for 20% off.
Print Beds and Covers
Creality Offers prime day discounts on several of their 3D print beds, namely:
Chuiendi Creality 3D Print Beds: Compatible with Ender 3 Pro/ Ender 5 and Ender 3 V2, this glass bed is now available for 48% off here.
DOBSTFY Offers 20% discounts on different heat bed sizes:
Bilway Removable PEI Flexible Magnetic Heated Bed: Featuring a 235x235mm size and compatibility with Ender 3V2/ Ender 3 Pro/Ender 3/Ender 5 this bed is now available for 20% off here.
CCTREE 3D Printer Build Surface (Pack of 3): This 235x235mm bed is compatible with Ender 3/ Ender 3X/ Ender 3 Pro/ Ender 5/ Ender 5 Pro/ Anet A8/ Longer LK4/ Tevo Tarantula and Prusa i3 and it's now available for 20% off here.
Dawnblade Creality Ender 3 Bed (Upgraded): Featuring a coated glass bed, this bed is compatible with multiple 3D Printers and it's now available on a 28% off discount here.
These are some of the best deals on resin, filament, and cheap 3d printer discounts we've found so far, but check back frequently as we update Prime Day deal finds as they come.
Caliper Measurers
3D Printer Filaments
A Preview of Prime Day – What to Expect
When is Prime Day 2021?
Prime Day will officially get started on June 21st and will run for a full 48 hours through June 22
There will also be some Prime Day discounts available in the lead up to Prime Day, starting on June 21st. These deals in the 3D printing space will also be updated on this page above.
Lightning Deal vs Deal of the Day
It's important to note the difference here. Lightning Deals are generally only available for a specific time period and only while supplies last. Last year, some lightning deals were gone in mere minutes, while before the stated expiration!
Deal of Day items will generally be available throughout the entire day. While they might run out of stock, the discount will usually be locked in and available for delayed shipment.
How to Spot a Good 3D Printer Deal
Just because it goes on sale, doesn't mean that it automatically is a great deal. Last year, there was an undercurrent of #primedayfail deals that weren't as great as they seemed. By and large, most of the deals are discounted heavily, but here are a few points:
Use Curated Lists: This page is a perfect example. Watching Amazon all day can be overwhelming. Pages like this only
Create a "Wish List": To avoid overspending on things you don't really need, create a list of items that you want to pick up ahead of time. If it goes on sale, snap it up. Otherwise, save your money!
Look for Reputable Brands: This is the #1 thing I recommend people to look for. If you haven't heard of the brand, it might not be a great deal. There are lots of knock-offs from China (and elsewhere) that don't have a solid track record. If you are ever in doubt, be sure to check this page because I will only be sharing legit deals from legit brands.