Our Best CoreXY 3D Printers [2021]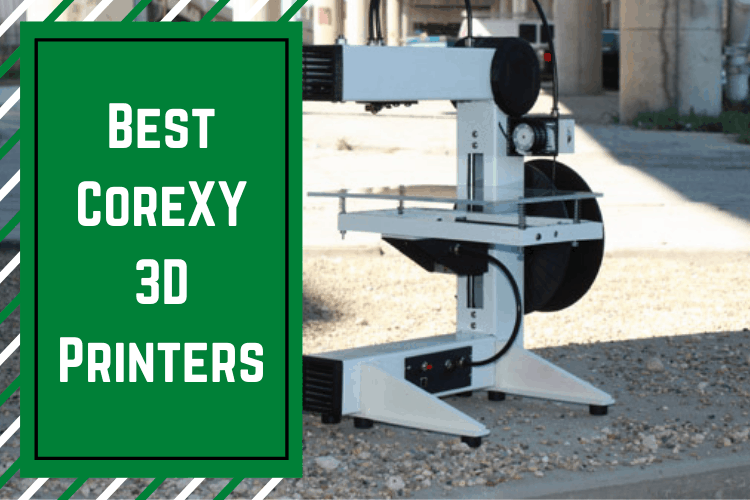 In this guide, we'll show you the best CoreXY 3D printers on the market right now. Since 2013, CoreXY has been growing in popularity in the 3D printing market for a number of reasons.
As 3D printers vary quite considerably in price range, CoreXY generally isn't that expensive. That being said, any upgrades and modifications that you need can add to the overall cost.
We'll have a look at what a CoreXY designed 3D printer actually is, their pros and cons, and also what you need to consider when buying one. We'll also show you the best CoreXy 3D printers that you can buy.
Summary: Best CoreXY 3D Printers
Best CoreXY 3D Printers
There are a lot of different 3D printers that are based on CoreXY available. We have whittled the list down to the 5 best CoreXY 3D printers.
The Two Trees Sapphire Pro is one of the most popular CoreXY 3D printers and it has built up a solid reputation as high quality but an affordable 3D printer machine.
The Pro version isn't going to break the bank while you can assembly this 3D printer in less than a couple of hours or so. It isn't actually that hard to get it up and running but there are a few parts that need careful attention. There is a decent community built up around the Sapphire Pro as well so you'll find various upgrades and mods for this printer.
Overall the Sapphire Pro from Two Tree's is a well-built machine that features a dual-drive extruder nozzle and precision linear rails (linear rail modification).
Pros
Affordable CoreXY 3D printer that produces high-quality prints
Dual-drive extruder and precision linear rails
Easy setup and plenty of additional online resources beyond the instruction manual
Active community for support, modifications, and upgrades
Cons
Accessing the print bead could be easier
Can be a bit noisy
Printer specifications
Build volume: 235 x 235 x 235 mm
Enclosure: Open
Drive Mechanism: Bowden
Filament diameter: 1.75mm
Connectivity: USB, TF-Card
Interface: Touchscreen
The Creativity 3D Elf Printer has a large build volume of 300 x 300 x 350mm and in terms of its costs, it is very competitively priced too.
This CoreXY 3D printer is also fairly quiet as well which is a bonus. In terms of actual operation, the touchscreen is handy and it is one of the easier 3D printers to get set up. Like all the CoreXY printers it does require some careful assembly.
It features power failure support so if you are in the middle of printing and suffer an unexpected outage, the printer can pick up where it left off. Overall this is a very good CoreXY 3D printer that certainly challenges some of the bigger names on the market.
Runner Up
Pros
Fairly easy to set up and can be assembled in around an hour
Large build volume which may be more suitable to our needs
Affordable CoreXY 3D printer
Doesn't produce a lot of noise
Cons
Some reports of the bed leveling springs being too short
Support options aren't as great as some other manufacturers
Printer specifications
Build volume: 300 x 300 x 350mm
Enclosure: Open
Drive Mechanism: Bowden
Filament diameter: 1.75mm
Connectivity: SD
Interface: Touchscreen
This is one of the larger CoreXY 3D printers and the Tronxy X5SA Pro is certainly worth consideration.
It comes with various great features which include an auto-bed leveling system, double-axis guide rail in addition to a filament runout sensor.
One thing to mention is that a lot of people have found that you need some modifications right away. While they shouldn't be too expensive, it is something to factor into the cost.
You'll find instructions to assemble this 3D printer but in all honesty, it is a bit harder than some of the others on this list. Getting support from the community isn't as readily available or widespread either but it is there. Overall, not a bad CoreXY 3D printer at all but one that does have a few drawbacks.
Easy to Use
Pros
Comes with a variety of great features
Solid CoreXY 3D printer at a decent price
Not a large community support but very helpful
User friendly once assembled and working properly
Cons
Assembly can be a bit tricky and can take a while
Needs modifications right away
Printer specifications
Build volume: 330 x 330 x 400 mm
Enclosure: Open
Drive Mechanism: Bowden
Filament diameter: 1.75mm
Connectivity: USB, SD Card
Interface: Touchscreen
We're going to finish off with the most expensive CoreXY 3D printer on our list – the Vivedino Troodon CoreX.
It is controlled by a WiFi board and has belts on the Z-axis which helps reduce wobbling and the effect this has on your 3D print runs. The printer dual drive extruder, filament runout sensor, and an auto-leveling feature. You'll also find a built-in HEPA filter with this CoreXY 3D printer as well.
The big upside to purchasing this printer is that you don't really need any modifications or upgrades. Some of the other printers do require some upgrades pretty much straight out of the box however the Troodon doesn't.
You get it fully assembled as well which is an added bonus however there isn't a big community around this 3D printer which could very well be down to its price tag.
Pros
A ton of features including a dual drive extruder, filament runout sensor, and an auto-leveling bed
Comes fully assembled so no need to spend hours putting it together
WiFi controlled and has a HEPA filter
No need for upgrades or mods out of the box
Cons
A lot more expensive than other printers on our list
Doesn't have a large community following
Printer specifications
Build volume: 300 x 300 x 400 mm (also 400 x 400 x 500 mm available)
Enclosure: Closed
Drive Mechanism: Bowden
Filament diameter: 1.75mm
Connectivity: WiFi
Interface: Touchscreen
What is a CoreXY 3D Printer?
Until 2013, most FDM 3D printers used what is known as a Cartesian design. This is a system that uses individual motors for each axis on the printer. So, the X and Y axes would be used for the nozzle while the print bed would move on the Z-axis.
A new system was then developed by MIT and it became known as CoreXY. The difference is that the belts on a CoreXY printer move in different planes so this reduces the impact on twisting when printing. The X and Y motors are kept in one place so the overall weight of the parts on the printer is reduced as well.
If you pull on the belt of the CoreXY 3D printer it will move the tool head at a 45-degree angle whereas on a Cartesian system this will move at zero or ninety degrees.
Using a CoreXY 3D printer has several advantages but there are also a couple of downsides too.
Advantages of CoreXY 3D Printers
Fast print speeds
Probably the biggest advantage of using a CoreXY 3D printer is that it allows for faster print speeds without reducing the quality of your objects.
It achieves this by having very little moving parts. Many other 3D printers have a moving gantry with stepper motors that move around during the printing process. This can result in vibrations which often cause issues with printing off high-quality models.
A CoreXY 3D printer has stationary stepper motors and the print bed itself will only move vertically. In actual fact, the only real part that moves with any speed is the tool head. So, there is less chance of vibrations and poor quality prints.
Smaller dimensions but the same build volume
Another advantage of using a CoreXY 3D printer is that the overall size and dimensions of the printer is pretty small. This is useful if you don't have a ton of space in which to house it.
This doesn't mean that the build volume is impacted. It achieves this by the fact that the print bed moves vertically. This is a feature that is also present on H-bot printers such as the Creality Ender 4.
On other FDM 3D printer designs, the base is about two times the size of the build volume. This is because the print bed needs to move back and forth – this isn't the case on a CoreXY. With a CoreXY printer, the printhead can freely move around the build plate so it doesn't need the extra space.
Open-source
The third big advantage of using a CoreXY 3D printer is that it is open source so it is compatible with a wide range of firmware and software.
Open-source 3D printers have been growing massively in popularity. The design and technology behind CoreXY printers mean that there are many open-source projects out there. People have been putting their own spin and modifications on these printers which have produced a variety of great results.
Disadvantages of CoreXY 3D Printers
Belt system
Not everything is rosy with CoreXY printers and there are a couple of downsides to telling you about. The belt system is one.
If the belts aren't aligned correctly on a CoreXY printer or if the tension isn't exact (too high or too low), this can cause a multitude of problems. This includes the accuracy of printers and mechanical malfunctions.
It is something to keep in mind because the way CoreXY printers work means that it is heavily reliant on the belts. This can result in higher maintenance costs and more time spent ensuring they are set up properly. If you are a beginner it can seem a bit daunting but with experience, it becomes less of an issue.
Frame
Another potential downside to using a CoreXY 3D printer is the frame. The frame needs to be a perfect square when it is assembled. If it is not, this can cause accuracy problems with your prints.
There are things you can do which will help negate any issues with the shape of the frame. This includes using a set square when assembling the CoreXY 3D printer and to add corner brackets to help maintain its shape.
If it is assembled correctly you shouldn't have any problems however it is a bit more work at the beginning to ensure accurate prints.
What to look for in a CoreXY 3D Printer
Before we get into our best CoreXY 3D printers that you can buy, there are a few things you should consider before you make a purchase.
Cost
Cost is a factor before buying any 3D printer. Even though the affordability of desktop and home models of 3D printers has improved massively, they can still be quite pricey.
If the initial cost is quite low you still need to think about any modifications, upgrades and additional parts you might need to buy. This can often bring up the overall cost of the printer quite considerably.
Support and community
If you are new to 3D printing or have very limited experience, having good support options is a must.
Depending on what CoreXY 3D printer you purchase, the level of community engagement around it can often be different. Look out for 3D printers that have a good maker and designer community because this can be imperative when it comes to getting modifications and upgrades.
Ease of use
Finally, something else to consider is how easy is the CoreXY 3D printer you are thinking of buying to use?
Even though many 3D printers have been aimed at the beginner market, some will be for more advanced users and have more complicated designs and features.
If you are just starting off with a 3D printer, don't get too far ahead of yourself and pay a lot of money for a printer that is hard to operate. Luckily many CoreXY printers do factor in ease of use to their design and operation but it is something to keep in mind.
FAQs
What is a CoreXY 3D Printer?
A CoreXY 3D printer differs from FDM printers with a Cartesian design. It features individual motors for each axis and the overall design is more complex. They are usually smaller overall too without sacrificing build volume.
Do CoreXY 3D printers provide good quality prints?
Yes. In fact, in many cases, they provide higher quality than many other FDM printers. This is because they don't have many moving parts so there is less room for wobbling and vibrations.
Are CoreXY 3D printers more expensive?
Not necessarily, in fact they are commonly considered as the cheap 3D printer option. They are often cheaper than many other FDM models and this is because many CoreXY 3D printers require more modifications and upgrades.
Is assembling a CoreXY 3D printer difficult?
It depends on the printer however overall they can be a bit harder than others. This is because the frame needs to be perfectly square. If it isn't it can cause printing problems. Some do come fully assembled but generally cost a lot more money.
Are CoreXY 3D printers easy to use?
For the most part, yes. They are easier to use than some other 3D printers and if you are a complete beginner you should be able to learn how to make quality prints fairly quickly. Some of these 3D printers often have large communities that can help out.
Which is the best CoreXY 3D Printer?
We've looked at the advantages and disadvantages of CoreXY 3D printers, had a glimpse at 5 of the best and their pros and cons – so which one do we choose?
I think all the CoreXY 3D printers we've mentioned do a very good job of offering high-quality models for an affordable price. OK, the Vivedino Troodon CoreXY is certainly on the pricey side compared to the rest. In saying that, it removes the need for assembly and upgrades right away so I suppose the extra cost is kind of worth it.
So, which one do I think is the best? I'm going to choose the Two Trees Sapphire Pro. It is one of the most popular CoreXY 3D printers on the market and not only does it provide high quality and precision prints, but it has also been tried and tested time and time again.
Some CoreXY 3D printers have a fairly limited community following but not the Sapphire Pro. There is a very active community on board to help and provide mods and upgrades for this printer.
There is a bit of assembly required that can take a while especially if you are new to CoreXY printers. That being said, its low cost, high-quality prints, and the fact that it is a well-known and respected device with a devout following edge it for me.
Further Reading on 3D Printers: