Latest posts by Jodie Chiffey
(see all)
Whether you're a 3D printing hobbyist or a small company, the task of working out which 3D printer is best for you can seem almost impossible with so many different options to choose from. Fortunately, this Modix Big 60 review and guide is a great place to start your research.
Not only will I discuss the various pros and cons of the Big 60, which is now in its third iteration, I will also help you understand how it compares to other similar printers on the market.
By the end of this review, you'll have a clearer picture of the strengths and weaknesses of this 3D printer, allowing you to decide whether it suits your particular needs and budget. I'll also include some other models which are worth considering to help you find one that fulfills all your necessary criteria.
If you're a beginner or don't have much 3D printing experience, investing in a smaller and cheaper model might be worthwhile to get some practice before progressing to the Big 60. Our 3D printing glossary is also helpful in familiarizing yourself with technical terminology.
That being said, the Big 60 is generally easy to use and produces high-quality prints, so if you know that you need a large-format printer, then this is an option to consider.
Before we dive into the details of the Big 60, first, let's get to know Modix as a company.
Modix: An Overview
Founded in 2014, Modix is a Tel-Aviv-based 3D printing company known for offering large-scale 3D printers with big print volumes. The company prides itself on providing premium components and the highest quality prints. Its first-ever 3D printer was the Agam, a machine that is still widely used in schools, academia, and service centers.
Modix made the decision to move towards developing larger scale printers in 2016, and in 2021 it unveiled the Modix Mama at a tradeshow, a printer which is so large it could 3D print objects the size of a car.
All models from Modix use fused filament fabrication (FFF) or fused deposition modeling (FDM) technology and arrive as a self-assembly kit.
Hopefully, if you're shopping for a 3D printer, you know what your requirements are and have some idea what kind of size or style you're looking for. If not, I'd recommend making a list before you do any more research – this will help you narrow down which printers are worth considering and which ones simply aren't right for you.
Below, I've listed the Big 60's key specifications so you can check them off against your list.
| | |
| --- | --- |
| Print Volume | 600 x 600 x 660 |
| Mechanical Arrangement | Core XY |
| Feeder System | Direct drive |
| Nozzle Size | 0.4 mm |
| Bed Leveling | Automatic |
| Connectivity | SD card, USB, WiFi |
| Frame | Aluminum |
| Machine Size | 906 x 1060 x 1356 mm |
| Shipping Weight | 140kg |
| Latest price | Click here to find the latest price |
Core Features of Modix Big 60
As I mentioned earlier, the Big 60 is now on its third iteration, and some big changes were made between version 2 and version 3. The most notable of these changes is the increased print volume size, which was already larger than that of many 3D printers, but now sits at 600 x 600 x 660.
When you take into account the build volume and the quality of the prints that this machine produces, it's very affordably priced. So, what features does it offer? Let's take a look.
Brand new extruder
This version of the Big 60 boasts an A3D Aero direct extruder, as well as a Volcano V6 hot end. What are the benefits of this, you might ask? Well, it has a considerably larger but much shorter heat sink and a 40mm cooling fan, both of which work together to prevent clogs.
Essentially, this means the printing process is usually painless and a lot more streamlined than you'd get with other 3D printers.
Adjustable temperature
One of the things I really like about this printer is the fact that the temperature can be increased from 285 degrees to 500. As a result, the Big 60 has multiple applications; it can be used by hobbyists and industry professionals alike.
The higher temperature setting means that industrial-grade materials can be used in the printing process, demonstrating just how versatile and sturdy this printer is.
Improved design
Instead of the previously used MGN rails, the Big 60's axes use new MGW motion rails, which are wider and offer increased accuracy and smoothness. In addition, it has four, rather than three, ball-screws on the Z-axis, and Modix has also made an effort to improve cable management by resting the print head wiring and drag chain on the Y-axis.
Finally, it's worth noting that the optional enclosure is made of 3mm aluminum composite panels, offering improved noise and thermal insulation compared to the V2's acrylic sheets.
Touchscreen
I struggle to enjoy using 3D printers which don't incorporate a touchscreen somewhere in their design; thankfully, this isn't the case with the Big 60. Instead, it comes with an impressive 7-inch touchscreen, allowing users to view printing progress in real-time, and thanks to the printer's WiFi connectivity, you can operate it remotely through your phone or laptop.
In terms of electronics, the Big 60 comes with a 32-bit board which provides a range of helpful features, including the resume print function for power outages and pause print function for thermal runaways.
Other features:
Dual-zone silicone heater allows users to adapt the print bed heat depending on the size of the object that's being heated.
Automatic leveling – the print bed is probed by the system at 100 different points.
The end-of-filament sensor provides a warning when the spool is almost out of filament.
How does Modix Big 60 perform?
The Modix Big 60 is the largest 3D printer I've used, so I was a little apprehensive about the assembly process. Fortunately, the printer comes neatly packaged and, despite its size, is actually fairly straightforward to assemble – even for someone like myself who isn't hugely practical. The whole process took me less than a day.
Modix really takes pride in the quality of its components, and this shines through when you assemble the Big 60. It's a sturdy machine that is made from parts that have evidently been designed to last, unlike some other 3D printers on the market, which seem a lot more fragile.
A word of warning would be to follow the assembly instructions closely, especially when it comes to mounting the nozzle; failure to do so will likely result in serious blockages.
Once you've got the Big 60 set up and you've completed a few prints to get the hang of things, you'll be able to produce extremely high-quality outcomes with ease.
One of the best things about this printer is undoubtedly the control interface, which is available through the machine's touchscreen and through remote access thanks to wireless connectivity.
Plus, according to your needs, almost all parts of the Big 60 can be upgraded or modified for better performance.
Pros of Modix Big 60
This is a high-quality 3D printer – there's no doubt about that. But what exactly is so great about it? Below, I've listed its most impressive pros.
Affordable price
The Modix Big 60 is a big printer, and it's renowned for being built from the highest quality parts. Naturally, then, you'd expect it to come with a fairly sizable price tag.
Fortunately, that isn't the case at all. Considering what this printer offers, whether you're using it as a hobby or as part of an industry, it doesn't cost as much as you'd expect. In fact, it's very reasonably priced, meaning that large-scale prints are accessible to more people than ever before.
High-quality prints
Thanks to high precision over the Z-axis, the prints produced by the Big 60 are of very high quality, with a nice surface finish.
Upgradable parts
The Big 60 has a modular design, which means that you can upgrade different parts if you're not satisfied with the default components it arrives with.
Modix offers lots of different high-quality parts on its website, so you can make the printer entirely your own, which is particularly great if you're using it in an industrial setting and need to meet particular specifications.
Use with any software
Modix doesn't have any proprietary slicing software, which leaves you free to choose your own. The good news is that the Big 60 is compatible with most software, again proving just how versatile a printer it is.
If you need advice about which software to use, check out our guide to the best 3D modeling software.
Rigid frame
With some 3D printers I've used in the past, their frames have been thin and didn't give the impression that the machine was particularly sturdy, which is the last thing you want when you've just spent a few thousand dollars on the thing.
Thankfully, that's not at all the case with the Big 60. Instead, it comes with a strong, rigid frame demonstrating that this is the kind of machine that can keep up with even industrial levels of printing.
Cons of Modix Big 60
There's no hiding the fact that I'm a fan of this printer, and there truly aren't many flaws to be found in its design or function. Nevertheless, I want to give as clear a picture as possible of the Big 60, including the cons that I picked up on.
Lengthy assembly process
I'll start by saying that, despite its size, the Modix 60 is fairly easy to assemble if you follow the instructions closely. However, the whole process of putting it together is lengthy, so if you don't have much time on your hands and want to get printing quickly, this is a real downside.
Open design
I'm not a huge fan of the fact that this printer has an open design by default, but this concern is easily allayed by the fact that you can purchase a cage from Modix separately, so at least the option is there.
Lack of speed
This printer isn't slow per-se, but there are definitely others out there that get the job done faster. Few offer quality as high as the Big 60, but still, if you know that you require a fast printer, this aspect of its design will be somewhat of a disappointment.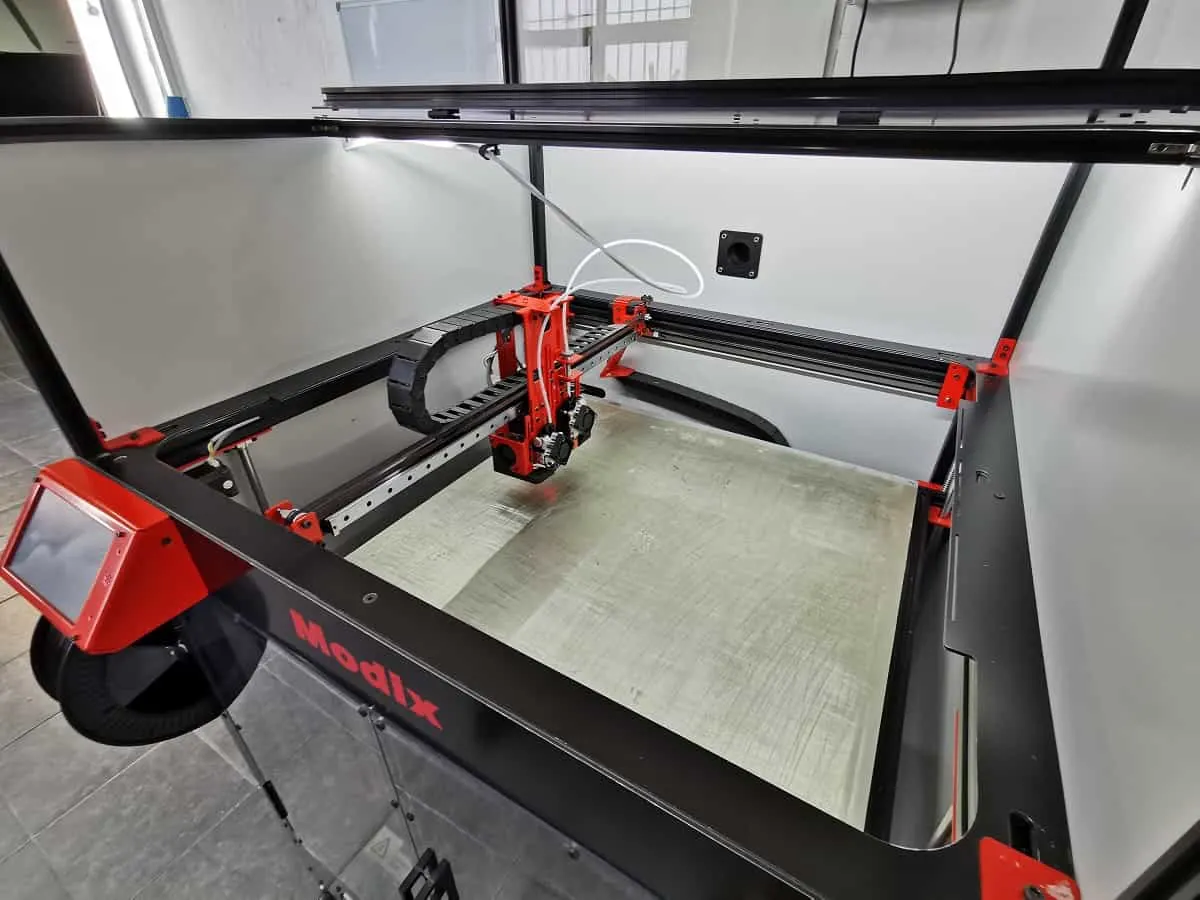 Are there any alternatives?
Whether you've already decided that the Modix Big 60 isn't quite right for you, or you just want to do a bit of shopping around, there are plenty of other 3D printers out there that are worth exploring.
In fact, there's something for every budget and every purpose; nowadays, you don't need to compromise, and with a little research, you can find the perfect printer. Read on to find out which ones I'd recommend looking into.
Creality Ender 4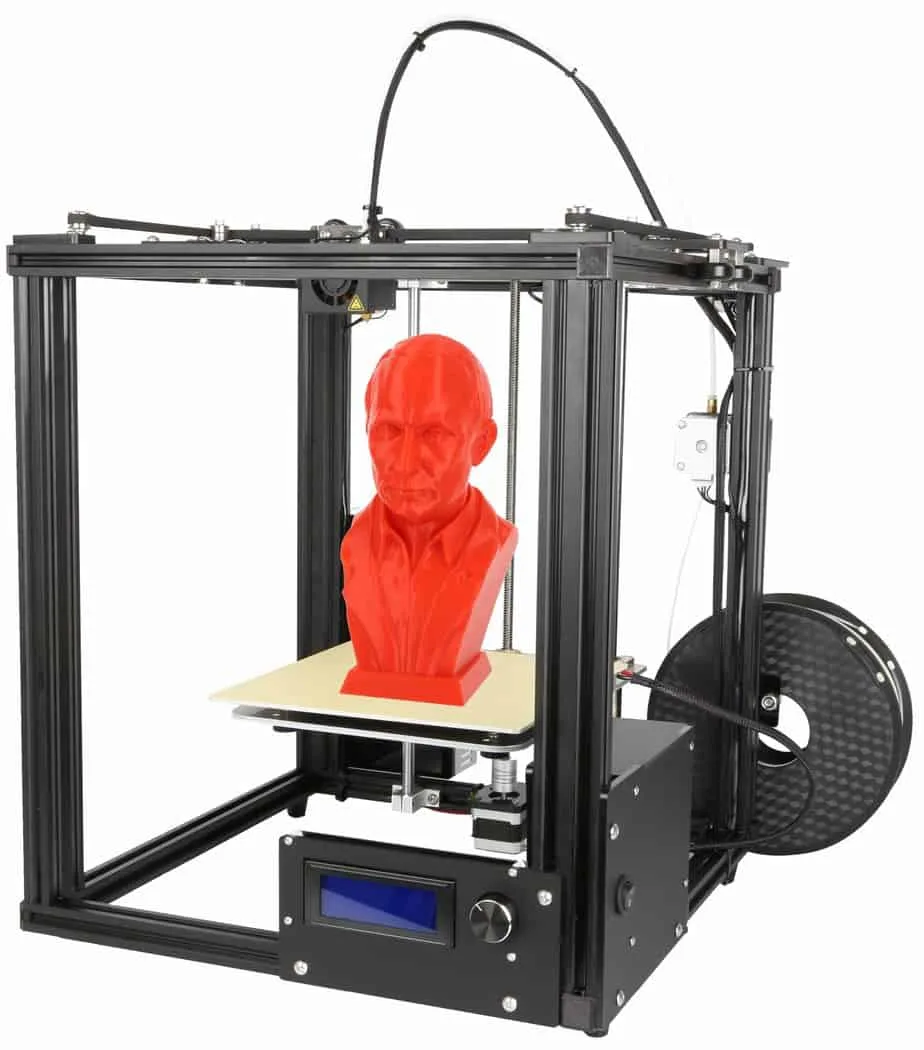 It takes a lot for a 3D printer to gain the kind of momentum that the Creality Ender 4 has managed to generate, but its popularity is undeniable, and it isn't hard to see why.
The Ender 4 is a seriously cheap printer, which is great news if you're working with a tight budget, but if you had to guess the price, you'd probably come up with a figure that's much higher than reality. Why? Because this printer does everything you could want and more.
As with the Big 60, you build the Ender 4 straight from the box, but because it's a smaller printer, this is a much faster process. Once you've got it up and running, the Ender 4 is extremely user-friendly, boasting an LCD and easy access to the print bed.
Moreover, this printer is also highly customizable. It has a swappable nozzle that allows you to adjust the diameter, and this also means you can print using a wide range of filaments.
With the Creality Ender 4, you get a lot for your money, whether you're a beginner or have a little more experience under your belt, which is why I'd definitely recommend it to anyone looking to purchase a new 3D printer.
3D Systems Cube 3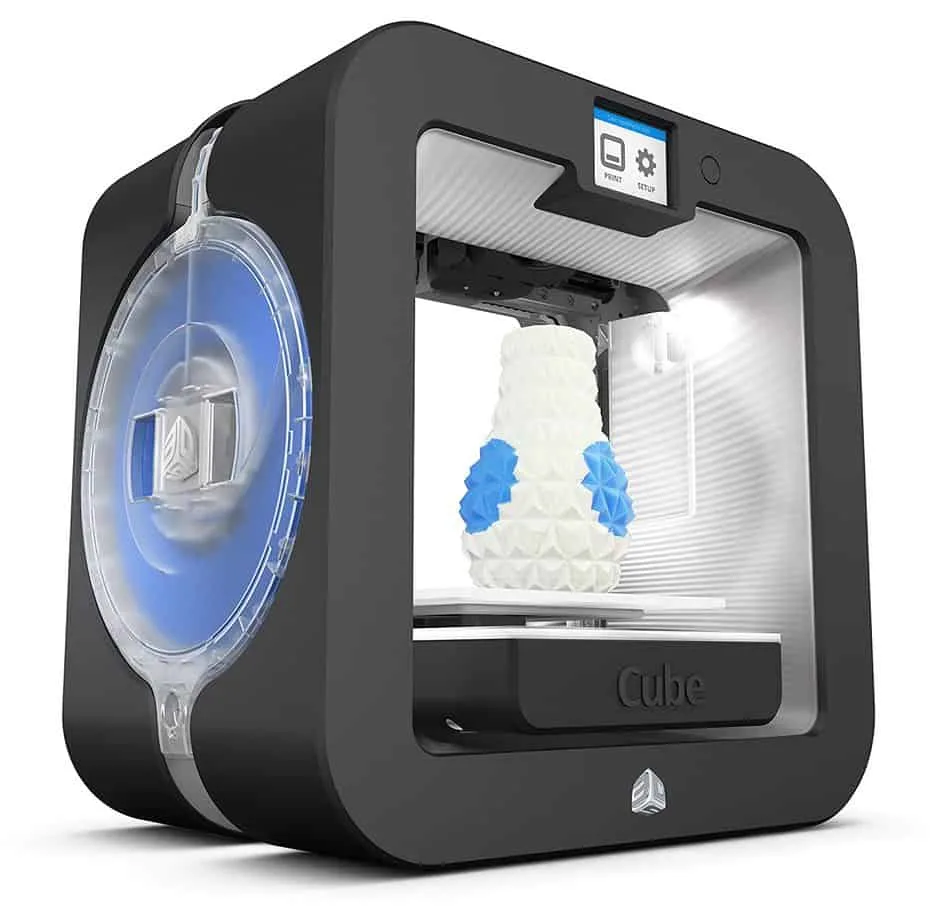 If you're looking for something a little bit different, the 3D Systems Cube 3 might just be it.
This mid-range printer boasts a minimalistic design, but disguised within that futuristic simplicity are a lot of fantastic features which make using the Cube 3 a real joy.
One such feature is the inclusion of two extruders rather than one, meaning you can decide whether to create prints that incorporate two different colors or even print using two different materials.
As you might have worked out by now, the Cube 3 aims to please, and as such, it offers wireless connectivity, automatic print head calibration, and a 2.5-inch top-mounted touchscreen, all at a very reasonable price point.
The Cube 3 is one of the best options on the market for basic printing jobs, especially if you're still getting to grips with 3D printing.
MakerGear Ultra One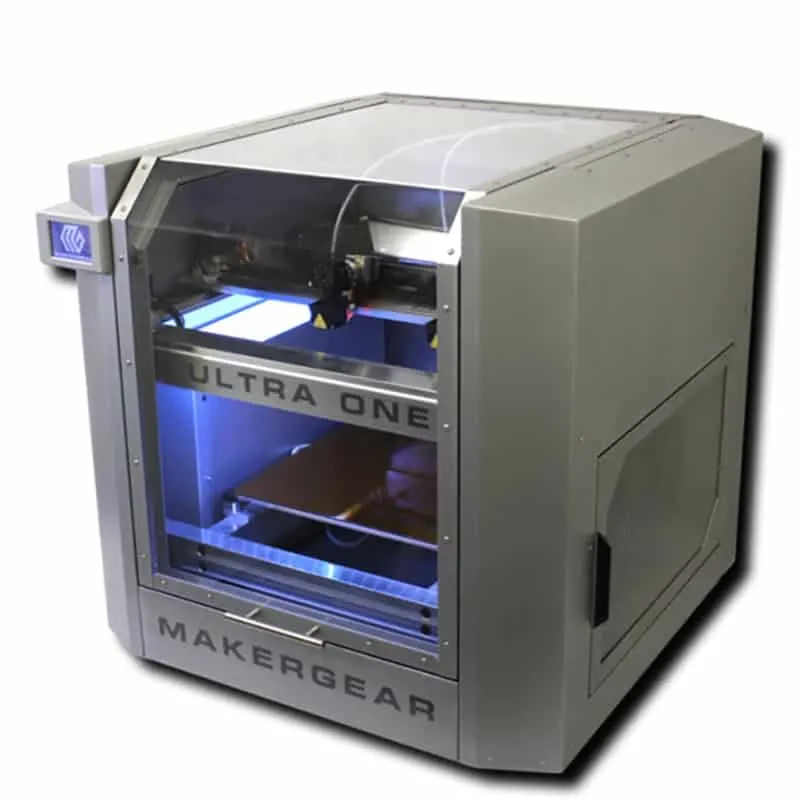 This recommendation is for those who are interested in 3D printers with industrial capabilities. While the Big 60 sits somewhere between personal and professional use, the MakerGear Ultra One was specifically designed for use in industrial markets, as well as other business and education purposes.
With a build volume of 16 x 14 x 13 inches, the Ultra One works with a variety of filaments and is capable of printing a variety of engineering-grade models and large-scale prints.
Furthermore, this 3D printer has an independent dual extruder system (IDEX), facilitating multi-material printing. Other features include touch probe leveling, WiFi connectivity; an LCD screen; Simplify3D software; and OctoPrint fitted specifically for MakerGear.
Frequently Asked Questions
Question: What's the difference between Big 60 Version 2 and Version 3?
Answer:
• The print volume of Version 3 is 10% bigger than that of Version 2.
• Version 3 incorporates Duet 2 WiFi, a powerful Controller made in the UK, whereas the older version doesn't.
• Version 3 includes a 7-inch touchscreen with web access from computers and mobile phones, whereas Version 2's user interface consisted of LCD, USB cable to PC, and SD card.
Question: Does Modix Big 60 come with a warranty?
Answer: You'll be pleased to know that the answer is yes. The price you pay includes a 12-month warranty and lifetime support. However, the warranty doesn't include degradable (PEI sheet and nozzles) and consumables.
Question: How fast does the Modix Big 60 print?
Answer: The Big 60 Prints at a speed 180 mm/s.
Final thoughts
Let's get real for a second: if you're just learning how to 3D print, the Modix Big 60 probably isn't the printer for you. There are plenty of entry-level 3D printers at an affordable price that will allow you to learn the craft and progress without getting bogged down by the difficulties of owning a printer this large.
In fact, we have a guide to 3D printing terminology that will help you learn about the key terms you'll hear used a lot in reviews like this.
However, if you're an experienced 3D printer looking for a new challenge or to take your prints to the next level, this is an epic machine that I would wholeheartedly recommend. Likewise, its industrial capabilities mean it can keep up in the workplace too.
The thing about the Big 60 is that it has clearly been designed for enthusiasts; it's ultra customizable and probably one of the most versatile printers out there. Putting it together is definitely a labor of love, but this just means you can get to know the machine a bit better.
Considering its size, ease of use, and the quality of prints that it produces, the Modix Big 60 provides unbeatable value for money.
Recommended reading: