Latest posts by Jodie Chiffey
(see all)
LulzBot is a popular American-based 3D printer manufacturer that produces a range of printers for domestic and industrial use. In my guide on finding the best LulzBot 3D printers, I will list and review the top models on the market to help you make your decision
I'll explore some features you should look at before purchasing a 3D printer, list the top LulzBot printers, and answer some common questions at the end.
If you want a quick overview of the LulzBot 3D printers that have made my list, have a look at the table below.
At a Glance: 6 Best LulzBot 3D Printers
| | | | | |
| --- | --- | --- | --- | --- |
| 3D Printer | Best for | Max Extruder Temperature | Build Volume | Check the latest price |
| LulzBot TAZ Workhorse | Best overall LulzBot 3D printer | 554°F (290°C) | 280 mm x 280 mm x 285 mm | Check the latest price |
| LulzBot Mini 2 | Best mid-range LulzBot 3D printer | 554°F (290°C) | 160 mm x 160 mm x 180 mm | Check the latest price |
| TAZ SideKick 747 | Best beginner-friendly LulzBot 3D printer | 554°F (290°C) | 231mm x 231mm x 248mm | Check the latest price |
| LulzBot TAZ SideKick 289 | Best budget Lulzbot 3D Printer | 554°F (290°C) | 162mm x 162mm x 181mm | Check the latest price |
| LulzBot TAZ Pro XT | Best industrial LulzBot 3D Printer | 554°F (290°C) | 280 mm x 280 mm x 586 mm | Check the latest price |
| LulzBot TAZ Pro S | Best LulzBot 3D printer for 1.75mm filament compatibility | 554°F (290°C) | 280 x 280 x 285 mm | Check the latest price |
Who is LulzBot?
LulzBot is one of the biggest 3D printer manufacturers, and you can find and purchase its products in many countries globally. They were founded in 2011 in Loveland, Colorado, although they are now headquartered in Fargo, North Dakota.
They provide printers to various organizations, including large multinational companies, small businesses, and individuals.
One of the defining features of Lulzbot printers is their open-source technology which provides a wealth of possibilities for modifying and upgrading.
What to Look for in LulzBot 3D Printers?
LulzBot offers a wide range of different 3D printers and I think it is useful to show you some things you need to take into consideration before you buy.
Extruder Temperature
The extruder temperature is one of the most important things to look at when buying a 3D printer, as it will determine how well your device will work with different filaments.
For most common filaments, such as PLA and other plastics, an extruder temperature of 350 – 450°F (180 to 230 °C) is best. This temperature range will allow you to work with the vast majority of filament types and be able to print objects to a high standard.
Certain materials such as PETG and nylon require a higher temperature setting.
Upgrades
LulzBot is one of the prominent manufacturers of open-source 3D printers, and they are committed to providing an open-source hardware environment for their users.
This provides fantastic opportunities for upgrading and modifying your LulzBot 3D printer. However, LulzBot also produces upgrades for their printers to expand the overall functionality. So, you need to consider what functionality you want from a 3D printer and if there is a suitable upgraded part or addon available for that model that you can add later on.
For example, their dual extruder upgrades are only compatible with the LulzBot TAZ 5/6, while other upgrades are compatible with a broader range of LulzBot printers.
Build Volume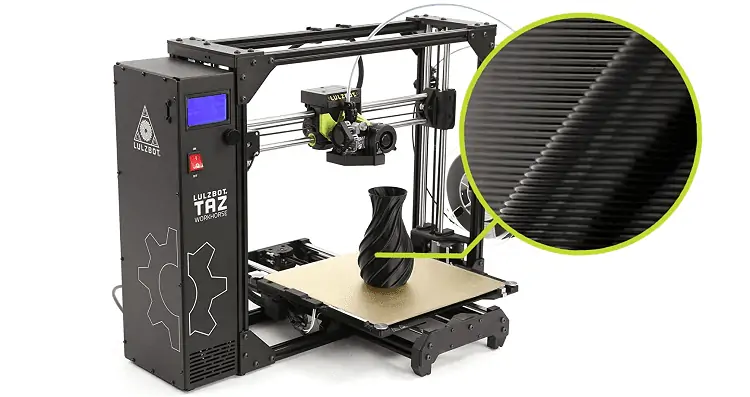 The build volume is an important feature of any 3D printer as it determines the size of the objects you can print.
If you need a 3D printer for miniatures, you probably don't require a massive build volume, and looking for a LulzBot printer with a smaller build space will be more suitable. However, if you plan on producing larger objects and models, you will probably need a larger build volume.
Think about what you will be predominately printing on your 3D printer, and choose an appropriate build volume for this.
Cost
The cost can be a big factor in the model of the LulzBot 3D printer that you choose to buy.
Luckily, LulzBot offers affordable 3D printers and those aimed at professionals and businesses. So, if you need a cheap 3D printer as a hobbyist, you can undoubtedly find one from LulzBot, and similarly, if you have money to spend as a business, you can find an industrial-grade model.
Set yourself a budget and look at the LulzBot printers within that pricing range. This ensures you won't overspend. Also, you should consider any upgrades, modifications, and the cost of filament when setting your budget.
Selection Criteria
LulzBot makes a range of 3D printers, so to ensure that only their best models made my list, I have applied some criteria. Some of the things I used to filter my list to the best LulzBot printers included:
Build volume – I have included 3D printers with different build volumes to ensure that there is a size for everyone regardless of whether you are printing small objects are larger models.
Cost – I have included a budget option that most people who are looking to buy a new 3D printer can afford, as well as more expensive models for businesses.
Professional and home users – My list has a mix of LulzBot 3D printers both for professional industrial use and those aimed at hobbyists and beginners.
6 Best LulzBot 3D printers in 2022
LulzBot produces many fantastic 3D printers, here are my top picks that you can buy..
LulzBot TAZ Workhorse – Best Overall LulzBot 3D Printer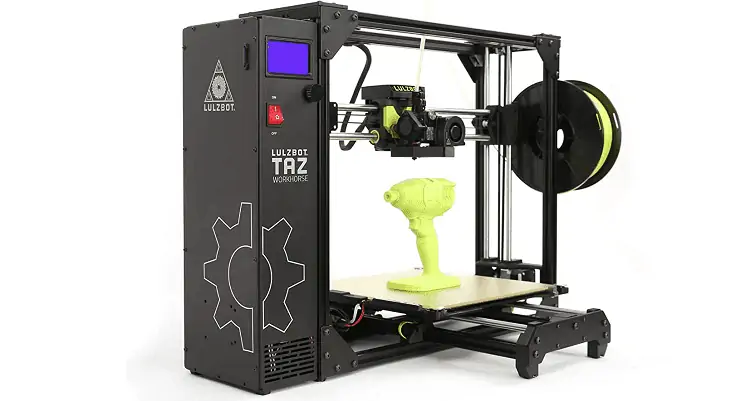 My top pick for the best overall LulzBot 3D printer is the LulzBot TAZ Workhorse.
This is an impressive printer with a brilliant build volume of 280 x 280 x 285mm, 14% larger than the TAZ 6. While the printer is aimed at designers, engineers, and other professionals, it acts as a superb 3D printer for home use if you can afford the price.
The max extruder temperature means that this printer can work with many different filaments, including ABS, Nylon, Polycarbonate, and TPU. Overall it is quite an easy printer to get to grips with as it offers a 3.2″ LCD screen, automatic nozzle cleaning, and automatic bed leveling.
One thing that is noticeably missing from the TAZ Workhorse is filament run-out detection. Also, the printer is defaulted to work with 2.85mm filaments; however, you can print the more standard 1.75mm filament size by purchasing a separate tool head.
This LulzBot printer has a lot of good points and minimal downsides. If you want a reliable, high-quality 3D printer from LulzBot that performs admirably for hobbyists and professionals, this is the one.
You can read my full review of this 3D printer here.
Pros
Large build volume
Can print with different materials
Easy to use and has SD and USB connectivity
Perfect for professionals and hobbyists
Cons
No filament run-out detection
Will need another tool head to print different filament sizes
LulzBot Mini 2 – Best Mid-range LulzBot 3D Printers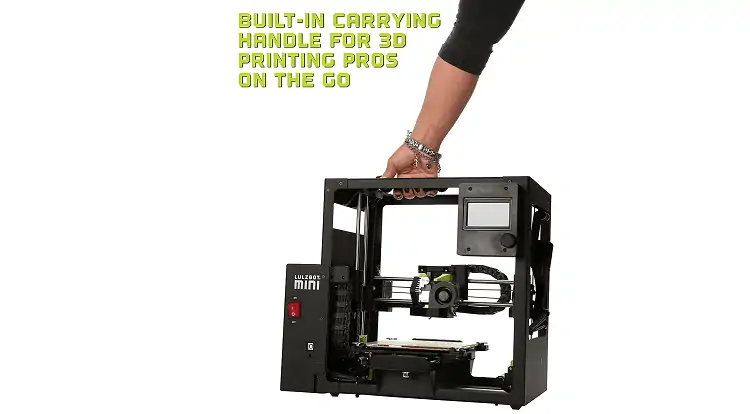 If you have some money to spend on a new 3D printer, but you either don't want an industrial model or one at the lower end of the pricing scale, the LulzBot Mini 2 is the answer.
This is my pick for a reliable and efficient mid-range LulzBot 3D printer.
The Mini 2 is an excellent compact desktop printer that would fit well in a small space, mainly if you are using this at home. The printer doesn't give off much noise at all when in operation, and like many LulzBot 3D printers, it is easy to use for beginners.
The Cura software is perfect for beginners as it features many different preset settings, which allow you to get cracking with your new printer right away. The Mini 2 isn't compatible with a dual extruder upgrade, limiting its potential, particularly if you want to print in multi colors in the future.
Pros
Very reliable and efficient mid-range 3D printer
Quiet when in operation
Good features for beginners
Compact and small
Cons
Limited upgrade potential particularly for a dual extruder
Build volume might be a bit small
LulzBot TAZ SideKick 747 – Best Beginner-friendly LulzBot 3D Printers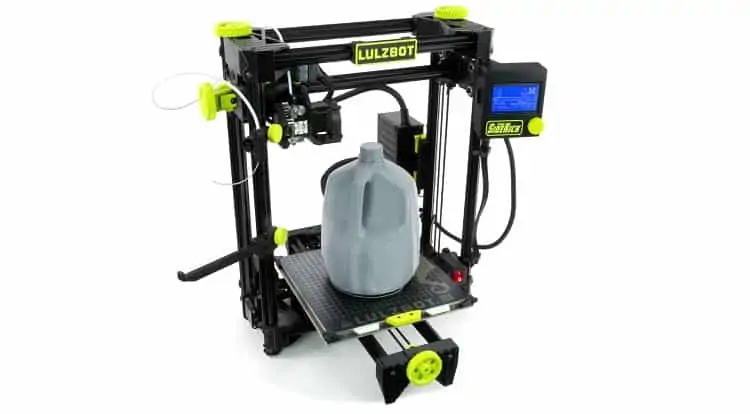 Pretty much all of LulzBots 3D printers are user-friendly, but if you want a good budget option that also offers a beginner-friendly experience, go for the LulzBot TAZ SideKick 747.
This printer is a slight step up from the SideKick 289, which I will look at below, and offers many great features which make your entry into the 3D printing world a breeze. This includes an authentic plug-and-play design that doesn't require complex assembly or setup processes. You can just plug this printer in and start producing high-quality models.
Also, it is very configurable before checkout, so you can easily add in or take out what you need.
While this printer won't compete with many higher-end LulzBot models, the print quality is still high. For home users and those who want an easy way into 3D printing, LulzBot TAZ SideKick 747 should be on your radar.
Pros
Very beginner-friendly and easy to use
Offers configurable options before you buy
Produces high-quality models
Cons
Doesn't compete with the higher-end LulzBot 3D printers
LulzBot TAZ SideKick 289 – Best Budget LulzBot 3D Printer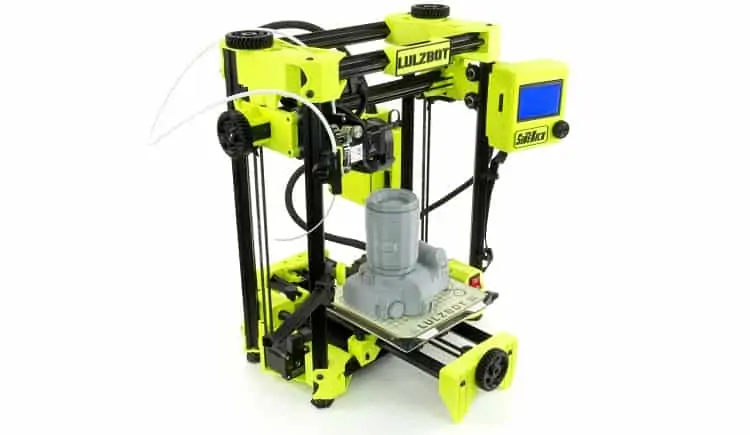 If you are on a strict budget, the LulzBot TAZ SideKick 289 is an ideal choice that will allow you to get a high-performing 3D printer for a relatively low price.
This 3D printer is very much a plug-and-play model, so it is perfect for beginners who just want to experiment with 3D printing. There is no complicated assembly or setup involved with the TAZ SideKick 289, and it comes packed with great features for you to create high-quality prints.
The 162mm x 162mm x 181mm build volume is pretty decent, and, like all LulzBot printers, you can work with various filament types. Even though this is a budget printer, its open-source design means you can upgrade and modify it if you wish, and there are different configurable options you can choose before you buy.
This printer doesn't have a touchscreen interface, and the build volume could be larger; however, for the price, it represents an excellent investment for home users.
Pros
Offers high quality prints and reliability
Ideal for those who are on a budget
Works with different filament types
Cons
No touchscreen interface
Might not suit professionals
LulzBot TAZ Pro XT – Best Industrial LulzBot 3D Printer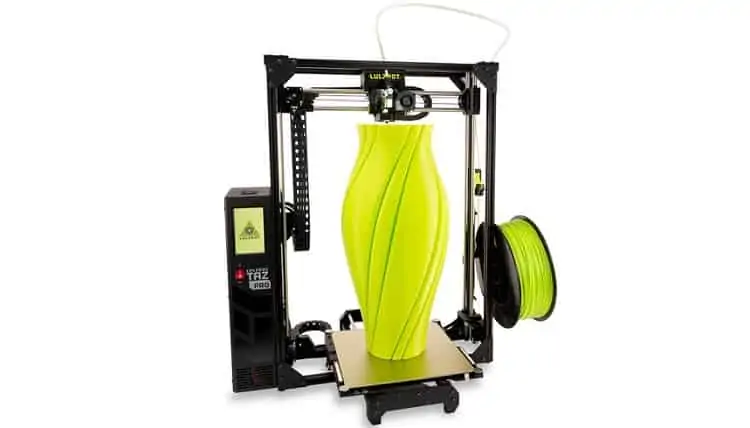 The LulzBot TAZ Pro XT is the most expensive 3D printer on my list and probably isn't suited for home users; however, it is my pick as the best industrial model.
The LulzBot TAZ Pro XT offers an exceptional build volume of 280 mm x 280 mm x 586 mm, perfect for printing large objects on an industrial scale. Also, the printer is highly reliable, and it can easily be upgraded to a dual extruder model if you wish.
The printer works with 2.85 mm as standard, but you can use a different tool head for all filament types. The speed, reliability, and build volume are the main features of this printer, which makes it a professional 3D printer.
Some other things I like about the TAZ Pro XT are the auto-leveling, automatic nozzle cleaning, and fairly low noise. The price will put it out of many peoples' budgets, but for professional use, it is a stellar choice.
Pros
Heavy-duty 3D printer for industrial use
Offers a large build volume and varied filament compatibility
Can be upgraded with a dual extruder
Speedy and reliable
Cons
The cost will be out of most peoples' reach
LulzBot Taz Pro S – Best LulzBot 3D Printers for 1.75mm Filament Compatibility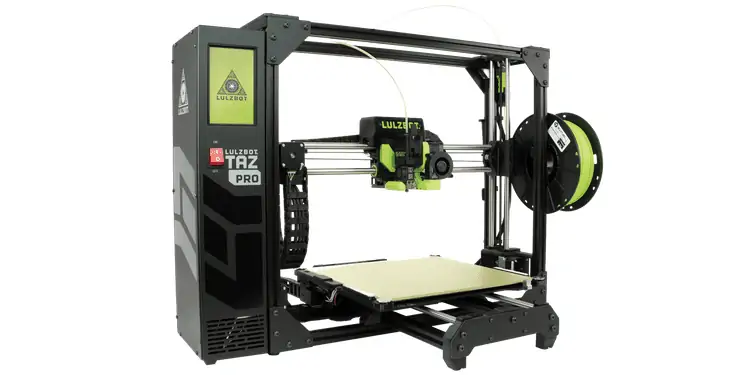 All LulzBot 3D printers can work with 1.75mm filament; however, for most printers, you need to purchase an additional tool head. The LulzBot Taz Pro S is different as it is ready to use 1.75mm straight out of the box.
Like the Taz Pro XT, this robust and reliable 3D printer is aimed more at professionals than hobbyists and beginners, and you can see this in the price tag. For most people, the cost of this printer is going to be out of their budget, but for business and industrial use, the Tax Pro S performs admirably.
It comes with all the features you require for a reliable and quick print job that still produces high-quality results. The filament runout detection is a nice addition as is the 5″ full-color touch screen for easy operation. The preset profiles allow you to print with over 35 filament types straight away.
Given the price, I would have liked WiFi connectivity as standard, but it is a slight downside on an otherwise superb printer.
Pros
Heavy-duty professional grade 3D printer
Works with 1.75mm filament as standard
Can be upgraded and modified
5″ full-color touch screen and varied filament compatibility
Cons
No WiFi connectivity out of the box
Frequently Asked Questions about LulzBot 3D printers
Question: Are LulzBot a Good 3D Printer Manufacturer?
Answer: Yes. LulzBot have been around for over a decade and they produce a varied range of 3D printers for all budgets and needs.
Question: Do LulzBot Offer Industrial 3D Printers?
Answer: Yes. LulzBot has several 3D printer options primarily to print on an industrial scale. This includes the LulzBot TAZ Pro XT, which has a huge build volume, exceptional reliability and is still affordable for business and professional use.
Question: What Filament Can LulzBot 3D Printers Use?
Answer: LulzBot 3D printers have a high extruder temperature, which means they can work with various filaments. This includes ABS, Nylon, Polycarbonate, TPU, and many others.
Question: Is it Easy to Operate a LulzBot 3D Printer?
Answer: Most LulzBot 3D printers are very user-friendly. They all have certain features which are perfect for beginners to get to grips with 3D printing, although the LulzBot TAZ SideKick 747 is the top beginner-friendly model from this company.
Question: What LulzBot 3D Printer Has the Largest Build Volume?
Answer: The LulzBot 3D printer with the largest build volume is the LulzBot TAZ Pro XT. This printer offers an impressive build volume of 280 mm x 280 mm x 586 mm, and it is designed for industrial use.
Which is the Best LulzBot 3D Printer?
My top choice, if you want to buy a LulzBot 3D printer, is the LulzBot TAZ Workhorse.
Aside from the lack of a filament run-out detection and the need to buy another tool head to use 1.75mm filament, this is a stand-out printer that offers excellent performance.
The large build volume is perfect for printing small and larger objects. At the same time, the high extruder temperature allows you to work with many different filaments, including ABS, Nylon, Polycarbonate, and TPU.
It is beginner-friendly, packed with features, as well as being a reliable performer, and it is hard to go wrong with the LulzBot TAZ Workhorse.