Latest posts by Jodie Chiffey
(see all)
If you're looking for a 3D printer but don't know which one to buy or even what to look for in a good model, this Prusa SL1 review and guide will help you with your research, covering everything you need to know.
Whether you're completely new to the world of 3D printing (check out our glossary here) or you already have some experience, reading reviews is an important part of the decision-making process when it comes to purchasing a new printer.
That's why in this guide, I'm going to discuss all of the pros and cons of the Prusa SL1S, as well as a few alternatives that you might want to consider. That way, you can make an informed decision about which product is best for you, your needs, and your budget.
So, before we dive into the specifics of the Prusa SL1, let's quickly take a look at Prusa as a company.
Prusa 3D Printing: A Brief Overview
As you might already know or have guessed, Prusa is a Czech 3D printing company that was founded in 2009 as a one-man startup.
It was created by Josef Prusa, and what started as a hobby for Josef quickly turned into a business. Prusa makes more than just 3D printers, however, the company also makes software and carries out research.
If you're into 3D printing, Prusa also has a community maker space that is open to everybody for a low monthly membership fee. If you ever visit Czechoslovakia, it might be worth stopping by to see if you can look around!
Alternatively, find out about 3D printing courses.
Key specifications of Prusa SL1
You can find the specifications for the Prusa SL1S below.
| | |
| --- | --- |
| Display type | LCD |
| Top print resolution | 25 microns |
| Materials supported | Resin |
| Number of print colors | 1 |
| Maximum Build Area (HWD) | 5.9 by 4.7 by 2.6 inches |
| Dimensions (HWD) | 15.7 by 8.8 by 9.3 inches |
| Weight | 9lbs |
| Built-in 3D scanner? | No |
| Latest price | Click here to find the latest price |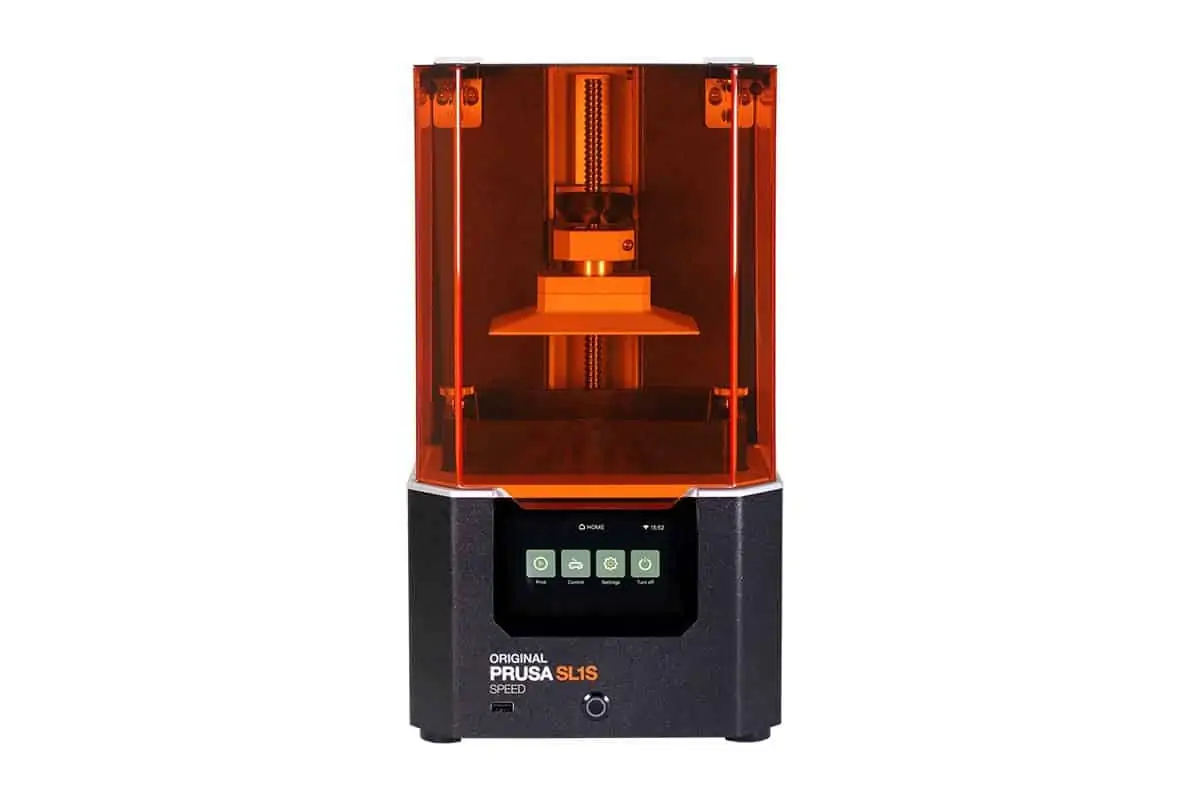 Prusa manufactures a number of 3D printers; however, the SL1 is the original. It's based on stereolithography printing technology rather than Prusa's traditional filament method.
Due to Prusa's adoption of this new approach, the SL1 has a translucent orange hood that's designed to protect the resin from being exposed to UV prematurely, as this could cause it to harden.
Sturdy design
3D printers are pretty expensive pieces of equipment, so the last thing you want is for yours to break when you've just spent thousands of dollars on it.
Fortunately, the Prusa SL1 is extremely sturdy. It has a rigid aluminum frame core and a separate body. Moreover, the Trinamic driver (previously used with great success in the MK3) is well built, making this overall a well-designed product that isn't too heavy yet certainly isn't easy to break or damage.
Motor tilted vat
This is a small but important feature. The Prusa SL1 features a motor that gently tilts the vat following each layer change, separating the print from the FEP film. This reduces the tension exerted on the print by a considerable amount.
Tilting the tank has another positive effect, too. It means the resin is continuously stirred, resulting in a better surface finish and overall print quality.
Fast print times
Because the Prusa SL1 is an MSLA, rather than just SLA, 3D printer, it can offer much faster print times. Why? Well, both types use UV to solidify the resin, but MSLA does this to a whole layer at a time rather than the traditional point-on-point technique of SLA printers.
That being said, there is a minor downside to this, which is that the pixel size of the LCD photomask ultimately defines the granularity of a particular print.
Color touchscreen
Traditionally, Prusa printers featured a click wheel knob that required you to scroll through the menu. With the SL1, all of that has changed – the click wheel has been ditched for an impressive color touchscreen.
Thanks to this change, it's easy to find files with just a few taps. Furthermore, the user interface allows you to access useful information during the printing process, including how much resin has been used and how long the printing will take.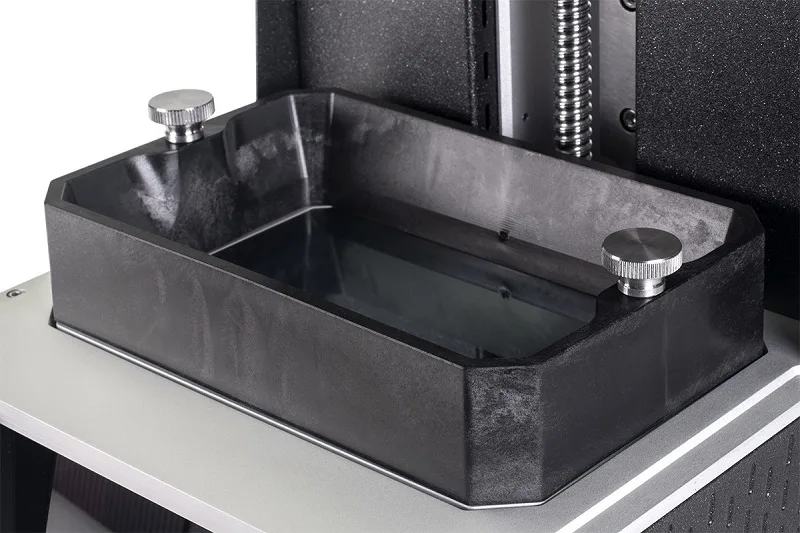 Intuitive and thoughtful design
The SL1 makes clear that Prusa knows what it's doing when it comes to 3D printers. The whole design has been incredibly well thought out and includes several features that put it ahead of the competition.
The in-built resin sensor is one salient example. It informs you if a print is likely to run out of resin mid-way through, which can play an essential role in preventing printing disasters!
Likewise, the manual fill level indicator allows you to top up whenever needed without overfilling the resin.
Connectivity options
One of the most important improvements that Prusa has made with the SL1 is the introduction of WiFi connectivity in addition to USB and LAN, eliminating the need to use a device like an SD card to send things from your computer.
Open-source machine
Using Prusa's own brand resin, the SL1 certainly yields satisfying results. It can handle small, fine details with ease, producing elaborate outcomes.
Even better is the fact that the SL1 is open source, meaning it also works with other brands of resin. In fact, you can pretty much use whichever one you'd like, which makes the whole process of printing a lot easier.
How Does Prusa SL1 Perform?
Now that you've heard about some of the SL1's excellent features, you're probably wondering how well it actually does what it's designed to do.
It's important to be aware of how the SL1 sits price-wise compared to its competitors to gauge how well it should be rated for its overall performance. Prusa was first set up to introduce affordable 3D printing to the masses; the company's founder wanted to make printing in this way a more accessible hobby.
So, as you'd expect, the SL1 doesn't carry around a big premium price tag; compared to some models on the market, it's relatively affordable (for what it is). However, there are a number of budget 3D printers out there that are cheaper, as well.
Overall, the SL1 makes you want to like it. It's a good-looking printer that has clearly been built exceptionally well, offering a number of handy features that make the experience of printing that much more fun and convenient.
I found it easy to calibrate and easy to use, even without a ton of previous experience (which was one of Prusa's goals when setting up the company).
However, the SL1 has a number of drawbacks that are hard to overlook. Sure, when it works, it works well, but it has more misprints than I'd really like to see, considering how much it costs to buy, and the process of cleaning the resin tank is long and laborious.
Let's take a closer look at some of the pros and cons.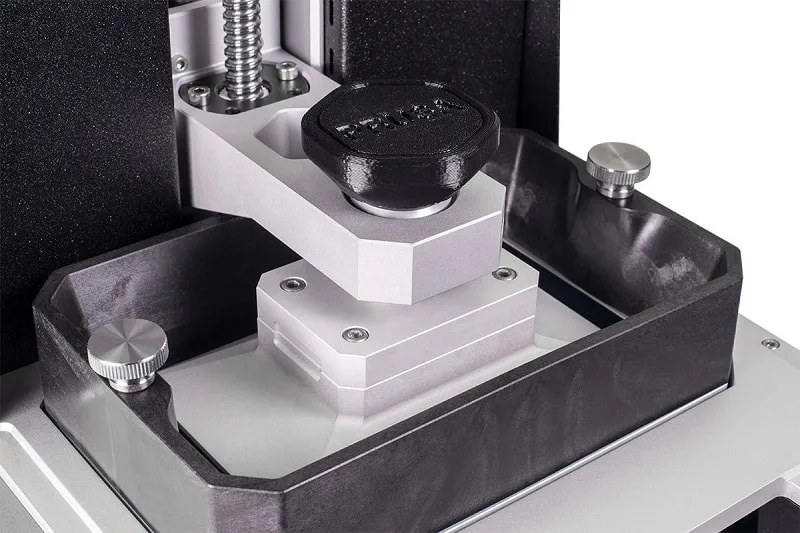 Pros of Prusa SL1
Even with its flaws, the Prusa SL1 is a likable machine that's a joy to use when it works well. Here are some of the best bits.
Minimal setup
Whether you decide to buy the pre-assembled version or want to build the SL1 yourself, both options are equally easy to set up. The kit comes with a comprehensive build guide that's simple to follow, and once assembled, the calibration instructions and setup wizard make it just as easy to get started.
Impressive print quality
Are you a fan of intricate details? If so, the SL1 won't disappoint. The print quality is extremely impressive – even using other brands of resin that didn't come from Prusa – but I'd recommend following the instructions closely if you're a novice at 3D printing, as this process is a steep learning curve and can take some time to perfect.
Aesthetically pleasing design
The black and orange design is certainly striking, catching your eye as soon as you walk into the printing room. It certainly looks the part, and some components of the SL1 have even been 3D printed themselves.
Plus, its compact but sturdy design means that it's highly functional and appealing without ever being too bulky.
Intuitive user interface
As I mentioned earlier, the introduction of the touchscreen really is a big step forward for Prusa, making the whole user experience so much easier. The user interface is easier to navigate as a result, meaning you spend less time fiddling with different settings and more time doing what matters: actually printing.
Cons of Prusa SL1
Misprints
I'm not the first, and I'm sure I won't be the last to note the SL1's most obvious flaw – the first layers of resin often don't adhere properly to the build platform and instead adhere to the FEP sheet, resulting in misprints. This is very frustrating, not to mention a waste of resin.
However, I did find that I could lessen the number of misprints by closely following Prusa's instructions.
Small print bed
Considering the price of the SL1, I'd like to have seen a bigger print bed and build volume. There are other 3D printers on the market for a similar price that beat the SL1 by a mile in this respect, so I'm hoping that this is something Prusa rectifies in future models.
Complicated cleaning and maintenance
The FEP is known for being a non-stick polymer, but this wasn't my experience at all – lots of resin got stuck to it all the time, and this was very difficult to remove.
Not only that, but the process of replacing the FEP sheets was laborious. There are a total of 22 screws to remove, and thanks to the fact that the sheets get dirty very quickly, they have to be replaced more often.
Are There any Alternatives?
If the Prusa SL1 isn't quite what you're looking for, fortunately, there are plenty of other options out there. Here are a few of my favorites.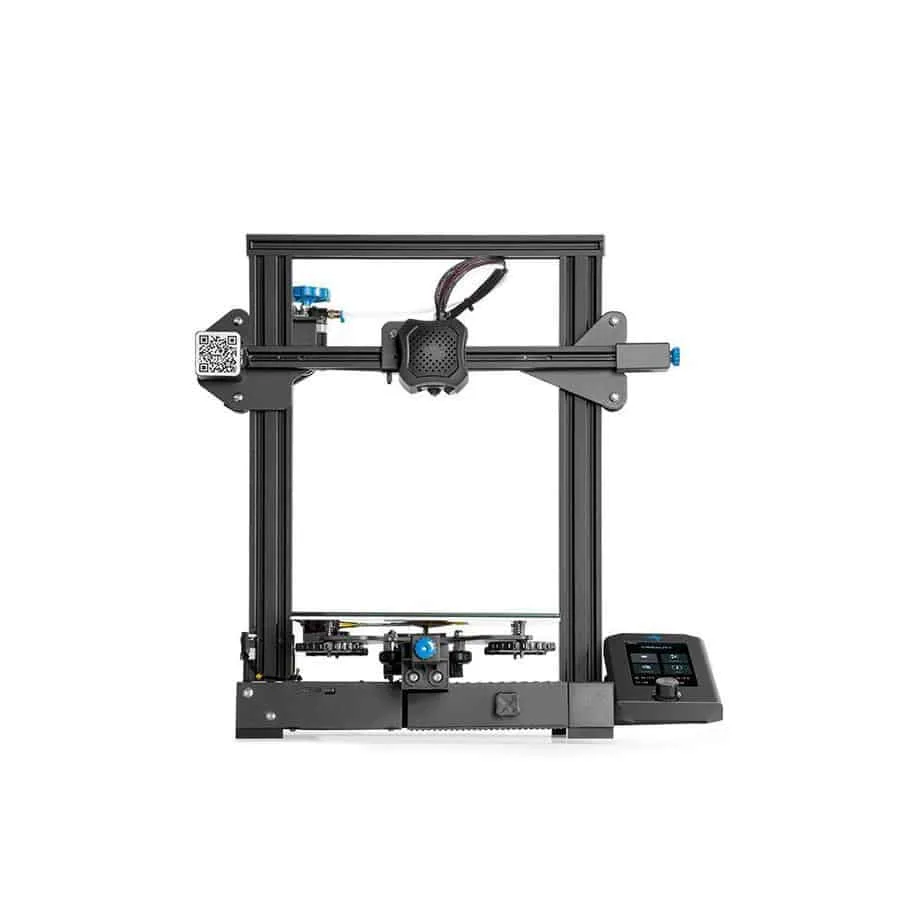 Like its predecessor, the Flash Forge Creator X is a hit, popular with experienced 3D printing enthusiasts and beginners alike. It has an affordable price point but doesn't compromise on print quality, and that's one of the things that makes it great.
Other improvements include the introduction of a durable, temperature-resistant plate of aluminum that helps to prevent damage, bright LED lights, and an easy to assemble structure.
I like the fact that it comes with both a spool of ABS filament and a spool of PLA so you can get started straight away. Plus, there's no hanging around with the Flash Forge Creator X; it's one of the fastest 3D printers in this particular price bracket.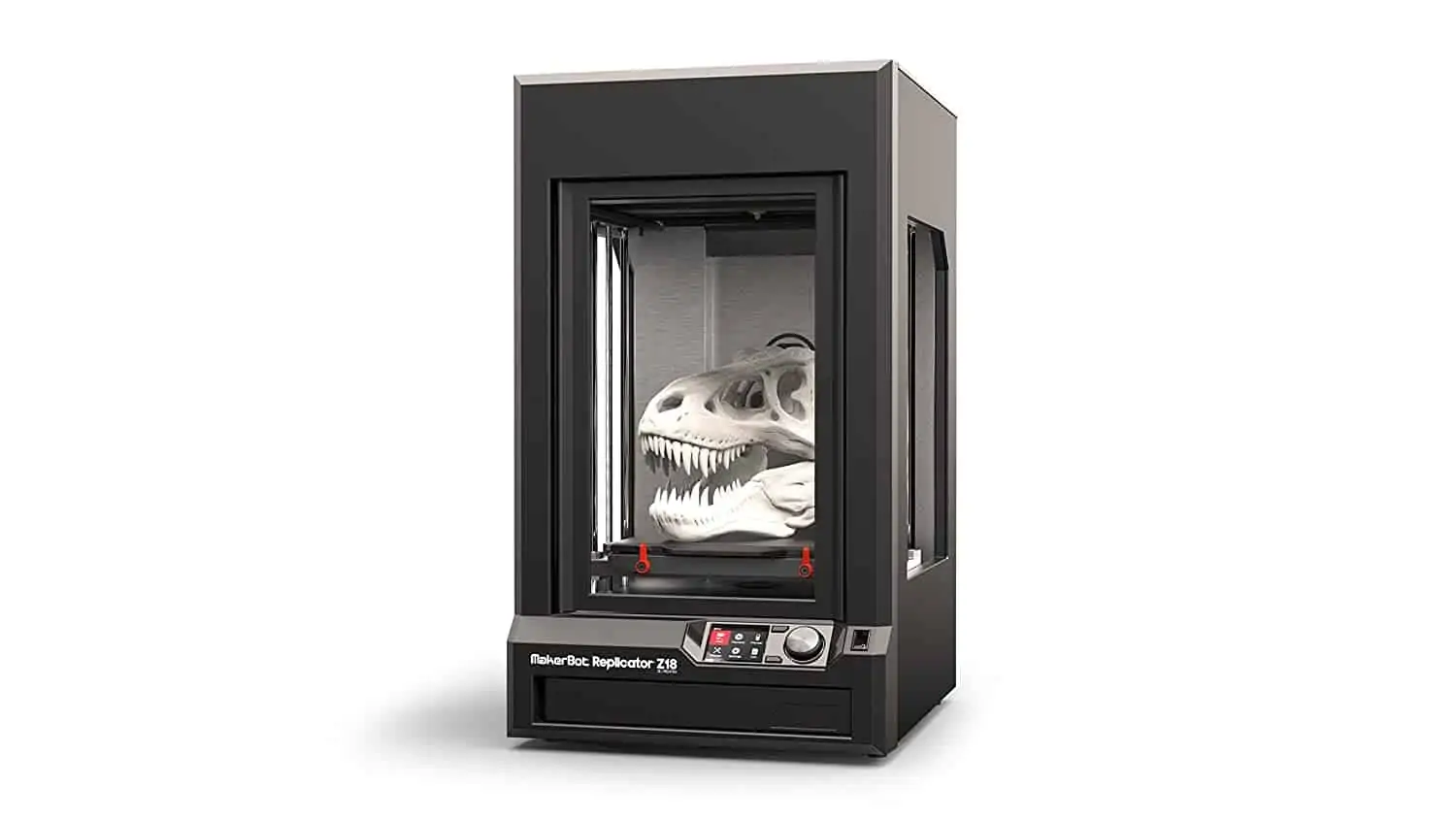 If you're a little bit more serious about 3D printing and your main objective is to just. Get. Stuff. Done. Then the MakerBot Z18 is a great option. It's certainly big, and it's undoubtedly impressive; this is a consumer 3D printer that's capable of handling industrial work loads.
Some of the Z18's outstanding features include flexible connectivity, full-feature software, a huge build area, and MakerBot Smart Extruder+.
One thing to be aware of is that people either tend to love or hate the Z18 – it has a strong polarizing effect within the 3D printing community, though I think this is largely down to the fact that it's better suited to printers with a little more experience rather than amateurs.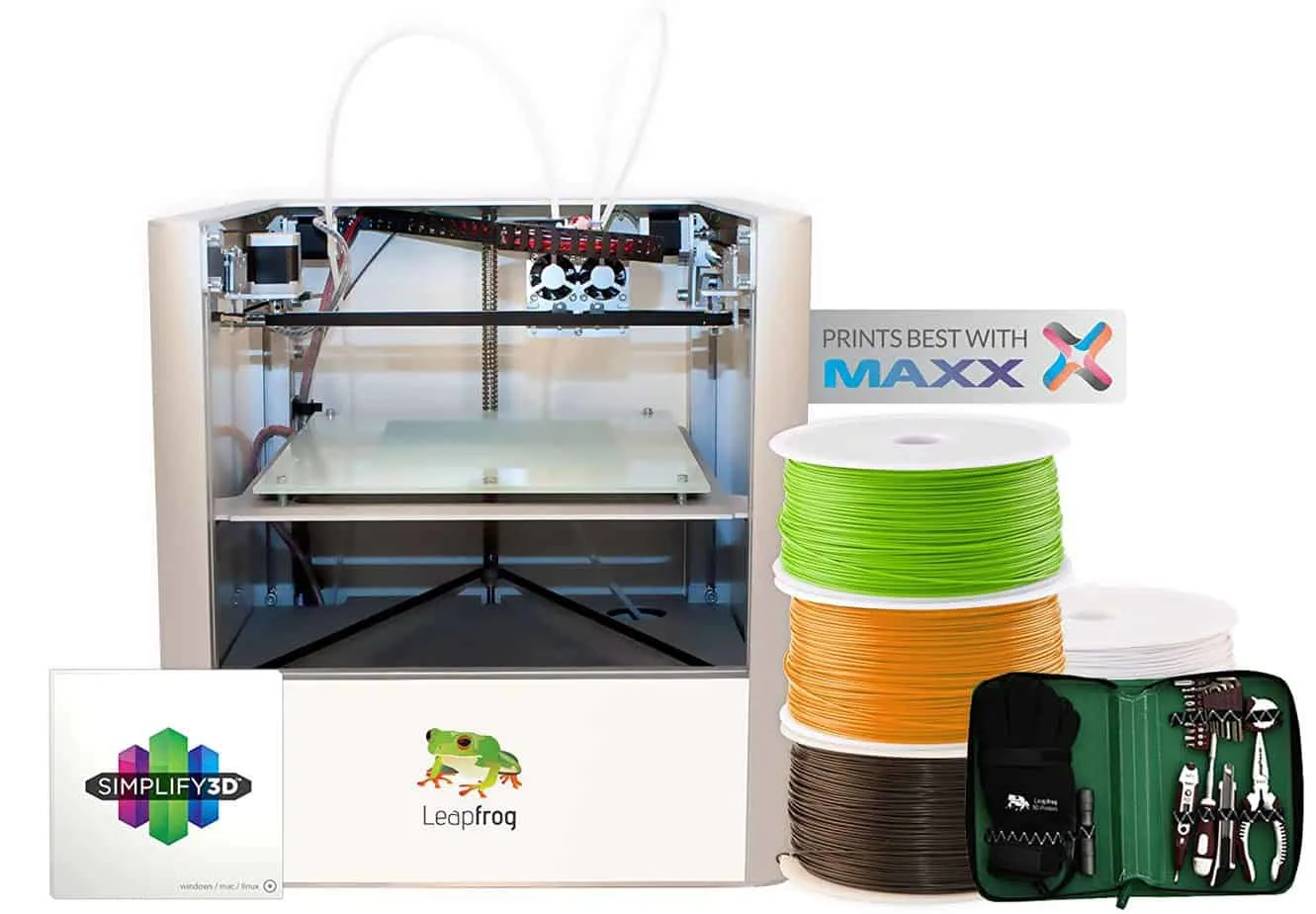 The most exciting thing about the Leapfrog Creatr is the possibilities that it opens up in terms of commercial use thanks to the implementation of dual extruders. Compared to traditional 3D printers, the Creatr has the potential to create a wide variety of interesting and very complex objects.
When printing goes right, the quality is unbeatable, and the time it takes to print is also very reasonable.
Leapfrog already has a great reputation for building 3D printers of the highest quality, and with the new Creatr, they've stepped up their game without compromising on that same quality that got them to where they are today.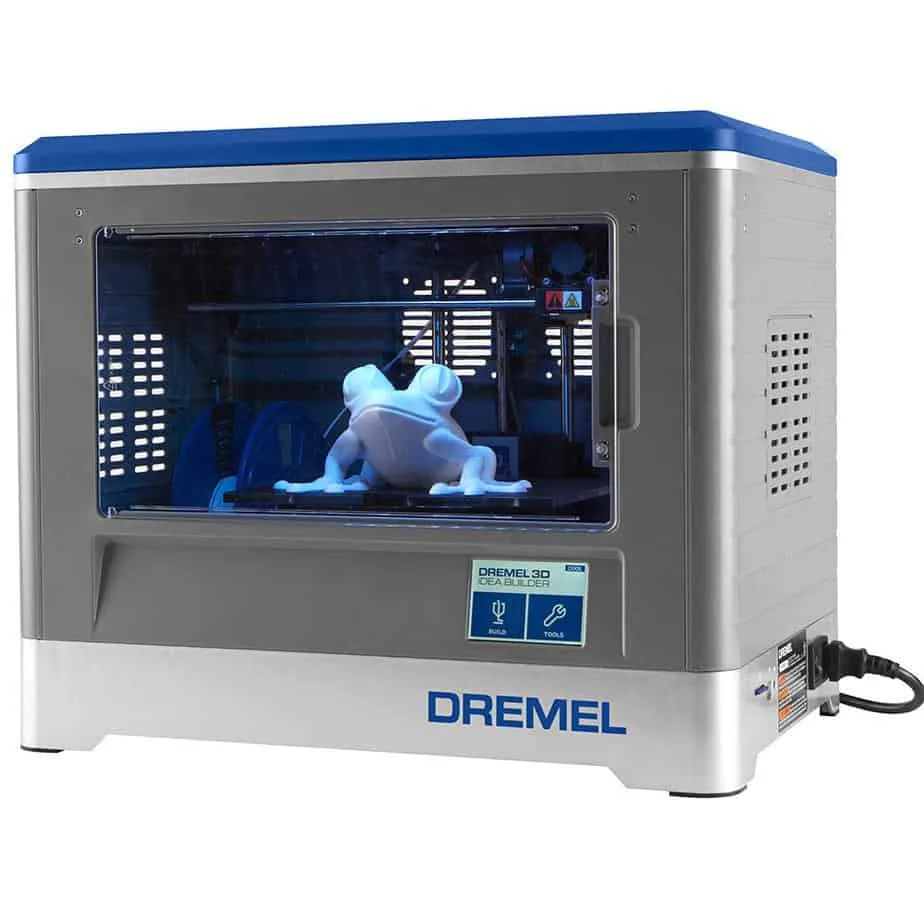 I'm not usually one to listen when a product has been overhyped, but the Dremel 3D Idea Builder certainly doesn't disappoint. It's very reasonably priced – though it admittedly looks a lot less experimental and interesting than the SL1 – and doesn't require much setup.
Personally, I much prefer the closed system of the Idea Builder because, as someone who is still learning about 3D printing, it feels a lot more user-friendly. I'd recommend this 3D printer to anyone who's just starting out on their journey.
Frequently Asked Questions
Question: Does Prusa make other 3D printers as well as the SL1?
Answer: Prusa has actually released a newer version of the SL1, the SL1 Speed, which is marketed as the fastest desktop 3D printer. There are many other printers by Prusa as well, including some FFF versions and some SLA ones.
Question: Do you have to assemble the SL1 yourself?
Answer: You can choose whether to purchase the SL1 as a kit that you build yourself or a pre-assembled machine. Even if you decide to do the former, assembly is pretty quick and easy.
Question: What is the printing precision of the Prusa SL1?
Answer: If you have a well-assembled machine, the printing tolerance is 0.1mm on the Z axis and 0.3mm on the X and Y axes.
Question: Do you need to buy extra tools to use the SL1?
Answer: Fortunately, the answer to this question is no. Everything that you need, including pliers, a screwdriver, and hex keys, is included in the box. That being said, you might want to purchase a big bottle of IPA 91% to clean the sheet.
Final Thoughts – Prusa SL1 is Affordable, Thoughtfully Designed, and Provides Excellent Print Quality
There's no denying it: Prusa knows what it's doing. This is a company founded on one man's love of 3D printing and his ambition to bring it to the masses; it's a company that cares and that really shines through in the SL1.
When everything goes right, the quality that the SL1 produces is simply stunning, and all those little features, such as the color touchscreen, come together in harmony.
But when everything goes wrong – as it often does – quite frankly, it's a bit of a nightmare. Mastering the art of printing using the SL1 takes time, even if you have previous experience, and for someone who's impatient like me, that's definitely not a good thing.
The distinctive appearance of this 3D printer is appealing, and the fact that it's easy to set up and calibrate means it scores extra points in my book, given the number of printers out there that are difficult and time consuming to put together.
Unfortunately, for me, the number of print failures is too disheartening to overlook – especially since those failures then result in a laborious clean-up job. I'd recommend the Prusa SL1 if you are a careful and patient printing enthusiast with some experience under your belt; otherwise, I'd probably steer clear.
Recommended reading: