Latest posts by Jodie Chiffey
(see all)
Like 3D printers, Computer Numerical Control (CNC) routers are taking traditional craftsmanship to a new level. These computer and software directed cutting equipment deliver precision and allows craftsmen to produce factory-grade work in their workshops.
CNC routers allow you to work with foam, plastics, wood, and many other materials to produce carvings, decorations, frames, furniture, moldings, panels, and signboards. However, with so many CNC router kits on the market, it's not easy to find one that suits your budget and requirements.
Today, we'll discuss one CNC router kit (CNC milling machine), in particular, Shapeoko 3.
Why Go With Shapeoko? | Matter Hackers
It's bare bones, but FAR cheaper and without ANY recurring software subscription costs. If you want the best VALUE for your money, Shapeoko gets you up and running quickly.
Check Price
We earn a commission if you click this link and make a purchase at no additional cost to you.
Key Specifications of Shapeoko 3
While we'll discuss different features of Shapeoko 3 in this review, here are some key specifications of Shapeoko 3 (standard) that you cannot afford to miss.
| | |
| --- | --- |
| Cutting area | 16" x 16" x 3" |
| Footprint | 28.4" x 23.9" x 16.6" |
| Weight | 71 lbs |
| Build volume | 32.9" x 32.9" x 2.9" |
| Onboard control | Power switch only |
| Materials handled | Acrylic, ABS, Delrin, soft metals up to ¼", wood |
| Cutting software | Carbide Motion (Carbide 3D) |
| Operating system | Windows 7+, Mac OS X 10.9+ |
| Design software | For beginners – Carbide 3D Create, For experts – MeshCAM |
| Our score | 8.5/10 |
| Warranty | 1 Year |
Notable Features of Shapeoko 3
Shapeoko 3 comes with a plethora of compelling features and we'll discuss them in detail in this section.
Design and Size
Shapeoko 3 is a triple-axis CNC router kit. It is simple to assemble, understand and operate, and intended to provide basic functionality.
When it comes to the design and size, the Shapeoko 3 is available in 3 different sizes: standard, XL and XXL. Each size comes with a different cutting area, footprint, and weight. However, if you're looking for a portable and less space-consuming machine, then the standard size would be an ideal pick.
The machine is also available in different configurations that boost the coverage area and cutting power.
Shapeoko 3's 10-gauge, strong aluminum steel frame makes a professional-grade motion controller and runs on the GRBL framework that is open source. The robust NEMA 23 stepper motors coupled with a spindle allow you to carve aluminum, plastic, and wood using Shapeoko 3 effortlessly.
With some additional precautions and safety steps, you can even cut carbon fiber, PCBs and steel using Shapeoko 3.
Assembly
Assembling Shapeoko 3 is not an easy task. Even though the manufacturer's website claims that you can assemble the machine in about 2 hours, it took me about 5 to 6 hours and getting professional help can certainly be an advantage.
Some other critical things to remember before you start assembling the Shapeoko 3 are:
Install a workbench to place the CNC machine
Ensure the area around the workbench is clear for 360-degree access
Upon unboxing the machine, you'll come across a variety of boards, boxes and hardware accessories. But, don't start panicking! Shapeoko 3 is delivered in 9 different parts:
Aluminum rails
Cross straps
End plates
Final assembly box
Y-axis left carriage
Y-axis right carriage
MDF elements
X/Z assembly
A white sleeve comprising zip ties and the packing list
All components and tools required to build and assemble Shapeoko 3 tool can be found in the assembly box. One good thing is that unlike the previous versions of the CNC line, the Y-axis and X/Z assembly arrive semi-assembled.
However, one bad news is that you won't get a physical instruction manual to build with. You can check the online manual on the manufacturer's website to get the latest assembly build details.
Considering the size and bulkiness of the CNC tool, we found the assembly to be convenient. The challenging part of the installation process includes fixing the aluminum rails, installing the cross straps and ensuring the wiring is secure. During assembly, I took the wrong path, came back, unassembled and assembled the machine again currently.
Two things that make the assembly easy are the pre-assembled carriages and the sturdy base.
CNC Software
Shapeoko 3 operates on two software: Carbide Create and Carbide Motion. Both CNC software is available for Windows and Mac OS X users. Using Carbide Create and Carbide 3D Motion, you can create 2D designs and send them to the CNC machine.
Carbide Create
Carbide Create is a 2D CAD/CAM program that comes with instant access features and tools, and a user-friendly interface. The software also offers a powerful 3D simulation tool that showcases how exactly Shapeoko 3 will perform the assigned tasks.
You can start by feeding information about the stock material such as material thickness and type, and dimensions.
Once you complete the initial step, you can experiment with the 2D drawing artist in you. Not only this but you can also integrate basic shapes, images, splines, and text into your designs. Other compelling features include creating offsets within the designs, generating booleans and automating the alignment method.
Once your design is finalized, the software will ask you the type of design you want for individual sections. The main options are:
Laser Engraver – You can engrave images or text into the stock material (laser engraving, laser cutter and laser printing).
Contours and pockets – Basic CNC mill machine functionality.
V-carving – For detailed 3D carvings.
Other things you have to do before you move to Carbide Motion is pick the right feeds, speeds, and milling tools for individual sections.
Carbide Motion
Carbide Motion is more of a machine control program for the tool. While I experienced a few bugs here and then, I found the software easy to use and interactive. It combines a traditional PC controller and a rooted processor installed on the CNC machine.
Setup
To set up Shapeoko 3, all you need to do is use the "Jog" setting to bring the machine in motion and set the zero point (z axis), i.e., the exact point from where Shapeoko 3 will start operating. Once you're done with setting the zero points, switch on the spindle and press "Run" to start the CNC machine.
Why Go With Shapeoko? | Matter Hackers
It's bare bones, but FAR cheaper and without ANY recurring software subscription costs. If you want the best VALUE for your money, Shapeoko gets you up and running quickly.
Check Price
We earn a commission if you click this link and make a purchase at no additional cost to you.
Pros of Shapeoko 3
Let's look at some advantages of Shapeoko 3 that make it one of the best CNC router machine kits on CNC machining market.
A large cutting area – Shapeoko 3 provides users with a massive cutting area making 3D designing possible (large CNC router). The cutting area is pushed further in the Shapeoko XL and XXL variants.
Powerful Dewalt DWP-611 spindle – The 1-¼" Dewalt DWP-611 spindle coupled with the NEMA 23 stepper motors work on stock material as a hot knife runs through butter.
Compatibility with a wide variety of materials – Shapeoko 3 can smoothly work on different materials such as aluminum, plastic, wood, and so on.
Intuitive control software that simplifies the operation of Shapeoko 3 – Carbide Create and Carbide Motion, two manufacturer-owned software makes the CNC machine operation easy for users (CNC controller).
Includes all the components you need to get started – Shapeoko 3 is delivered with all the necessary accessories and tools that are required during assembly of the CNC router machine.
Modifiable – You can use the machine as it is or lifts up parts that are not in use. You can customize it to suit your requirements.
Cons of Shapeoko 3
No dust collection plate to prevent dust from spilling all over – Shapeoko 3 does not come with a dust collection plate that can be used for the collection of dust (dust collector) and leftovers from cutting.
Not portable – The size and weight of Shapeoko 3 make it difficult to carry around a workshop. The heavy-duty machinery requires at least 2 people to carry it around.
Requires a large workbench – Shapeoko 3 requires a large horizontal workbench for proper support.
Are There Any Alternatives to the Shapeoko Kit?
If you think the Shapeoko 3 CNC Router Kit does not meet your requirements, you can consider the following alternatives:
If you're looking for a more advanced CNC machine, you can consider CNC Piranha.
CNC Piranha XL comes with auto-edge and auto-sensing capabilities, a touchscreen controller, and VCarve desktop V9.0, Vector Art 3D and Virtual Zero workpiece mapping software. The CNC router can travel on 3 axis and can run on different palm-style routers such as Bosch, Dewalt and Porter Cable.
The best thing about CNC Piranha is that you don't need to connect it with your PC. All you need to do is create your designs, save them in flash drive, plug it into the USB port on the machine and run the program. However, CNC Piranha is not compatible with the Mac OS and is less stable when compared to Shapeoko 3.
Carbide 3D Shapeoko 4 XXL CNC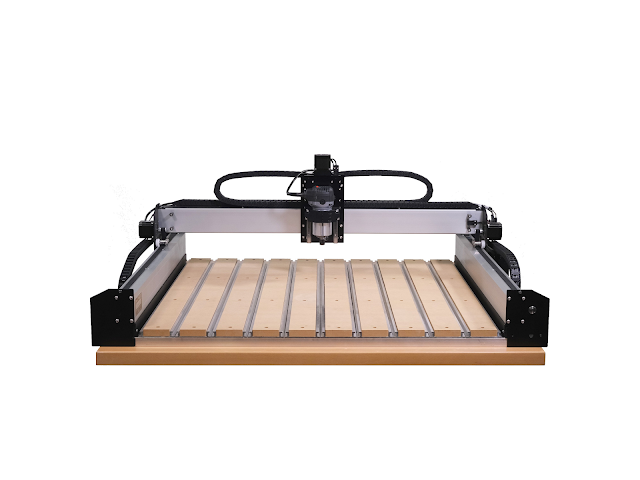 Another alternative to the Shapeoke 3 is the Shapeoko 4 XXL CNC.
You might think that the Shapeoko 4 is an upgrade to the previous model; however, it is a completely different machine that is on its way to making the Shapeoke 3 obsolete.
The latest model has been rebuilt and features a 65mm router mount coupled with thicker belts (the belts are 6mm thicker than the Shapeoke 3) and new V-wheels. This new design ensures better stability, and deflection is significantly decreased. The Z-axis is further strengthened by being lead-screw-driven.
Another major addition is the Carbide Motion 3.0 controller makes the Shapeoko 4 a lot more user-friendly due to its numerous accessory slots.
The new Shapeoko 4 is available in several models:
Shapeoko 4 Standard (444 x 444 x 101 mm)
Shapeoko 4 XL (838.2 x 444.5 x 101.6mm)
Shapeoko 4 XXL (838.2 x 838.2 x)
Overall, the Shapeoko 4 makes crafting your decorations, carvings, and furniture a lot easier and more efficient. The additional cost is a downside as the Shapeoko 3 is viewed as a solid machine available at an entry-level price; however, the new Shapoeko 4 offers a ton of benefits for the extra money.
Frequently Asked Questions
Can Shapeoko 3 do 3D?
Yes. Carbide Create is a 2D/CAM software that allows Shapeoko 3 to work on 3D designs. The software runs on Mac OS 10.9+ and Windows 7+.
Is Shapeoko 3 certified?
Yes, Shapeoko 3 power supply is CE and Federal Communications Commission (FCC) certified. The motors are also CE certified.
Can I use the 4th axis with Shapeoko 3?
No, you cannot. The electronics included with Shapeoko 3 are GRBL-based. GRBL is a 3-axis motion control system. You cannot add a 4th axis to the system.
Is Shapeoko 3 available on the market pre-assembled?
No. A fully assembled Shapeoko 3 CNC Router Kit is difficult to transport and ship. Moreover, it will be costly for the manufacturer to dispatch a pre-assembled machine and the chances of damage are also high.
Can Shapeoko 3 work with 220 volts?
Yes, it can. The Shapeoko 3 CNC Router Kit comes with a wall adapter that can be used to operate the machine at 110-220 V.
Conclusion: Shapeoko 3 Review
From hardware elements to Carbide Create and Carbide Motion software, almost everything about Shapeoko 3 has been put together keeping the users in mind. Each component of the CNC machine is carefully crafted to make the CNC carving experience easy and interesting for the users.
The online instruction manual is detailed and visual to help ease the kit assembly process. However, despite the elaborate assembly instructions, it took significant time (about 6 hours) to assemble Shapeoko 3. I also spent quality time on trial and testing the product.
Shapeoko 3's frame is robust and the overall design great. However, there's one thing about Shapeoko 3 that impressed us big time: the huge cutting area for cutter sweeps. Each time I used the DIY CNC router I became more comfortable with using it.
Why Go With Shapeoko? | Matter Hackers
It's bare bones, but FAR cheaper and without ANY recurring software subscription costs. If you want the best VALUE for your money, Shapeoko gets you up and running quickly.
Check Price
We earn a commission if you click this link and make a purchase at no additional cost to you.
Recommended Reads: