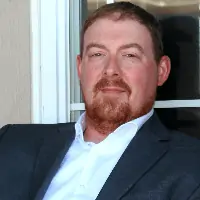 Latest posts by Justin Caldwell
(see all)
The X-Carve is a 3D carving machine that can handle a variety of materials. It's a versatile machine that's built with quality parts and comes at a great price.
Whether you're a beginner hobbyist who wants to dabble in the world of 3D carving or you're a seasoned professional with a lot of experience in AutoCAD, you'll enjoy using this machine with all of its bells and whistles.
Keep reading to learn more from our in-depth X Carve review.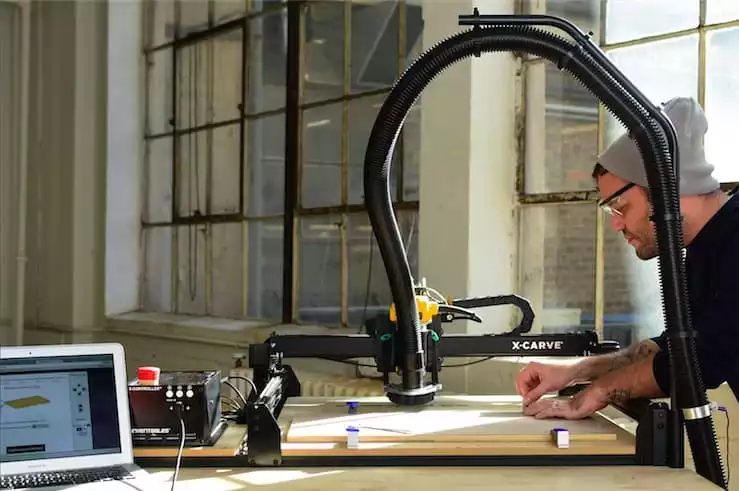 Why Go with the X-Carve? | Matter Hackers
It's easier to use with more bells and whistles than competitors, including a built-in dust collector, an established support community and frequently updated cloud-based software.
Check Price
We earn a commission if you click this link and make a purchase at no additional cost to you.
Configuring the X-Carve
Before you get started, you'll have to order your product. However, there are several ways to go about this. If you already have a SHAPEOKO Pro, you can upgrade it to an X-Carve. This method is quick and easy. It's the most affordable solution, and the kit comes with everything you need to upgrade your existing machine.
The basic X-Carve kit comes with all of the essentials you need to build a working machine. You can upgrade individual components as you like based on your needs or your budget. This is the best way to get the custom machine you want without spending all of your money.
You can upgrade drive chains, extension rails, spindle mount, wiring switches, circuit boards and anything else you'd like to improve, without improving everything you don't need.
The fully loaded X-Carve kit comes with all of the upgrades, including the largest machine size, ACME Z-axis lead screw, Nema23 steppers, and everything else that makes the X-Carve top-of-the-line.
Set-Up
The X-Carve doesn't come fully built. That's large because you can pick and choose what you'd like it to come with. You can choose from the smaller size, 500ml x 500ml, or the larger size, 1000mm x 1000mm. It comes in a series of boxes that you have to assemble upon arrival.
Depending on your configuration, you'll be dealing with up to several hundred parts during assembly, so it's important to prepare yourself for two or three days worth of assembly before getting started with your first project.
It seems daunting, but don't let that scare you. The instructions are thorough and will guide you through the setup of the entire machine step by step.
While it's not necessarily a hard machine to build, it can be tedious, so patience and a good-sized work area is key. It comes with almost all of the tools you need to assemble it, but you may need to invest in an M5 tap because it can help make threading the extrusions in the rails a lot smoother.
The parts are all manufactured from high-quality materials, and you may notice during setup that they feel substantial in your hands. They don't feel flimsy or cheap. They're well-made, which enables greater functionality of the unit.
Everything fits together exactly as it should, and you're getting a great value in this machine rather than paying high dollar for something that doesn't fit together properly or work quite right.
One complaint users have when setting up the machine is the concentric nuts used to fit the sliders to the rails. They can be difficult to figure out, but once you get it, they fit great, and they're exactly what's needed to get the sliders on just right.

Wiring is also easy once you get the machine assembled. There's no soldering or crimping required, which is a nice touch for beginners or those who don't want to put in the extra effort. All you have to do is connect the terminals, and the instructions are clear about where each connection goes.
A lot of users think soldering isn't going to be a big deal, but making even one mistake is irreversible and can be detrimental to your usage of the final machine. Taking out the soldering step is a huge improvement over a lot of other machines, including the previous generation X-Carve machine.
Software
Inventables X created software in-house to run the X-Carve. It's called Easel, and you'll first notice that the user interface is simple and easy to use. It's great software for beginners because of its simplicity.
However, well-versed 3D CAD users may find that it leaves a bit to be desired. It's as if Inventables didn't think the people purchasing their machines would understand how to use complex design software to create and execute their projects.
Easel Pro is really designed for people with no 3D CAD experience at all. For getting your machine up and running as fast as possible, an Easel is a great tool. It can do very simple things, and it can help you troubleshoot problems with your machine in most cases.
The problem with the Easel software is that it's almost entirely two-dimensional. You can only cut flat planes. There's no way to cut anything with a radius. This really limits the potential of a machine as powerful as the X-Carve, because it's capable of so much more.
The good news here is that you can run your X Carve machine using any other G Code sender. Universal G Code Sender and Chili Pepper are great options. If you have a preferred G Code sender, you can likely use it by sending a G Code you've generated from any CAD-CAM program.
This gives you the flexibility you need to use the software you're already familiar with. You don't have to use the Easel software it comes with, and you can still enjoy the full functionality of the machine by using tools you know how to use that are more three-dimensional than Easel itself.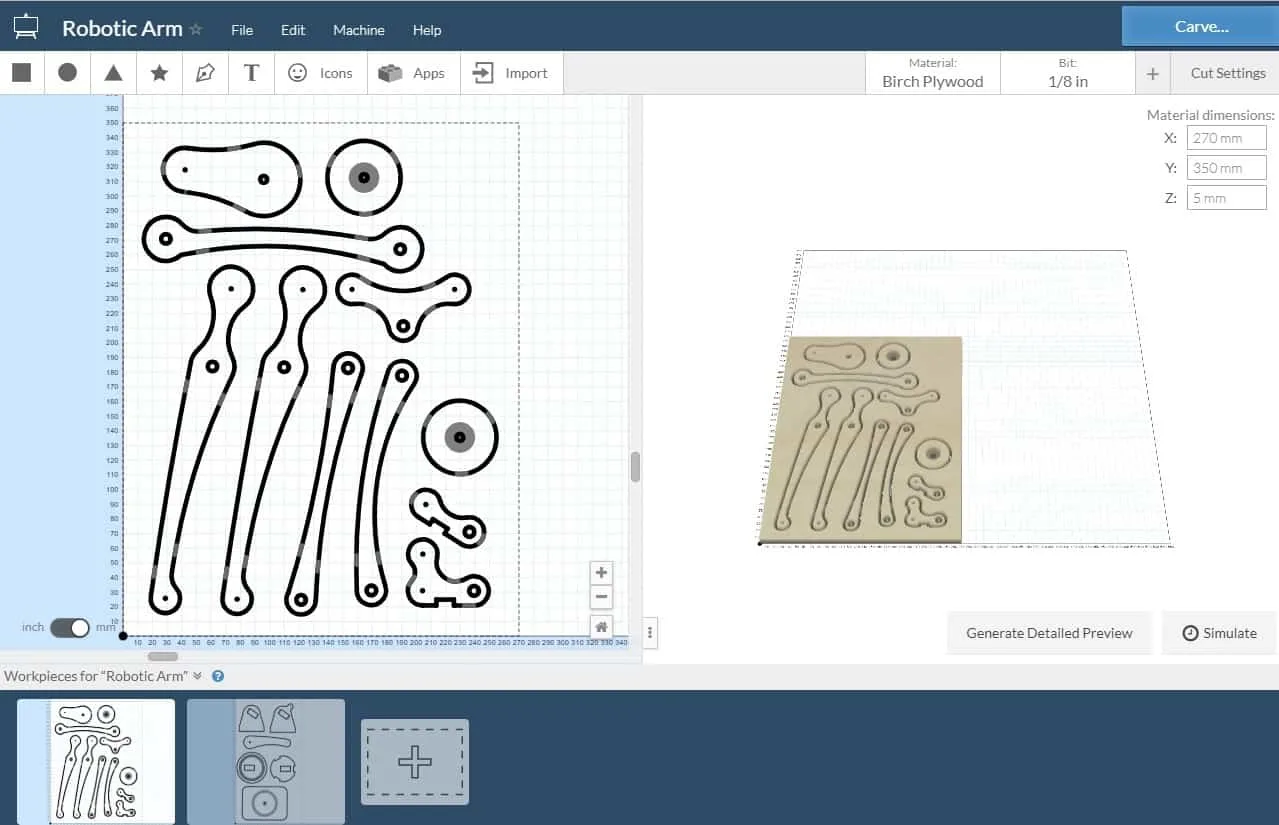 Design and Features
The design of the machine is simple and elegant. Each axis has its own Nema23 stepper motor to drive it for smooth, deliberate movements independent of each other. The X-axis has two stepper motors driving it for greater stability and precision because it's supported on both sides of the machine.
Wiring
The cool thing about the wiring configuration is that all of the wires connect to a terminal, and then the terminal snaps into the back of the controller unit box. Everything is clearly labeled, and this sort of configuration makes it really easy to troubleshoot and fix problems later.
There's a significant amount of power coming through the controller unit, so it can handle the machine more efficiently. Operations are smoother, and the controller unit can support more labor-intensive projects without skipping a beat.
Buttons
The emergency stop button is a huge asset to your complex projects. When the machine hiccups, instead of maneuvering your mouse over to the computer screen on Easel, simple press the emergency stop, and you can eliminate further mistakes until you get the project corrected.
Worse yet, if you send a G Code to the machine from software other than Easel, there's not an easy way to stop the project in the middle if you need to. With the emergency stop button, you can always stop your project and then pick up where you left off when you're ready.
The controls on the front of the controller box include several buttons. Along with a power button, you have a pause button, a resume button, and a reset button.
The pause button will allow you to pause your project without losing steps. The resume button will continue your job after a pause. The reset button ends the job and clears the planner of future steps.
The controller box is mounted directly on a sideboard, making it more stable and easy to keep right next to your machine.
Drag Chain and Gantry Arm
The drag chain on the X Carve CNC machine is large enough to fit custom wiring. It's also easy to pop each segment of the drag chain out individually to access wiring underneath for troubleshooting or improvements.
The drag chain also rides on its own bar in the back of the machine, so you don't have to worry about it getting hung up. It stays a safe distance away from the project area and out of the way
The solid gantry system provides a sturdy arm for the router to run along, so you don't experience skipping or any other stability problems. This creates better projects with fewer mistakes.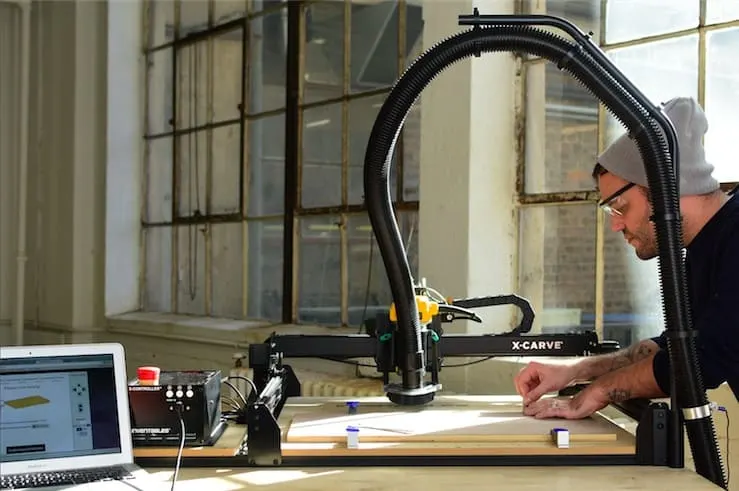 Dust Collection
When working with any project, you may experience a significant amount of dust. Inventables eliminates this problem with a dust collection attachment at the bottom of your spindle. It attaches with rare earth magnets and has a clear top so you can see when it's time to empty it.
This is a huge improvement over the original X-Carve machine and allows you to keep a cleaner workspace. Not only does it keep you healthy, but it allows you greater visibility to your working projects so you can monitor their progress without having to blow the dust out of the way first.
Support
Inventables has a fantastic support forum. You can expect some problems with any large machine, especially when you're first getting started, and Inventables recognizes that. Even when there's nothing wrong with your machine, sometimes the learning curve to start CNC routing projects it steep, and you may need a little help.
In fact, any problem you're having with your machine, someone else has probably already had. The support forum is a comprehensive resource for anything that could go wrong. From assembly and upgrades to troubleshooting hardware or software issues, you'll find just about everything online.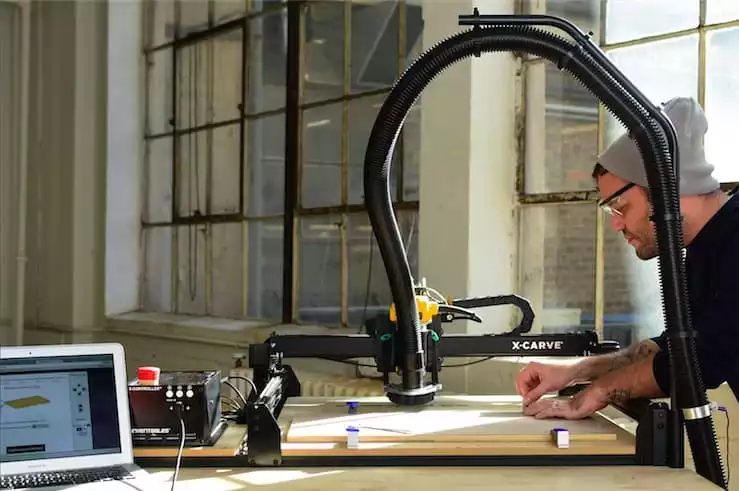 Why Go with the X-Carve? | Matter Hackers
It's easier to use with more bells and whistles than competitors, including a built-in dust collector, an established support community and frequently updated cloud-based software.
Check Price
We earn a commission if you click this link and make a purchase at no additional cost to you.
What Can You Do With X-Carve
It may be an obvious question, but every CNC machine is different. The X-Carve can cut almost anything, with the exception of hard metals and soft fabrics. With the standard spindle, you can cut anything from soft foam to aluminum.
Simply change the bit out to handle the material you're cutting, and the machine is powerful and dynamic enough to cut anything in between.
Simple projects, like phrases engraved on planks of wood, only require booting up Easel, inputting the specifications of the wood piece, and then writing out the letters and formatting them the way you like.
Easel will do everything else from calibrating the machine to carving the entire piece.
For more complex pieces with radii, you may need to use a more advanced CAD or CAM software like Fusion360, but the X-Carve can certainly candle the complexity. Simply design your piece and then use a G Code sender to send the code to the machine.
The machine will do the rest of the work reading the G Code and getting started on your project.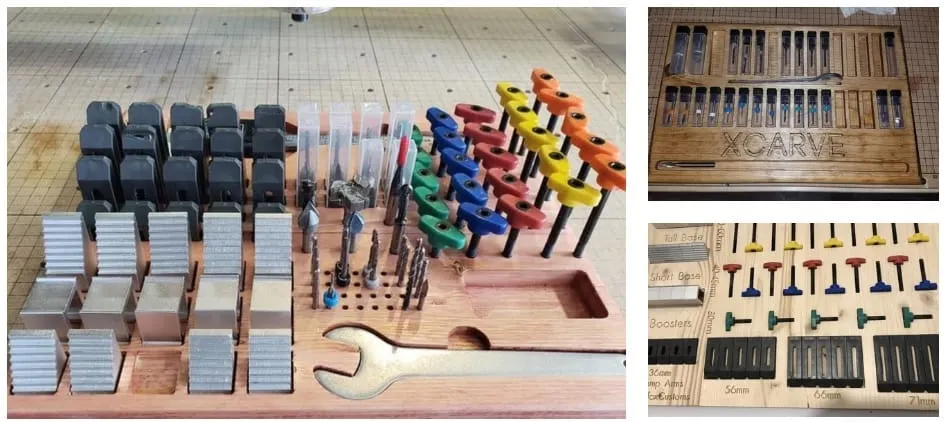 Value
For the money, the X-Carve is absolutely worth every penny. If you can get past the tedious setup, during which you'll find that you've purchased a quality machine with durable parts, you'll be able to take advantage of a comprehensive support forum as well as create complex designs.
The machine itself is well-made. Springing for all of the upgrades doesn't set you back much more than what the basic package costs, and you'll be able to increase your usability and notice right away that the upgrades are quality, and they enable you to do a lot more with your machine.
The build area for this price point is huge. A lot of machines that are twice as expensive or more don't give you such a large build area as this machine does.
While it can sometimes be frustrating to get it to do what you're asking it to do, it gets the job done most of the time and is overall very easy and fun to use.
FAQ
Here are some frequently asked questions about the X-Carve so you can make a better buying decision.
How much does an X-Carve cost?

The X-Carve can cost anywhere from $200 to $1500, depending on the upgrades you choose. To upgrade your SHAPEOKO 2 only costs around $200 for the extra parts. To purchase a fully loaded X-Carve, it costs around $1500.

If you'd rather purchase the basic kit, you'll spend around $950, but you can also upgrade individual parts if you'd like. For instance, you can get the basic package with an upgraded spindle. It won't cost the full $1500, but you'll pay a little extra for the upgraded parts you want.
What can you make with the X-Carve?

Because the X-Carve can handle materials from a soft foam all the way up to aluminum, you can make many different kinds of projects. Gifts for friends and family are the most fun. Home decor items like signs, kitchen accessories, and furniture can be simple or complex.

You can also make toys, instruments, games, and so much more. For the hobbyist, this is likely what you'd do most of the time. However, students and professionals can also get great use out of the X-Carve's capabilities.
How big is the X-Carve?

The X-Carve comes in two sizes. The large size is 1000mm x 1000mm. The maximum material size that can be cut on the large workspace is 800mm x 800mm. The material can only be 65mm in thickness, and most bits can't reach a full two-inch thickness, so keep depth in mind when choosing your materials.
Does the X-Care come with a laser?

The package itself doesn't include a laser, but you can add one to your X-Carve CNC milling machine. With it attached you can use your machine for laser cutting all types of materials.
The Verdict: Is the X-Carve Worth it?
The X-Carve is a relatively affordable machine, offering great value for users. It comes with high-quality parts and materials so you can feel confident that when assembled properly, the machine will work how it's supposed to.
Assembly is easy, and Inventables provides thorough instructions, but it does take some time to set up. Once everything is set up, the functionality is excellent, and you have complete control over the machine and its operations with easy buttons on the front and an emergency stop button on top.
While the Easel software leaves something to be desired, you can use any 3D CAD program you like and simply send the G Codes to the machine for production. This gives you versatility and ease of use.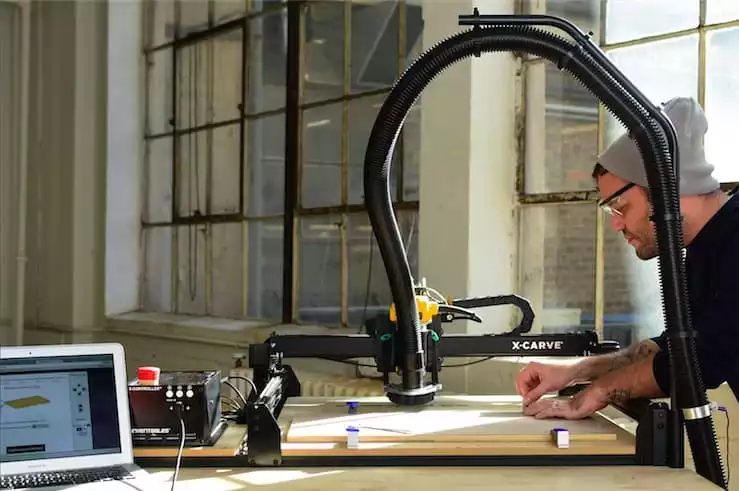 Why Go with the X-Carve? | Matter Hackers
It's easier to use with more bells and whistles than competitors, including a built-in dust collector, an established support community and frequently updated cloud-based software.
Check Price
We earn a commission if you click this link and make a purchase at no additional cost to you.
Further Research