Latest posts by Melanie Griffin
(see all)
In the world of computer-aided drafting, Autodesk looms large. And for a good reason; its AutoCAD program was the first commercially available CAD software for home computers that were just starting to take off in the 1980s. This combination made CAD accessible for more price and skill points, paving the way for its current range of uses.
AutoCAD originally offered only 2D drafting (2D drawing) capabilities – basically, it started as a computerized version of an engineer's desk, pencil, and measuring tools. While AutoCAD still uses 2D as its basis, recent versions in the last five years have added 3D capabilities meant to give its users a full spectrum of design possibilities.
AutoCAD has also started offering modules that pertain to specific industries that depend on drafting as their base process, such as engineers who build electrical systems. The program has continued to branch out as design needs to evolve in the real world.
But Autodesk has not sat on its original laurels since AutoCAD's release. As a software company, it's expanded beyond AutoCAD with other programs that tackle other aspects of the different industries that depend on design. That's where Inventor comes in.
Autodesk released Inventor in 1999 to integrate 2D and 3D design data into a single environment. The program is an application made for 3D mechanical design, simulation, visualization, and documentation.
It focuses on 3D modeling and the user's ability to test those models before creating prototypes – a valuable addition to manufacturing processes that don't have the time or money to waste on bringing to life models that don't actually work.
While Inventor does not seem like it would directly compete with AutoCAD, both are computer-aided drafting programs that are advertised as making the user's design process easier in overlapping ways.
While Inventor targets a somewhat smaller, more niche market, AutoCAD has started to specialize as well, and although they each take a different approach, both programs can be utilized for complete drafting processes.
Read on for the details about each CAD program, including their basic technology specifications, what they each do best and what users have trouble with, and which one comes out on top as the overall better software.
Main Differences Between AutoCAD vs Inventor
The main differences in the AutoCAD Inventor debate are:
AutoCAD uses Geometric modelling which is good if you depend on manipulating geometries with algorithms to get the designs you need, whereas Inventor uses parametric modelling which will help you if you need a way to change overall design aspects easily and instantly integrated.
AutoCAD has a wide coverage of industry standards, whereas Inventor has deep coverage of industry standards.
AutoCAD has more industry-specific tools to help your designs, whereas Inventor has a smaller selection but it goes deeper.
AutoCAD helps you design within the specific parameters of architecture or electrical engineering and a dozen others, whereas Inventor takes you all the way through the manufacturing part of mechanical design.
AutoCAD emphasizes design, whereas Inventor emphasizes manufacturing.
AutoCAD is geared towards getting your design exactly as you want it before moving on to the next step, whereas Inventor helps you get to your end goal with more ease but less precision.
Our Pick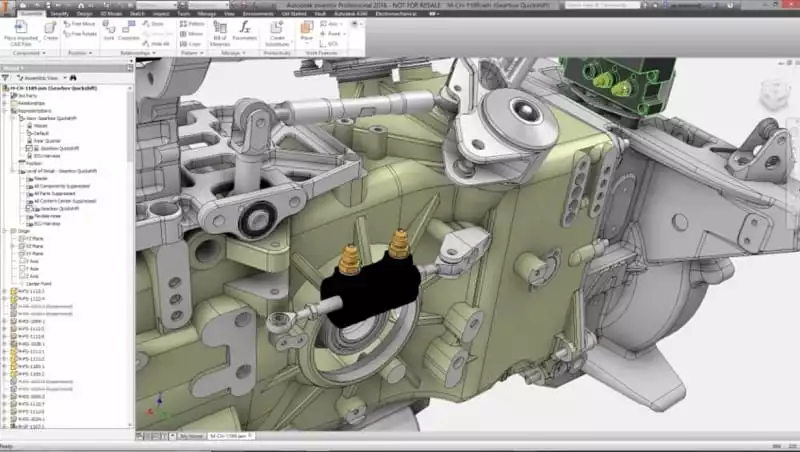 Why go with Autodesk Inventor?
Easier to use, easier to collobarate with others (and teams), better built-in documentation, and better design testing framework makes Autodesk Inventor my pick here.
Check Price
We earn a commission if you click this link and make a purchase at no additional cost to you.
AutoCAD is the founding computer-aided drafting software program of Autodesk. It was first released in 1982, and its latest release, version 2021, came out March 25 of this year. Many of its technical details have become standard starting points for CAD programs that came after it.
Geometry-driven models
AutoCAD bases its design system on geometry-driven models, which means it uses basic shapes that you mathematically manipulate to create your own designs. This type of computer-aided drafting helps you harness the power of algorithms to adjust measurements to your specifications, and it's become the mathematical base coding for the vast majority of 2D drafting software programs.
Standardized file extensions
Another feature that AutoCAD made standard in the computer-aided design industry is its patented .dwg file extension. This type of file extension keeps all the design information in one place while letting AutoCAD separate each aspect on the graphical interface.
.DWG has become the industry standard for 2D and 3D metadata, and although it's technically proprietary to Autodesk, it's widely compatible with other programs (including, of course, Inventor).
Vertical integration
Although AutoCAD is not the first program to take advantage of integrating other modules onto its basic program and certainly won't be the last, its expansive use of such keeps it relevant both as more industries explore their use of CAD and as traditional design industries take on greater shares of the process.
| | |
| --- | --- |
| Type of CAD | Geometry driven models |
| Type of Design | 2D driven but also capable of 3D |
| Computer Operating System Compatibility | Windows, Mac |
| Price | Subscription-based: $210 per month, $1,690 per year, or $4,565 per three years |
| File Extension | .dwg, .dxf |
| Industry Usage | Architecture, electrical engineering, civil planning, mechanical design, graphic design |
| Supports mobile? | Yes |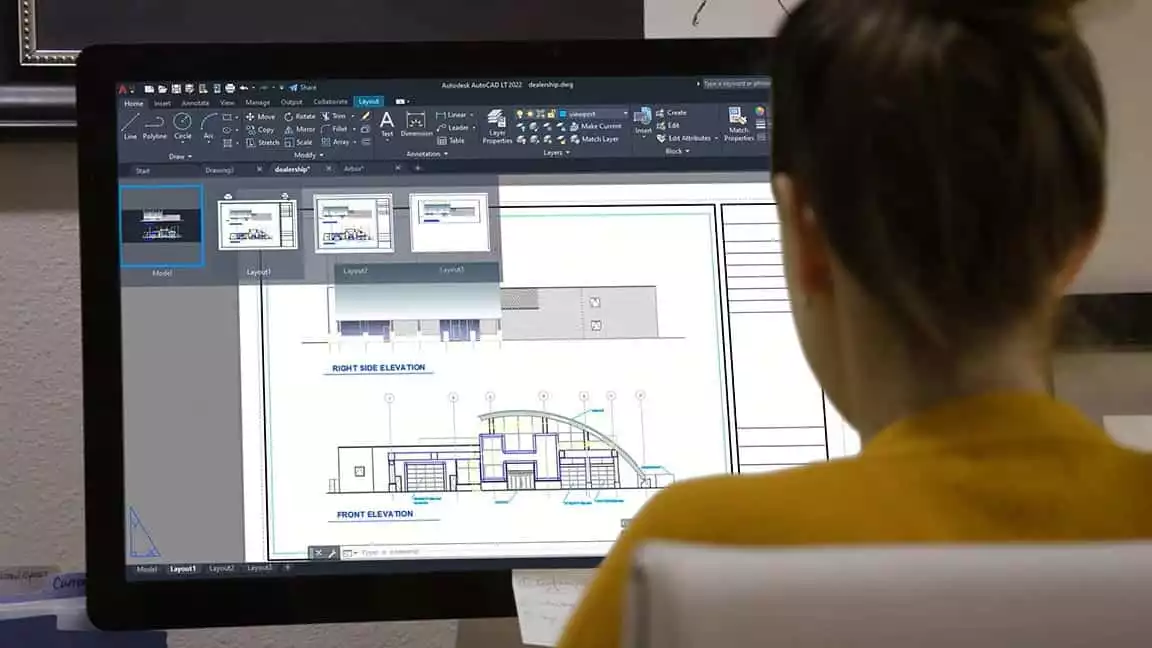 Why Go With AutoCAD LT? | Autodesk
The Gold Standard for industrial CAD, AutoCAD LT can flexibly adapt to 2D or 3D projects, while using local network drives if connection speeds are limited. Most additive manufacturing speaks AutoCAD.
View Promos & Discounts
We earn a commission if you click this link and make a purchase at no additional cost to you.
AutoCAD: The Advantages
As the industry-defining computer-aided drafting program for designers, AutoCAD has a lot to recommend it, especially as it's kept pace with developments in CAD-based fields. Here are our favorite aspects of AutoCAD and how they make your life as a CAD user easier.
Comprehensiveness. AutoCAD has made its reputation by catering to designers who want an all-in-one software. Its vast array of tools, including regular major upgrades like the addition of 3D modeling, makes its standard package appealing to those who want to learn the full extent of computer-aided drafting without having to choose specialized areas before they know the basics. This generalized thoroughness is ideal for those who are starting their CAD journeys.
Industry specialization. In addition to covering all and then some of your general design processes, AutoCAD has also developed a number of industry options that help you create within standardized parameters. For example, if you use AutoCAD to design houses, the architecture module gives you preformed, universal geometries and standards such as doorframes, so you don't have to create them from scratch – you can save all your creativity for the unique parts of your designs while making sure they stay up to code.
Extensive control of the design. The result of AutoCAD's extensive tools and options is complete control over your designs. Whether you're creating a new form of something that already exists, or coming up with something completely new, you'll be able to make sure each detail is exactly to your liking. That's not only important creatively, but practically as well, especially if you're designing for a real-world space that needs considerations you've never had to work with before.
2D and 3D capabilities. When AutoCAD added 3D modeling capabilities to its program, they were left separate from their 2D sources. This doesn't mean that AutoCAD's 2D and 3D processes don't work together when you need them to, but it does mean that you can work on either on their own. This is another feature that makes AutoCAD good for generalist users; you have both 2D and 3D as you need them without having to go to another software for either.
Works on multiple operating systems. If you need to shell out thousands of dollars per year for a software program, you don't want it to be incompatible with the OS system you already have. Fortunately, AutoCAD realizes this, and part of its ubiquitousness can be attributed to its availability on both Windows and Mac OSes. This also fosters better teamwork, since you don't have to worry about system compatibility with a partner, coworkers, or others in the workflow who may not even be in the same country as you are.
Student and light industrial versions available. Autodesk has several ways you can avoid paying full price for AutoCAD if you know you won't need its full suite of tools and features. If you're a student, you can get a scaled-down version of AutoCAD free for three years, and if you're a professional who can get by on a similarly lighter program, Autodesk offers AutoCAD LT for a reduced price. These are great ways to introduce yourself to AutoCAD without committing more than you want for a tryout.
AutoCAD: The Disadvantages
Just because AutoCAD is so well-known doesn't mean it's perfect. We've found some legitimate issues with the software that may make it more trouble than it's worth for certain users.
Difficult learning curve. AutoCAD's most notorious feature is how hard it is to learn as a software program. A lot of that comes from the perks we mentioned above – because it covers so much design ground, it's got an intimidating amount of features, tools, and commands to learn for beginners. Autodesk does have an array of official training material for all of its programs, but AutoCAD's best teaching is done through hands-on experience, which may be painful until you reach a certain level of comfort with it.
Unsynced layering. When you design in AutoCAD, you do it layer by layer, with each layer in your design as its own, separate document. That's great for attention to detail and complete control over the nuance of your design, but when you zoom out for the big picture, it can be cumbersome to piece together. This also makes collaboration more difficult since everyone working on the design has to make sure they are exactly in sync with the current working layers.
No motion testing abilities. Although it added a 3D design dimension, AutoCAD does not have the ability to test your AutoCAD drawings in motion. That takes away a critical aspect of designing manufacturing parts, especially on a large scale. Testing a design within your CAD software gives you an idea of what you need to tweak before you move on to physical prototyping; the more you have settled by then, the cheaper and easier your manufacturing process is going to be. Unfortunately, AutoCAD doesn't give you the support for that on its own.
Inventor was created as Autodesk's go-to 3D modeling CAD program (great for 3D printing). It's meant to take users through the manufacturing stage with a smooth transition between design and production – this and its younger age gives it a lower profile than AutoCAD, but it's also becoming an industry stalwart, just in a smaller, more focused user group.
Dimension based
Autodesk advertises Inventor as "object-oriented." In the case of CAD, that means you draw your basic form, then fine-tune it as a 3D model (as opposed to AutoCAD, which requires you to perfect your design via the initial 2D geometries before it transitions into 3D). This helps you build your 3D model like a sculpture, which is incredibly time-saving if your final goal is a mass-produced real-world object.
Range of file extensions
Inventor works with several different types of CAD files, and that means you can have flexibility when it comes to sharing your files across programs.
This expansion beyond the standard .dwg or .dxf file types is meant to take your designs directly to the manufacturing machines needed for production after your designs are completed.
Narrow user focus
When compared to AutoCAD, Inventor theoretically has a smaller group of CAD users it targets. Inventor's processes and tools focus on getting your design into production, so the software is geared towards manufacturers. However, if you're looking for a 3D modeling system for any reason, Inventor is worth a look.
Type of CAD

Parametric and design-driven

Type of Design

3D modeling

Computer Operating System Compatibility

Windows only

Price

Subscription-based: $260 per month, $2,085 per year, or $5,630 per three years

File Extension

.dwg, .ipt, .iam, .idw, .ipj

I

Industry Usage

Manufacturing, mechanical design, some electrical design

Supports mobile?

Yes
Our Pick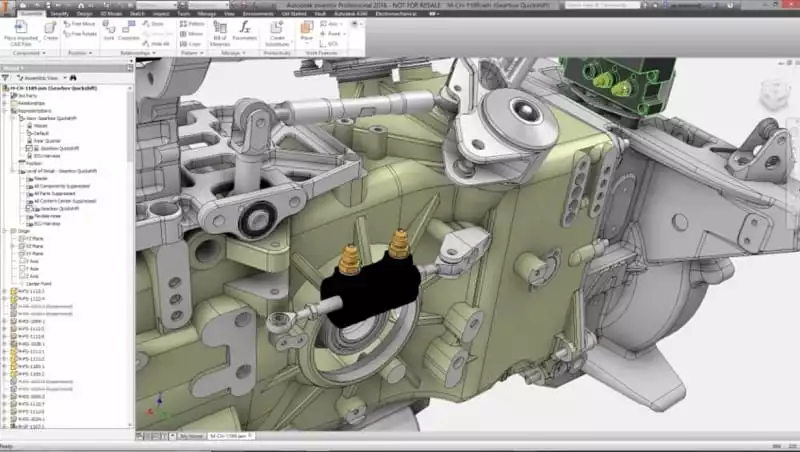 Why go with Autodesk Inventor?
Easier to use, easier to collobarate with others (and teams), better built-in documentation, and better design testing framework makes Autodesk Inventor my pick here.
Check Price
We earn a commission if you click this link and make a purchase at no additional cost to you.
Inventor: The Advantages
Autodesk created Inventor as part of its expansive Inventor LT suite of design programs. It's got a lot of user fans for a few specific reasons.
Easy to use GUI. Inventor has a reputation for being easy to use, and it's earned with the program's simple GUI layout. Unlike AutoCAD, many users feel comfortable jumping right into Inventor and working without extensive practice first. And as always, with Autodesk, there are some great formal learning tools on the company's website.
Collaboration tools. Manufacturing is definitely a team process, and Inventor keeps that front and center. Its lack of layers lets everybody edit on the same project-level while keeping the changes in harmony with each other. Plus, you can store your designs in a virtual vault, which is great for shared storage that stays organized for the next time you need a specific project or file.
Design data and analytics. The more details you know about your design, the easier it will be to take it from drawing to production, and Inventor gives you plenty of information to create, replicate, and communicate changes without having to dig to make sure you're looking at the right specs. Of course, this is great for shared work, but it gives you a solo advantage as well, especially if you're responsible for your entire production line.
Simulation abilities. Inventor's biggest gain over AutoCAD is its ability to simulate your designs in a number of conditions that it will encounter once you build it and put it to its intended purpose. Using Inventor's simulation tools, you can put parts or all of your designs through tests of stress, motion, pressure, and acceleration, guaranteeing you'll have the physics exactly right by the time your design gets used in the real world.
Inventor: The Disadvantages
Inventor doesn't have everything that AutoCAD – or other geometric-based CAD programs – does, and sometimes that means it comes up short for users. Here are a few flaws that Inventor users want to fix.
It only works on Windows. Despite all of its functionalities that make Inventor great for collaborative manufacturing design work, there's one thing that stands in the way – Inventor doesn't run on Mac operating systems. That's not the end of the world, but it is an unfortunate oversight that should be noted before you invest in the software.
Higher price than AutoCAD. Inventor also comes at a higher price point than its sibling program, at about an extra $50 – $1,000 to your payment, depending on which type of subscription you choose. But both Inventor and AutoCAD have 30 day free trials, so there's still a way to see if you like either before you buy.
It doesn't give you precise control. Because of its design-focused utility, Inventor doesn't let you change every single parameter of your design. Most users appreciate this big-picture modeling, but if you need such precise control, Inventor will not be your best bet.
AutoCAD vs Inventor: Frequently Asked Questions
Do AutoCAD and Inventor come from the same company?
Yes, both AutoCAD and Inventor are software offered from Autodesk.
Is there any way to try AutoCAD and/or Inventor before you commit to buying it?
Yes, both AutoCAD and Inventor offer a thirty-day free trial you can utilize to see if you like the programs before you pay for a subscription.
Do AutoCAD and Inventor cover the same kind of work?
No. Although there is some overlap, AutoCAD's functions are much more focused on drafting, while Inventor is primarily for modeling mechanical systems.
What are the user experiences with AutoCAD and Inventor?
Users have expressed that AutoCAD has a much steeper learning curve than Inventor. Inventor's graphical user interface is praised as being less confusing and easier to navigate than AutoCAD's.
AutoCAD vs Inventor: The Final Verdict
Our final decision in the Autodesk's AutoCAD Inventor CAD software program debate goes to (drumroll, please!) Inventor here. It's easier to learn, easier to collaborate, easier to document your work, and easier to test before you take your designs into production between the two Autodesk product offerings.
We like it better for all those reasons giving it a solid edge, and also because they're simple to apply to other design processes beyond manufacturing even if that's Inventor's most famous use.
However, if you need the exacting design control of geometric modeling, a more general but thorough introduction to CAD, or pre-packaged industry-specific modules for your design work to be its best, AutoCAD may work better for you.
Our Pick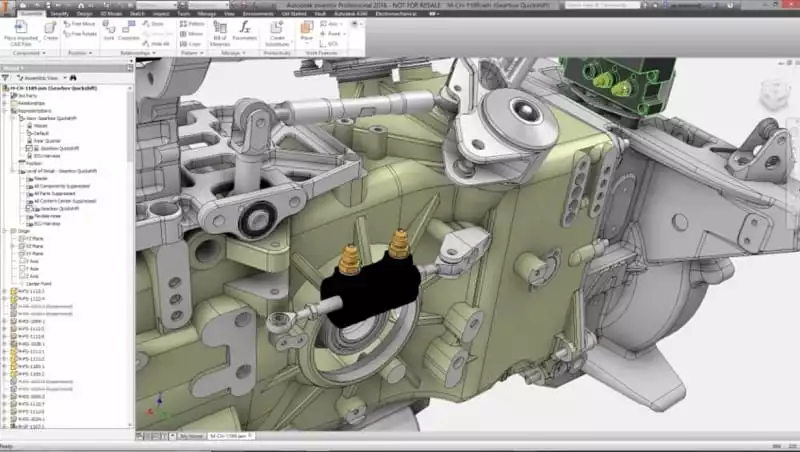 Why go with Autodesk Inventor?
Easier to use, easier to collobarate with others (and teams), better built-in documentation, and better design testing framework makes Autodesk Inventor my pick here.
Check Price
We earn a commission if you click this link and make a purchase at no additional cost to you.
Happy designing!
Further Reading on 3D Software, Design Automation, and Autodesk Software: