Latest posts by Justin Caldwell
(see all)
Raise3D manufactures 3D printers, and the N2 is a crowdfunding success story. The company managed to secure almost $500,000 from 350 backers in November 2015 using a Kickstarter campaign. They have multiple 3D printer offerings that will fit any project, and they offer some of the biggest print volumes available.
When determining which 3D printer to buy, it's important to research all of the options and familiarize yourself with the features. Consider what type of projects you want to print and your level of expertise with 3D printing before making a determination.
If you're in the market for a 3D printer and have been considering the Raise3D N2, we have the low down on its features, functionality, design, and set up so you can make an educated decision. Read on for all of the details you need.
BEFORE GOING FURTHER: The Raise3d N2 has been discontinued and replaced with the new Raise3D Pro 2.
Raise 3D N2 Overview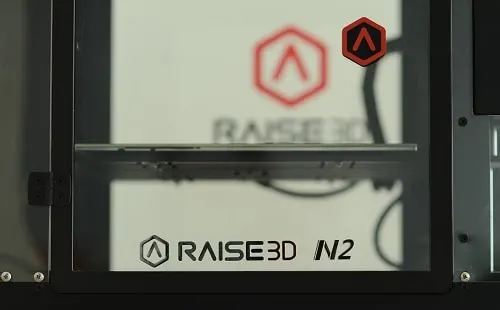 The fully enclosed design is also a great feature. Combined with a heated print bed and large volume, the Raise3D N2 is an excellent printer for those who like to use ABS and Nylon material. The Raise3D N2 also allows for the use of PLA as well as specialty filaments like HIPS and PETG.
The Raise3D N2 isn't the only 3D printer that comes with an onboard battery backup, but some don't, so this is a great feature. It assists in the event you have a power outage.
When the battery backup takes over, the printer pauses your current project and uses the battery to store your progress before shutting down. The battery backup isn't strong enough to continue printing, but you won't lose your work, so you can pick it up again when the power comes back.
Raise3D also offers a dual-extrusion model called the Raise3D N2 Dual, a model that provides a more substantial print volume of 12" x 12" x 24" called the Raise3D N2 Plus, and a dual-extrusion model with the larger print volume called the Raise3D N2 Plus Dual. All printers come to you fully assembled, so set up is easy.
Features
The Raise3D N2 has a print volume of 12" x 12" x 12", which is large enough for most projects. If it's not big enough for you, you can spring for the N2 Plus with an extra 12" of height. The printer is built with a sturdy aluminum metal frame and fully enclosed in an ABS, polycarbonate, and acrylic case.
This design improves print quality because it traps the heat and maintains a consistent temperature throughout the printing process. It also enhances the safety of the 3D printer by covering all of the heating elements, so they're not exposed or easy to touch. These safety features make it a great choice for schools and businesses.
It's a user-friendly 3D printer, another feature that makes it an ideal choice. The 7-inch color display offers a touchscreen, making it easy to learn and control. Beginners will find it easy to use and have complete control over their projects including monitoring and fine-tuning their design throughout the printing process.
Check out our Top 15 Easy 3D Printing Ideas for Beginners.
The touchscreen is also easily accessible via Wi-Fi with a LAN setup, so as long as you're on the same home or office network as your printer, you can print from anywhere. The Raise3D N2 touchscreen is fully integrated with the print resume feature so you can immediately start your print where it left off in the event you lose power or accidentally shut off the printer.
The Raise3D N2 comes with a heated bed. Some 3D printers don't, so this is a great upgrade, making printing much easier and your results much higher quality. The V2 Hot End is capable of reaching 300 degrees Celsius. The printer is compatible with most materials that are currently available, so you have plenty of options for your projects. This includes ABS, PLA, PETG, Carbon Fiber, Nylon, TPU, and TPE. With an upgrade to the wear-resistant nozzle, you can also use Metal Composites.

Dual extrusion on the Raise3D N2 is not standard, so if you need dual extrusion, the Raise3D N2 Dual is the best option for you. Using the N2 Dual, you can print in two colors simultaneously or use two different materials at the same time. Pair one material with dissolvable support so you can print more complex designs effortlessly.
Unboxing and Setup
All Raise3D printers come fully assembled, so unboxing and setup is easy. All you need to do is unpack it and position it wherever it's convenient. Raise3D includes all of the instructions you need to set up the hardware right out of the box. You will find a list of contents as well as all of the tools you need.
They also offer a comprehensive guide to installing the software on your computer, and the instructions are listed online as well for easy reference if you prefer. While it is fully assembled, you will need to unclip the zip ties before you start your first build. Save them for later in case you decide to move or transport your printer.
The accessory bag is located under the build plate, so you can unscrew the Z-axis ball screws with the included hex wrench and remove the accessories for use later. Remove all plastic and foam packaging and gently put the printer components back in place.
After a brief filament holder installation, you can plug in your new printer. The printer will turn on and begin a short startup sequence, and then it will be ready to print. A step-by-step guide to launching your first build will appear on the touchscreen.
Performance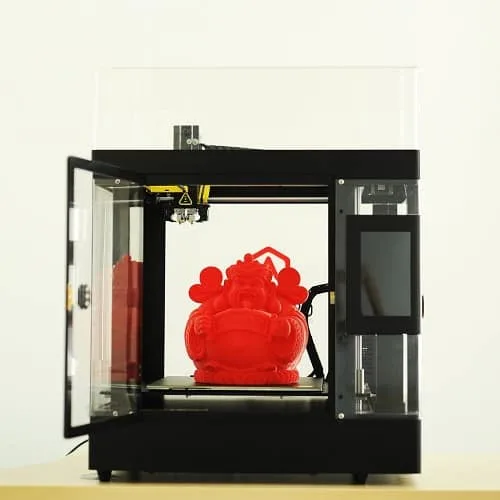 Raise3D N2 performance is superb. The frame is sturdy, it includes locking casters, and using the touchscreen is simple. While some users have complained that the hot end design can cause some jamming, the Raise3D N2 isn't nearly as touchy as many other 3D printers.
The versatility of the print materials, as well as the removable enclosure, make the printer easy to work on and monitor your printing progress simple. Other users have complained about a flaw in the feeding filament, that's an easily upgradable component.
Upgrades
With the release of the Raise3D Pro2 Series, users of the N2 have been anxiously awaiting any upgrades they can get their hands on to improve the functionality and performance of the N2, making it more like the Pro2. After countless hours of development, Raise3D delivered.
Optional upgraded components for the N2 include a dual-extruder, a webcam, silicone hot end covers, and a filament runout sensor. The dual-extruder upgrade allows you to print with multiple materials simultaneously without the need for an upgrade to the N2 Dual model. You can also increase the safety of your N2 with hot end covers, and improve your user experience with a webcam or a filament runout sensor.
Software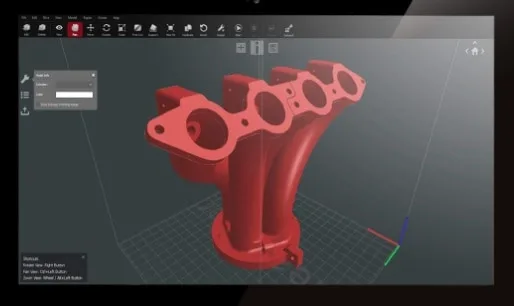 The Raise3D N2 uses ideaMaker software, and it's included in the purchase of your printer. The printer also contains a step-by-step guide to installing the software on your computer. It is contained on a USB drive, so all you have to do is plug it in to download it. You can install it on as many machines as you want.
It is compatible with Windows and Mac, so you can use whatever machine and operating system you're used to. Once the software is installed, you can check leveling settings, create designs, or import project designs from your computer into the software. You can also store designs on the USB drive and plug it straight into the touchscreen for printing.
The user interface on the software is easy and intuitive to use. You have options when it comes to configuring your settings and monitoring your builds via the touchscreen or the ideaMaker software installed on your computer.
Price
When it comes to 3D printers, the Raise3D N2 is one of the more pricey solutions on the market. However, it's solid construction, large build volume, heated bed, and 7-inch touchscreen make it easy to use, even for beginners. Safety is another huge benefit of using the Raise3D N2 and might be worth the cost if it will be accessible to students or younger users.
You'll also spend a pretty penny for upgraded models like dual-extrusion and a larger print volume, but the prices are worth it for a quality printer that offers the versatility of print designs and materials.
Support
Raise3D has a huge community of users offering forums where you can discuss improvements, troubleshoot issues, and share experiences. If you can't find what you need there, they also have online tech support, wiki pages, FAQs, and a support line you can call for help. You can also email them if needed.
Specifications
Build Volume: 12 inches x 12 inches x 12 inches (305mm x 305mm x 305mm)
Print Technology: FFF
Layer Resolution: 0.01mm – 0.25mm
Filament Size: 1.75mm
Filament Type: ABS, PLA, PETG, Carbon Fiber, Nylon, TPU, TPE, Metal Composites
Printing Surface: Buildtak
Heated Bed: Yes
Enclosed: Yes
Nozzle Working Temperature: 170 degrees Celsius – 300 degrees Celsius
Nozzle Diameter: 0.4mm (0.016 inches)
Number of Nozzles: 1
Moving Speed: 150mm/s – 300mm/s
Printing Speed: 10mm/s – 150mm/s
XY Axes Positioning Accuracy: 0.0125mm
Z-Axis Positioning Accuracy: 0.00125mm
Pros and Cons
Raise3D N2 Pros:
Excellent print quality
Large build volume
Exceptional build quality
Offers precision and accuracy
Versatile with many options and upgrades
Safe and great for beginners
Backup battery
Enclosed for safety
Touchscreen and Wi-Fi enabled
Raise3D N2 Cons:
Pricey
Software compatibility
Large size
The Verdict
The Raise3D N2 offers versatility in print volume and print materials. It's easy to use and offers a touchscreen and Wi-Fi for increased compatibility. While it only allows for the use of ideaMaker software, the software is easy to install and use.
This is an excellent printer for beginners because of how easy it is to use and the added safety of the enclosure. While it's a bit more expensive than other 3D printers, it comes fully assembled, setup is easy, and it's a great tool for students or the workplace.
The Raise3D N2 offers a fun experience for all users with sturdy, quality construction, a backup battery, and all of the tools and instructions you need to get started and enjoy printing your 3D projects and designs.
Recommended Reads