Latest posts by Total 3D Printing Team
(see all)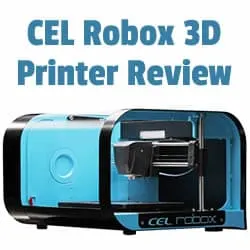 CEL is yet another 3D printing manufacturer that began on Kickstarter.com. Their fundraising campaign was nothing short of incredible as they raised a total of over $425,000 and quickly caught the attention of the 3D printing world.
The company is based in the UK and the Robox is designed for novice users as well as intermediate users who are looking for a balance of affordability and performance from a 3D printer.
The Robox has several standout features that make it an attractive option for 3D printing enthusiasts such as a print head that is interchangeable, automatic level functionality, and a heated build area. This 3D printer is designed for beginner and intermediate users who are looking for high-quality professional 3D printing capability in a smaller unit. Let's have a closer look at the Robox and see what it can offer.
Functions and Features of the CEL Robox 3D Printer
The Right Weight The unit only weighs just over eighteen pounds and the setup process is one of the easiest when it comes to 3D printers in lower price ranges. The structural integrity of the unit feels solid and the fit and finish was better than we would normally expect of a printer in this category.
The printer features a fully enclosed area and lights that illuminate once the printing process is initiated, paused or completed. These both help prevent fingers and hands from being burned accidentally and allow the unit to regulate the temperature of the build environment accurately.
Size Matters The CEL Robox is relatively small in size but offers powerful functionality and a long list of user features that make 3D printing easy. The build size is a bit smaller than some of the models the printer is compared with, but the high level of performance is an acceptable trade in the opinion of many users.
It comes equipped with dual print heads, efficient software that controls printing operations and automatic level functions which help make the printing process effective and easily controlled.
Strong Performance While the printer is not designed for commercial use it does offer some aspects of professional 3D printer functionality. It allows for a print resolution of 0.02 mm, which is thinner than a piece of quality copier paper and has a build capacity of 3.9 X 8.3 X 5.9 inches.
The size restrictions may be an issue for some users if you have plans of working with larger designs. However, if you do not have a specific use for larger designs and can accommodate the size elements allowed by the Robox, then it may simply be a non-issue.
Compatibility
The unit is compatible with ABS, PLA, HIPS, nylon, and PC as well as PVA printing materials. Because the system uses filament recognition, only the proprietary cartridges are compatible with all the printing materials listed. It is capable of utilizing a non-proprietary cartridge, however, the fit is not correct and the filament recognition function does not work properly.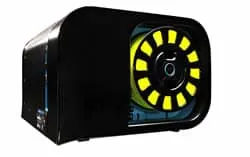 When you use the proprietary cartridges the software included with the Robox automatically registers the filament specifications, which is a very nice feature that you won't find even with some models that are much higher in price.
The design of the unit features dual extruders on a single print head, which allows you to print in the same material but varying sizes. Unfortunately, the unit does not offer support for printing in dual color as there is only a single port for one filament to be loaded at a time.
Initial Impressions
If you work with 3D printers for a while you will find out that it is relatively rare for the system's software to sense and diagnose filament errors without first being prompted by the user in some way. In this aspect, the Robox excels as throughout the testing experience a few times it paused the printing process and gave an alert there was an issue with the filament. Additionally, it gave details on the specific issue which made it easy to resolve and allowed printing to get back on track in no time.
The printing plate is made with PEI, which prevents it from becoming warped and assists in the easy removal of finished products once the area has cooled. The only drawback is the area is not quite as easy to clean as other materials but the area does not require frequent cleaning to begin with, so this is largely a non-issue.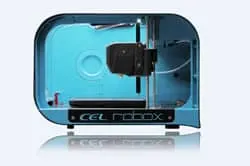 The print head functionality was impressive overall and it effectively cleared filament remnants after printing each layer of a product design. The unit does not come with an installed screen on the unit itself as all the controls are handled through the software which is loaded on your attached computer. A screen attached to the actual unit itself would be a nice touch, but this is a rather insignificant detail in the overall functionality.
What's In The Box
The software that comes with the Robox is AutoMaker. It is a proprietary piece of software and is exceptionally easy to use allowing users to track various statistics such as estimated completion times, device temperatures, displays error details and a comprehensive list of controls.
The Robox does not have a microSD card port or an attached screen so it relies only on the software installed on your computer to function. However, once you have sent the print commands and job to the unit, you can disconnect your device. You do not need to order a lot of extra accessories to get started printing with the system as it comes with several small maintenance tools and a filament cartridge included.
Everything you need to begin using the system is included when the package is initially delivered.
Warranty: CEL offers a 1-year warranty at no cost with the original purchase of the Robox and they also have various forms of support available on their website such as a blog and a long list of tutorials that teach exactly how to use certain functions of the 3D printer. Additionally, they offer email support and phone support as well.
Pricing: The CEL Robox unit comes with a price tag of around $1,000, which is certainly below many models offered for sale on the market with comparable printing quality.
Key Specifications
| | |
| --- | --- |
| Weight | 18 lbs |
| Build Area | 3.9" x 8.3" x 5.9" |
| Build Plate | Heated |
| Level Control | Automatic |
| Untethering | Partial |
| Chamber | Fully Enclosed |
| Design | Dual Extruder |
| Printing Capability | Professional Grade |
| Software Included | AutoMaker |
| Setup Time | Quick |
| Support | Troubleshooting |
| Warranty | One Year |
| Price | $1000 (check current price) |
Final Take: Great Buy for the Right User
The Robox offers some unique features and performs several functions exceptionally well when compared to other printers in its category. The print quality is significantly above average which is obviously one of the most important aspects of a 3D printer. It is easy to use and the software provides an intuitive user interface with controls that are simple to learn.
The downside of the printer is the relatively small build area which offers certain limitations in how you can utilize its printing capabilities. However, if you can overcome the size issue, this printer is a good choice for intermediate and beginner users that desire high-quality 3D printing functionality in a smaller unit that is easy to use.
Users should be prepared to spend a little more for the recurring costs involved with this unit as the proprietary cartridges do cost a little more than standard cartridges found on other 3D printers.