Latest posts by Jodie Chiffey
(see all)
With our best fastest 3D printers guide, you will find out why you don't need to sacrifice overall quality for quicker print speeds.
3D printing technology has progressed a lot, and these printers combine both fast speeds while offering brilliant accuracy at the same time.
In this guide of the top 8 fastest 3D printers on the market, we will outline all the pros and cons of these 3D printers, and find out which one in my opinion is the best to buy.
Our Favorite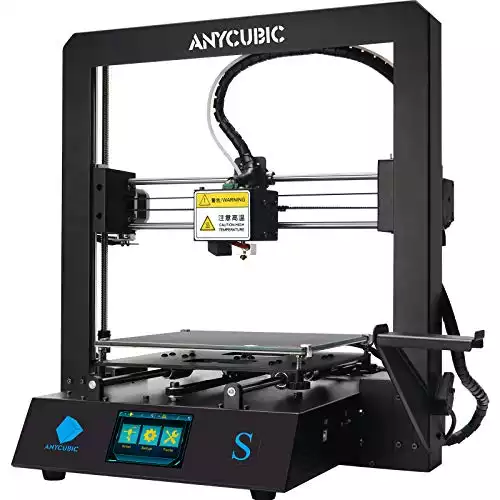 At a Glance: 8 of the Best Fastest 3D Printers in 2022
| | | | | |
| --- | --- | --- | --- | --- |
| 3D printer | Max Print Speed | Build Volume | Layer Resolution | More Info |
| Anycubic Mega S | 100 mm / s | 210 x 210 x 210 mm | 100 microns | Check price |
| Delta WASP 2040 Pro | 500 mm / s | 200 x 200 x 400 mm | 50 microns | Check price |
| FLSUN QQ-S | 300 mm / s | 255 x 255 x 360 mm | 50 microns | Check price |
| UNIZ Slash Plus UDP | 1,000 cm3 / hr | 192 x 122 x 200 mm | 75 microns | Check price |
| Zortrax M200 Plus | 200 mm / s | 200mm x 200mm x 180mm | 90 – 390 microns | Check price |
| HP 3D Jet Fusion 5200 | 4115 cm3 / hour | 380 x 284 x 380 mm | 1,200 dpi | Check price |
| Anycubic Photon Mono X | 60mm / h | 192 x 120mm x 245mm | 10 microns | Check price |
| Massivit 1800 | 300 mm / s | 1450mm x 1110mm x 1800mm | 500 mm / s | Check price |
Things to consider that will impact 3D printing speed
There are certain aspects such as the material, technology, and resolution, that will impact how quickly a 3D printer will create objects.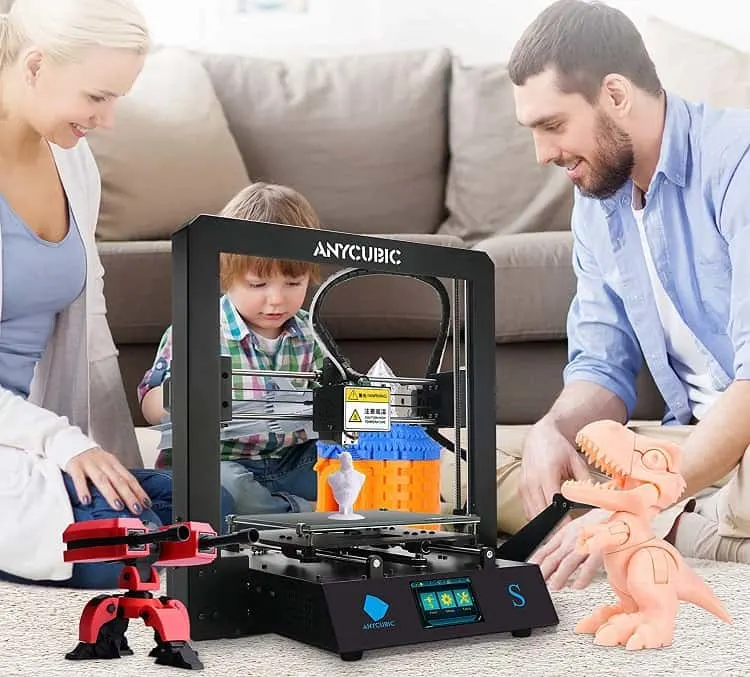 Technology
FDM printers, which are the most common models, usually print objects slower than resin 3D printers .
This is down to the technology that is used. FDM 3D printers have more moving parts, and the printing process is a bit more complicated as they use an extruder with three-axis and motors. This results in a slower print job.
3D printers that use resin don't have as many moving parts, so they don't print models quickly. The downside is the resin (SLA and DLP printers) are often more expensive.
Material
Another thing to consider with the speed of a 3D printer is the material you are using to print with.
Certain types of filament will often take longer to print with than others. While speed is important, getting a high-quality print is vital to ensure your objects come out correctly.
Certain plastics can cause a slow print, and you should weigh this up with how intricate or high-quality you want the finished object to be.
Resolution
The resolution refers to how many layers your model has.
Simply put, the more layers, the longer the print is going to take. So, objects with very few layers will print quicker. If you print an object with 50-micron layers, it will have a better resolution than one with 100-micron layers.
The resolution is directly related to the quality of the finished object because a model printed with a lesser resolution won't take as much time, but it won't be as intricate and detailed.
Model complexity
Finally, how complex your objects are will impact how quickly you can get them printed.
More intricate models will take longer than very basic objects that don't have a high detail level. For example, if you are printing a miniature with many complex parts, this will take a lot longer to get a high-quality print than printing a case for a micro SD card.
8 Best Fastest 3D Printers
The Anycubic Mega S is the perfect 3D printer for both speed and your wallet.
As far as budget 3D printers go, this is incredibly powerful and provides rapid printing speeds of up to 100mm / s. It isn't the quickest on our list by a long shot; however, for what you pay, it is very fast.
The Mega S also has an easy-to-use touchscreen and an intuitive user interface. You will also find an upgraded extruder, filament runout detection, and the patented microporous coating that allows you to remove the printed objects when they have cooled down easily.
There is some assembly required to get this 3D printer up and running but it isn't too complicated.
Overall this is a very powerful 3D printer that comes packed with a range of features. The nature of the high-quality prints and rapid speeds combined with the low price makes it a superb 3D printer to get your objects created quickly.
Our Favorite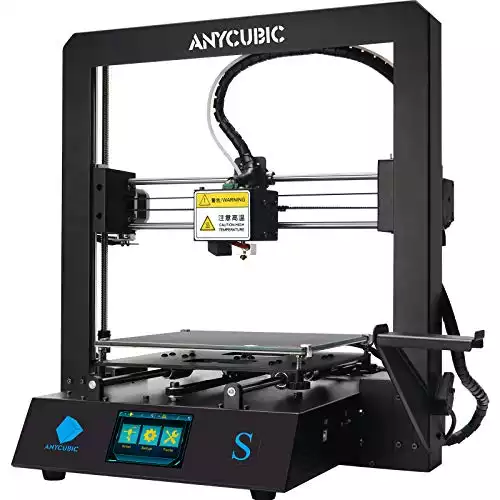 Pros
Very quick print speeds while retaining quality

Easy removal of objects from the print bed

Filament runout detection

Available at an affordable price

Has a touch-screen and good UI
Cons
There is some assembly required with this printer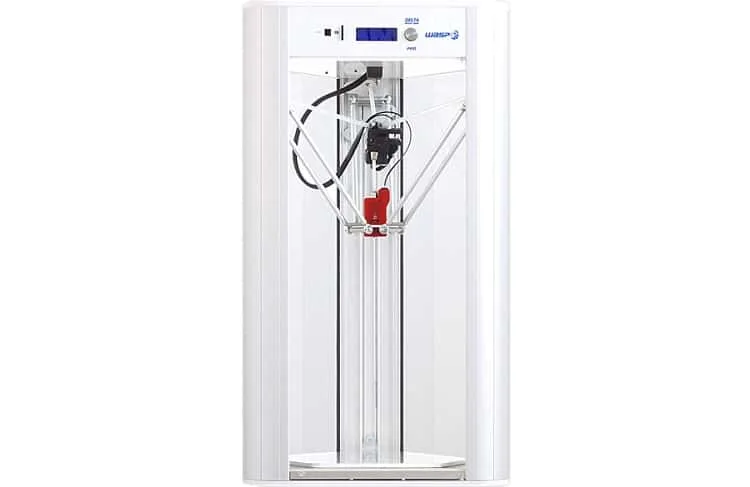 The Delta WASP 2040 PRO offers an excellent print speed of 500 mm / s alongside a host of other features.
This includes a print recovery mode if you encounter a power loss, being able to swap the filament head so you can work with different materials, as well as an enclosed print chamber. You can work with many different materials with this 3D printer, such as ABS. It is ideal for working with clay and ceramics.
You also benefit from WiFi capability with the Delta WASP 2040 Pro.
The pricing might put some hobbyist and casual users off, as it is a bit on the expensive side. However, it is incredibly powerful for businesses to print objects and models quickly.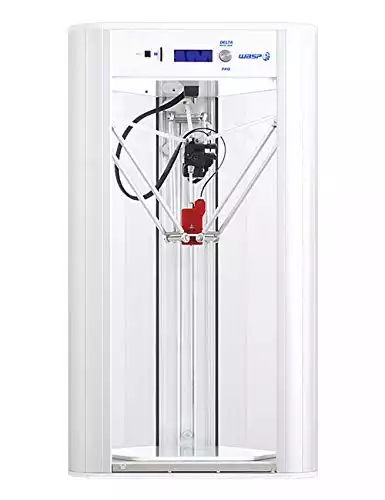 WASP 2040 PRO Turbo | Amazon
Accurate and reliable with all materials, the Delta WASP 2040 PRO Turbo is the fastest delta 3D printer in the world. The machine is equipped with an autocalibration system and a rectified print surface which guarantees the best performance over time.
Buy at Amazon.com
We earn a commission if you click this link and make a purchase at no additional cost to you.
02/02/2023 04:11 pm GMT
Pros
Very quick speeds and prints high-quality objects

WiFi capability and can work with different materials

Power loss and filament runout sensor
Cons
This 3D printer is quite expensive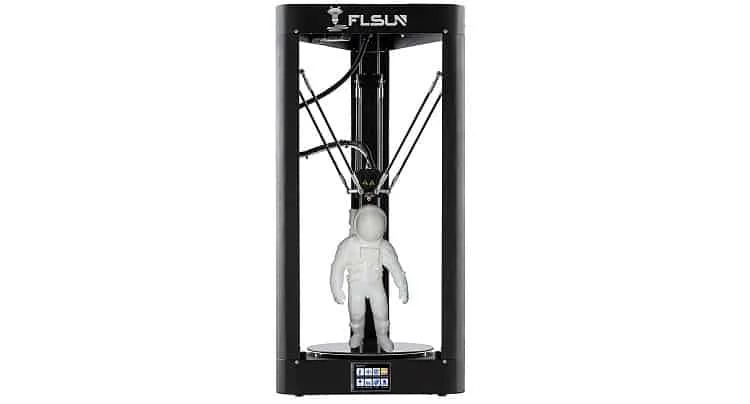 The significant advantage of the FLSUN QQ-S is that it comes pre-assembled. For beginners or those who don't want to spend hours setting up a 3D printer, this is ideal.
The noise level is another great thing about this 3D printer as it is below 50 dB. This makes it perfect for use in the home or in an office environment, while you also benefit from a very reasonable cost. If you don't want to spend tons of money on a 3D printer but want good speeds, the FLSUN QQ-S offers this.
We had a look at the FLSUN QQ-S before, as its build volume makes it one of the best large format 3D printers. Combined with the auto-leveling system, easy-to-use software, and overall durability, it is definitely worth your consideration if you want to print objects quickly.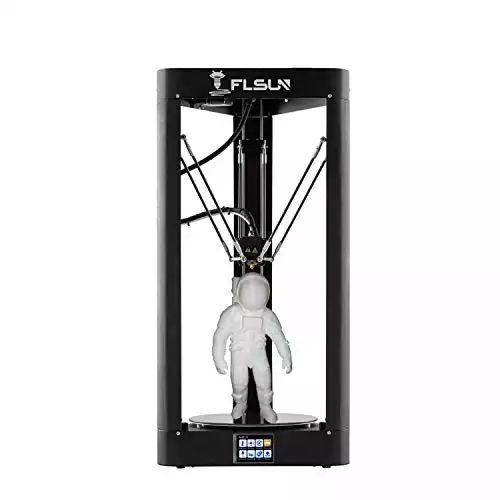 FLSUN QQ-S-PRO Delta 3D Printer | Amazon
Useful for consumers and schools, easy to set up and use, doesn't require much maintenance, and has reasonably good print quality. Can meet designers and other professionals who want outstanding print quality.
Buy at Amazon.com
We earn a commission if you click this link and make a purchase at no additional cost to you.
Pros
Offers quick print speeds for a budget price

Very quiet so won't disturb anyone when in use

Large build volume and easy to use software
Cons
Can take a while to get used to

Support options aren't great
The whole idea behind the UNIZ Slash Plus UDP was to create a commercially available 3D printer that offered fast speeds. In fact, they even created a Kickstarter campaign to get this 3D printer off the ground.
This is an SLA 3D printer that uses resin to print off your models, so it is already quicker than most FDM printers. The accuracy and precision of the objects that the UNIZ Splash Plus UDP prints are fantastic, although we would like to have seen a slightly better build volume as it is only 192 x 122 x 200 mm.
The build volume aside, this 3D printer offers remote control via WiFi, auto-calibration and it is easy to use overall.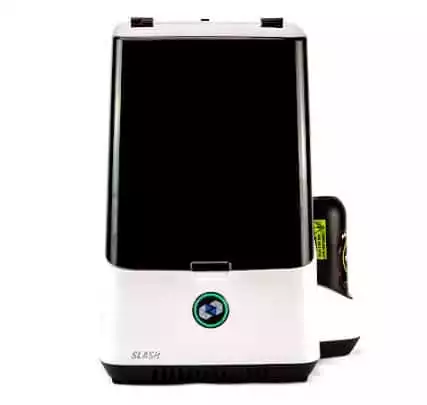 Uniz Slash Plus LCD 3D Printer | MatterHackers
The Slash Plus is full-featured, liquid-cooled LCD 3D printer which was developed to bring industrial-grade print speed to the desktop 3D printing environment
Check Price
We earn a commission if you click this link and make a purchase at no additional cost to you.
Pros
Very fast 3D printer especially for commercial use

Has remote control and auto-calibration

Easy to use and is a resin 3D printer
Cons
Build volume could be better as it is quite small

Comes with a fairly high price tag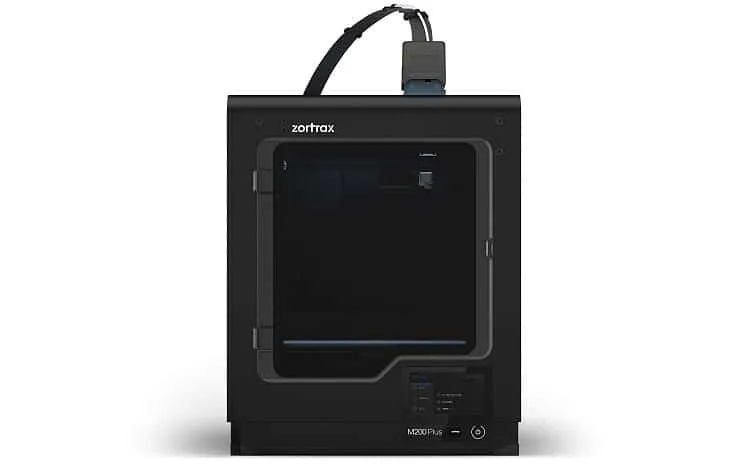 The Zortrax M200 Plus has the edge over several 3D printers in the same price range because it offers WiFi capability.
This very user-friendly 3D printer would be ideal for beginners who are still learning the craft but who also want to benefit from decent print speeds.
There is a filament run-out detection feature which we always like to see with a 3D printer, and you can also benefit from the decently sized build volume of 200mm x 200mm x 180mm.
The built-in camera allows you to let the Zortrax M200 Plus do its thing while you keep an eye on it remotely.
There are some issues around the lack of support for using with a Mac and the disappointing warranty, but it is a powerful and quick 3D printer for the price.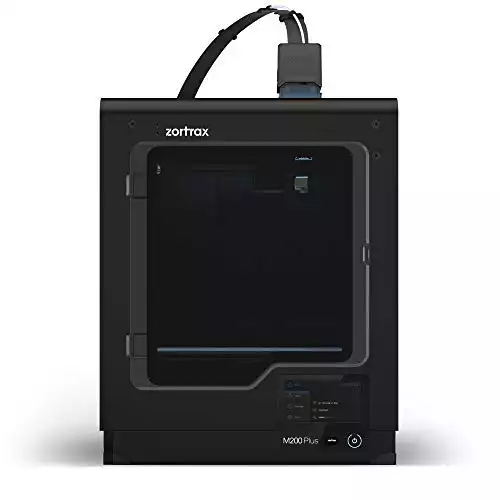 Zortrax M200 Plus 3D Printer | Amazon
Zortrax M200 Plus is a high-performance desktop 3D printer with wireless connectivity. It's designed to work in large 3D printing farms as a powerhouse of rapid prototyping, design, and production. M200 Plus is engineered for reliable, unsupervised operation over long periods of time, exactly what you would expect from Zortrax.
Buy at Amazon.com
We earn a commission if you click this link and make a purchase at no additional cost to you.
02/02/2023 06:41 pm GMT
Pros
WiFi capability and offers a remote camera

Build volume is a good size

Very user-friendly so ideal for beginners with some money to spend
Cons
Lack of Mac support and poor warranty
HP 3D Jet Fusion 5200
We are moving onto a large, industrial-scale, quick 3D printer. The HP 3D Jet Fusion 5200 isn't for anyone other than large businesses with a lot of money to spend. We know that it instantly knocks so many people out of buying this printer, but its incredibly print speeds are worth mentioning.
This 3D printer from HP provides print speeds of up to 4500 cm³ per hour, which is pretty awesome. The overall quality is the best you are going to get, and the build volume of 380 x 284 x 380 mm lets you print off some massive objects.
The HP 3D Jet Fusion 5200 isn't for many people, but for large businesses with money to spend, it is tough to find a competitor for what you get with this printer.
Pros
Unreal print speeds and overall print quality

Massive build volume for large prints
Cons
Isn't for small businesses or 3D printing hobbyists
The Anycubic Photon Mono X is one of the latest in a long line of great 3D printers that we love from Anycubic.
The Photon Mono X provides pretty good print speeds at 60 mm / s, which, for the price, is actually really decent. We like the large build volume, too, so you aren't restricted too much in what you can print off at once.
This is a resin-based printer, and the 4K screen combined with the double linear Z-axis makes for very intricate and accurate printed models. This 3D printer also offers WiFi connectivity.
It is best suited to smaller prints (such as miniatures or jewelry ), and if you want a high-quality, quick printer for a reasonable price, Anycubic is usually the brand to opt for.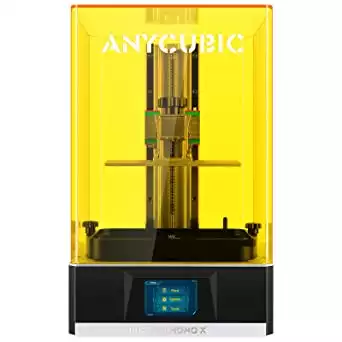 Pros
Budget 3D printer with quick speeds

Ideal for jewelry and miniatures

Resin-based with 4k screen and WiFi connectivity
Cons
Isn't ideal for larger prints
Massivit 1800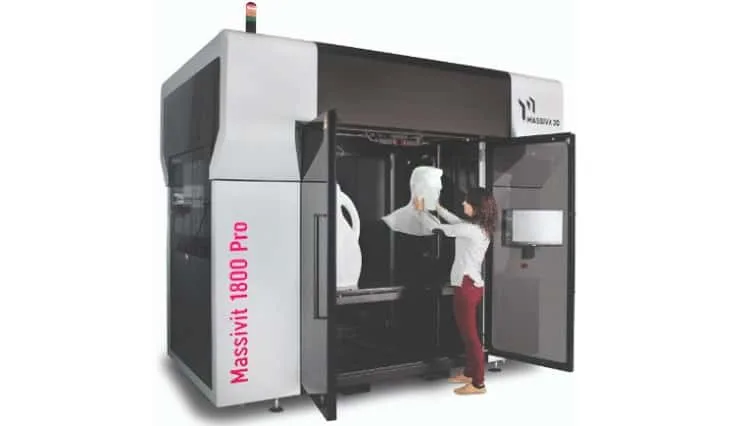 If build volume is important and you also have the money to spend, the Massivit 1800 is what you need. 'Massivit' is a big clue as it provides an astonishing build volume of 1450mm x 1110mm x 1800mm – that is pretty huge!
Aside from that, this 3D printer uses gel dispensing printing which gives it the edge of many FDM printers, as it contributes to a much better overall finish. This printer is used to create many different objects, such as movie props and art exhibitions.
This means it comes with a hefty price tag, but you pay for what you get. If you are lucky enough to operate the Massivit 1800, you will find it easy to use once you are accustomed to using gel dispensing printing (GDP).
Pros
Incredibly detailed prints and huge build volume

Great for large scale art exhibitions or movies

Much quicker than FDM printers
Cons
It has a huge price tag so most people won't be able to afford it

Gel dispensing printing can take a while to get used to
Frequently Asked Questions about fastest 3D printers
Question: Is printing speed really that important?
Answer: It can be. 3D Printing is often a long and arduous process depending on the complexity of the objets you are printing. However, being able to do this quicker than usual means you can print off more objects and boost the productivity of your 3D printer.
Question: Will speed come at the expense of quality?
Answer: Not always. Some 3D printers can print really quickly but the overall quality will not be as good. However, the 3D printers we have listed here, all offer quick speeds and high-quality printed objects.
Question: How important is a 3D printer's build volume?
Answer: Very important. The build volume is essentially how big the space that your objects can be printed onto. The bigger space, the bigger the objects that you can print.
Question: Are some materials quicker for 3D printing than others?
Answer: Yes. Certain plastics and other types of filament can slow down the printing process, whereas other materials can speed it up.
Question: Which is quicker – FDM or Resin 3D printers?
Answer: Resin 3D Printers. Many FDM printers can print pretty quickly, however, as a general rule, there are fewer moving parts and complexities with resin 3D printers, so they can print objects faster.
Question: Can I use a fast 3D printer as a beginner?
Answer: Yes. Some 3D printers are designed for industrial use and for more experienced people who have been using 3D printers for a while. However, there are many fast 3D Printers that are aimed at enthusiasts and can be operated from your home.
Which is the Best Fastest 3D Printer?
Speed ​​isn't everything but using a fast 3D printer that also offers high-quality, accurate, and accurate prints will save you a lot of time and money.
I am going to choose the Anycubic Mega S .
You might find this is a bit surprising because it isn't actually the fastest on our list. However, this Anycubic 3D printer does offer quick speeds but it does it at a reasonable price. It doesn't cost tens of thousands of dollars, and the accuracy of the printed objects is great.
With an easy-to-use UI, microporous coating to remove models quicker after they print, and filament run-out detection, the Anycubic Mega S is perfect for anyone who wants quick print speeds without the enormous price tag.