Latest posts by Total 3D Printing Team
(see all)
Trying to decide which 3D printer to buy can be frustrating if you don't know what you are looking for. Many factors play into the decision from the size, filament types, print speed, number of extruders, ease of use, the list goes on. Not to mention the wide variety in prices you can pay for printers.
As it can get confusing, we hope to help you with your search for the perfect printer. Two printers high on our list for you to consider are the Dremel Idea Builder and the Flashforge Creator Pro.
Currently, the Dremel Idea Builder is listed for $799 on Amazon. And the Flashforge Creator Pro is also listed for $899 on Amazon. Now that we know price will not be a deciding factor between the two printers let's get into some of the finer details of each.
These are fair priced printers, especially for the quality and consistency they will give you. Below we will take a look at their key specs and pros and cons. Also, I will try and help guide you to deciding which printer is right for you.
Bottom Line Up Front: I really like the Flashforge Creator Pro as it is truly a personal 3D printer with its customizable features. But be sure to read the full comparison and decide for yourself.
Initial Overview of Printers
Let's begin with the Dremel Idea Builder (also see my full Dremel Idea Builder review). Dremel builds their printers to be simple and reliable with some of the best customer support around. The company prides itself on how quickly anyone can begin printing once their Dremel printer is out of the box. In fact, the main selling point is the "plug n play" ability of the printer. As you know, less setup time means more time for innovating and creating.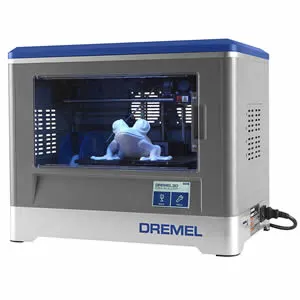 All Dremel machines are backed by a 1-year warranty and any issues can be solved with the company's online support systems. All of this allows them to focus on the education industry and getting more printers in classrooms. In short, Dremel wants to make 3D printing as pain free, for their users, as possible.
The Creator Pro is all about "making the impossible, possible." This specific printer is geared more towards the makers rather than beginners of 3D printing. The company aims to make all 3D printers easy to use for all consumers so don't be scared if you aren't quite a "maker" of the industry just yet. Flashforge will do everything they can to get you up to speed with 3D printing beginning with delivering you an amazing printer.
The first selling point of this printer is the fact it is open source, which allows you to upgrade and advance with the entire 3D printing community. But, the best feature of the Creator Pro is the dual extruders, which really opens the possibilities of your printer from multiple filament types to various colors and even more. This printer is a truly personal printer as it can be tailored to the needs of each individual printer who uses the machine.
Key Specs Comparison
| | Dremel Idea Builder | Flashforge Creator Pro |
| --- | --- | --- |
| Build Volume: | 9" x 5.9" x 5.5" | 8.9" x 5.7" x 5.9" |
| Build Speed: | 80-120mm/s | 40-100mm/s |
| Resolution: | 100 microns | 100 – 400 microns |
| Desktop Space: | 15.7" x 19.1" x 13.2" | 12.6" x 18.4" x 15" |
| Build Platform: | Heated | Heated |
| Dual Extruders: | No | Yes |
| Nozzle Diameter: | 0.4 mm | 0.4 mm |
| Connectivity: | USB, SD Card | USB, SD Card |
| Filament: | Dremel PLA | ABS, PLA, Exotics |
Dremel Idea Builder Pros and Cons
Pros:
Ease of use
Plug n' play capabilities
Large library of downloadable designs
Can handle files from multiple source types
Cons:
Limited filament type
Single extruder
Flashforge Creator Pro Pros and Cons
Pros:
Consistent print quality
Plug n' play capabilities
Dual extruders
Open source
Cons:
Difficult setup
Poor instructions
The information above makes it clear that each printer has their own positives and negatives. For the purposes of this article and helping you decide on a printer we now need to focus on the differences between the printers. This Dremel 3D Printer is ready to start printing as soon as it is unpackaged and plugged in; whereas, the Creator Pro does require some assembly.
Users of the Creator Pro have noted that it does take some time to figure out the setup as the instructions provided with the machine are rather vague. However, once assembled, the Creator Pro becomes a truly personal and unique printer with its dual extruders and open source technology.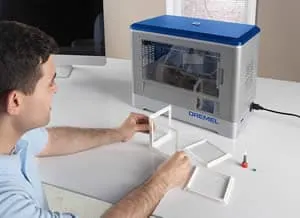 Neither printer stands out when looking at the overall size of the printers or the actual build volume as they are quite similar in size. Something to consider is the filament type options for each printer. The Creator Pro allows you to use multiple varieties of filament and you can even print with two separate types. This means you no longer need to waste quality, expensive filament on support pieces as you can use a cheaper filament in one nozzle dedicated to support structures.
The Dremel Idea Builder does not give you this freedom as you will be locked into printing with only one filament type. This may not be an issue for you depending on how you intend to use your printer though.
Which One is Best for Your Needs?
Now the great thing about both 3D printers is they can be used by anyone, from a beginner to an expert in terms of 3D printing. Deciding which printer is right for you really comes down to how you want to use the printer and what you intend to build. Unfortunately, that may not always be the most straightforward answer when thinking of how you intend to use the printer as your wants and desires may change.
A good starting point is deciding if you want to 3D print as a hobby for personal use or if you want to use it for prototyping or in some sort of business setting. Understanding this will allow you to narrow your search for a printer. For example, a hobbyist who is interested in the technology should look for a printer that allows them to get creative with their prints.
A hobbyist will want to experiment with various filament types, different software, and upgrades to the printer in order to get different results. Something like the Flashforge Creator Pro is a great option for this person.
On the other end of the spectrum we have a person who is using the technology to creative prototypes or create something for their business. For this person, they will want a straightforward, easy to use, and consistent 3D printer. They will not be as worried about the filament type if the printer is giving them a quality print. A plug n play system such as the Dremel Idea Builder is ideal for this type of person.
By understanding where you stand, a hobbyist or a business, you will save yourself a lot of stress. Be sure to ask yourself what you want to do with your 3D printer before trying to decide on one to buy.
What's Included with the Printers
Dremel Idea Builder includes:
– The Idea Builder
– Instruction Manual
– Quick start guide
– 1 filament spool
– Spool lock
– Power cable
– USB Cable
– SD Card
– Build Tape
– Object removal tool
– Unclog tool
– Leveling sheet
Flashforge Creator Pro includes:
– The Creator Pro
– 2 spool holders
– 2 spools of filament (White ABS and Blue PLA)
– 2 filament guide tubes
– Assembly tools
– Power cable
– USB cable
– Accessory Bag
– Dual extruder heads
– SD Card

Final Verdict: Which is Better?
As you can see, these 3D printers are great pieces of technology that both have many benefits for the end user. It is difficult to choose one over the other when we have two awesome machines that can be a perfect printer for many people.
But we must decide.
While I truly think the plug n play ability of the Dremel Idea Builder makes it a great option, it just does not have the same capabilities as the Flashforge Creator Pro. Considering both printers are priced equally, I love the ability to be creative with the Creator Pro.
There is nothing the Dremel Idea Builder lacks, it's just the Creator Pro has a little bit more. The dual extruders and open source technology really allow the user to create a perfect print when using the Creator Pro. I am speaking in terms of a general user who may have many purposes for creating with their 3D printer.
I do believe the Idea Builder is the right choice for creating prototypes or printing in a business setting. But for anyone looking to get into 3D printing or already advanced in the industry, the Creator Pro is a great option as it has all the features and abilities you would want in a printer.
Now that you know my choice, ask yourself what your intentions are for 3D printing. Once you know that, you will be able to decide for yourself on which is the right machine for you.