Latest posts by Total 3D Printing Team
(see all)
One of the best trends in 3D printing is companies making their printers with open source software and hardware. It allows for innovation, rapid growth, and change in the industry, which is just what it needs. We are seeing printers become more advanced and more accessible.
Someone can order a premium 3D printer from a well-known company, such as MakerBot. Or if you need a more budget-friendly option, you can order a printer that is very similar to a MakerBot model due to MakerBot using open source technology.
Sure, there are some downsides of open source technology. Cheap printers, knockoffs, and it hurt the original creator's profits. But, it also helps the industry expand to so many more consumers by allowing for less expensive, still high quality, options.
One such 3D printer that takes advantage of open source technology is the QIDI Technology X-one. The X-one is based on MakerBots previous Replicator generation and performs at a similar level of the more expensive MakerBot.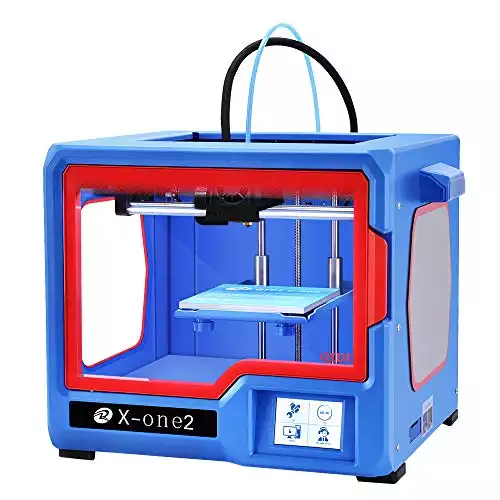 Ruian QIDI Technology CO., Ltd. created is a Chinese company that created the X-one. Their goal in creating this printer is to make 3D printing more accessible to the masses. During the research phase, the company paid close attention to mainstream printer designs and trends to help make their printer easy to use for beginners.
Also, they worked closely with a Chinese University while creating the machine. The result is an affordable, well-crafted, plug n play 3D printer.
Yet another great budget-friendly option to help expand the 3D printing desktop industry. You know we love to see companies progressing 3D printing, which is why we are so excited about this particular 3D printer. Now we will go into more detail about what makes printer a great machine besides the price tag. Let us know if you have any questions once you get through the review.
Cores Features of the Up Mini 2
All metal Frame: The X-one is not a cheap overseas manufactured product. It is one of the sturdiest builds of a 3D printer we have seen. Considering the price tag of this 3D printer, one would expect a cheap, mostly plastic design; however, that is not the case with this machine. The new double layer design of the all-metal frame ensures a sturdy printing process.
The entire casing only requires 8 screws to be held together. Overall, this is an excellent design and well worth the price you are paying for it.
3.5" color touchscreen: This is easy to operate screen with a user-friendly interface and menu. You can easily adjust print settings during the printing process. The touchscreen has some of the best clear and identifiable icons in terms of 3D printer screens.
This one is also touch-sensitive and one of the most rapid response times we've seen, which sets it apart from some of its competitors. It can support both English and Chinese languages making it compatible with some of the larger 3D printing markets.
Ready to work: This printer ships fully assembled and pre-calibrated making it a true plug n play 3D printer. Besides receiving the printer, you also get one roll of PLA filament, a spare part box, and an SD card with user manual, videos, and test files loaded on the card.
The combination of all these features means anyone from a first-time printer to an advanced user can easily set up this printer and begin creating with it. The company claims that within an hour of unboxing your new printer you should be able to start creating with it.
Fully enclosed print area: The X-one comes as a fully enclosed printer. This is very beneficial for those of you who print using ABS and other high-temperature filaments. The enclosed area allows for a constant and consistent temperature for the duration of the printing process.
You don't need to worry about cool drafts warping your prints and expect better layer adhesion for your creations. This is just another feature that adds to the consistency and quality of this printer.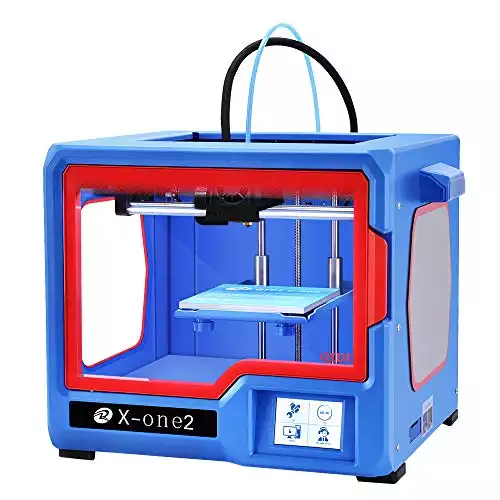 Key Specifications
These are the key specs of the QIDI Technology X-one 3D printer:
| | |
| --- | --- |
| Build Area | 5.5" x 5.5" x 5.5" |
| Print Speed | N/A |
| Filament Types | ABS, PLA, PVA, TPU |
| Layer Resolution | 100 – 500 microns |
| Extruders | 1 |
| Nozzle Diameter | 0.4 mm |
| Open/Closed System | Closed |
| Warranty | 6 Month |
| Our Score | 8.4/10 |
| Price | $399.00 (check here for the latest price) |
Pros of the X-one
Some of the best features we want to point out to you.
Great support: The 6-month warranty this machine comes with is a great benefit we love. The only thing we would change about it is extending the warranty past 6 months to a full year, but we will take what we can get. QIDI Tech will take responsibility for any faulty parts and mechanical issues your machine encounters within 6 months of the purchase.
The company will gladly provide free repair and spare parts for its users. Some users received replacements for main circuit boards, extruders, belts, power supply, and guide rods. We love companies that are easy to work with and care about their customers and QIDI Tech falls into this category.
Affordable: Currently listed at $399.00 from QIDI Technology on Amazon with free shipping means this machine leans much more to the affordable end of the spectrum when it comes to the prices of 3D printers. Considering the 3D printer which the X-one is based off, MakerBot's Replicator is nearly five times the price of this one means this is a much more affordable option.
With such a low price, many more people can afford it if this is their first printer or a great option to add another printer to your arsenal. Many products are simply you get what you pay for, however, that is not the case with the QIDI X-one.
You get what you pay for and so much more with its sturdy build, ability to create high-quality prints, and ease of use. This printer is an amazing value for all 3D printing enthusiasts.
Sturdy build: As we touched on earlier, heavy, double-layer metal structure means it is not very portable but very stable for prints. The X-one has a 6 mm aluminum alloy heated build platform with metal platform supports, which ensures a flat printing surface for the printing process.
An upgrade from previous versions is the new 10 mm thick guide rod. An extra thick guide rod allows for more stability and higher accuracy printing.
Cons of the X-one
Of course, the positives of the X-one are great, but we must not forget to highlight some of the downsides for you as well.
Heavy machine: With a great design and sturdy construction comes a lot of weight. In fact, the whole printer weighs about 42 pounds. This is not the ideal machine to move around frequently. With this amount of weight, it is better off left where you will use it most whether that be an office, bedroom, or workspace.
Where ever your desk may be, we recommend keeping the printer in one spot for the majority of its lifetime.
Noise level: One of the most common issues among larger 3D printers on the market today is the overall noise level of the printing process. Well this is a relative issue and differs from user to user, we feel we need to point it out to you all as many testers have noted the noise level of this particular model.
However, don't let this be a deciding a factor. Unless you are willing to buy a much smaller printer, the majority of printers will have a similar noise level to this one.
Build Area: This is not the largest build area you will see on a desktop printer. It is on the smaller side of industry average these days. It can handle most prints if you are just a hobbyist printer. If you are wanting to create prototypes or larger builds we recommend scaling them down to fit the build area. Or you can always print sections of your overall design and attach them once they are all printed.
Final Take – Can print with the best of them for a fraction of the cost.
Overall, this is a great 3D printer for anyone who needs a budget-friendly option. It creates high-quality prints that look as good as the more expensive printers. Any printer based on a MakerBot should meet your expectations. The X-one meets and exceeds our expectations.
One of the best values for a printer that is available on the market. QIDI Tech hit the nail on the head with this machine and achieved exactly what it set out to do, create a printer for the masses. The plug n play capabilities and easy to use touchscreen make it a great printer for new-comers to the industry.
The all-metal frame, warranty, and quality of prints make it a great option for an experienced user to either replace an old printer or add another printer to their collection. Anyone who purchases the X-one will not be disappointed with their choice.
This is a great piece of equipment for creators. The 3D printing industry needs more printers like this one to continue growing and expanding its reach.