Latest posts by Jodie Chiffey
(see all)
Choosing a 3D printer as a hobbyist is one thing, but the stakes are high when it comes to industrial-grade printers. You need a machine that can deliver and won't let your business down. Well, this Raise3D E2 review and guide is certainly the right place to start your search.
In this guide, I'll discuss the ins and outs of industrial 3D printing, giving you an idea of the sort of technology that's available on the market today and at what price range.
Specifically, I will take a closer look at the Raise3D E2 printer to see just how well it performs against the competition.
You'll be able to learn about all of its pros and cons, including useful information such as how difficult it is to assemble, how long it takes to set up, and how well it performs when it comes to printing.
Before we begin, it's important to stress that the E2 is an industrial-grade, dual extruder 3D printer. Therefore, if you're a hobbyist or someone who is new to the world of 3D printing, this probably isn't the machine for you.
Instead, I'd recommend reading our guide to the best 3D printers on the market right now so you can find one that's tailored to your needs and experience level.
However, anyone hunting for a printer to use in an educational setting should certainly consider the E2; Raise3D advertises an education discount on its website specifically for this printer.
Now you've got a better idea about the contents of this guide, let's get to know Raise 3D as a company.
Raise3D E2: An Overview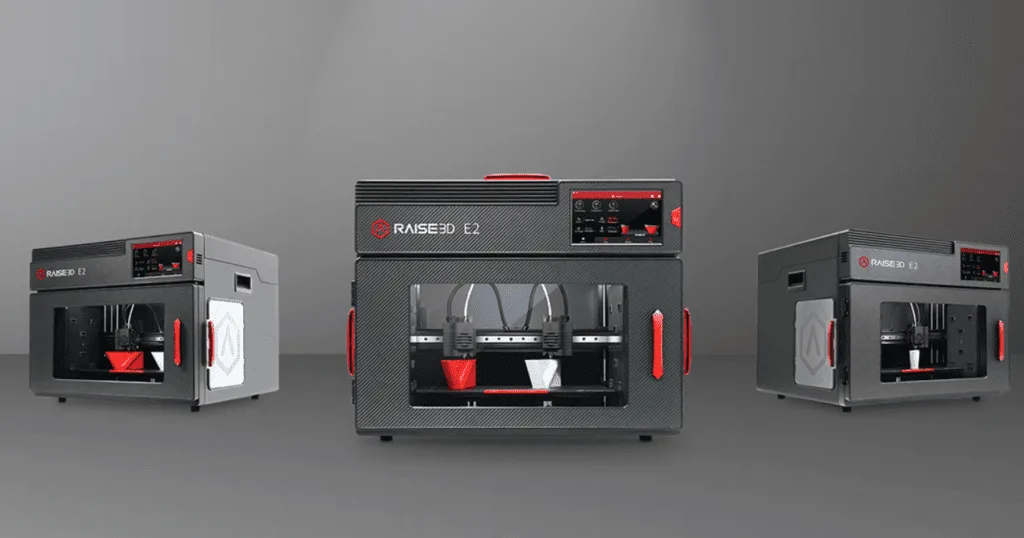 Raise3D is a leading manufacturer of industrial-grade 3D printers. The company was founded in 2015 and is based in California, though it also has offices in Hong Kong, China, Singapore, Australia, and Korea.
Raise3D's first-ever series of printers was the N Series, which answered the market's need for an aggressively priced 3D printer. Many of these early printers won awards, and a year later, the company launched its own slicing software, ideaMaker.
The E2 printer was launched in 2019 and was originally reserved exclusively for the education sector. Nowadays, however, its applications are more varied.
Since the start of the Covid-19 pandemic, Raise3D has also sought to help the public health effort by opening up a Network Platform with free-to-share files of useful PPE items like medical masks, which can be 3D printed.
Raise3D E2 – Key specifications
Before you read any further, it might be helpful to make a list of your requirements, so you know exactly what you're looking for in a 3D printer. Otherwise, how will you know if the E2 is right for you?
I always recommend doing this by creating three columns – one for the features you definitely want, one for features you don't like/need, and one for features you would like but could ultimately live without.
Once you've done this, you can see how well the E2's specifications, which are listed below, match up to your own.
| | |
| --- | --- |
| Print Volume | 330 x 240 x 240 |
| Print Head System | Independent dual extruder (IDEX) |
| Print Technology | FFF |
| Filament Diameter | 1.75 mm |
| Max Build Plate Temperature | 110°C |
| Connectivity | WiFi, LAN, USB, Live camera |
| Filament Run-out Sensor | Available |
| Machine Size | 607 x 596 x 465 mm |
| Net Weight | 35kg |
| Latest price | Click here to find the latest price |
Core Features of Raise3D E2
The Raise3D E2 might not have the biggest print volume – it's smaller, for example than the Modix Big 60 – but what it does have, and what it really excels in, is quality.
This printer has been designed to an industrial standard not because it's capable of printing big components but because the application of independent dual extruders gives the printer the ability to perform advanced functions such as Mirror and Duplication Modes.
With that in mind, let's take a closer look at the E2's most impressive features.
IDEX
As you might have picked up by now, the E2 boasts independent dual extruders (IDEX). This means that each extruder is capable of acting independently of the other along the same axis.
The benefits of this feature are twofold. Firstly, it allows the printer to perform advanced functions, and secondly, it minimizes the risk of the extruder interfering with the print job.
By having two extruders, you can print twice as fast, work on multiple models at once, and work with different colors or materials on the same print.
Mirror Mode
This is a pretty unusual feature, so I was excited to try it out when I first got to grips with my E2. Essentially, Mirror Mode prints a model and an inverse version of that model at the same time.
If you regularly need to print an inverse version of your models, this is a handy feature, but if not, then it's a bit redundant. Nevertheless, it's one of the things that makes this 3D printer stand out from the crowd; it goes the extra mile to make life easier for all users.
Duplication Mode
Duplication Mode refers to the process of synchronized printing. This means that the E2 prints your model and an exact replica of that model at the same time, doubling production capacity.
Easy Swap Print Heads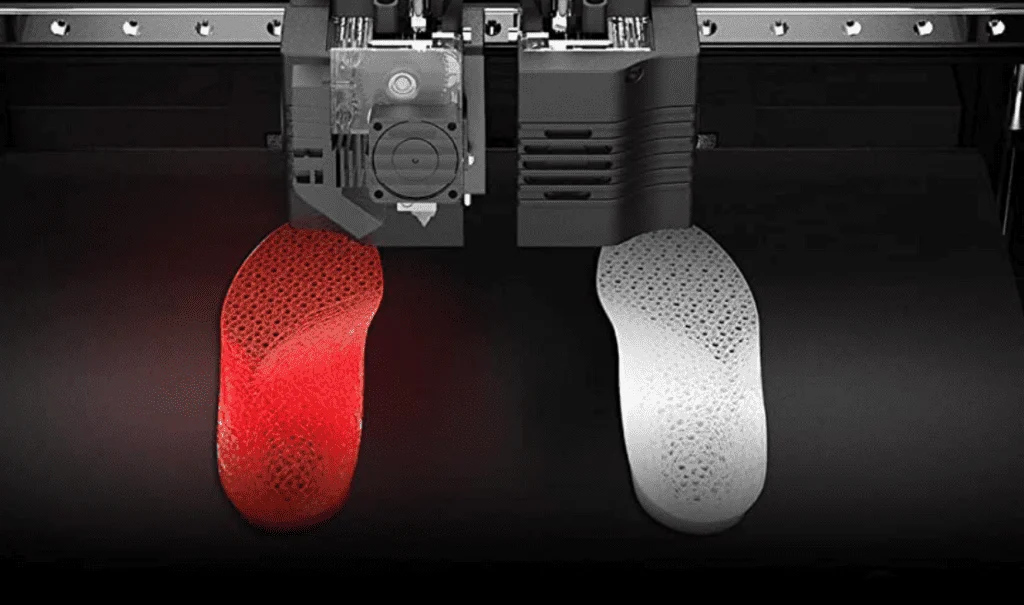 Possibly one of the most convenient features I've ever encountered on a 3D printer, easy swap print heads make it effortless to remove and change print heads during printing, for example, if you need to use a different nozzle.
This is often an unnecessarily difficult and time-consuming process, so I really love that Raise3D has created a solution.
Auto Bed Leveling
Okay, so this isn't a revolutionary feature – many recently developed 3D printers offer it – but auto bed leveling saves a lot of time. Instead of wasting precious time trying to get the bed level manually, the E2 does it for you.
The extruder is able to adjust to minor surface contour changes, resulting in vastly improved bed adhesion and better print quality.
Flexible Build Plate
I can think of so many times in the past when my prints have been damaged after removing them from the build plate. This is undoubtedly one of the most common problems encountered by 3D printers and one to which most printers often don't have a satisfactory solution.
Fortunately, this isn't the case with the E2, which features the BuildTak FlexPlate. This plate is designed to bend, allowing prints to be removed from it more easily and with less chance of damage.
Camera
The inclusion of a camera in the E2's design allows the entire 3D printing process to be monitored during every print job. It operates by connecting to RaiseCloud so users can track what's going on remotely.
Power Loss Recovery
Sensors on the E2's extruders detect when the filament is about to run out, saving the print job. And, in the event of a power outage, this printer also has a power loss function which allows it to save its place and continue printing when power resumes.
How does Raise 3D E2 Perform?
There really isn't much that I don't like about this 3D printer, so hats off to Raise3D for creating a genuinely impressive machine.
With the E2, there's no hanging around – printing is faster and easier than ever. Raise3D's powerful software, ideaMaker, is intuitive to use and doesn't take long to get to grips with, showing why the E2 is so perfect for use in an educational setting.
While I wouldn't recommend the E2 as a desktop printer due to its size and weight – it's definitely a step up from some other models I've tested – the overall design is sleek and stylish enough that it wouldn't look out of place in a contemporary office.
Set up is a fairly quick process straight out of the box; all you have to do is unpack the machine, plug it in, and go.
Moreover, calibration is simplified by the existence of a camera and touchscreen to guide you through the process – I hope to see more 3D printers adopting the same idea over the coming years since this really makes life easier.
I was a little anxious after seeing the size of this printer that it might be noisy, but it operates quietly even with the doors open.
Once I got to grips with the basic printing process, I started trying out some of the E2's extra features, such as Mirror Mode, and found them pretty straightforward to grasp. I tested each quality setting and found that even the most basic one had a very nice finish.
While some other 3D printers I've used in the past have left me confused after hours of trying to get just one good print, I didn't encounter any issues with the E2 and produced a number of high-quality outcomes.
Pros of Raise3D E2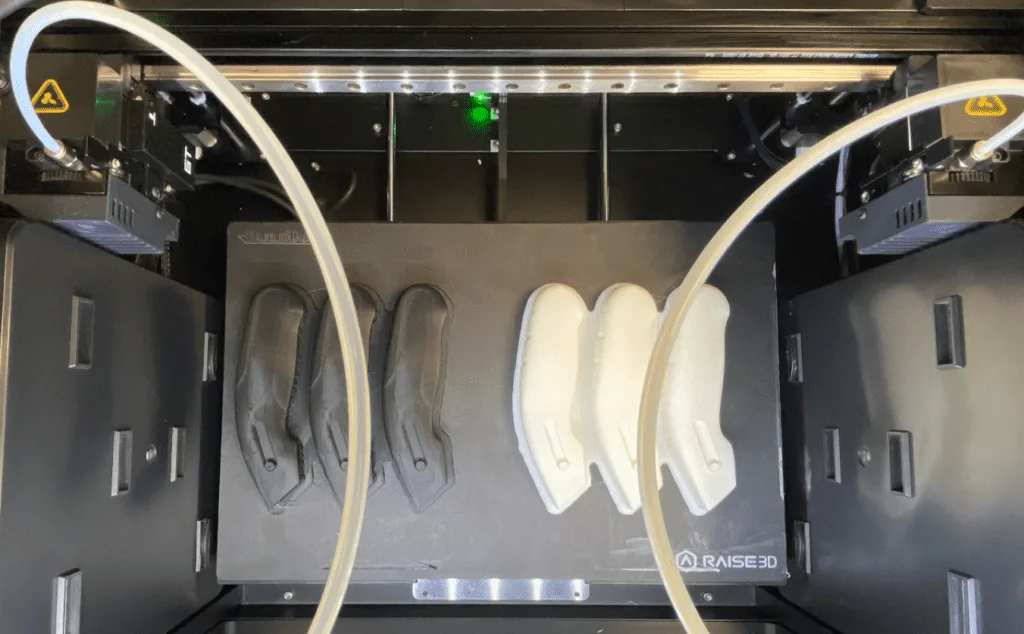 When I tested out the E2, I was genuinely impressed by almost everything. This is a rare occurrence with 3D printers, as most tend to have one or two big flaws, but that simply wasn't the case here.
So, let's explore the E2's pros.
High print quality
There are three different quality settings to choose from. I tested each one, expecting that the third would be noticeably poor compared to its counterparts, but I found that to be untrue, to my surprise.
Yes, there were some examples of fine stringing and other imperfections. However, these were minor. Generally, the finish was excellent. The E2's extrusion is extremely precise.
Sturdy design
The E2 is perfect for use with children and young people, thanks to its robust design. It's stylish yet large enough that it feels capable of withstanding frequent use by inexperienced hands.
Accessible software
For anyone who's learning the ropes of 3D printing, Raise3D's software, ideaMaker, is a godsend. Just like with the printer itself, there's no need to waste time perfecting hundreds of settings if you don't want to.
7-inch touchscreen
Undoubtedly, the E2's touchscreen is one of the best I have used on any 3D printer, with a clear user interface that makes the whole printing process a joy.
Compatible with multiple filaments
One of my pet hates is when 3D printing companies design machines that only print using their specific brand of filament. As such, I was delighted to find that the E2 is compatible with a wide range of different filaments.
Cons of Raise3D E2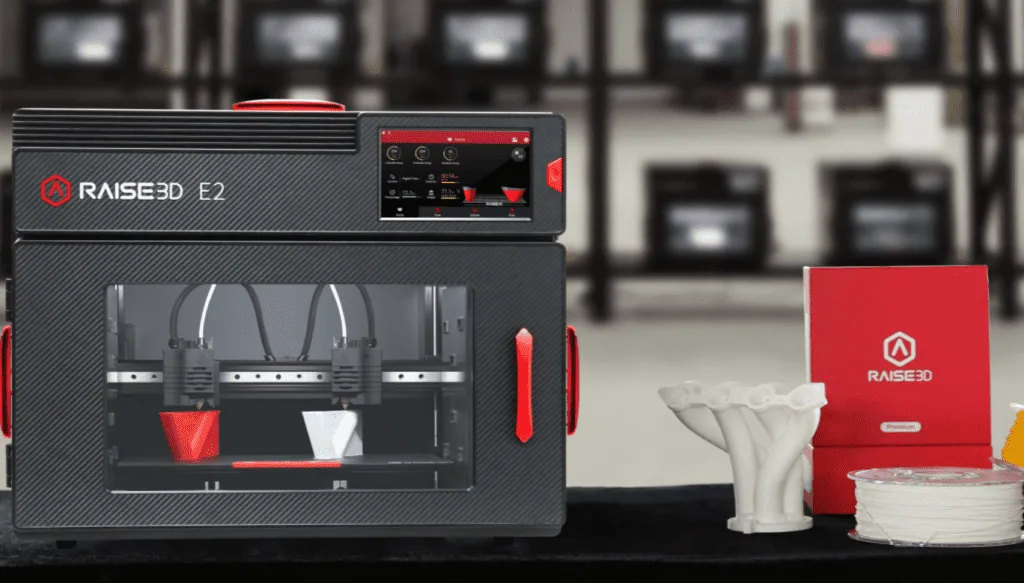 I could easily talk all day about the pros of the E2, but it's important to note that it does come with a set of cons, too, which I have included below.
Expensive
The E2 is a premium product with a premium price tag – you can hardly blame Raise3D for putting it within this price bracket, given just how well it performs.
I think this printer is priced fairly for educational and professional use, but I can appreciate that this kind of price will simply be too expensive for many potential users. Yes, there is a discount available for educational purposes, but I think that this should be higher than it is at present.
Complex workflow steps
While the E2 is generally pretty easy to use, some of the workflow steps can be a little complicated to get to grips with at first. However, this is probably amplified by the fact that using the E2 in every other way is so quick and effortless.
Difficult to change nozzles
Particularly if the E2 is being used for professional or business purposes, the process of changing from one nozzle to another is more time-consuming than I would have liked.
Are there any alternatives?
There's no doubt that the E2's sizable price tag will put some people off buying it. However, if this is the case, or if you think this particular printer doesn't quite meet your requirements, there's no need to be disappointed as there are hundreds of other options out there.
No matter how tight your budget is, nowadays, it's possible for anyone to get into 3D printing. Read on to find out which printers I'd recommend!
Lulzbot Taz 6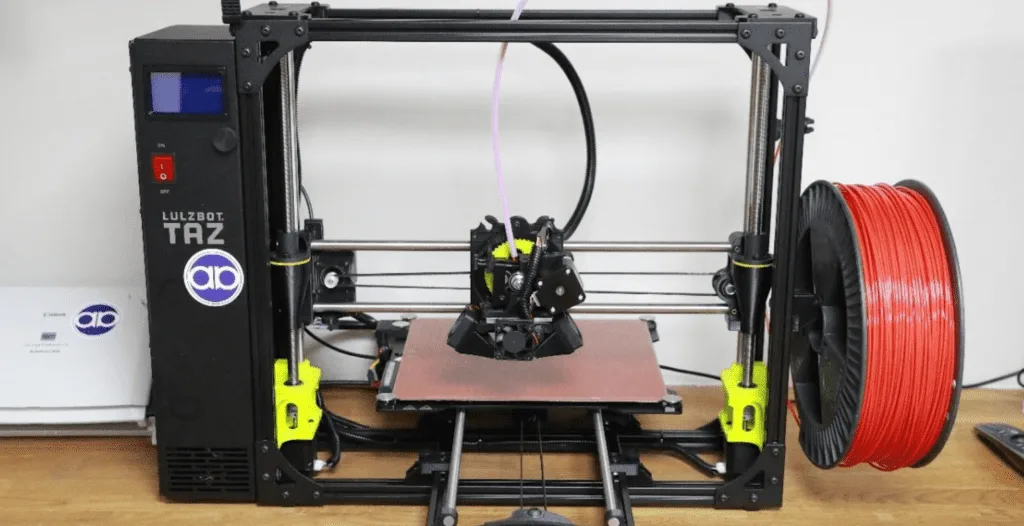 For a similar price, the LulzbotTaz 6 is worth looking into if you need a printer that can be used for educational purposes.
The Taz 6 has a futuristic design and comes complete with software that teaches students about the process of 3D printing. It offers a large print volume, meaning more than one object can be printed at once, and the LCD display allows users to track the progress of the print.
Other features include automatic print bed leveling and multiple filament compatibility.
Unfortunately, the Taz 6 is considerably noisier than the E2, so if you plan on using it during a school lesson, you'd need to factor this in.
Dremel 3D40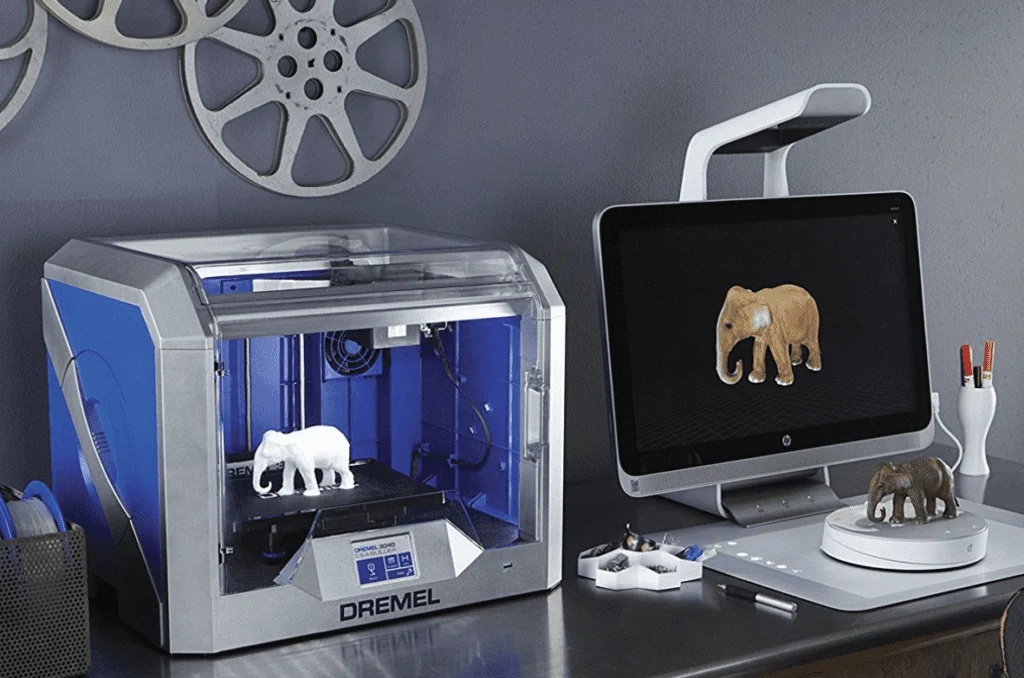 Another 3D printer that's excellent for use in educational settings is the Dremel 3D40.
It looks fairly similar to the E2 – it's just as large if a little less refined in appearance – but what really makes it stand out is the fact that it comes with lesson plans. It's no surprise that the 3D40 has won awards; this printer means business.
Plus, if the E2 is too expensive for your budget, the 3D40 is a better option at around half the price.
Frequently asked questions about the Raise3D E2
Question: How do I maintain Raise3D E2?
Answer: There are seven key aspects of maintenance you need to be aware of, which are as follows:
General – clean the printer before every use
Extruder – make sure it is in good condition, checking the screws that secure the hot end
Hot end – make sure it isn't clogged, clean carefully, and check screws
Build plate – clean with isopropyl alcohol and a cloth
Guide rail – ensure it is clean and make sure the print head can move freely
Y-axis – check the tension on the drive belts
Z-axis – check screws and rails are clean before printing
Question: Are the Raise3D E2's extruders Boden or Direct Drive?
Answer: They are Direct Drive.
Question: Can Raise3D E2's extruders both work on one print?
Answer: Yes, they can work on two different prints or both work on one simultaneously.
Question: What is Raise3D E2's build plate made from?
Answer: It's made from flexible steel with a Buildtak surface that's designed to give superior adhesion.
Raise3D E2 – Final thoughts
Few 3D printers have impressed me quite as much as the E2. It has been thoughtfully designed to make each step of the printing process as streamlined as possible, and although it doesn't come with educational software or lesson plans like some of its competitors, few can match the quality and ease of use that it offers.
Yes, it comes with an almost eye-watering high price tag, but I genuinely think it is worth every penny. So even if you're a hobbyist with a large budget, I'd still recommend the E2 (or at least have a go at using one if you ever get the chance).
It isn't the sort of printer you should buy if you're a beginner, but any budding 3D printing students would be lucky to get the chance to use the E2.
If you're an educator who's considering purchasing a 3D printer to use with your students, you might find our guide to 3D printing terminology to be a useful resource.
Ultimately, Raise3D is one of the best 3D printing companies out there right now, so you know you're going to get world-class customer support if you make a purchase.
The only other printer out there that I would say is worth equal consideration is the Dremel 3D40, but this is thanks to its much more affordable price rather than superior features.
Recommended reading: