Latest posts by Jodie Chiffey
(see all)
Searching for an affordable 3D printer that doesn't compromise on quality can be a real struggle, especially if you're unfamiliar with the different makes and models that are out there. As it happens, you're in the perfect place to find out everything you need to know with this JGAurora A5 review and guide.
In addition to discussing the various pros and cons of the JGAurora A5 3D printer, I'll also help you to understand exactly how it differs from its smaller and cheaper predecessor, the A3, so you can work out exactly what features you're looking for and in what price range.
While the primary aim of this review is to provide clear insights into the strengths and weaknesses of the JGAurora A5 printer, I will also discuss a number of other 3D printers that I recommend.
By doing this, I hope to offer an overview of what is available so that you can find the ideal printer for your needs.
If you're interested in the JGAurora A5 specifically due to its reasonable price tag and want to conduct further research after reading this guide, I'd recommend checking out our top eight affordable 3D printers.
Likewise, for anyone who is new to the world of 3D printing, reading this glossary will help you to better understand some of the terminology used in our 3d printer reviews and guides.
JGAurora: An Overview
JGAurora, also known as JGMaker, is a Chinese 3D printing company that was founded in 2009.
Since then, it has grown in popularity, producing desktop FDM printers, LCD resin printers, professional-grade printers, and industrial-grade printers. On the JGAurora website, you can purchase refurbished 3D printers as well as accessories and filaments.
Technology developed by JGAurora is used by highly regarded companies such as Toyota and Huawei.
The company prides itself not only on providing high-quality 3D printers and materials, but also on offering decades of knowledge, training, consulting, end-to-end support, and workflow management.
Key Specifications of JGAurora A5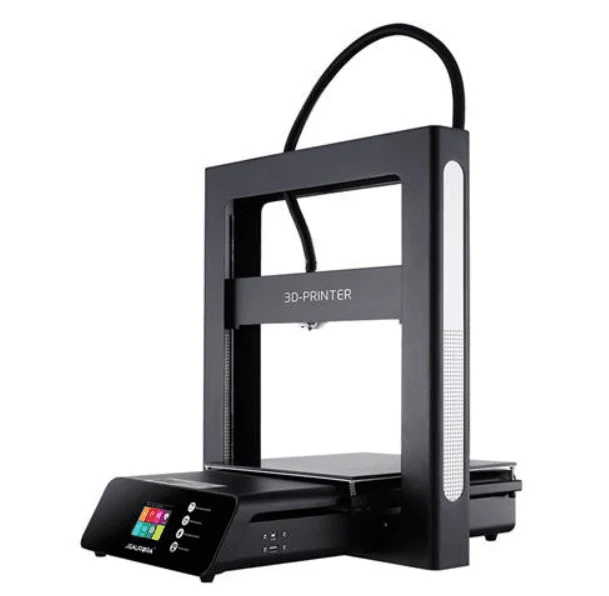 Before you start researching 3D printers, I'd recommend grabbing a pen and paper and making a list of the features you definitely want, the ones you don't need, and the ones you would like but aren't absolutely necessary.
After you've done this, I'd also add a note that clearly defines your budget parameters, including an ideal price point and a maximum price.
Not only will this help you find a printer within your price range, but it will also speed up the process of determining which printers match your needs and which ones you can exclude from your search.
Below, I've included the A5's key specifications so you can compare them to the ones on your list.
| | |
| --- | --- |
| Print Volume | 305 x 305 x 320 |
| Technology | Fused Deposition Modeling (FDM) |
| Extruder | Single |
| Layer Resolution | 0.1-0.3mm |
| Printing Speed | Up to 150mm/second |
| Connectivity | USB |
| Filament Diameter | 1.75 (Bowden Drive) |
| Supported Filaments | PLA, ABS, PETG, HIPS, Wood |
| Printer Dimensions | 536 x 480 x 235 mm |
| Latest price | Click here to find the latest price |
Core Features of JGAurora A5
Let's face it: there are a huge – and growing – number of medium-sized FDM 3D printers out there. So you're probably wondering whether the A5 can cut through the noise and leave its mark in what is ultimately an oversaturated market.
Well, you might be surprised. Don't let the A5's low-budget price tag put you off; it actually comes with a number of interesting features that make it fairly unique.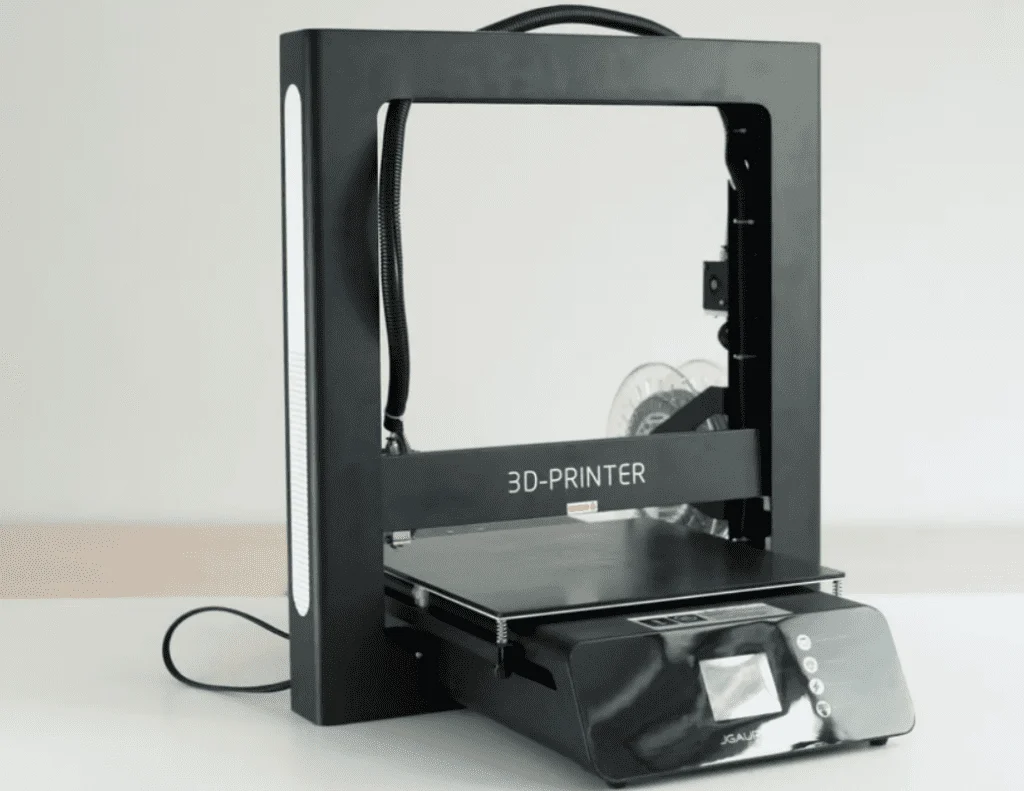 Fortunately, this 3D printer comes partially assembled, so you don't have to spend hours setting it up – you can get started almost straight away. With that in mind, let's take a look at the key features that it offers.
Color touchscreen
For me, one of the deciding factors as to whether a 3D printer gets my approval is if it has a color touchscreen. When 3D printers started out, they were often difficult to use and lacked user-friendly interfaces, so seeing touchscreens on more recent models is a big bonus.
This is particularly true when the printer in question comes with a budget price tag; having a color touchscreen makes it feel like you're getting that bit extra for your money. Plus, the A5's screen is high-definition, making it feel like a much more expensive product.
Large build volume
Again, it's nice to see a sizable build volume incorporated into an affordable 3D printer. As mentioned above, the A5 has a 305 x 305 x 320 mm build volume, meaning it can easily compete with, for example, the Creality CR-10.
Bigger build volumes allow you to really get to grips with 3D printing, producing varied and interesting prints that can have real-world applications.
Power recovery
Power outages have been a big problem in the past for many 3D printing enthusiasts, but with the JGAurora A5, there's no need to worry, thanks to the printer's recovery feature. When you reconnect it to a functioning power line, it will continue your print without any issues.
Easy setup
The A5 comes partially assembled, which is a nice compromise if you want to get to know your 3D printer but don't want the responsibility of putting together the whole machine. It takes about twenty minutes to half an hour to assemble, which isn't bad at all.
The bed has to be manually calibrated, but this process is streamlined by the A5, which moves the nozzle to the bed's edges. All in all, the process of setting up the JGAurora A5 takes about an hour, including loading the filament and calibrating the printer. If you're impatient like me, this is ideal.
Lightweight metal frame
When you first see the packaging that the A5 arrives in, it sure as heck can be intimidating. It seems so big! But this is down to the fact that the frame of the printer arrives in just two parts and, surprisingly, these are extremely lightweight.
You see, despite being a sizeable 3D printer, the A5 isn't bulky, and it doesn't seem to take up too much room, thanks to its sleek design.
Sometimes, it feels like you have to compromise, either choosing a sturdy but heavy frame or a lightweight but flimsy one; with the A5, that isn't the case, and this is one of the printer's greatest strengths.
Custom heat sink
The A5's hot end has a custom heat sink bed which, according to JGAurora, is a black diamond glass heated platform.
The use of this kind of platform is almost entirely unique in the 3D printing world, the benefits of which are twofold: firstly, improving adhesion during the printing process; and secondly, making it easy to remove once printing has been completed.
How does JGAurora A5 perform?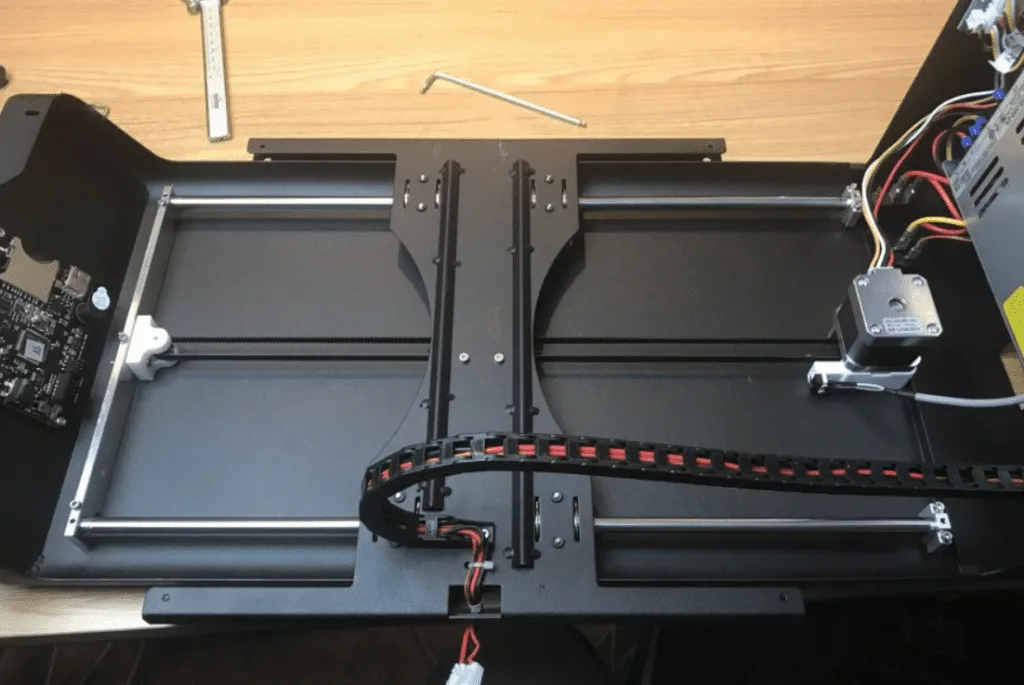 One of the most common conclusions about the JGAurora A5 seems to be that it prioritizes style over substance. It's a good-looking printer, that's for sure, but I have to disagree with this statement; the A5 cares just as much about quality and functionality as it does about aesthetics.
With some 3D printers I've tasted in the past (for example, the Tronxy X5SA), I've had to spend hours fiddling with different settings and configurations to get a good print, so it was refreshing to find that the A5 prints well pretty much straight out of the box.
The A5 arrives with free, open-source software, making it a great choice if you're just learning about 3D printing and don't already have go-to software. Getting instant results with minimal difficulty is great for confidence building.
As you'd expect at this price range, the A5 does come with some flaws, but these are generally pretty minor. For example, the rear leveling knobs are difficult to access because they're positioned within the frame itself.
Likewise, loading filament is more challenging than it should be – the filament button was difficult to push, and the automated filament feeding mechanism didn't always take in the material properly.
Overall, though, these flaws don't detract from the overall functionality of the JGAurora A5, which produces high-quality prints for a very reasonable price.
Pros of JGAurora A5
The A5 is packed with excellent features, some expected and some surprising. To find out what I loved about it, read on!
High-quality prints
There's no need to spend hours adjusting the settings on this 3D printer to find its sweet spot; the A5 has been designed so that anybody, regardless of experience, can use it to produce high-quality prints.
User friendly
The A5 hasn't just been designed to look good – though its appearance certainly does impress – it has also been designed with the user in mind.
As such, it's quick and easy to set up, and it boasts a full-color, high-definition display with an easy-to-navigate user interface.
Affordable
Believe it or not, many 3D printers out there sit in a higher price bracket but offer fewer features, poorer print quality, and are more difficult to use.
It really is rare to come across a budget printer like the JGAurora A5 that's so impressive.
Quiet
In school or educational settings, the A5 would really excel thanks to its surprisingly quiet printing process.
Sleek design
The JGAurora A5 is truly one of the most well-designed 3D printers I've come across, especially in this price bracket. It's modern and sleek despite offering a pretty large print volume, meaning it would easily fit into a home environment.
Customer support
If you stick with 3D printing, at some point or other, you're likely to encounter a company that simply doesn't want to know if you're having problems with one of its products.
Fortunately, that isn't the case with JGAurora. Their customer support is excellent, so you can rest assured if you have any issues, there will be amble help available to you.
Cons of JGAurora A5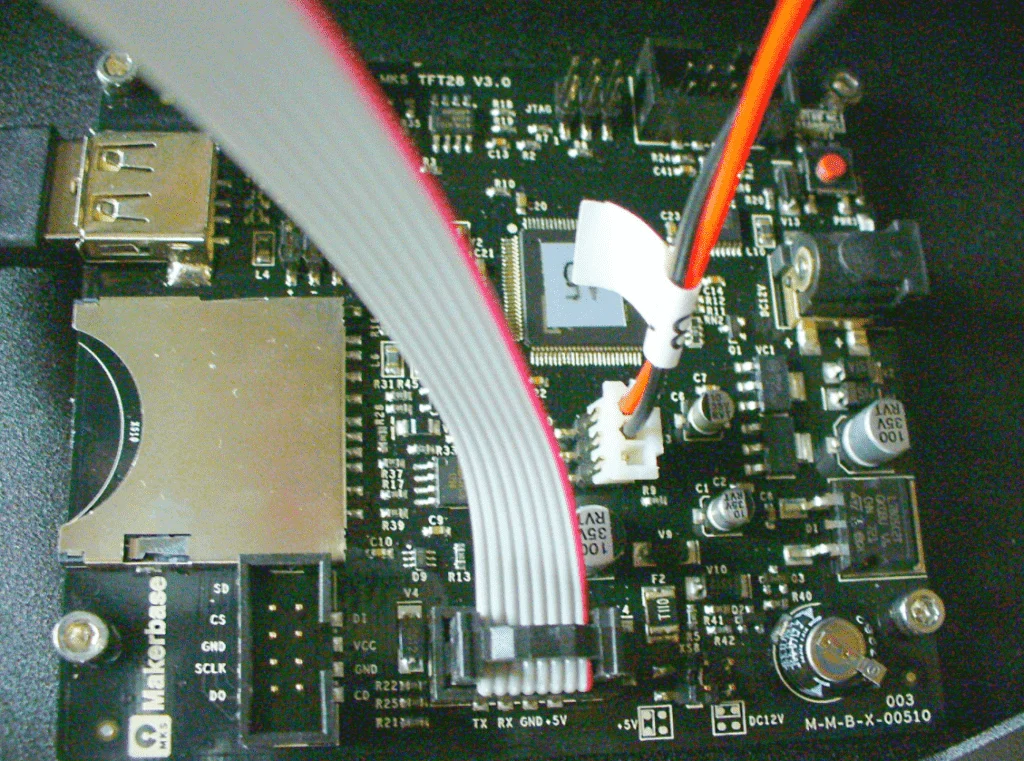 The JGAurora A5 is a budget printer, so, as you'd expect, it has a few cons. But these are all easy to overlook given its many pros, and in my opinion, it performs better than a lot of premium 3D printers.
That being said, let's take a look at some of the A5's shortcomings.
Difficult to load filament
The filament button requires some force to push, and this can cause the metal frame to bend somewhat.
Moreover, the automated filament feeding mechanism sometimes stops taking in the material and has to be reset. This can slow down the process of printing, but only by a minimal amount.
Difficult to adjust
I'd like to stress that, in general, the A5 is easy to set up, and leveling doesn't take too long. However, the rear leveling knobs are placed within the frame itself, making them difficult to access.
Inaccurate Z-axis homing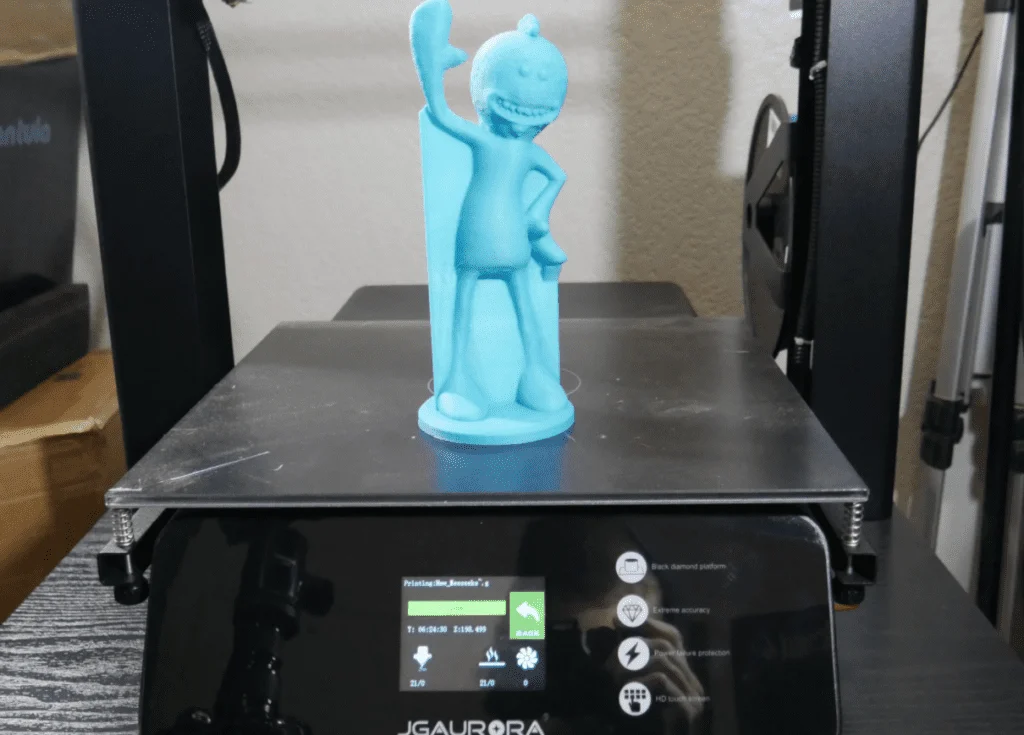 Unfortunately, some components of the A5 are noticeably cheap, including the bed springs and Z-axis limit switch, making the Z-axis home position inaccurate. As a result, prints sometimes stick to the glass and can't be removed in one piece.
Bugs
Some functions of the A5 can be buggy at times, with the printer sometimes not recognizing predetermined settings. This can be countered manually, but it's certainly an inconvenience.
Are there alternatives?
Hundreds more 3D printers hit the market every year, so it's definitely worth shopping around.
Perhaps you're looking for something that's a little more advanced, or maybe you've just decided that the JGAurora A5 isn't for you – either way, there's something for every budget and every purpose, so here are a few of my recommendations.
Flashforge Finder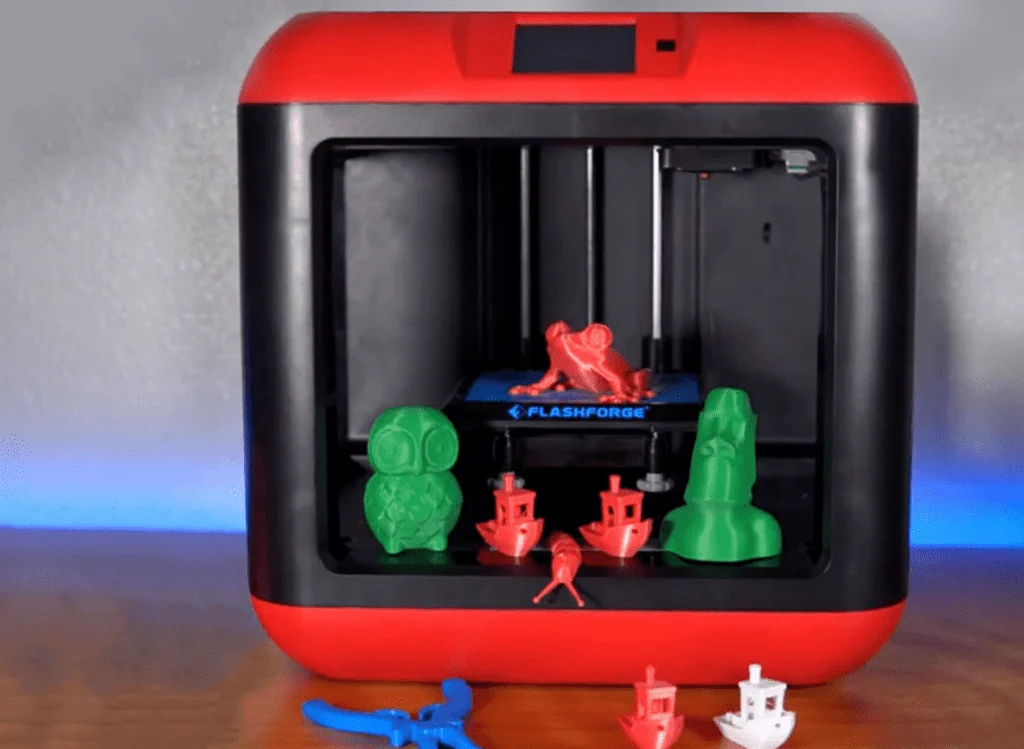 The Flashforge Finder is similar to the A5 in that it's affordable, easy to use, and clearly aimed at entry-level 3D printing enthusiasts. So, if you liked the sound of JGAurora's printer, chances are you might like this one too.
It comes with everything you need, including a spool of PLA filament, a USB stick, a quick start guide; power and USB cables; a screwdriver; Allen wrenches; and a filament guide tube.
With a build volume of 140 x 140 x 140 mm, it's considerably smaller than the A5, but this does make it portable, which could be a bonus depending on what you want to use it for.
While the A5 and Finder share a number of similarities – they're both quiet, have touchscreens, and are user friendly – the Finder does have a couple of features that its competitor lacks, such as WiFi connectivity and an easily removable print plate.
Dremel Idea Builder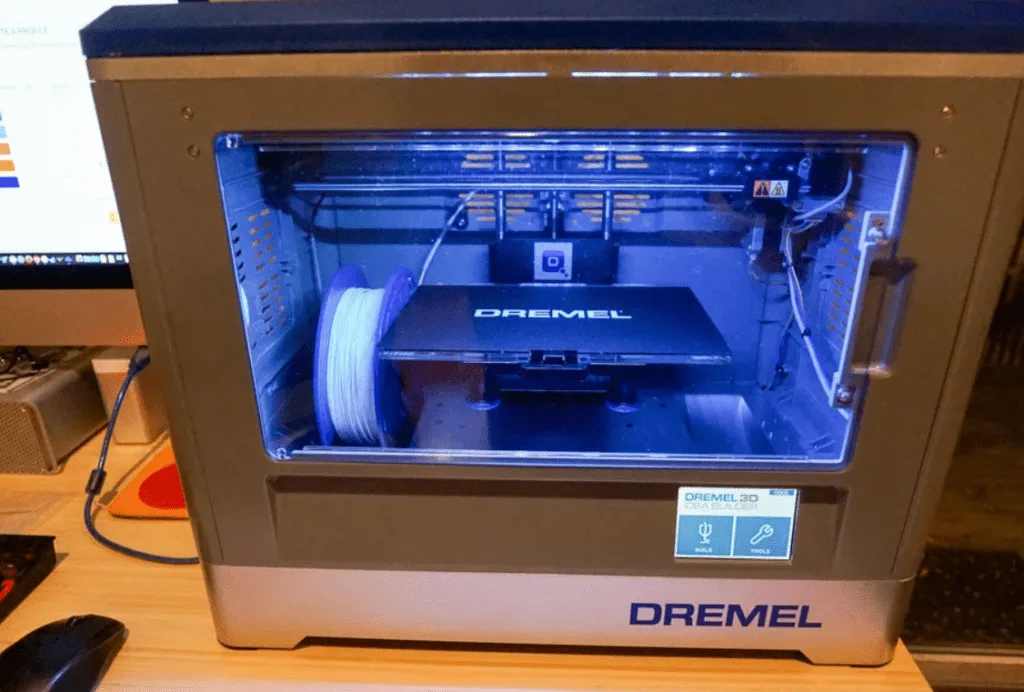 If you've got a slightly bigger budget to work with, I'd recommend looking at the Dremel Idea Builder. The self-contained system of this 3D printer means that, like the A5, it's pretty much ready to go as soon as you get your hands on it.
Unlike some more experimental printers on the market, you face far fewer calibration issues with the Idea Builder, and there's no need to spend hours troubleshooting.
It offers a 230 x 150 x 140 mm print volume and comes with a two-month warranty.
The biggest downside to this 3D printer is that you can only use Dremel's own-brand filament in it.
Monoprice Maker Select Plus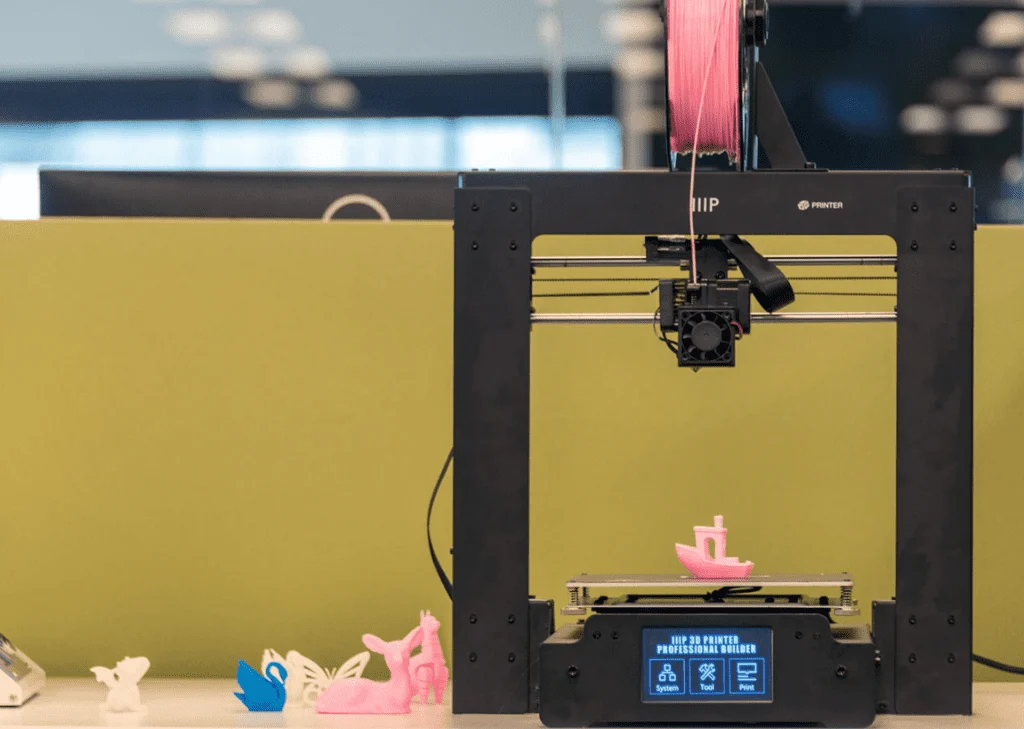 Unlike the JGAurora A5, which is primarily suited to those who are relatively new to the world of 3D printing, the Monoprice Maker Select Plus has been designed to suit both beginners and experienced users alike.
It boasts a similarly big print volume of 200 x 200 x 180 mm, comes almost fully assembled, and is also open-source.
The speed at which the Monoprice Maker Select Plus can print is certainly impressive, as is the printer's economic size, which only uses as much space as it needs.
While this printer is pretty straightforward to use, it has some features which someone with a bit more experience can only use, so it's ideal if you have some past 3D printing experience but want to learn more.
Frequently asked questions
Question: Are there any other versions of the JGAurora A5?
Answer: JGAurora recently brought out the A5S, an updated version that's only slightly more expensive but scores far higher in customer reviews. It features a new 32-bit motherboard and A5984 stepper motor drives.
Question: What is the assembly process like?
Answer: Thanks to the fact that the A5 comes partially assembled, it's fairly easy to put together. You can connect the base and frame using screws and nuts in just a few twists. Plus, the printer helps with the calibration of the bed, making things even easier.
Question: What is the recommended printing speed for the JGAurora A5?
Answer: The A5 prints at 150mm/s, but it has a recommended speed of 80mm/s.
Question: Does the JGAurora A5 come with a warranty?
Answer: JGAurora's warranty policy is as follows:
Main parts (motherboard, hotbed, screen) – 1 year
Minor parts – 3 months
Final thoughts
If you're relatively new to the world of 3D printing or you're working with a modest budget, I would wholeheartedly recommend the JGAurora A5.
It's quick to assemble, easy to use, and produces prints that are of high quality – plus, it does this all with relatively few hiccups. In this respect, it's probably one of the best entry-level 3D printers out there to help build your confidence as you learn new skills and techniques.
In fact, we have several articles that are designed to help beginners get to grips with 3D printing, such as our 3D printing glossary and guide to the best 3D printing courses.
At the other end of the spectrum, if you're fairly experienced and are looking for a printer that's a little more experimental and can be drastically modified, you should probably look elsewhere. The Flashforge Dreamer, for example, might be a better fit for your needs.
Suggested reading: