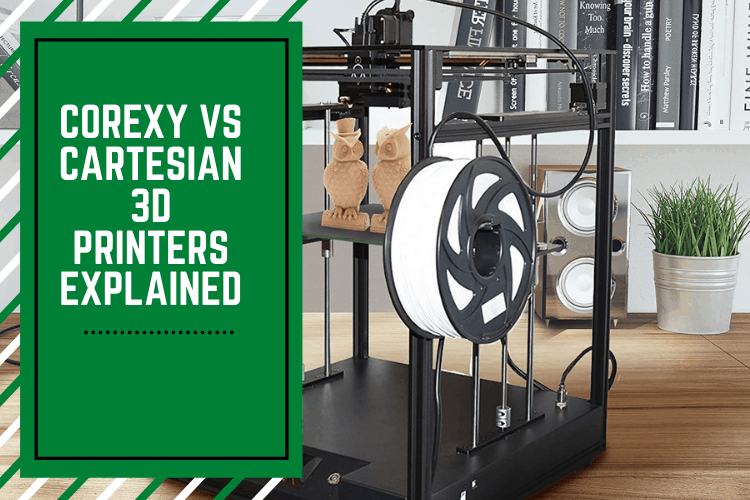 You may have heard of CoreXY and Cartesian 3D printers before, but perhaps you aren't sure what the differences are? If that's the case, then our CoreXY vs Cartesian 3D printers comparison is going to show what makes these machines unique, and also what their similarities are too.
We're also going to look at some examples of the best CoreXY and Cartesian 3D printers that you are able to buy. Before we get into the ins and outs of these types of 3D printers, let's look at the main differences between them.
Main Differences Between CoreXY vs Cartesian 3D Printers
The main differences between CoreXY and Cartesian 3D printers are:
CoreXY 3D printers are usually quite quick at printing objects, whereas Cartesian 3D printers are slower.
CoreXY 3D printers use belts, whereas Cartesian 3D printers use X, Y, and Z axes to print.
CoreXY 3D printers will move at 0 or 90 degrees, whereas CoreXY printers will move at 45 degrees.
CoreXY 3D printers can be difficult for beginners to assemble, whereas Cartesian 3D printers tend to be easier to set up
What is a CoreXY 3D Printer?
Up until 2013, the majority of FDM 3D printers were made with a Cartesian construction and we're going to have a look at what that means below.
Then along came CoreXY printers.
The design was initially created by MIT and they have since grown into the favored 3D printer for many people. The unique feature with a CoreXY printer is that the belts will move in different planes when in use. This is designed so that there is a reduction in twisting when printing off objects which should result in more accurate printers.
The X and Y motors on a CoreXY 3D printer are also kept in one place which means that the weight of the printer itself is reduced. The belt on a CoreXY 3D printer will move the tool head at a 45-degree angle as well.
The difference is that the belts on a CoreXY printer move in different planes so this reduces the impact on twisting when printing. The X and Y motors are kept in one place so the overall weight of the parts on the printer is reduced as well.
If you pull on the belt of the CoreXY 3D printer it will also move the tool head at a 45-degree angle.
There are some advantages to this design
For one it can result in fast print speeds without a reduction in the quality of your prints and this is mainly down to the fact that it doesn't have many moving parts. A CoreXY printer will also be generally smaller in overall size without having to sacrifice build volume.
These printers do have some disadvantages
The belt system can mean more time preparing the machine to print and maintenance costs may be higher too. If your frame isn't assembled into a perfect square it can impact on print accuracy so that is something to keep in mind as well.
What is a Cartesian 3D Printer?
Cartesian 3D printers can be described as almost the more 'traditional' model and they are the most common design for 3D printers on the market.
They utilize 3 axes – X, Y, and Z – to move all the different parts associated with 3D printing and this includes the printhead as well as the print bed too. The fact that a Cartesian 3D printer moves things linearly across the X, Y, and Z axes mean things should be kept pretty stable when in use.
Cartesian printers also use Cartesian coordinates in order to map out the areas in which to print in with the end result being 3D printer objects.
There are some advantages to Cartesian 3D printers.
One is that they tend to be among the cheapest 3D printers due to their stereotypical design. This means they are definitely in the affordable category which appeals to many people especially hobbyists and home users. As far as ease of use is concerned they tend to be fairly straightforward to setup and start using too.
There are some downsides to Cartesian 3D printers.
One being that the print speed is often slower than other FDM printers – including CoreXY – and they often take up more space due to having bigger dimensions and a heavy frame.
CoreXY vs Cartesian 3D – Ease of Use
So, what is the easier 3D printer to use – one manufactured with a CoreXY design or one with a Cartesian construction?
There is a reason that Cartesian 3D printers are more widely used. Not just because they have been around for longer but also because they tend to be easier to set up and get started with.
This is quite a general claim but it is largely true.
There is less to understand with a Cartesian 3D printer than a CoreXY one. For home users who aren't using their 3D printer frequently, a Cartesian 3D will more than likely be more straightforward to set up for accurate prints.
There is also quite a lot of community support around Cartesian 3D printers because they are the most commonly used.
It isn't to say that CoreXY 3D printers are notoriously difficult, just that they take a bit more work to get accurate prints. This is mainly down to the belt system and assembly. As the frame of a CoreXY 3D printer has to be perfectly square when assembled otherwise it'll cause problems down the line, this can be an issue for new 3D printer users.
The belts also need to be aligned correctly to ensure that the tension isn't too high or low.
Comparing CoreXY vs Cartesian 3D Printer – Pricing
Before we get into showing you the best CoreXY 3D printers and best Cartesian 3D printers, is there any difference in the general pricing of these machines?
Overall, Cartesian 3D printers tend to be a bit cheaper but it does depend on the model.
This is because it is the most common form of FDM 3D printer so they are relatively inexpensive compared to other models. You can find decently priced CareXY 3D printers and even for home users, most models won't be completely out of their price range.
That being said, Cartesian 3D printers tend to be cheaper than CoreXY as a general rule.
Examples of some of the Best CoreXY 3D Printers
Two Trees Sapphire Pro
This is one of the most popular and widely used CoreXY 3D printers on the market and the Two Trees Sapphire Pro is also a very affordable printer too. It offers a dual-drive extruder in addition to precision linear rails.
It shouldn't take more than two hours to get this 3D printer up and running. While, like all CoreXY 3D printers, you need to pay close attention to the assembly of the machine, it isn't as difficult as some others. In fact, there is also a good level of community support with this printer too while you will be able to upgrade and get modifications as well.
Pros
Inexpensive CoreXY 3D printer
Dual-drive extruder and precision linear rails
Will print high quality and precise 3D objects
Good level of support and community help
Cons
Noise can be a factor
Getting to the print bed is a bit harder than it should be
Tronxy X5SA Pro
The next CoreXY 3D printer on our list is the Tronxy X5SA Pro. With this 3D printer, you get an auto-bed leveling system, double-axis guide rail and also a filament runout sensor which are all great additions. The print quality and speed is really good with this model as well.
The real downside to the Tronxy X5SA Pro is the fact that you probably need to modify this 3D printer right out of the box. While it isn't unusable by any means, it is something to consider as it will generally mean a higher cost right away.
The level of support could also be a bit better with this 3D printer and it is a bit tricky to assemble. A good CoreXY 3D printer nonetheless but one that perhaps isn't ideal for beginners and is more suited to experienced users.
Pros
Good price for a CoreXY 3D printer
Has a range of good features such as a filament runout sensor
Fairly easy to use once you have it assembled correctly
Cons
Needs to be modified out of the box
Not that suitable for new 3D printer users
The third best CoreXY 3D printer on our list is the Creative3D Elf Printer. Some of the advantages of this model so that it comes with a touchscreen and it's fairly easy to use as well. The printer itself doesn't produce a lot of noise which is great if you are using this at home or in an office.
The power failure support is another nice addition as it means the printer will start where it left off if it suffers a power outage. The level of support isn't amazing with this 3D printer so it's something to keep in mind while the springs for the bed leveling system are a bit on the short side too.
Pros
Assembly can be completed in about 60 minutes
Has a large build volume which will suit some people
Noise is pretty low for a 3D printer
Cons
Could do with better support options
Springs for the bed leveling system are a bit short
Examples of some of the Best Cartesian 3D Printers
Getting started with our list of the best Cartesian 3D printers, and the Creality Ender 3 is definitely up there.
Featuring a decent size build volume in addition to a power failure support system, this is an FDM printer that is firmly affordable and produces good results. It is very quick to reach the maximum temperature of the hot bed while the noise levels are pretty low.
You may need additional adhesion to get the prints to stick to the bed properly and manual calibration is required. That being said, for the cost and the outputs, the Creality Ender 3 is ideal as a Cartesian 3D printer.
Pros
Very affordable and one of the cheapest 3D printers available
Offers good quality printed 3D objects
Build volume is a good size
Has a power failure support system
Cons
Adhesion is often required for prints to stick to the bed
Manual calibration is also needed with this printer
The second best Cartesian 3D printer is the Prusa i3 MK3S. It offers one of the highest print qualities out of any Cartesian printer in its price range (although it is a lot more expensive than the Creality Ender 3.
This well-constructed and durable machine has auto-calibration, the ability to pause and restart prints, and the software that comes with it is easy to use. You'll find really good support and community help with this printer. There are some issues overprints over a long duration but overall we've found that the Prusa i3 MK3S is a fantastic Cartesian printer albeit with a hefty price tag.
Pros
Features autocalibration, stop and restart printing functions
Produces high-quality 3D printers
Is easy to use and has good community support
Cons
Is a bit expensive compared to some other models
Makerbot Replicator 5th Gen
Our last Cartesian 3D printer to show you is the Makerbot Replicator 5th Gen.
We've had a look at this 3D printer before when we compared it to the Robo 3D R1 Plus. OK, so it isn't cheap and kind of goes against the whole 'Cartesian 3D printers are usually cheaper' but it is a very good 3D printer.
It offers a really easy to use the system so you can get started with 3D printing right away even if you are a complete beginner. The software is great and the build volume is good for decent sized objects too. This printer does suffer from being a bit loud but as a true 'plug and play' device, it is hard to see much better even if it does cost a sizable sum.
Pros
Very easy to use and can be set up in minutes
Offers high-quality prints
Software is good and builds volume is a decent size
Cons
Pretty expensive so will be out of the price range for many people
Can produce a lot of noise
Are there any alternatives?
CoreXY and Cartesian aren't the only type of FDM 3D printers. We also have Delta and H-bot as two alternatives.
Delta 3D printers
A Delta 3D printer works similarly to a Cartesian model as it uses Cartesian coordinates for printing. Where it differs is with the mechanics. These printers use 3 arms which are attached to vertical rails. These arms work to move the printhead around instead of axes which you find on Cartesian 3D printers. They offer fast print speeds but can be expensive to upgrade or fix while the build volumes tend to be a bit smaller too.
The FLSUN Q5 Delta 3D Printer is a good and affordable option if you want to go down this route. It features reliable prints, a touchscreen, an auto-leveling bed as well as a lattice platform for adhesion and easy removal.
H-Bot 3D printers
Another alternative to Cartesian, CoreXY, and Delta 3D printers are those that have an H-bot construction.
Again, they use Cartesian coordinates to move around however they use belts like CoreXY printers. An easy way to distinguish between an H-bot 3D printer and a CoreXY model is that the belts on an H-bot make an 'H' shape whereas the belts on a CoreXY make an 'A' shape.
They can be quite expensive and the level of support for these 3D printers isn't usually as high as other designs. They do however produce quality prints and offer large build volumes.
You can actually print and build an H-Bot 3D printer yourself and many of the designs can be completed for a reasonable price too.
FAQs
Our Verdict: CoreXY vs Cartesian – Which 3D Printer is Better?
Now you should have a much better understanding of what a CoreXY 3D printer is and also what a Cartesian 3D printer looks like.
They do have some similarities in that they are both FDM 3D printers but they have a lot of differences too. Cartesian 3D printers tend to be more suited to beginners as they are easier to set up and printing can be more straightforward as well.
CoreXY 3D printers often produce better and more accurate results (although it does depend on the model) and the print speeds are usually a bit faster too.
So, what should you go with?
If you are new to 3D printing and want a Cartesian model to start you off then we would recommend the Creality Ender 3. It is one of the most popular Cartesian printers and it is very affordable as well.
If you want a CoreXY 3D printer and you are a bit more experienced then opt for the Two Trees Sapphire Pro. It offers great results, can be set up in just a couple of hours and the support options and modifications are good as well.
Both CoreXY and Cartesian 3D printers have their followings and what one you choose will depend on the money you have to spend, how experienced you are with a 3D printer and also the kind of features you need.