Latest posts by Total 3D Printing Team
(see all)
It is hard to go a day without hearing about the next "revolutionary" technology. The reality is that the next revolutionary technology has been around for quite a while now. We are referring to 3D printing. While it may be a new technology for some people, some forms of 3D printing date back to the 1980s.
3D printing took its time breaking into the mainstream. More people are getting involved with the technology since it is becoming cheaper and more readily available. It is now possible for just about anyone to purchase a printer and begin creating anything they can think of with simple and affordable software.
[mv_video doNotAutoplayNorOptimizePlacement="false" doNotOptimizePlacement="false" jsonLd="true" key="vq3qgytx9tspnyhxtdrg" ratio="16:9″ thumbnail="https://mediavine-res.cloudinary.com/v1639443794/oz3o9bcdnnpgnacyink7.jpg" title="Top 15 Easy 3D Printing Ideas for Beginners" volume="70″]
The best part is you don't need to be an expert in specific computer programs to begin printing.
Many websites offer affordable, if not free, ready to print files. So what are you waiting for? Get your hands on a printer and join the revolution.
Ender 5 Pro 3D Printer | Creality3D
The Ender 5 3D printer is a very well-designed device, with faster printer, and more build volume than it's predecessors. If you can afford it, it's worth the additional investment long term.
Check Price
Buy at Amazon.com
We earn a commission if you click this link and make a purchase at no additional cost to you.
To help you take full advantage of a 3D printer we are providing you a list of the 15 best 3D printing ideas for beginners. Sure, we can make a list of simple 3d printer ideas little cube pencil holders or smiley face paper-weights. But what fun is that? We want to give you something more, something special.
Our list is composed of 15 easy prints that are also extremely useful. On this list you find home decor items, food utensils, and designs to organize your desk. Trust us, you will likely find yourself using all of these things every day.
Here Is Our Top 15 3D Printing Ideas for Beginners:
1. Self-Watering Planter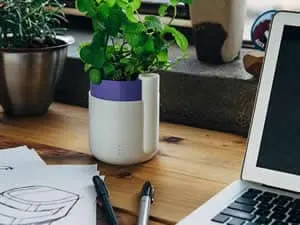 You can thank the creators, Parallel Goods, for adding a little greenery to your life with the first of our 3D printer ideas. This two-piece print makes for a great low-maintenance home or office decoration. Simply print the two parts, add your favorite water-intensive plant, and fill the bottom reservoir with water.
This planter is designed to be easy to create, clean, and maintain while also being customizable. Mix and match your favorite color combinations of the two pieces to really make this your own.
2. Sliding Gate Bolts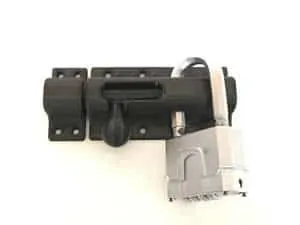 This 4-piece lockable gate bolt is another great print for beginners. You can have a great sense of pride knowing your sheds, gates, or doors are secure thanks to your printing abilities. Depending on the material you use for printing will determine the strength of this object.
It might not stop everything from breaking in, but it will help sleep at night knowing your doors are securely closed and locked.
3. Tent/Hose Spike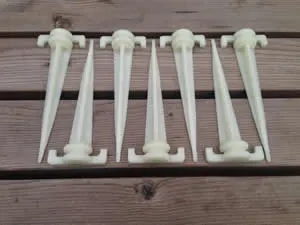 This one is for the outdoor enthusiast. A solid spike to hold down your tents, cables, or hoses. Those spikes that come with tents seem to break easily and always at the worst times. Luckily, with this file you can now practice printing and put a few extra spikes in your bag for your next adventure.
Can be used to secure your tent while camping or keep the neighbor kids from tripping over your extension cords.
4. One Handed Page Holder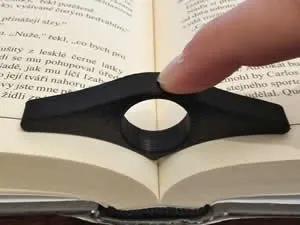 Simple, straight-forward tool. Take your reading game up a notch with this handy little object. No more using two hands to hold a book open, you'll be able to firmly keep your place in your book with just one hand.
Great for personal use, or print a few for all the readers in the family.
An easy one-piece sleek design makes this a great beginner print.
5. Jar Handle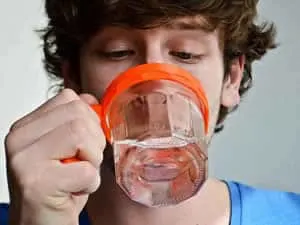 Turn any glass jar, or cup, into your new favorite mug. The simple design makes printing this a breeze. No more burning your hands on the side of a glass cup when all the coffee mugs are dirty. Just like many others on this list, the jar handles double as a great gift for friends and families.
Customize each handle with different colors and materials.
6. Garlic Press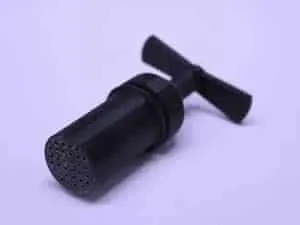 For those of you who love to cook or just know someone who loves to cook. Whoever it is doing the cooking, they need one of these in their kitchen. Four separate pieces let you practice your printing skills. Once you have it printed, just peel a few cloves of garlic and toss them into the main chamber. Get cranking, soon enough you will have fresh garlic to put in your next dish. Easy to put together, and just as easy to take apart and clean.
*Pro tip: depending on your printer, it may be easier to print the main chamber as a solid structure and drill holes using a ⅛" bit on the bottom once you are finished printing. Also, double check the threads on the screw align with the threading at the top of the cap.
7. Citrus Juicer

Another great kitchen tool for the beginner printer. Simple, convenient, useful. Make fresh juice from your favorite citrus fruits every day. You get files for two versions, a solid juicer and a hollow one with ribs. Might as well print both and see which one you like better.
As the saying goes, practice makes perfect. Be sure to make note of the creator's instructions – the default size may be a little large (good for grapefruits) so make sure to adjust accordingly.
8. Drink Coaster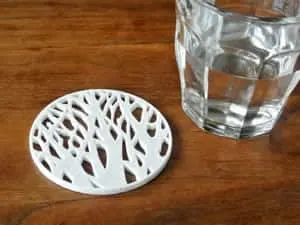 Our next 3D printer ideas will help you do yourself and your table favor by printing these awesome tree silhouette coasters. No more ruining your wooden furniture with those awful rings from your cups. The beautiful design of these coasters will look great on any coffee table, side table, or even your desk.
Get creative with the coloring to make sure they match the rest of your furniture.
9. Headphone Stand by MakerBot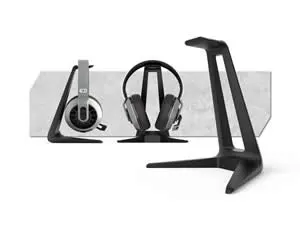 This headphone stand designed my MakerBot is extremely useful and visually pleasing. A great design, which prints as one solid piece without any supports. It will help you organize your desk or gaming area.
You will love to show off this print and soon enough all your friends will be asking for their own. A professional design that is easily created with your printer.
10. Laptop Stand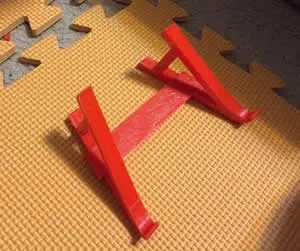 Clean up your desk or work space with this awesome laptop stand. A simple 3-piece design, which can be altered, before printing, to fit your laptop. It is a great way addition to your desk and the angle and height of the stand helps give you a better view of your screen.
While you can find many different designs for a laptop stand we like this one for its simplicity and the fact it is separate pieces. You can easily take apart the stand, pack it in your bag, and take it wherever you want.
11. Phone Stand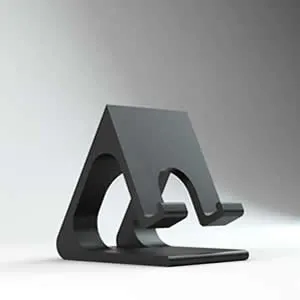 Your headphones and laptop aren't the only pieces of technology that should benefit from your 3D printer. Your phone deserves its own new 3D printed stand as well.
This one is designed for an iPhone 6, yet it will work with other models as well. If you prefer, you can customize the design to be a perfect fit for your phone through the work file.
The arch at the bottom allows cables to be easily plugged into your phone while it is on the stand.
12. Cable Holders

A simple and very useful design. Use these cable holders to finally organize your tangled electronic cable nest. You can choose which design you like best – a solid object that can be taped or tacked to the table or a design with a coin hole on the bottom so you can insert coins and add weight to the cable holder.
Whichever you prefer, we are positive you will love these easy to print pieces.
13. Thin Man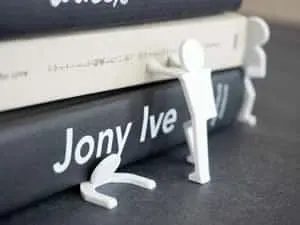 Finally, you can have your very own 2mm thick best friend. Share your desk with one, or a ton, of these fun little characters. Create yourself a little army of thin men to protect your desk and belongings. Tosh, the creator, has downloadable files for Thin Man part 1 and 2.
Each series comes with thin men in multiple positions with varying degree of printing difficulty. While all positions are fairly easy, some require support parts where others don't. Give them a try and see how many you end up with.
14. Vase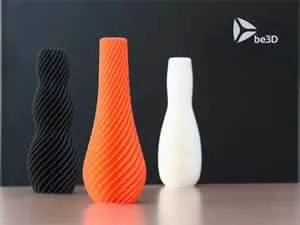 This may be a slightly more troubling print, but when done correctly the end result will blow you away. These beautifully designed vases are sure to make anyone smile. Whether you want one for yourself, or you are trying to surprise someone else with a thoughtful gift, this is a great print. Fill it with water, put in some fresh, colorful flowers and you have yourself a nice piece of home decor straight from your 3D printer.
15. Spinner Toy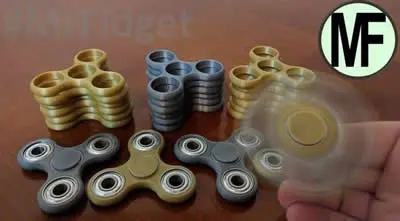 A great toy for everyone who needs to keep busy. This fidget spinner toy is an easy print for endless entertainment. You will need to add a few ball-bearings to the design. The creator suggests using a pair of vice grip pliers to insert the ball-bearings. When they have been inserted, simply spin away. Once you start, you will not want to put this toy down.
This concludes our list. All objects included on our list can be found on Thingiverse. In order to obtain the files for printing, just click on the title of the object you want, which will bring you to the Thingiverse page. From here, click on the Download All Files button.
Be sure to read over the licensing policies for the files and tip your favorite designers to support their efforts. Once the file is downloaded, open it using the 3D printing software of your choice and put your 3D printer to work.
We hope you have enjoyed this list. Show off your prints you create from this list with a comment below. Also, if you have a favorite print that we left off the list be sure to share it with us and the rest of the community. Who knows, your idea may just be number one on our next list.
Keep reading! We have prepared for you the top 11 Ways to Make Money with a Desktop 3D Printer.
Ender 5 Pro 3D Printer | Creality3D
The Ender 5 3D printer is a very well-designed device, with faster printer, and more build volume than it's predecessors. If you can afford it, it's worth the additional investment long term.
Check Price
Buy at Amazon.com
We earn a commission if you click this link and make a purchase at no additional cost to you.