Latest posts by Total 3D Printing Team
(see all)
The desktop 3D printing industry continues to grow and become more popular each year. As the industry grows we are seeing a larger number of options to choose from when you want to get yourself a new 3D printer.
In order to make your life easier when it comes to deciding which 3D printer to buy, we will review two great machines for you. Let's look at the LulzBot Mini vs Flashforge Creator Pro.
The first thing to look at with these machines is the price. The LulzBot Mini carries a slightly larger price tag: it is listed on Amazon for $1250.00 (check this listing for the latest live prices).
Whereas the Flashforge Creator Pro is listed on Amazon for $899.00 (check this listing for the latest live prices).
These prices are fairly average for the current 3D market; however, it is not uncommon to see printers priced both well below and above these two prices. Be sure to keep your budget in mind while evaluating your options.
Both printers live up to their respective price tags. Each has endless ability to upgrade and update as they are both open-source printers. You are getting some of the best and most consistent, high-quality prints from each printer. Now let's start to dive into the finer details and really find out which of these 3D printers is right for you.
Bottom Line Up Front: LulzBot mini is best for beginners with its ease of use; whereas, the Flashforge Creator Pro is more suited for the experienced printer. But be sure to read the full comparison to decide which is best for you.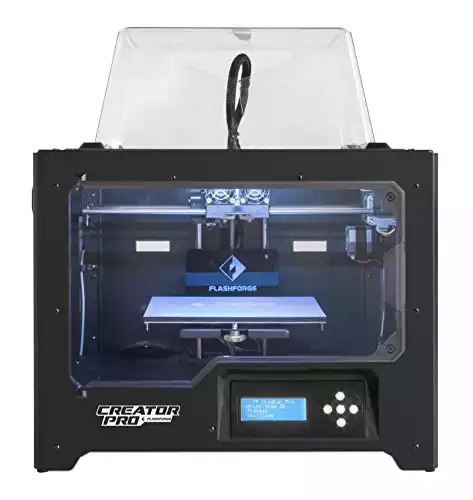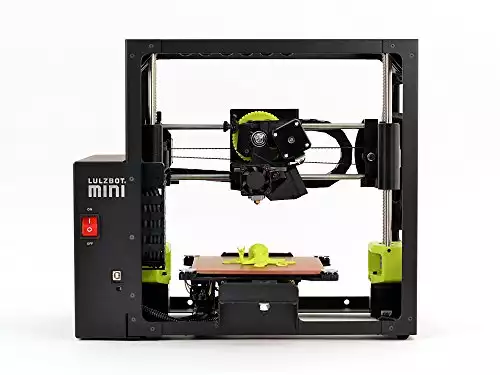 LulzBot Mini vs Flashforge Creator Pro – Initial Overview
We will start with the LulzBot Mini 3D printer. LulzBot created a printer with the consumer in mind. This is an extremely easy to use, durable, and flexible 3D printer. The plug and playability of this printer isn't the only feature that helps make 3D printing a breeze. Some of the other features include auto-bed leveling, auto-nozzle cleaning.
This means maintenance and minimal adjustments and tweaks in between each print. With how easy it is to operate just about anyone can create beautiful 3D printed objects with this machine. Also, the LulzBot Mini comes with a 1-year warranty, which can be extended to two or three-years.
This includes phone and email support for as long as your warranty lasts. If the technical support team can't help, you will find a large and active online community for tips, tricks, and troubleshooting.
Next, we have what many in the industry consider one of the best workhorse machines on the market. The Flashforge Creator Pro is built to last and create high-quality parts for you time and time again. Unfortunately, this machine is not a plug n play printer as the LulzBot Mini is. But with some extra work, it becomes one of the top printers available.
The printer is built with a sturdy metal frame and full enclosure for the printing area. The dual extruders are a user favorite feature. An improved bed leveling system from its predecessor and guide rod are a couple of other great features. It has one of the largest online communities to help you create a machine which is right for you and your printing needs.
Key Specs Comparison:
| | | |
| --- | --- | --- |
| | LulzBot Mini | Flashforge Creator Pro |
| Build Volume: | 6" x 6" x 6.2" | 8.9" x 5.7" x 5.9" |
| Build Speed: | 275 mm/s | 40 – 100 mm/s |
| Resolution: | 50 – 500 microns | 100 – 200 microns |
| Desktop Space: | 17.1" x 13.4" x 15.2" | 18.9" x 13.3" x 15.2" |
| Build Platform: | Heated | Heated |
| Dual Extruders: | No | Yes |
| Nozzle Diameter: | 0.5 mm | 0.4 mm |
| Connectivity: | USB, SD Card | USB, SD Card |
| Filament: | ABS, PLA, PVA, Wood, Polycarbonate, Nylon, Alloy 910 | ABS, PLA, Exotics |
LulzBot Mini Pros and Cons:
| | |
| --- | --- |
| Pros: | Cons: |
| Plug n play | Small print bed |
| Ease of use | No enclosure |
| Versatility | |
| Warranty | |
Flashforge Creator Pro Pros and Cons:
| | |
| --- | --- |
| Pros: | Cons: |
| Dual Extruders | Takes time to master |
| Workhorse | Limited filament types |
| Online community | |
Let me dive a little deeper into my list of pros and cons for the LulzBot Mini here first, and then I will go over the Flashforge Creator Pro too.
LulzBot Mini, the good and the bad:
First and foremost, the plug n playability is a huge hit among users of this 3D printer. Being able to unbox, setup, and start printing within 15 minutes is a major draw for some people. As we mentioned before, plug n play is just the beginning of what makes the LulzBot Mini easy to use.
Automated bed leveling, nozzle cleaning, and low maintenance mean less time tinkering with the machine and more time printing. This is an extremely versatile 3D printer. Open source software and hardware allow you to adjust the machine as much as you want.
Also, the LulzBot hexagon hot end on the extruder means a large temperature range to handle an endless amount of materials and filaments for you to print with. The heated glass bed with a PEI surface keeps prints in place for the entire printing process.
And of course, the warranty options and attentive customer support are major highlights from users. The downsides of the LulzBot Mini is the smaller print bed and no enclosure for the machine.
Both cons are not the end of the world. Many users find the bed handles most the prints they want to create. Larger prints can be completed with multiple print jobs. Some users prefer an enclosure, some don't. For those that do, you can spend a little extra and purchase an enclosure from LulzBot or create one yourself.
Flashforge Creator Pro, the good and the bad:
The best feature of the Creator Pro that sets it apart from competitors is the dual extruders. This really opens the possibilities when printing. When I say this printer is an absolute workhorse, I mean it is a sturdy, reliable printer that will give you some of the best and highest quality prints you will see, every time you use it.
The all-metal frame and design, sturdier guide rod, and fully enclosed printing area help create flawless objects. Since this is one of the most popular printers in the industry, it comes with one of the largest online communities too. From forums to videos and step-by-step guides you will find everything you need to assist you and your machine easily online.
There is an endless amount of information out there for you to help you update and upgrade your Creator Pro and get it printing exactly how you want. While this information is out there for you to use, it does take some time to find the information you are looking for. The beginners to 3D printing will surely get frustrated but will learn along the way.
The reward will be great once you get past the first few hiccups. Our only other downside for the Creator Pro is the limited filament types you can use with the machine.
However, depending on what you want to print, this may not be an issue as ABS and PLA are two of the most commonly used materials.
Which one is best for your needs?
The open source capabilities of both printers make them ideal for anyone as the possibilities to update and modify each is near endless. Since you can truly modify the printer to work how you want it too, the decision for which printer to buy comes down to a couple of deciding factors. The two big differences we see with these printers are the price and the ease of use.
We all have different budgets and different reasons for purchasing a 3D printer. Obviously, the LulzBot Mini is about $350 more than the Flashforge Creator Pro. And a price tag over $1000 (check this listing for the latest live prices) may be pushing the budget for you, if this is the case then look toward the Flashforge Creator Pro as the 3D printer for you.
The Creator Pro is a great printer for the hobbyist and those who want to create prototypes. It is truly an all-around, reliable, workhorse type of printer for a great price. It does require some more tweaking, maintenance, and adjustments, which may be difficult for beginners. But once the machine is tuned properly you will be more than happy with the printer and the price you paid for it.
Now, if you can afford to spend a little extra or justify the extra cost with fewer headaches then the LulzBot Mini is the way to go. Although, it is a "mini" it still creates objects with as much detail and precision as the larger printers. The LulzBot Mini is considered a workhorse by many users.
The ease of use and automated features between each print means you will spend more time running the machine and less time adjusting it. This machine is great for those who want to print more objects rather than learning how to fine tune their machine.
Packages: What's Included with the Printer:
LulzBot Mini:
LulzBot Mini 3D printer
Quick start guide
Reference poster
5 replacement wiper pads
2mm Allen wrench
Tweezers
Dental pick
Flathead bristle brush
Part removal knife (clam knife)
USB and power cable
USB drive with source files
Flashforge Creator Pro:
The Creator Pro
2 spool holders
2 spools of the filament (White ABS and Blue PLA)
2 filament guide tubes
Assembly tools
Power cable
USB cable
Accessory Bag
Dual extruder heads
SD Card
LulzBot Mini vs Flashforge Creator Pro Final Verdict: Which is better?
Both 3D printers are reliable and consistent printers that will surely make the end user happy. You can modify each one and really make it specialized to your own needs. This makes it difficult to decide which may be better than the other. There are the deciding factors we pointed out earlier with the price and ease of use being the most noticeable.
The Flashforge Creator Pro is really a steal for its price tag considering how it continues to be one of the best printers around. But, LulzBot Mini has eliminated so many headaches of the printing process that the higher price tag is easily justifiable.
I am a big fan out the Creator Pro and its many features such as the dual extruders and sturdy, fully enclosed structure. Since both printers have open source technology I am leaning more towards the LulzBot Mini as the better of the two machines. It is just as reliable, consistent, and powerful as the Creator Pro with just a few fewer fancy features I don't deem necessary.
The ease of use and plug n play aspects of the LulzBot Mini are what really get me excited about the machine. Not to mention the attentive customer support and extended warranty options. I truly think the LulzBot Mini is one of the best printers you can purchase that is manufactured in the US.
Well there you have it, I am going with the LulzBot Mini. I know others have different wants and needs in terms of their printer so you must ultimately decide the best one for you. I hope this review will make that decision a little easier.