Latest posts by Total 3D Printing Team
(see all)
hile the concept of 3D printing is very well established, the desktop 3D printer industry has really only just started to take off over the past year or two. Over this time, however, there have been many great printers developed and released to the public. Whether you are considering a 3D printer for a hobby at home, your school's computer lab or a business environment, you want to make sure you are selecting the ideal 3D printer based on your specific needs.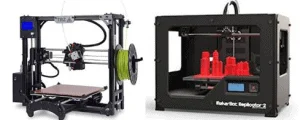 Two of the best rated desktop 3D printers on the market today are the Lulzbot TAZ 5 and the Replicator 2. They can both create very precise 3D models of anything you need and are made for regular use. Taking some time to look over the key features (and any potential problems) with each will help you to decide which one will best serve you.
Bottom Line up Front: I prefer the LulzBot TAZ 5, as it is a better, more flexible, machine at a lower price point.
Continue reading for the full analysis to find out why…
About the LulzBot TAZ 5
The TAZ 5 3D printer from LuLzBot is an open source hardware printer, which means in addition to the printer you receive with the purchase, there are third party parts available to increase functionality.
For example, you can purchase additional print heads for added flexibility. This helps to ensure the printer does not become obsolete nearly as quickly, as well as allows you to customize your printing experience to a greater degree.
The software used to power the printer is equally flexible, allowing you to install custom 'add-ons' that go along with any additional hardware that you may be using. This will help ensure you have a great experience when you purchase it, and long into the future.
The following are a few of the key benefits this printer offers to users:
Large Print Area – The print surface is 298mm x 275mm x 250 mm.
Open Design – The print area is not enclosed. This makes it easier to work on as well as allows greater visibly during the printing process (great for schools, children and anyone who likes watching their creation being built).
Flexible Filament – This printer can work with all the standard filament materials including PLA, HIPS, PET, Polycarbonate, Nylon, Wood-Filled PLA, Metal-Filled PLA, Tritan Co-Polyester and NinjaFlex TPU.
Everything You Need – The print is shipped with everything you need to get started including a sample of 3mm ABS filament. This will be enough for a small example print job only, however, so make sure you order additional filament too.
About the Replicator 2
The Replicator 2 Desktop 3D printer by MakerBot is a very popular model for both home and business use. It boasts a sleek design that gives it a very high end or professional look, which many people will like. The actual print area is enclosed, which helps to keep it cleaner and also helps to ensure nothing interferes with the printer while in use (pets and kids can be a problem with 3D printers).
This printer comes with software from the manufacturer, but most users recommend downloading an open source option that will give you added flexibility. The print area is designed specially to keep the job level and prevent sliding or pealing while being created, which is an excellent improvement from other 3D printer models. Check out our full Replicator 2 Review here.
Other important features of this printer include the following:
Very Precise – This printer is made to have precise positioning down to 11 Microns. That is .0004 inches for the XY dimension. For the Z dimension it is 2.5 Microns, or .0001 Inches.
Large Build Volume – The large print area allows for either larger jobs or even printing multiple jobs at a time to allow for increased efficiency.
Quality Options – You can select either 'draft' mode or 'fine' mode for the print quality. As with normal printer, draft mode is faster and uses less material, but the quality is lower. Fine mode uses more of the filament and takes longer, but the results are of a higher quality.
After Market Parts – You can replace the print head and several other parts with after-market options to fix worn items or to add additional features to the printer.
Comparing the Printers – TAZ 5 vs Replicator 2
These are two of the most advanced, and highest quality 3D printers on the market today. They are both going to be excellent choices whether you're buying for your home, business or any other use. As with many tech related decisions, finding the right one for you can be made easier by comparing the two printers side by side and seeing which one best meets your specific needs.
| | | | |
| --- | --- | --- | --- |
| Feature | TAZ 5 | Replicator 2 | Comments |
| Size of Print Area | 11.7 x 10.8 x 9.8 IN | 11.2 x 6 x 6.1 IN | The TAZ 5 has a significantly larger print area. |
| Layer Thickness | 75 to 350 Microns | 100 Microns | The smaller the better for thickness as it allows you to have more precise products created. The TAZ5 is adjustable with a 25% smaller thickness on the lowest setting. |
| Warranty | 1 Year with Tech Support | 6 Month Warranty | The TAZ 5 has a warranty that lasts twice as long |
| Price | Check here for latest | Check here for latest | The Taz 5 has a slightly better price point. |
| Filament Options | Virtually All Filament Types | Primary for PLA Filament | PLA Filament is the most popular option, but if you are looking to use other options, the TAZ 5 is likely the better choice |
| Number of Print Heads | 1 | 2 | Having two print heads allows for rapid adjustment of color, which adds great options for product creation. |
As you can see, there are pros & cons of each of these two printers. When weighing the pros & cons of these printers, however, you need to look at more than just their feature lists. Looking at how they can be used and their overall market reputation can be very helpful in determining which printer is right for you.
Pros & Cons of the TAZ 5
The following are some of the most significant reasons that people choose the TAZ 5 3D Printer:
Pros
Excellent warranty
Works with nearly every type of filament on the market today
You can actually print your own replacement parts in some cases
Light weight and easy to carry with you
Changing out filament is fast and easy
Comes with award-winning documentation to help you get started
The TAZ 5 3D printer is great, but like all new technologies, there are still some issues. Take a moment to familiarize yourself with potential issues you may run into:
Cons
This printer cannot be used for carbon fiber as it can damage the print head
Open print area can get dirty and requires careful cleaning
Some users reported issues with the tension on the extruder which may require manual adjusting to get it to work the way you want
Pros & Cons of the Replicator 2
The following are some of the most significant reasons that people choose the TAZ 5 3D Printer:
Pros
MakerBot is a very well-known manufacturer of high quality 3D printers
Enclosed Print Area
Dual print heads make it very easy to create detailed models and other items in multiple colors
The Replicator 2 is one of the faster printers on the market, yet still maintains excellent resolution
Cutting edge technology
Excellent user community to help you through learning curve
On the other hand, it is also good to know about what types of problems you may run into, including these:
Cons
Limited warranty
The print head wears out quickly (though it can be replaced)
Very sensitive to having a level surface
Thermocouple wears out too soon due to solid wiring
Final Recommendation: LulzBot vs Replicator
As you can likely tell by this point, these are both great 3D printers and will likely be able to meet the needs of any casual 3D printer enthusiast or even some more advanced users. As with all 3D printers on the market today, neither of them are perfect. Since both of these printers are targeting the same general audience, however, it is possible to make a determination on which one is the better choice for most people.
"Personally, I recommend the TAZ 5. The strengths of this printer are quite significant, and the problems really won't impact most average users too much."
In addition, with the recommended price point being several hundred dollars lower than the Replicator 2, it makes this an easier decision.
While I stand by my recommendation, it is important to take personal variables into account when making any decision. If you have a curious cat that may be tempted to play with the printer while in motion, for example, than the Replicator 2 is clearly the better choice for you.
All things being equal, however, I believe the TAZ 5 to be the superior machine. You can see the latest TAZ 5 pricing options here.