Latest posts by Total 3D Printing Team
(see all)
It's certainly a challenge to select from the different companies manufacturing 3D printers nowadays, everyone claiming that theirs is the best 3D printer for you. You can't fault them either many of the creators truly believe what their product offers is the absolute best option.
While in some cases this is bound to be true almost always you have to make a compromise in one way or another, be it limiting the amount of materials your prospective printer can use or maybe a neat feature one offers that is a bit out of your wallets reach at the moment.
In this review, we'll be comparing the Dual extruding Makerbot Replicator 2x to the MakerGear M2, which though slightly more versatile in material choice has only one extruder so can only print in a single color instead the two toned prints offer by the 2X.
Bottom Line Up Front: I personally lean towards the MakerGear M2, but you can read my full analysis below.
Overview of the MakerGear M2
MakerGear offers very little in the realm of background information from their website, to quote, "What do we do? We design, engineer and manufacture desktop 3D printers and accessories.
Thousands of 3D printer operators around the world are using gear from MakerGear!! Based in NE Ohio, we've been providing 3D printers and supplies to schools, engineers, artists, businesses and DIYers since 2009."
Though I can say that their ratings with online 3D printing communities is absolutely stellar Having been voted Best Enthusiast Grade Printer on 3D Hubs. So it stands to reason MakerGear is no pushover and will put up a fight. You can see my full review of the M2 right here.
Overview of the MakerBot Replicator 2
Makerbot coming from a similar place, though significantly more outspoken about it, seem to be available pretty much everywhere and are the most dominating presence in the 3D printing world.
The company was started by Bre Pettis, with friends Adam Mayer and Zach Smith. Inspired by seeing the Reprap project's success with tech savvy people and universities, Pettis wanted to bring that vision into the home with easier to operate and much more standard materials and services for the consumer to draw from.
With the launching of Thingiverse as a service to download other people's 3D models to print on your machine, no longer limiting you to your own imagination and ability.
Though this comes at a premium with Makerbot also leading in price, though with features that very well might be the tipping point for some people. For a full review of the Replicator 2, check out this article.
Comparison: Replicator 2 vs MakerGear M2
These machine are quite competitive, though as with comparing the Makerbot Replicator 2x to any single extruder machine, take the features compared with that in mind.
| | | |
| --- | --- | --- |
| | Makergear M2: | Makerbot Replicator 2x: |
| Build Volume: | 254 x 203 x 203mm | 246 x 152 x 155mm |
| Build Speed: | 20 – 200 mm/s | Unlisted |
| Resolution: | up to 25 Microns | up to 100 Microns |
| X, Y Accuracy: | 0.011mm | 0.01mm |
| Desktop Space: | ~500 x 500 x 500mm | 490 x 320 x 531mm |
| Build Platform: | Heated, glass platform | Heated, anodised aluminum |
| Dual Extruder: | No | Yes |
| Nozzle Diameter: | 0.35 mm | 0.4 mm |
| Connectivity: | USB, Ethernet | USB, SD card |
| Filaments: | ABS, PLA | ABS |
Makergear M2 Pros and Cons
Pros:
Cons:
-Very precise, very thin layers-Can use both PLA and ABS

-Larger build area overall

-Slightly smaller nozzle size for more precision.

-Can't use SD cards so you have to have a PC or internet connected to it all the time.-Single extruder

-Uses some 3D printed parts in the assembly that aren't as reliable as metal part.
Makerbot Replicator 2x Pros and Cons
Pros:
Cons:
-Multiple extruders, for multiple colors of filament-Able to load files from SD card or from a USB port.

-Longer build area for rectangular and lengthy prints

-Only prints in ABS-Much less accurate at 100mm layer thickness

-Very large footprint, compared to Ultimaker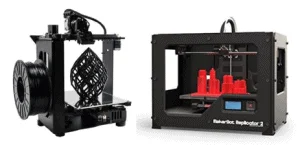 I think that the most impressive thing about these printers is how even with the difference in price they maintain being close competitors.
Though in most areas the Makergear M2 has the edge, The thinner layers allow for more layers per centimeter and higher strength of objects all around, and they allow for smaller parts that you can print grouped together on the build platform.
The prototyping capabilities of the Makerbot Replicator 2x are quite advanced as far as finished product levels of quality with the different colors you can merge together. The larger space that the Makergear M2 takes on a desk or workshop table is a large drawback so not as much of a personal machine than a production or workshop machine, and from owner reviews it's quite a bit louder than the Replicator.
The one thing you'd expect from a comparison of these two machines is keeping the prices in mind; as of the writing of this the prices of the Makerbot Replicator is around $2500 (see here for latest) and the MakerGear M2 is $1800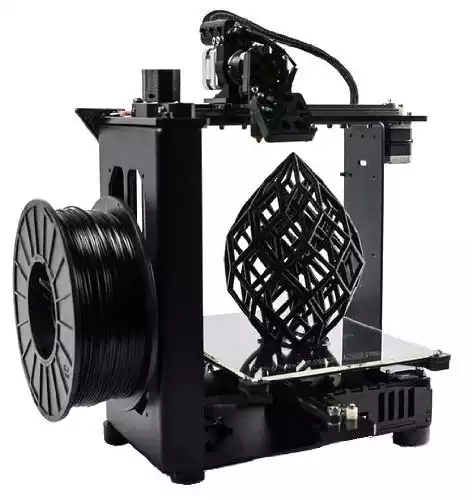 . So you'd expect the MakerGear to be more limited in scope and features, which is true, it's shaping up to be much more for less money.
The MakerGear is slightly more varied in filaments, though not exactly expansive in selection. Though at least it offers a different choice if most of your preference is to stick with one or the other, just make sure that you switch the settings before changing filament types. Though remembering to change the settings isn't letting up to chance with the Replicator 2x, as it only uses ABS for both of its extruders.
Finding The Best 3D Printer for You
A lot of the time we get caught up in getting the most features and most prestigious brand, though, as the chart above shows it's not always the best option and can even warp the perspective of less expensive products.
Though if you've not set aside an area for your printer than dealing with the noise may not be as tolerable as with the self contained and quieter Replicator 2x. If you're willing to deal with the noise and more fragile components, I'd say it's a worthy trade off.
Packages:
Makerbot Replicator 2x includes:
-Aluminum build platform.
-Spool holder, for spool reels to spin freely.
-Power supply (not specified which adapter).
-plastic guide tube for filament.
-2Gb SD card for printing without a computer.
-USB cable for updates and printer from a pc.
-Dome cover for top of the unit to protect moving parts.
-Physical user manual only.
MakerGear M2:
-Platform heater, acrylic bed.
-1K spool of 1.75mm PLA filament
-Six-month limited warranty
-Powersupply (international adapters included).
-Spool holder, spool spins freely.
Final Verdict: MakerGear M2 vs Replicator 2
Neither of these printers lacks any of the features you'd want for basic 3D printing and day to day prototyping designs. I think that from the perspective of prototyping, it's hard to justify spending more on a sleek product in hopes of a finished product feel because that's not what you're going for with a prototyping machine.
Prototyping needs to be quick to produce and tossed aside without thinking twice about it, so you can develop a final product of any material with the use of other machining tools.
For those people who want something to look complete immediately after the print finishes the Makerbot offers that with its two tone extruders, though this comes at a far steeper price and will most likely be a deal breaker for those testing the waters that enthusiast printing has to offer.
Though if it's needed I can see justifying the extra money invested for a clean looking print and a reliable machine, the Achilles heel of the MakerGear is the wear that the 3D printed parts of the extruder seem to be unable to handle.
I'd have to call this review a draw between the cost saving MakerGear M2 and the sleeker and dual extruding Makerbot 2x, though many people with extensive experience with 3D printing with prefer the affordability of the MakerGear people entering the hobby at this level will be thankful of the ease of use the Makerbot 2x.
Regardless of whether you agree or not, people entering at a high level of skill requirement, you don't fully know how in over your head you are until you are.
I personally enjoy the flexibility of the MakerGear M2, but I'm well aware it's not for everyone. Bottom line, the MakerBot is probably better for beginners/intermediates while the MakerGear is a good choice for intermediate/advanced users.
Where to Find the MakerGear M2: You can find the MakerGear M2 for the best price online,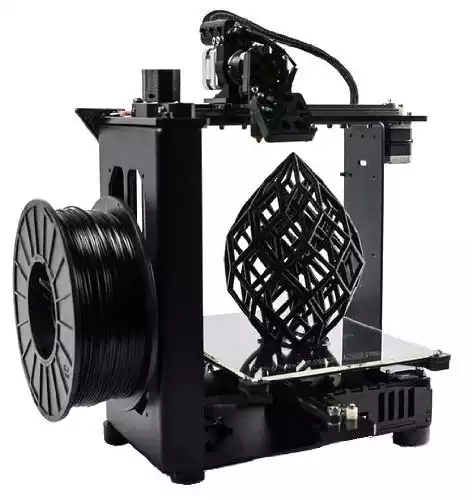 Where to Find the MakerBot Replicator 2: Similarly, be sure to check out this listing for the latest deals on the Replicator 2.