Latest posts by Total 3D Printing Team
(see all)
3D printers are all the rage right now, and understandably so. After all, why print out a picture of a nice plastic toy train that you saw online when you can just download the instructions and print the actual plastic model yourself?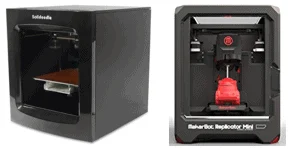 This is the greatest thing about 3D printers; they print actual, usable products or models. You can create spare parts to things and they will work as long as the plastic is compatible with whatever you are trying to fix. The question now becomes what type or brand of 3D printer to get as they are not all the same. Here is a comparison of two such printers: Solidoodle 4 vs the MakerBot Replicator Mini.
MakerBot Replicator Mini Specs
The MakerBot Replicator Mini 3D printer is the 5th generation of MakerBot printers. This particular model is a smaller version of its normally sized printers. The volume of this printer will allow you to make models or parts that are 3.9" x 3.9" x 4.9". The unit has a door with a clear window so you can see your creations coming to life. It also has a camera built-in that can be monitored from anywhere as well as allowing for sharing either to social media sites or the Thingiverse page. This camera will also automatically activate and take a photo of the finished product as well as saving them to a library which is in cloud storage. The camera is accessible via desktop app or mobile app.
The body structure is black powder-coated and steel reinforced. The MakerBot Mini uses what is called fused deposition modeling technology. Out of the filament options, only the small spool PLA filament is compatible with the MakerBot Replicator Mini. However, there are quite a few choices in this area. There are 12 True Color options, 15 Specialty color options, and 7 Limited color options.
The MakerBot Replicator Mini also has several features on its website, which is very nicely designed. There is a link to an education portion called MakerBot Academy, where there are links to donate money toward MakerBot 3D printer bundles to schools. There is another site called Thingiverse, which is a community-type site where printed models are showcased from those who have done them. The files are shareable so if you like what you see, you can download the files and print your own.
There is also a shop where users can purchase custom files from special collections for about $0.99 each. The MakerBot Replicator Mini comes with the unit itself, USB cable, power supply, and the software as well as apps for desktop and mobile are downloadable from the MakerBot website. The MakerBot Replicator Mini retails from the site at $1,375. On Amazon, the price is the same.
The Solidoodle 4 Specs
The Solidoodle 4 is the 4th generation of Solidoodle's 3D printers. This particular model brings some improvements on the previous model. You can build things with a max dimension of 8" x 8" x 8". It is black powder coated and has an ABS door with a window so you can watch your prints come to life as they are being built on the heated build plate.
The door is improved so the machine is quieter overall and better sealed to prevent cold drafts from entering the machine, which would cause the printed product to warp. Filament spool changing is easy to do and the flow is smooth thanks to the spool mount design. All components are contained within a steel frame. Its compact design allows it to be easily placed virtually anywhere in the home or in a personal workshop.
There are seven different colors of ABS filament that are compatible with the Solidoodle 4. There are also filaments specifically for Solidoodle Press, but they are still compatible with all Solidoodle printers. There are 10 different colors in this section. There are other features that are a part of these printers. A few of them are available from the Solidoodle website. There is also an education tab on the site especially for educators whereby they will get a printer, spools, and there is downloadable curriculum content to teach students all about 3D printing. Additionally, there is a page with numerous designs and products in several different categories until you decide to create your own.
The Solidoodle 4 retails on the Solidoodle website for $599 before taxes and shipping are factored in. Surprisingly, the same printer on Amazon actually sells for $679.99 with free shipping, although many products on Amazon are usually cheaper than buying directly. With shipping from Solidoodle, the price comes to just over $660 based on a U.S. order.
The Solidoodle 4 comes with the printer which is fully assembled, power supply, USB cable, starter filament, tool kit, and spool holder. The software necessary to run the printer is available for download from the Solidoodle website.
Now take a look at the tech specs of each model side by side.
| | | |
| --- | --- | --- |
| | Solidoodle 4 Specs | MakerBot Replicator Mini Specs |
| Build Dimension | 8" x 8" x 8" | 3.9" x 3.9" x 4.9" |
| Layer Resolution | 100 microns | 200 microns |
| Build Plate | Aluminum Heated | Injection Molded Acrylic |
| OS Compatibility | Windows, Mac, Linux | Windows, Mac, Linux |
| Camera Resolution | NA | 320 x 240 |
| Filament Compatibility | ABS/PLA | PLA |
| Case Type | Powder-Coated Steel | Powder-Coated Steel |
| Case Size | 13.5" x 14" x 15" | 11.6" x 12.2" x 15" |
| Calibration Method | Thumbwheel | No info |
| Total Filament Colors Available | 17 | 34 |
| Printing Technology | Fused Filament Fabrication/Thermoplastic Extrusion Technology | Fused Deposition Technology |
| Price | $599 here | $1,375 here |
My Comparison Thoughts
If you look at both of these 3D printers in terms of pricing, Solidoodle 4 wins handily as it is less than half the price of the MakerBot Replicator Mini. If you look at it in terms of the model sizes, the Solidoodle 4 wins again as it makes a larger model. The Solidoodle also has a better resolution than the MakerBot, but this is only meaningful for those that really, really care about details, and there is not much difference between the two. Both models have websites where pre-made instructions/models can be downloaded and printed. MakerBot has free and premium items in this category. In terms of color selection, MakerBot is the clear winner here, which makes up for the fact it can only be used with one filament type. MakerBot's website is far better in terms of design, although Solidoodle's simplicity should not count against them. Both are involved in education. The difference here is Solidoodle simply puts the price out and the curriculum for download. MakerBot links to a donation site to raise money for teachers to buy their products.
Both 3D makers have an option to upload photos and share to their site, but MakerBot has the edge in this category as it has a built-in camera which automatically saves a picture of the finished product in cloud storage. MakerBot has won several awards and displays that proudly on its website. There is no mention of any awards won by Solidoodle, but this is not the make-or-break factor in deciding between the two.
Both of these models are available on Amazon. MakerBot's model is listed at the same price as on their website. Speaking of Amazon, both products have been reviewed and the buzz is less than appealing. Both have an average rating of 2.6. If you hold the reviews on Amazon with weight when it comes to making a decision, then it is likely that neither of these would make the best choice. However, it should be remembered that reviews are just that, reviews done by people based on their own experiences and not necessarily 100% factual.
My Overall Recommendation: Solidoodle vs Replicator
Like most people seem to be, I'm on a budget so I'm always on the lookout for a good deal. With that front and center in my mind, my initial instinct was to recommend the Solidoodle 4. Sure, it may not have a built-in camera, but I don't find that necessary as I have a Smartphone and can always take a picture when the finished product is ready. If you are on a tight budget or just starting out, I'd definitely recommend the Solidoodle over the Replicator Mini. You can find it for a good price here.
However, if you like variety of features and extra software programs that help you do different things, then the MakerBot Replicator Mini is the way to go if you don't mind paying a lot extra. There are more color options in filament and if Solidoodle does have extra software files that allow for even more customization, they sure didn't bother to mention it. If you are going with the Replicator Mini, check this listing first.