Latest posts by Justin Caldwell
(see all)
With all of the features of 3D printers, you may overlook the bed as one of the most important. However, you might want to think again. It can be the most noteworthy feature on your print quality, and it can define how easy it is to remove your print when it's done.
While print beds come in many different materials, with various thermal characteristics, and at other price points, the whole point of the built plate is to offer a flat surface where the bottom layer of your print can rest. It also provides an adhesive surface to which your print can adhere.
The plastic extruded from the print head should form a temporary bond with the build plate without sliding around. This ensures that the print is built precisely. If the build plate itself does not have an adhesive layer, it should provide a surface to which an adhesive layer can be applied. Luckily, there are a lot of different options for building plates.
Each has its own unique properties. Some 3D printers come with really fantastic build plates, and sometimes you need to buy your own and install it on top of your stock build plate.
Why a Build Plate is Important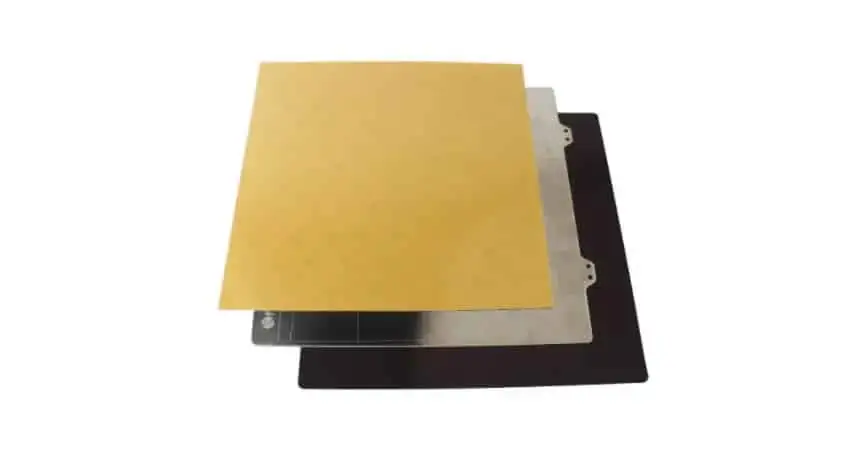 The first layer of your print is the most important. As your first layer goes down on the build plate, it needs to adhere correctly. If the first layer moves, the additional layers won't line up correctly, and your final project won't look the way it's supposed to look. You'll find plenty of resources online to tell you why the first layer is the most important and why your build plate is the most critical feature of your 3D printer.
If your first layer fails, the rest of your print will fail as well. Your first layer is a good indicator of the quality of the rest of your print. So, you can probably tell that the build plate is essential. You simply can't build without a build plate and how well the first layer gets created depends entirely on the build plate's characteristics.
These characteristics include thermal variations, flexible materials, and many different price points. But it's also important to remember that there are other factors to successful printing, like printing temperature and extruder height, just to name a couple. To get the best accuracy, you have to tweak multiple settings until you get it just right, and it will be different for every job.
It also doesn't mean you need to buy the 3D printer that comes with the best build plate. While some 3D printers come with really fantastic build plates, you can also purchase aftermarket build plates or use other adhesive solutions that will make your build plate function better.
Best Build Plate Surfaces
There are a lot of really great choices for build plate surfaces. What you choose will depend on what you need. As 3D printing has evolved, there's been a lot of research into the area of build plates and adhesion. Here are some of the most popular choices and why they're great.
Glass
Glass is one of the most popular building surfaces because it's simple. A glass sheet is an easy solution for most printers. It's stiff and flat, so it won't warp over time, meaning it's a great long term solution that will only cost you a one-time fee upfront.
It's a great solid surface that's dense with low thermal conductivity. It takes longer to heat up than other materials, but it will spread the heat more evenly across the entire surface. Varieties include borosilicate glass sheets and mirror tiles
Most people pair their glass sheets with the painter's tape, hairspray, or a glue stick to get the adhesion they need for the bottom layer and avoid delamination during printing.
If you use hairspray or a glue stick, your print will likely have an incredibly smooth finish on the bottom. You can also use adhesive stickers like PEI sheets or BuildTak with glass, which we'll get to in a minute.
The main downfall of using glass is that it's incredibly fragile, which means you have to use care when removing your print from the bed. It's not flexible, so manually separating your print from the bed must be done very carefully to avoid breaking either.
Glass Printer Bed | Amazon
This is a universal print surface for 3D Printing. Almost all types of filament will print to glass in one way or another. Just place the Glass Print bed on your print board and clip it in place!
Buy at Amazon.com
We earn a commission if you click this link and make a purchase at no additional cost to you.
02/02/2023 08:36 pm GMT
The Anycubic Ultrabase is also made of glass, but it contains nanoparticles on its surface that give it a few extra features, making it easier to use. The print will cling to the build plate while it's hot, but the plate will release the object once it cools.
Because the Ultrabase is made of glass, it retains all of the same great properties like conductivity, flatness, and stiffness. Unfortunately, the bottom of your prints won't have the same smooth finish. They'll be slightly porous, which is what helps them release so easily
You also can't use any additional adhesive solutions like hairspray, glue, or Buildtak because it could damage the nanoparticles. However, you wouldn't want or need to use these solutions because the Ultrabase is already adhesive enough.
Damaging the nanoparticles would result in a typical piece of glass that could still be used as a build plate, but you've just paid a premium for a regular piece of glass.
One downside to the Ultrabase is that this built-in adhesive does wear out over time and can be damaged from improper use. You will eventually have to replace it, which becomes costly for those who print a lot.
For those who want the ease of adhesion without the need for additional tools like hairspray as well as easy removal without damage to the glass, this is definitely worth the investment.
Anycubic Ultrabase 3D Printer Platform | Amazon
Super Flatness, Fast and uniform heating. It has been inspected to ensure flatness better than 0.2mm (normally within the 0.1mm). And the printed models will have a very smooth and wonderful bottom surface.
Buy at Amazon.com
We earn a commission if you click this link and make a purchase at no additional cost to you.
This build plate system originally came with the Prusa i3 MK3, but now you can add it to almost any 3D printer. The BuildTak FlexPlate is a unique system that allows you to snap your prints off the bed just by flexing the bed.
It's made of magnets along with a removable spring plate that's made of steel. All you do is remove the build plate surface, which is interchangeable, and flex the steel to pop your print off of the surface.
This allows for faster printing, assuming you have multiple print plates that you can put in its place. It's common in production environments where many prints need to be made in succession.
The FlexPlate is made to be used with BuildTak adhesive stickers or with PEI, but you can also use other brands of adhesive stickers as well as painter's tape. However, you probably shouldn't risk using hairspray or a glue stick directly on the spring steel.
It's also not recommended to print directly on the build plate surface, which may inconvenience some who just want to put the build plate in place and go. The FlexPlate does need to be installed on a perfectly flat surface, like glass.
If it's not, your printer needs to have a mesh leveling system, and the surface needs to be flat. Without a flat surface, likely, your prints won't stick well to the bed, which will cause warping.
BuildTak Printing Build Surface | Amazon
$60.10 ($20.03 / BuildTak Sheet)
The Buildtak 3D-printing build surface is a 12" x 12" square sheet that adheres to a print bed of a fused-filament 3D printer (sold separately) to help the filament stick during printing, while also enabling clean removal of the printed part afterward.
Buy at Amazon.com
We earn a commission if you click this link and make a purchase at no additional cost to you.
02/02/2023 03:15 pm GMT
The Easy-Peelzy is another solution for those who want a removable, flexible build plate. It's similar to the FlexPlate. It has a flexible magnetic sheet that you can peel off of the magnetic base. Once that's done, you can peel it off of the bottom of your prints.
This system is very kid-friendly, so it's a popular system among schools and 3D printers meant for kids. There are no tools involved with removing prints, and there are no sharp edges, spring steel, fragile build plates, or heavy objects.
The built-in surface is similar to BuildTak in that it doesn't require any additional adhesive help like hairspray or a glue stick. It's also not advised that you use painter's tape or anything else to avoid damage to the surface.
It's meant to be adhesive but easy to peel. However, it's also similar in that it must be installed on a completely flat surface, like a glass build plate, or it will cause warping.
It also shares the same problem as the Anycubic Ultrabase in that it will wear out over time and can be damaged if it's used incorrectly.
This can be costly over time, but it's still the best solution by far for those who are just starting in the world of 3D printing or who want a safe and effective solution for children who will be using the 3D printer.
Easy-Peelzy Build Plate | Amazon
Easy-Peelzy, the easy removal 3D printing platform for PLA and PLA-based materials. You can cut it into any smaller size or shapes to fit your printer!
Buy at Amazon.com
We earn a commission if you click this link and make a purchase at no additional cost to you.
You can use polypropylene sheets, and it's another common solution because they offer good adhesion for an affordable price. You don't need to use additional adhesive solutions on top of these sheets either.
These sheets are durable with proper care, and they won't wear out as quickly as things like the BuildTak or other stickers. They're almost as smooth as glass, and you'll get a very smooth finish on the bottom of your print
It acts much like the Ultrabase, and your prints will stick well when it's hot but release easily after it's cool. You can also clean the surface quickly with water or alcohol, which means maintenance of polypropylene is a breeze. You can use build surface stickers with polypropylene, and they'll work reasonably well, but they're not necessary.
It almost seems as if there are no downsides to using this solution at all. Unfortunately, there's always something. Many people report that these sheets scratch very easily if they're not cared for properly, and they warp over time, so they don't stay as flat as glass for as long. They'll need to be replaced. Luckily, you can afford to do so.
Mamorubot Polypropylene Build Plates | Amazon
Made from a durable, rigid material with a long service life. Offer free replacement within 1 year warranty. Strong adhesion properties firmly hold your parts to the bed while printing. When your print is complete and the build plate has cooled, parts can be removed by hand.
Buy at Amazon.com
We earn a commission if you click this link and make a purchase at no additional cost to you.
02/02/2023 08:25 pm GMT
This is the most common 3D printing surface after glass. It's a conductive metal, which means your print bed will reach the appropriate level of heat and distribute it uniformly throughout. However, it's also susceptible to expansion under higher temperatures, which can cause warping or poor adhesion in your first layer.
Even still, aluminum is used so widely because it can withstand the rough removal of prints from the bed. It's an affordable option and can take a lot of wear and tear before needing to be replaced.
It's one of the best and most affordable options for distributing heat evenly, especially when it comes to uniform adhesion at the first layer, as long as it doesn't get too hot.
Heated vs Non-Heated Beds
Now that you have a better idea of which materials may be right for you, it's time to look at whether or not you should be using a heated bed or a non-heated bed for all of your 3D printing.
Most 3D printers on the market today come with a heated bed. While a heated bed definitely gives you some distinct advantages, it's not always necessary. And there's never going to be a one-size-fits-all solution
Whether or not you need a heated bed depends on how you're using the machine.
Advantages of a heated bed
The primary advantage of a heated bed is to prevent warping at the first layer. We all know that even adhesion at the first layer is critical to establishing a firm foundation for the rest of the print's quality. Without this first layer, the rest of the print would fail.
It helps to maintain uniform heating of the material and eliminate uneven cooling problems when the job is finished. The print bed's temperature is based on the melting point of the material you are using, so it will vary from one filament to the next.
This factor will help you determine what kind of bed you need. Some beds can be heated to higher temperatures than others, so be aware of the filaments you're using before you determine what kind of build plate to buy.
Disadvantages of a heated bed
The one drawback to a 3D printer with a heated bed is that it consumes a lot of power. If you don't need a heated bed, you may reconsider getting one. It can cost a lot of money to power this machine.
You'll pay extra in your monthly bills, plus you may have to install an enclosure to keep your components hot.
It's not worth the extra hassle if you don't need it. Filaments like PLA don't need a heated bed at all, so if that's all you plan to print with, you don't need to worry about it. However, more complex materials like ABS do.
If you plan to print with multiple materials in the long run, get the heated bed now, so you don't end up spending more money later.
If you don't get a heated bed, your creation will be limited, which may be acceptable in the near term, but you'll regret it once you start expanding your horizons, and you'll wish you would have gotten a 3D printer to grow with you.
Bed Additives
Not only do you need to decide on a build plate and whether you want to heat it or not, but you also need to consider whether or not you want to use any bed additives.
You don't always have to enhance your adhesion, but you can, and sometimes you may need to.
Hearkening back to the days of elementary school supply shopping, you may remember the cheap, washable glue sticks your mom bought. They didn't exactly work well on paper, and your third-grade art project fell apart by the time you turned it in, but they work great here. They're a simple favorite when it comes to attaching the first layer of a print job to your build plate.
They're washable, so you can apply them directly to the print surface and then wipe them off later with water. They're affordable, so you will have to go through a lot of glue sticks before you ever pay for a fancy Anycubic Ultrabase.
Spread the glue evenly over a glass or aluminum build plate, and you'll experience perfect adhesion at the first layer with little to no effort. Your finish will be just as smooth as glass.
FYSETC 3D Printer Glue Sticks | Amazon
Easy application, Easy release, Easy clean, Non-toxic, Acid-free, washes off 3D Printer build plate easily with water.
Buy at Amazon.com
We earn a commission if you click this link and make a purchase at no additional cost to you.
02/02/2023 12:50 pm GMT
Hairspray is virtually the same as a glue stick. It works with most of your standard materials and filaments. Spray it on in an even layer, and you'll get great adhesion and a smooth finish. Aquanet isn't just for your grandma anymore. Unfortunately, it can get smelly, and it can also be a little bit harder to clean than a glue stick. It also doesn't work well with polycarbonate or ABS. It makes those materials more susceptible to warping.
Applying painter's tape to a glass or aluminum build plate offers a rough surface for your first layer to grab onto. It's like the tread on your tires providing traction. Your first layer will hold firmly to the bed, and it can help prevent warping.
One problem with painter's tape is that you may find small amounts of curing at the corners, but you won't be able to see them unless you look closely. The surface finish also won't be as smooth as it will with a glue stick or hairspray.
Gizmo Dorks Blue Painters Tape | Amazon
Gizmo Dorks blue painter's tape is the go-to and cost effective way of covering your 3D printer bed plate.
Buy at Amazon.com
We earn a commission if you click this link and make a purchase at no additional cost to you.
02/09/2023 05:15 pm GMT
PEI has a rougher surface than painter's tape so that it can offer even more traction for your materials. There are more bumps for your filaments to hold onto.
You can use it with materials that require a heated bed, the prints are easy to remove, and you'll notice little to no warping. Of course, as you can probably imagine, your surface finish will be very rough.
Gizmo Dorks PEI Sheet | Amazon
High strength and heat resistance (up to 340° F) allows the polymer to perform consistently in high temperature environments.
Buy at Amazon.com
We earn a commission if you click this link and make a purchase at no additional cost to you.
02/02/2023 03:46 pm GMT
FAQs
Question: What is the best surface to 3D Print on?
Answer: The most popular 3D Print bed material by far is glass. It's simply the easiest solution for most people. Because it's stiff, it won't warp. It's solid and flat, so your prints will always have a smooth surface.
It may be fragile, but as long as you treat your glass bed with care, you'll get great life out of this solution and likely never have to replace it. For the best adhesion, use glue sticks or hairspray.
Question: Why is my 3D Print not sticking to the bed?
Answer: There could be a lot of reasons why your print isn't sticking to the bed. Don't immediately jump to the conclusion that you're not using the right type of bed or the right type of adhesive.
Instead, make sure you have it set at the ideal temperature for your print material. If it's not too cold, the material won't adhere. If it's too hot, the material will soften too much and peel right off. You can also try switching up your adhesive technique. If you're using hairspray, switch to a glue stick, or vice versa. Coat your build surface with a thin, even layer and try again. If neither of those things works, try a thorough cleaning of your print bed surface. Water or rubbing alcohol can go a long way to ensuring that you have removed any dust you can't see that could be interfering with your adhesion.
Question: What kind of tape is used for 3D Printing?
Answer: If you've decided to go the painter's tape route for adhesion on your print bed, most users go with Gizmo Dorks blue painter's tape. It's affordable, and it works the best. Both PLA and ABS stick well to this type of tape. It offers strong adhesion and it's easy to remove later on.
Gizmo Dorks Blue Painters Tape | Amazon
Gizmo Dorks blue painter's tape is the go-to and cost effective way of covering your 3D printer bed plate.
Buy at Amazon.com
We earn a commission if you click this link and make a purchase at no additional cost to you.
02/09/2023 05:15 pm GMT
Final Thoughts
Because the first layer is so important for successful printing overall, your build plate is one of the most essential features of your 3D printer. Ensuring you have a great print bed will set you up for achieving your 3D printing goals from the start.
It will ensure reliable adhesion, prevent warping, and can go farther in guaranteeing that your entire print will not have any deformities.
A heated print bed increases the number of filament types with which you can print, and a glass print bed will give you the most versatile and long-lasting solution. Although you may need to be prepared to use additional adhesives, it's one of the most popular choices.
There are many other options out there for specific needs, so make sure you do your research before making your decision. You'll get the best, most accurate results if you know your options and know what you need before you buy!