Today we're pitting two 3D printers against each other to see who really earns their spot on the top of "best of" lists.
Both the Prusa i3 MK3 and the Ultimaker 3 have earned accolades from trade publications (including this one!), both have already made waves with their new iterations in 2019, and both are touted as great mid-price options for those who are looking to upgrade from their beginner rigs.
Their constructions and features vary but are similar enough to compete for the same builder dollars, so let's get into the details to see who will come out on top.
Bottom Line Up Front Summary: I personally prefer the more affordable, customizable and open source Prusa I3 MK3S+ available here.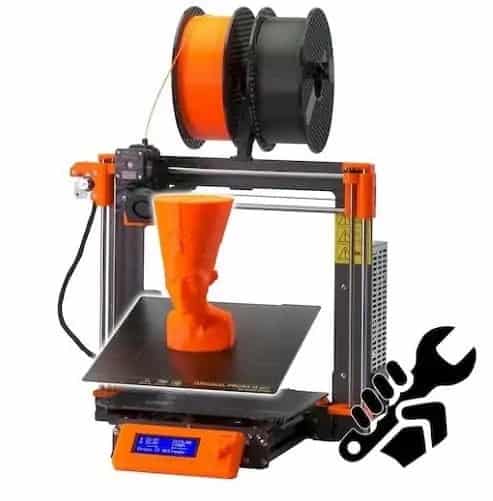 Prusa Research is 3D printing company started by Josef Prusa in 2009 when he spun his own printing business off from the RepRap project. The company based in the Czech Republic, which means all their models meet European Union standards, and they ship their products around the world.
In 2018, they developed the Prusa i3 MK3. They wanted to be able to offer a 3D printer that is more accessible through a lower price point and simplified build from their higher end models but still exhibits the superior quality of both the printer and the printed objects.
One way to do this is to make a 3D printer kit, so the user does not absorb the cost of professional assembly; Prusa took the i3 MK3 in that direction to catch the attention of more beginning and hobbyist level 3D printer users without sacrificing the quality of their higher end machines.
What are the tech specs of the Prusa i3 MK3?
| | |
| --- | --- |
| Price | $749 unassembled, $999 assembled (Check out the latest rates here) |
| Build volume | 25 cm x 21 cm x 20 cm |
| Filament size | 1.75 mm |
| Max extruder temperature | 300 degrees Celsius |
| Max bed temperature | 120 degrees Celsius |
| Connectivity | SD card, wifi |
| Operating systems supported | Mac, Windows, Linux |
| Software | GNU GPLv3 (open source) |
What are the advantages of the Prusa i3 MK3?
You have a choice to buy a kit or fully assembled. Our personal experiences with 3D printer kits vary all across the range of quality, ease, and printing output, with a lot of our judgment resting on how many times the assembly process makes us want to throw our wrenches across the workshop. Prusa can get you past this with the i3 MK3 – if you're willing to spend another $150 or so.
Easy assembly process. If you're on the fence about whether to get the kit to save money or the fully assembled machine to save time, know that building the i3 MK3 is one of the smoothest 3D printer assembly processes you can find. It's not perfect, but it's darn near close: the parts are fully organized and packaged in stages, you can find the instructions either online or in a physical book from the box, and actually putting everything together takes way less time than you are probably assuming based on your experience with other kits. This kit is next level, so don't let a reluctance to build stop you from trying this one.
Great support and documentation. Even if you choose to buy the fully assembled i3 MK3, you're going to have questions, and you're going to need help. That's where Prusa's ultra thorough documentation comes in handy. It's all there and clearly laid out, so you can follow the instructions from beginning to end or choose which steps you need help with and go directly there without having to wade through previous steps for context. There's also a thriving online community that's always willing to add their two cents – that's why we personally like using the electronic instructions better because you can see notes other users have made on that one.
Stiff frame. Prusa doesn't let its i3 MK3 fall into the common kit trap of sending cheap, flimsy materials to save money. Whether you assemble it yourself or buy it pre-fabricated, the i3 MK3's frame is sturdy, pure steel that minimizes any wiggle motion that extruder movement may cause. And it keeps everything steady while keeping the frame open for X and Y axis movements that may go outside the build zone.
Crash detection. 3D printing is a painstaking process that requires everything going exactly as it's supposed to the whole way through. Realistically, we know that's not possible all of the time, but with the i3 MK3's crash detection, you can pretend it is. If your computer crashes, if the power blinks out, if a velociraptor chases your dog and you have to go rescue it – basically, if you have to stop printing for any reason, the i3 MK3 will have your back and pick up right where you left off.
Power failure backup. This goes with crash detection like peanut butter and jelly. A steady power supply is at the mercy of both Mother Nature and human hands, and Prusa understands that. If you're in the middle of a print and your lights go out, the i3 MK3 will keep printing using its backup power source so you don't have to throw away hours of work because of something you couldn't control.
Removable magnetic printing bed. 3D printer beds are vital to your print quality. Pursa has made its i3 MK3's bed easy to attach and easy to remove with one neat quality – magnets. This makes adjustments a breeze, as well as cleanup.
Autocalibration. No need to fiddle with axes controls for a couple of hours before printing, only to find out afterward that your calculations came out wrong so that your Rubik's cube is now a Rubik's quadrangle. The i3 MK3 auto calibrates its printer bed and extruders, so you don't have to after every print or accidental jostling.
Open source software. Prusa uses their own 3D printing software under a GNU GPLv3 usage license, which means it's free to modify for yourself and share with others in its original form. That has built a thriving fanbase of users who love sharing their hacks online with anyone else who wants to know. If you have an issue you're trying to puzzle out; there's a great chance someone has posted the solution – or would love to see yours once you finish it.
What are the disadvantages of the Prusa i3 MK3?
Printed parts needed for assembly. With all the hype about the i3 MK3's easy assembly, we don't want to give the impression that it's absolutely flawless. One thing that makes it not quite uniformly awesome across the board is that if you do get the kit to assemble yourself, be prepared to print a lot of parts. The instructions are detailed, and the fits are excellent, but you will need to be aware of the tasks ahead of you before you get to the building part.
It is getting the frame squared. Another small issue in the assembly process is getting the frame squared as the foundation of the rest of the machine. It's another instance of good documentation for something that maybe should have been solved before it got to you.
Price. Many 3D printer users look to kits for a way to save money. For the i3 MK3, this will only be true in relation to its own pre-assembled sibling; $749 is one of the most expensive 3D printing kits you will find, and $999 is not a steal for a ready-made machine, either. Those prices will, unfortunately, steer away a lot of people who just can't fit that into their budget, no matter how good the quality of the final result.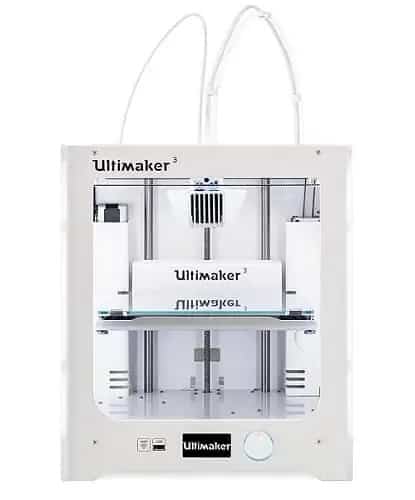 Ultimaker is a 3D printing company that's been around for about ten years. It's got offices in the United States, the Netherlands, and Singapore, so they ship around the world just like Prusa. They made their first Ultimaker prototype in 2010, and since then, they've made continuous improvements on the model for those who are looking for the upper level of desktop 3D printing.
The Ultimaker 3 is a pre-assembled dual-extruder first introduced in 2017, and its 2019 upgrade has already been celebrated as one of the best of the year. It's meant to give a bigger, more complex 3D printing experience while keeping the machinery compact and simple enough for desktop use.
Why Go With the Ultimaker 3? | Matter Hackers
I'll be honest, the Ultimaker 3 is one of my FAVORITE 3D Printers of all time. Not trying to hype it, but it's still the go-to for reliable performance and durability over time. It actually gets BETTER the MORE you use it... Weird!
Check Price
We earn a commission if you click this link and make a purchase at no additional cost to you.
What are the tech specs of the Ultimaker 3?
| | |
| --- | --- |
| Price | $3,495 (Check out the latest rates here) |
| Build volume | 21.5 cm x 21.5 cm x 20 cm single extruder, 19.7 cm x 21.5 cm x 20 cm dual extruder |
| Filament size | 2.85 mm |
| Max extruder temperature | 280 degrees Celsius |
| Max bed temperature | 100 degrees Celsius |
| Connectivity | WiFi, Lan, USB |
| Operating systems supported | Mac, Windows, Linux |
| Software | Ultimaker Cura |
What are the advantages of the Ultimaker 3?
Dual extruders. If you're wondering why dual extruders are special enough to warrant a shout out in a list of a 3D printer's best parts, it's all about the quality. The Ultimaker retains the same excellent print quality whether you're using either or both of its print nozzles, and the only way dual extruder use will be obvious in a finished product is if you use different colors in each. Ultimaker has figured out the perfect waltz to get the most out of both without any of the literal bumps that often come from using two.
Hot-swappable print cores. This is the practice of swapping out the core printer components without shutting down or rebooting the machine. You may recognize this as a thing that most tech people will tell you to avoid like the plague so nothing gets erased or fried in the process. But the Ultimaker 3 has you covered on this, and it's not playing around when it comes to customizability. Their print cores are ways for you to swap out printing properties and material details without re-calibrating your entire setup. It's a great innovation that lets you take originality to the next level. Additionally, this is a well-thought out and smooth process, not just an idea someone had to tack on at the last minute, so you'll be able to use this feature without the usual hitches of many first-time features.
Tougher filament possibilities. Because of the varying temperature ranges possible from the different printer cores, the Ultimaker 3 gives you a wider variety of materials to work with. Filaments that need higher extrusion temperatures usually require a different machine than those that require lower ones, but not anymore – you can stick with your basic PLA or go crazy with the nylon, metal, or other exotic mixtures without the need of another printer.
Print quality. Not to be outshined by all the bells and whistles around it, the overall print quality of the Ultimaker 3 is definitely a feature worth mentioning. It's so unassumingly good that it might get lost amongst the more flashy features done well here, but keep in mind none of the extra stuff would work if the basics weren't flawless.
What are the disadvantages of the Ultimaker 3?
Price. We understand that 3D printing technology is hugely intricate and involves a lot of top-notch innovation; we also understand that none of that comes cheap. And don't misunderstand, the Ultimaker 3 is great quality and gives you a lot for you money. At the same time, once again we've found an excellent machine that isn't going to be easy for people on a budget to use. Good quality 3D printing can be had for less, sometimes much less – take a look at our other reviews and roundups for ideas – and it's just the tiniest bit disappointing that doesn't apply here.
Print speed. All of the Ultimaker 3's perfection in its print quality comes at the cost of printing speed. This machine will not get in a hurry – and that's something we don't blame it for, considering the intricacies of dual extruder printing and how easy that is to misalign. But be prepared to wait for up to four times longer than other 3D printers for your creation to be complete.
Placement of spool holder. This is a design detail that seems insignificant until you experience a problem that drags it front and center. Which is exactly where the filament holder should be on the Ultimaker 3 in a perfect world, but instead it's hidden around back and difficult to reach unless you have unfettered access to all sides of your printer at all times.
What's the verdict between the Prusa i3 MK3 and the Ultimaker 3?
Bottom Line: The Ultimaker 3 comes out ahead in this comparison for the sheer amount of shininess it brings to the table – BUT the NEW Prusa i3 MK3S+ is the better (more affordable and customizable) buy here.
This isn't to say the Prusa i3 MK3 is bad, though; it also deserves all its hype, and with its lower price points even for the fully assembled version, it may be a better bet for you.
However, we can't resist a smooth dual extruder print, and we're ready to see what both Prusa and Ultimaker have in store for the future.
Why Go With the Ultimaker 3? | Matter Hackers
I'll be honest, the Ultimaker 3 is one of my FAVORITE 3D Printers of all time. Not trying to hype it, but it's still the go-to for reliable performance and durability over time. It actually gets BETTER the MORE you use it... Weird!
Check Price
We earn a commission if you click this link and make a purchase at no additional cost to you.
Further Reads