Latest posts by Jodie Chiffey
(see all)
In my Muse v Glowforge comparison, I'm going to show you which is the best laser cutter you can use alongside a 3D or just on its own.
While 3D printers work by creating shapes out of filament, laser cutters can create flat objects quicker and it is a process of subtraction. You can use laser cutters to create a wide variety of objects from jewelry, art, home, decor designs, and much more.
I will go over the ins and outs of a Muse and Glowforge laser cutter, including the features of each device, how easy they are to use, what their cost comparison is like, and finally which one we recommend and why.
My Bottom Line Up Front Summary: While both cutters are competent, I personally prefer the Muse Laser Cutter here as it's more affordable, compatible with more materials, comes with a a user friendly LCD screen, and doesn't rely entirely on a cloud based architecture.
Main Differences Between Muse Laser Cutter vs Glowforge
The main differences between Muse vs Glowforge are:
Muse uses an external water cooling unit, whereas Glowforge has a built-in internal cooling system.
Muse laser cutter can be used offline, whereas the Glowforge relies on cloud-based software so you need to be connected to the internet
Muse has an LCD touch screen, whereas the Glowforge does not
Muse has only basic support, whereas Glowforge have many support options including a community forum.
Our Pick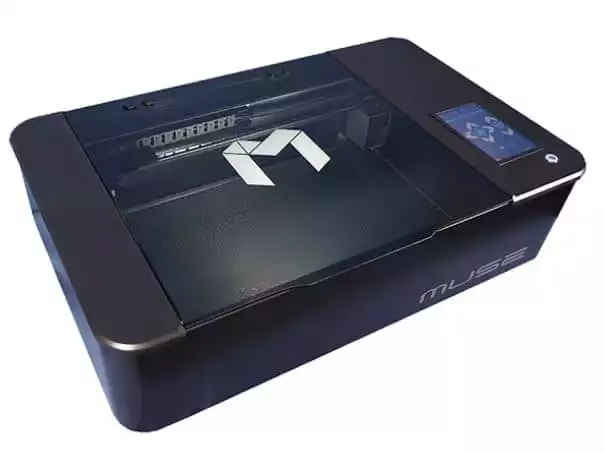 Why go with the Muse Laser Cutter? | Matter Hackers
I prefer the Muse cutter here as it's generally more affordable, comes with a user-friendly LCD screen, is compatible with a wider array for materials, and doesn't rely entirely on cloud-based infrastructure.
Check price
We earn a commission if you click this link and make a purchase at no additional cost to you.
Both of these laser cutters are powerful devices and they can be used both at home by individuals and hobbyists as well as in small businesses.
Exploring Muse and Glowforge features
For this comparison, I am going to look at two popular laser cutters, the Muse from Full Spectrum Lasers and the Glowforge Pro Plus.
Cutting
Let's start off with the main reason you will be investing in a laser cutter – cutting up objects to make shapes and designs. While you can find a range of affordable 3D printers nowadays, you'll still likely need something to cut prints and etch designs. This is why laser cutters are a helpful thing to have and they can be used in their own right to cut out designs from various materials.
The Muse laser cutter uses a 45W laser with a resolution of 1000 dpi and it works well to cut into materials such as acrylic, wood (such as MDF and plywood) and leather. It is powerful enough as well to engrave metal. You can purchase a rotary attachment which will allow you to engrave curved objects although it will cost extra on top of the price of the laser cutter itself.
The Glowforge Pro Plus also uses a 45w laser to cut into objects. It also offers a more powerful experience than some of the other laser cutters from Glowforge (namely the Basic and Plus models) and it does this very quickly. If speed is what you are after without loss of precision, the Glowforge does this very well. You can cut into a wide variety of 'soft' materials such as wood, leather, acrylic and more while 'hard' materials such as glass and metal can be engraved.
Cooling
Laser cutters can and do get very hot and this is why they come with cooling systems. You'll still need to keep the cutters in a ventilated area which is something to think about if you are planning on buying one.
The Muse laser cutter has an external water cooler which helps keep the temperature down on the device. You'll need to keep this in mind when it comes to where you are going to put the Muse laser cutter. The external water pump will take up some extra room. That being said, it works really well to keep the cutter cool so it doesn't overheat and if you don't have an upgraded exhaust system on the Muse you'll need to keep it beside a window to get rid of any fumes it produces.
One of the big differences between the Muse and the Glowforge is in its cooling system and rather than having an external water pump to do this, the Glowforge comes with a closed-loop self-contained internal cooling system. This helps save on space and it uses air from the room that it is situated in to reduce the heat of the device. It works between temperatures of 60 degrees Fahrenheit (16C) and 75 degrees Fahrenheit (24C).
Software
Like 3D printers that rely on different types of software to create models and designs, laser cutters need software too so that cuts are accurate. Muse and Glowforge use different software to achieve this.
The Muse laser cutter uses a touch screen which is fairly standard for the price range it is in and it also uses software called RetinaEngrave. It is pretty straightforward to use and the big advantage here is that it can be used offline so you don't necessarily need an internet connection to use this laser cutter. There is a camera system too which will help with the alignment of your cuts.
The Glowforge Plus is a bit different. It operates using cloud-based software that is native to Glowforge so you need to sign up to the web app and be connected to the internet. This is fine if the laser cutter is set somewhere with a good internet connection however because it relies on cloud technology, any interruptions of the internet will cause problems. That being said, the software has a lot of presets to work with which makes cutting a lot less time-consuming.
Platforms
The software that you use with a laser cutter should be compatible with various platforms and operating systems. If you predominantly use a Mac then your laser cutter software that is only available on Windows and Linux isn't going to be problematic.
Luckily both Muse and Glowforge use software that is compatible with a variety of platforms. The software that Glowforge uses is cloud-based and can be used with any OS from Windows, Linux, iOS, Android, and the RetinaEngrave that Muse has can be used on a variety of operating systems too from Windows, Mac, and Linux.
Specifications for Glowforge and Muse Laser Cutter
| | |
| --- | --- |
| Muse | Glowforge |
| Cooling: Closed-loop self-contained internal cooling | Cooling: Water cooling |
| Software: Glowforge native software | Software: RetinaEngrave V2 software |
| Beam Power: 45w (upgrade) | Beam Power: 45w |
| Tech: CO2 Laser tube | Tech: CO2 Laser tube |
Comparing Muse and Glowforge pricing
Just as 3D printers have come down in price in recent years as the tech advances and they become more accessible, laser cutters are the same. They aren't the cheapest pieces of kit you can buy however they aren't completely out of the price range for many people either.
The Muse 2D from MatterHackers costs around $3,500 for the base cutter / engraver / coolbox here. This includes the standard 40w laser (the 45w is an upgrade), external cooling system, and a one year warranty as well as the RetinaEngrave software that I spoke about above.
The Muse 3D Vision Autofocus version is a step up significantly in price to $7,249 via MatterHackers here. This leverages the latest 3D Vision technology from FDL.
You can also add various additional elements for an extra costs such as:
The Glowforge Pro is a little bit more expensive at around $5995. For that price, you get the laser cutter, inbuilt cooling system, and one year of a comprehensive warranty.
You can also add an additional air filter which is an external unit to clean the fumes and air that comes from the cutter. It isn't necessary but it will negate the need to keep the laser cutter beside a window.
Muse v Glowforge Ease of Use
As laser cutters like Muse and Glowforge have become more accessible to the wider market, their ease of use has got better too. Having a difficult to operate piece of kit isn't going to appeal to the masses who might be using these cutters for hobbies or just on an occasional basis. So, how easy are these two devices to use?
The Muse has the benefit of an LCD screen which greatly enhances its operation and makes things a lot more straightforward. The RetinaEngrave software is fairly easy to use as well so you shouldn't encounter any problems. The camera is great for ensuring accurate and straight cuts and overall the muse is intuitive and user friendly even to those who have little to no experience of operating a laser cutter.

The Glowforge

is in the same easy to use category. While it doesn't benefit from an LCD screen, the cloud-based software isn't difficult to get to grips with and its various features are user friendly as well. All updates are installed via the cloud so you don't even have to worry about updating the software on your own either.
What support is available for Muse and Glowforge
Even if you aren't using a laser cutter for the first time, you may need help so it is ideal to have a good system of support in place should you require it.
Glowforge has various options if you need any help using the laser cutter. They have a live chat and message option on their website or you can email them and contact them via their social media channels if you wish.
There is also a handy FAQ section to the site and the Community has regular updates. The Community Forum is also a great place to interact with other Glowforge users and there are forums for free laser designs, tips and tricks and general and technical queries too.
Laser Spectrum, which are the creators of Muse, do not offer the same level of support as Glowforge although they do have a contact form on their website and some guides including video tutorials which are helpful. It would be nice to see a community forum like Glowforge where you can interact with other users.
Pros and Cons
Muse Laser Cutter
Our Pick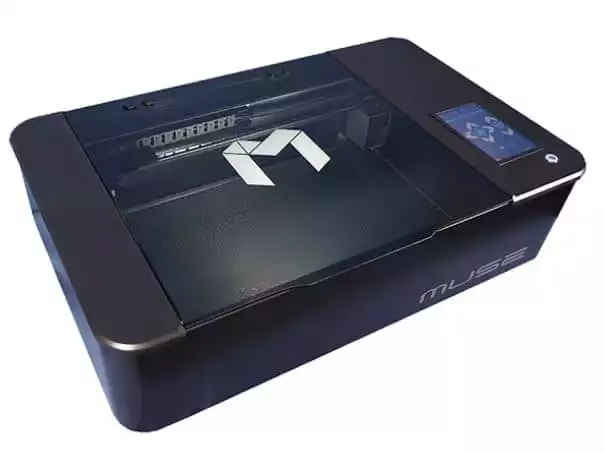 Why go with the Muse Laser Cutter? | Matter Hackers
I prefer the Muse cutter here as it's generally more affordable, comes with a user-friendly LCD screen, is compatible with a wider array for materials, and doesn't rely entirely on cloud-based infrastructure.
Check price
We earn a commission if you click this link and make a purchase at no additional cost to you.
Muse Pros
Affordable and powerful laser cutter
Can cut into various materials and engrave metal
Comes with an LCD screen for ease of use
Software is straightforward to operate
Offer video tutorials and design samples
Can use this laser cutter offline
Muse Cons
Needs an external cooling system which takes up space
Support options could be better
Glowforge Laser Cutter
Glowforge Pros
Easy to use laser cutter with a reasonable price tag
Can cut into a variety of materials
Has an internal cooling system
Wide range of support options should you need help
Software is intuitive and straightforward
Glowforge Cons
Software is cloud-based so needs internet to use
No LCD screen on the device
Are There Any Other Laser Cutter Alternatives?
If you need a bit more power than the Muse or Glowforge, check out the FLUX BeamBox Pro here.
The powerful 50W CO2 laser features a in-built HD camera, closed loop internal cooling system, integrated ventilation and additional safety features (emergency shut off, smart lid, etc…). The bse version is a bit of a price increase at around $4,299 via MatterHackers here, but not so much as to but it into the fully commercial grade (see further down this list).
Editor's Pick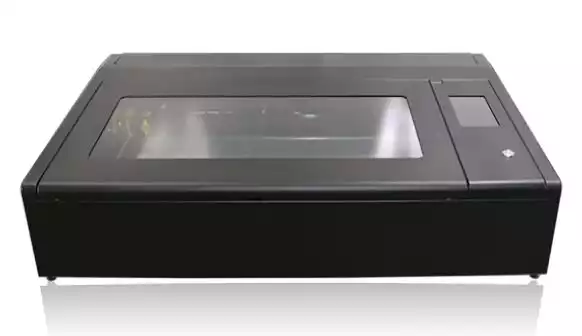 Is the FLUX BeamBox Worth it? | Matter Hackers
The short answer is that the BeamBox is one of the best values on the market for what it can do. Plus, it's relatively lightweight and compact for a laser engraver. It supports a WIDE variety of materials and has a well designed smartphone app for easy use.
Check Price
We earn a commission if you click this link and make a purchase at no additional cost to you.
Boss LS-1416 (Commerical Grade)
As an alternative to both the Laser Spectrum Muse and the Glowforge Pro, the Boss LS-1416 is a powerful laser cutter that comes in at a cheaper price for the standard package. You'll get a 50w CO2 laser tube and it uses a water pump cooling system.
The Lightburn software is included and works on Windows, Mac, and Linux devices and you can add in extras such as better fume extractors and rotary attachments. The base price is just shy of $4000 (although this can rise considerably with upgrades) but the standard 'out of the box' model is a powerful cutter.
A halfway point between the desktop studio options and the commercial grade players (below), the Digilab LC40 is a more polished offering from a reputable name in the industry (Dremel makes many popular 3D printers).
The Digilab LC40 is available for about $6,500 via MatterHackers here.
Our Pick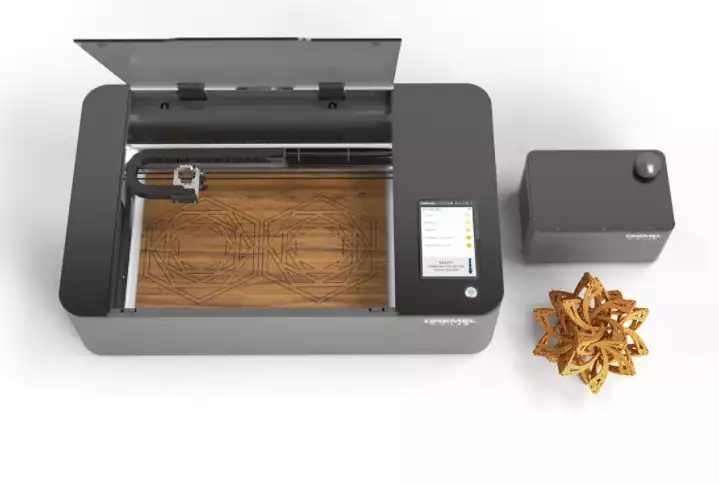 The ZMorph is not purely a cutter, it's actually a printer, cutter, and engraving multitool. It might sound like it's too good to be true, but it's actually reasonably competent. Read our full ZMorph VX Review for further details.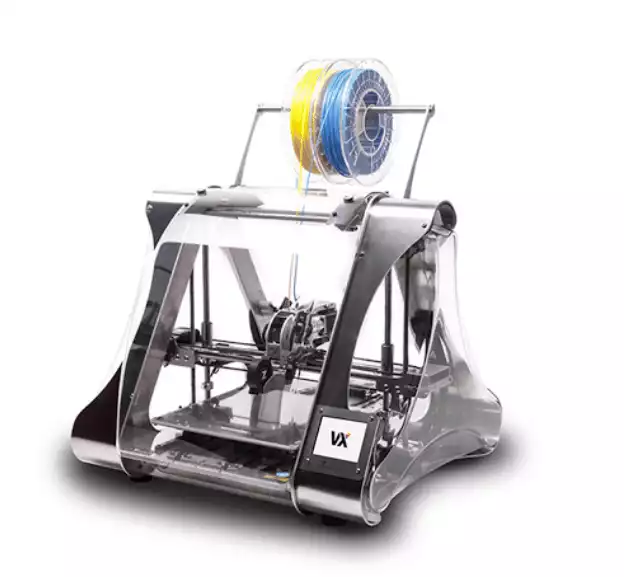 ZMorph VX Full Set - Multitool 3D Printer | Matter Hackers
Since the ZMorph VX Full Set can function as 5 different machines in one, you can save space and money for your workshop, classroom, or business because this single unit can handle all your educational, crafting, or small-scale manufacturing needs.
Check price
We earn a commission if you click this link and make a purchase at no additional cost to you.
Frequently Asked Questions about Muse and Glowforge
Question: Do I need a laser cutter and a 3D Printer?
Answer: Not always, although you may need to cut some 3D Prints for better accuracy depending on what you are printing and the type of 3D printer you have.
Question: Can I use the laser cutters without accessing the internet?
Answer: The laser cutter from Glowforge requires an internet connection as it is cloud-based; however, the Muse doesn't, and you can use it offline.
Question: What operating systems can I use the Glowforge Pro on?
Answer: As it is cloud-based you can use it on virtually any OS including Windows, Mac, iOS, Android and Linux.
Question: What operating systems can I use the Muse on?
Answer: Muse uses softwaare called RetinaEngrave and it can be used on Windows, Mac, and Linux platforms.
Question: Can a laser cutter overheat?
Answer: Yes. Overheating can be a problem with laser cutters depending on how often and how long you are using them. Both of these laser cutters have cooling systems though. The Muse has an external one, and the Glowforge has an in-built one to help combat this problem. Overheating can lead to CO2 bursting, so, make sure you monitor how hot the device gets.
Question: What types of material can I cut?
Answer: Afforable laser cutters like the two I have compared can cut a variety of softer materials such as woods like MDF, leather, acrylic, while they also have the capability of engraving harder materials such as metal and glass.
Question: What support is available?
Answer: Both Laser Spectrum and Glowforge have various support options available, however, Glowforge has more comprehensive help due to their active community forums.
Conclusion: Muse or Glowforge?
These two laser cutters are powerful enough to carry out a range of functions for both small businesses and individuals alike. Laser cutting has become much more accessible for hobbyists too as the price is now a lot more affordable.
Both Muse and Glowforge have their merits and they both perform their functions very well.
Which is the best though?
It is a close call but I would have to go with the Muse for a few reasons. For one it doesn't operate solely on the cloud which is a big bonus for me. While under normal circumstances there isn't anything wrong with cloud-based technology. If your internet stops working or is interrupted you're going to run into problems. I also like the fact that the Muse has an LCD screen which is a great addition.
It does have a few drawbacks such as the extra space the water cooling pump takes up and the different support options aren't great. The community at Glowforge is much better.
That being said, for the price the Muse from Laser Spectrum is a great piece of kit. It not only cuts into a wide range of materials and does it with precision and accuracy but it's affordable and really easy to get to grips with as well.
Our Pick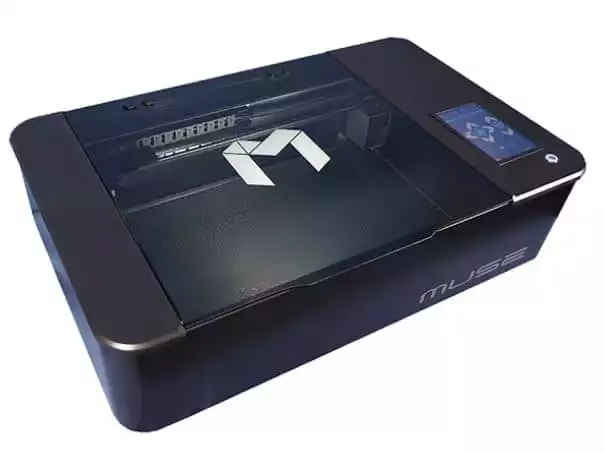 Why go with the Muse Laser Cutter? | Matter Hackers
I prefer the Muse cutter here as it's generally more affordable, comes with a user-friendly LCD screen, is compatible with a wider array for materials, and doesn't rely entirely on cloud-based infrastructure.
Check price
We earn a commission if you click this link and make a purchase at no additional cost to you.
Further Reading on Laser Scanners: