Latest posts by Total 3D Printing Team
(see all)
The Ultimaker 2 is among the more popular 3D printers on the market, but has a newcomer upset the status quo with the new Formlabs Form 1+?
In this comparison, I dig into how these two systems compare and who the ideal user is for both.
About the Formlabs Form 1+
Formlabs is relatively new to the 3D printing space but its products have already grabbed the attention of many 3D printing enthusiasts, particularly the Form 1+ 3D Printer. The Form 1+ was only the second product the new company introduced to the market as a follow up to the Form 1, which was their first. The printer is designed primarily for those that require very high-quality 3D printing results and is a good fit for engineers, architecture professionals and even for producing professional artwork.
The unit utilizes a resin based system which is capable of adjusting the resolution all the way to twenty-five microns or just 0.001 inches. This allows for high-quality professional level 3D printing that is extremely precise and detailed. In fact, some jewelers use the printer to produce molds which are then used metal casting.
About Ultimaker 2
The Ultimaker 2 is also a good fit for artists, engineers and those who need exceptionally detailed 3D printing with professional quality results. It has been praised by many professionals who are experienced with 3D printing as one of the best printers on the market for those who need to print commercial quality products at a reasonable price.
The unit is relatively flexible and can use various materials to accommodate your 3D printing needs with resolutions possible down to only 0.02 millimeters. The unit is at a slightly lower price point than the Form 1+ and it is capable of higher-volume printing jobs with impressive efficiency.
Getting Started
Form 1+
Once you have the printer out of the box, all you need to do is plug it into a power source and install the system management software. After the software is installed on your computer the only task left to complete before setup is complete is installing the print tray and filling it with the appropriate amount of liquid resin.
The liquid resin is a special formula that is proprietary and only sold by Formlabs. It is available by the liter at a cost of $149 and is available in four colors gray, black, white and clear. While other brands of resin are available at a lower cost it is recommended you continue using Formlabs resin, as using resin from another manufacturer can potentially void the factory warranty.
Complete control of the 3D printing unit is controlled via your computer and the system management software. The Form 1+ does not have Wi-Fi capability or input for a memory card so there is no alternative method for initiating or storing print jobs.
Full Review: Read my initial review of the Form 1+ here.
Ultimaker 2
The Ultimaker 2 is even a bit simpler to setup compared to the Form 1+ as you don't have to deal with the resin aspect. After plugging it into a power source and downloading the management software, all that is left to do before printing is leveling the print area, which may not be necessary. Some printers come with automatic leveling capability but even without that functionality on the Ultimaker 2, it is not a difficult process.
One advantage the Ultimaker has over the Form 1+ is an available SD card slot, which means it can operate as a stand-alone unit without the need for the USB cable to be connected. This is a convenient option to have and unlike the Form 1+, an option you would expect to have with a printer in this price range.
Features and Printing Operations
Formlab Form 1+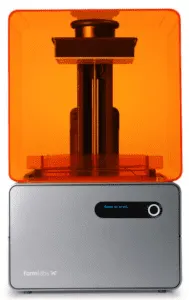 The Form 1+ comes with PreForm which is Formlab's own proprietary software. It is not capable of actually building and designing objects from scratch but is fully compatible with .stl, .obj or .form file types. These, of course, can be obtained through websites such as Thingiverse or imported from other various design programs. PreForm is compatible with Windows operating systems that are XP and above as well as Mac OS X 10.6.8 and above.
The unit only offers one button on the entire printer which operates three functions power on/off, print job start and print job pause. This makes controlling printer functions very straightforward and easy but also limits customization a bit with very little flexibility.
The software does give you complete capabilities to scale your design as needed as well as the ability to rotate and move it in any way needed. It also offers an accurate estimation of how much resin will be needed to complete the 3D printing job that is currently pending. In fact, the estimate for resin needed is incredibly accurate and the overall use of resin is very efficient and affordable.
Features
Excellent professional high-quality and high-resolution prints
Software is simple to navigate and to use
Printing is easy to control and it offers acceptable speed
Smaller prints do exceptionally well on this printer
A lot of flexibility in the resolution settings
Resin printing material used which can be expensive if you are printing high volume
Limited color range when printing in color
Compatible with Windows and Mac
Print volume-4.9 x 4.9 x 6.5 in.
Ultimaker 2
The operation of the Ultimaker 2 is controlled by Ultimaker's own Cura Software, which is offered as a free download and compatible with Linux, Windows or Mac operating systems. Much like the PreForm software that the Form 1+ uses, the Cura software is not designed as modeling software but does allow for efficient import of .stl and .obj files along with the ability to scale and move designs.
The unit is capable of print resolutions down to 0.02 millimeters which is more impressive than many other models in its category. The software shows you the estimated time to complete the print job and updates the time remaining as the unit is in-process.
The controls available are kept to a minimum which makes it easy to navigate and for new users to learn. However, even though there are not too many buttons or choices to learn it does offer an ample amount of customization choices that will satisfy almost any user.
One obvious downside with the Ultimaker 2 is the level of sound it produces while printing, which is above average. Not only is the volume above average but the noise is a higher-pitched whirring and whining sound, not very delicate on the ears. In fact, it can get a bit annoying after a while.
Features
Very-high-quality prints
PLA and ABS filament materials
Lower quality products print with relatively high speed
Single extruder design
Noise level above average
Acceptable quality for professional or commercial quality printing
Print size-9 x 8.7 x 8 in.
Downsides of Both
Form 1+ Cons: No 3D printer is perfect and while both of these models offer excellent printing quality, they both also have their downsides. The software (PreForm) for the Form 1+ has a few bugs that need to be worked out and in particular, it sometimes has trouble recognizing certain files or designs. It seems to an intermittent issue that is difficult to identify the source of.
Ultimaker 2 Cons: The software for the Ultimaker 2 is much smoother and does not have any apparent issues but the printing operation is relatively noisy. If you plan on using the 3D printer in the vicinity of others then this could create an issue as the noise level will be very noticeable in close proximity.
Final Verdict: Ultimaker 2 vs Formlabs Form 1+
Both printers have their good and not so good points but overall both offer high-quality 3D printing that leaves little to be desired. However, the fact that the Ultimaker 2 has a price point that is almost $800 (check pricing here) less makes it a better overall value compared to the Form 1+.
Bottom Line: I can recommend both models with confidence but if you want the most bang for your buck, then the Ultimaker gets my first vote.
Further read: