Latest posts by Jodie Chiffey
(see all)
Hundreds of new 3D printers hit the market every year, and as the technology they use continues to evolve rapidly, it can be challenging to know which type is best. Fortunately, this comprehensive 3D FDM printer review and guide is here to cut through the noise.
Whether you're new to 3D printing and want to learn what FDM is, or you're looking for some recommendations that'll really impress, you're in the right place.
I'll begin by giving an overview of FDM printing, explaining how it works and why it's used. I'll also touch on why it's so popular in the world of 3D printing.
Next, I'll cover the pros and cons of this particular type of printer before moving on to my three favorite FDM printers, each of which will be accompanied by an honest review.
To give you a complete overview of the 3D printing landscape, the final section of this article will discuss FDM alternatives such as SLA, along with their various strengths and weaknesses. Finally, I will draw direct comparisons between different methods before coming to a conclusion about which one is, in my opinion, the best.
Bottom Line Up Front: In my opinion, FDM printers are an excellent option for anyone just getting started with 3D printing or working with a tight budget. My favorite FDM printers that I'd highly recommend are the Creality Ender 4, the Prusa i3, and the Monoprice Maker Select V2.
FDM Printers: an Overview
FDM stands for fused deposition modeling, though it's sometimes referred to as fused filament fabrication or freeform fabrication.
These names all refer to the manufacturing process by which layers of material are fused together to make an object. This is the most popular method of 3D printing at the consumer level.
But how exactly does it work? First, let's go back to basics.
FDM printers typically extrude thermoplastics (for example, PLA or ABS) through a heated nozzle. The material must be heated just past its glass transition temperature to print successfully. One layer will then be added to the next, and so on until you have your desired object.
Interestingly, it isn't just thermoplastics that can be used in FDM printing. You can also use pastes, wood- or metal-infused thermoplastics, and even chocolate!
FDM printing is an excellent choice for relatively simple models and prototypes. It's the easiest method and also one of the most cost-effective, which is why many 3D printing enthusiasts opt for FDM printers when they first start out.
Types of FDM Printer
There are actually several different types of FDM printers, all of which fit into two primary categories, Cartesian and Delta.
Cartesian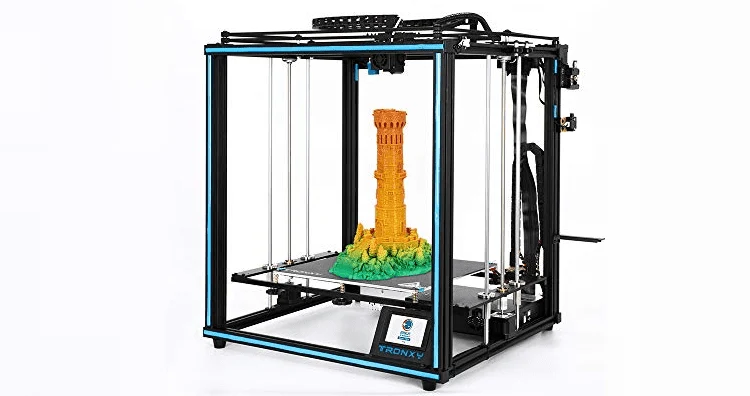 Cartesian 3D printers are your typical consumer go-to. They have right-angled frames, and they operate by linearly moving components along with the X-, Y- and Z- axes.
As you might have guessed, these printers also use Cartesian coordinates to map out where to print.
Pros
Easy to use
Cheap
Easy to fix
Extensive community support
Cons
Slow
Limited print height
Heavy
Delta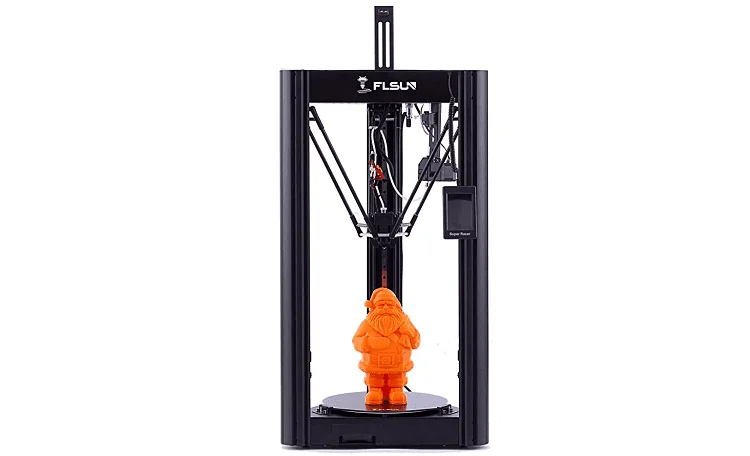 While Delta 3D printers also utilize Cartesian coordinates, they are mechanically unique from all other FDM printers. They operate using three or more arms that are attached to rails, and the printhead is connected to the end of each arm.
Pros
High quality
Fast
Can create tall prints
Cons
Small build volume
Less compatible with direct drive extrusion
Hard to fix
CoreXY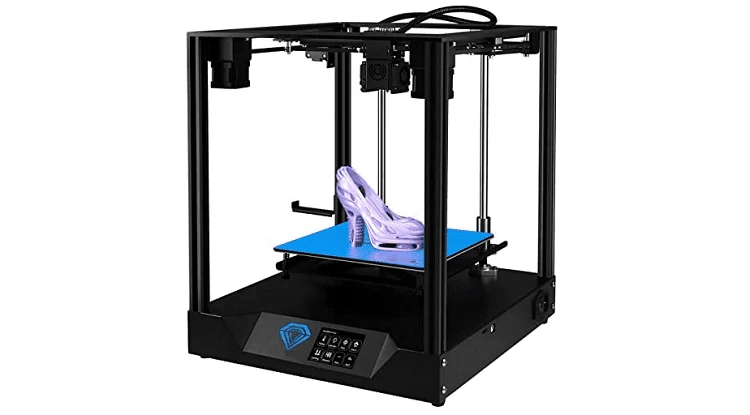 To print, CoreXY printers utilize a system of pulleys and belts. What makes them unique is their use of two stepper motors that control one belt each to position the print head.
A Z-axis motion system also moves the print bed up and down to achieve layers.
Pros
Stable
Lightweight
Minimal vibrations
Accurate
Large print space
Cons
Expensive
Inefficient
Risk of print failures
It needs a powerful controller board
Belt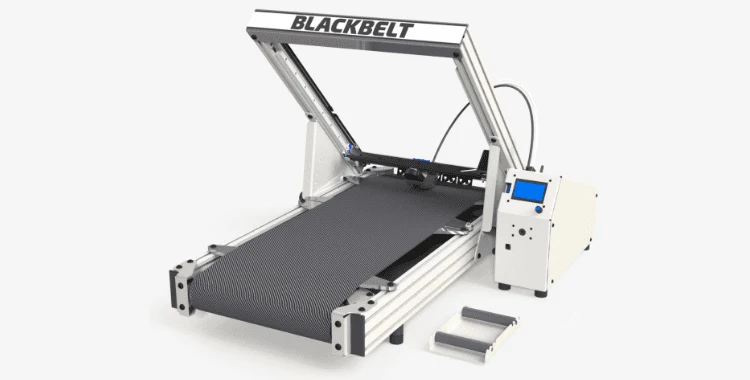 Belt printers are predominantly CoreXY printers with one of the top edges tilted downward and a conveyor belt below. Theoretically, this could produce an infinitely long print.
They have a partially heated bed and often include a tilted Z-axis.
Pros
Easy print removal
Effortless to use
Cons
Lack of community support
Slow
Polar FDM Printer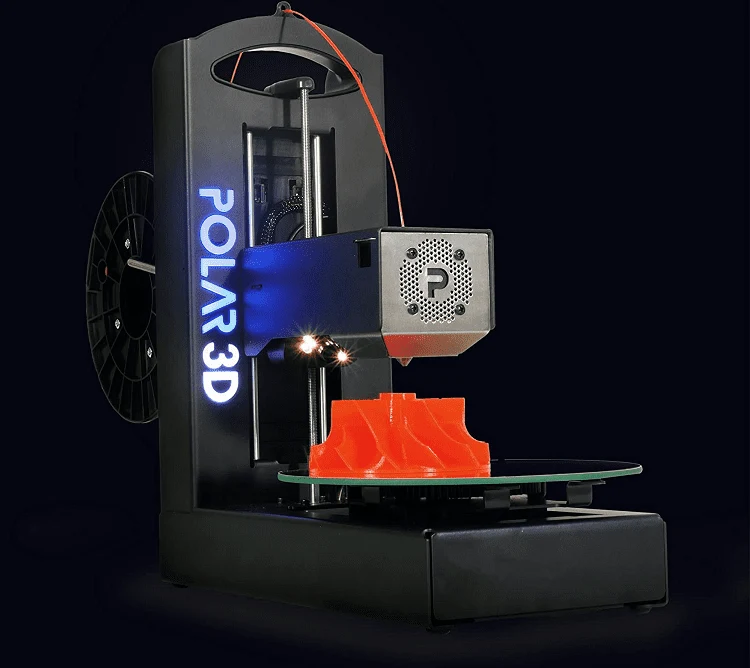 The most unusual type of FDM printer is Polar, which uses a Polar coordinate system that is circular rather than in a grid shape. They have been around since 2015 and usually consist of a curved arm that can swing outwards.
Pros
Cons
H-Bot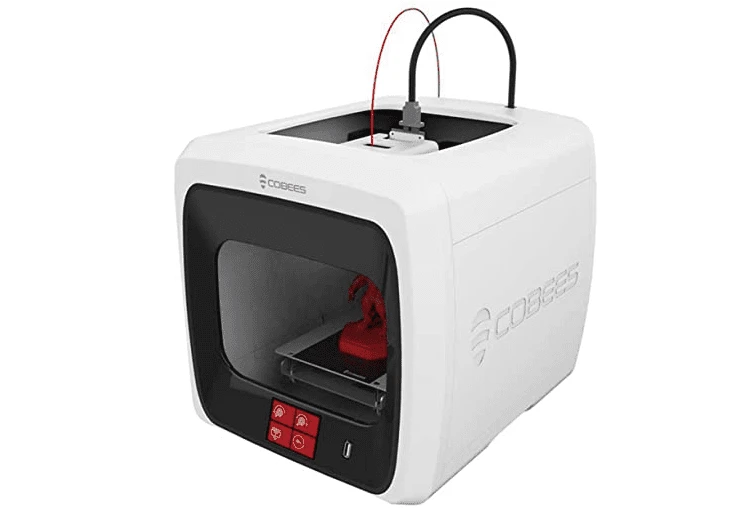 H-Bot printers come with a box-like design and use Cartesian coordinates. Typically, they use belts to move the printhead along the XY plane. The Z-axis is a built platform that begins next to the nozzle and moves downwards.
Pros
Stable
Large print space
Lightweight
Few vibrations
Pros of FDM Printing
Now that we've briefly covered the variations of FDM printers available, let's take a look at the pros of FDM printing more generally.
Affordable
It's no secret that 3D printing can be an expensive hobby, with some machines costing well over a thousand dollars…some even closer to five thousand. In this respect, FDM printers are an excellent choice because they're so affordable.
Many reputable companies with stellar reputations offer cheap FDM printers with excellent reviews. One such example is the Prusa i3.
Furthermore, the filament that is used in FDM printers is usually budget-friendly.
Scalable
No other type of 3D printer can be scaled quite as well as FDM printers can. The size of the build area is limited only by the movement of each gantry, but if you make these rails longer, you can print much bigger things.
Consequently, the cost-to-size ratio of FDM printers is constantly improving – they are getting more extensive and more affordable thanks to the availability of low-cost parts.
Easy to Use
FDM printers offer an excellent starting point for anyone new to the world of 3D printing. This is because their design and all of their components are so simple.
They're easy to get to grips with for beginners, and for more advanced users, they're pretty easy to modify. Hence, it isn't hard to see why FDM printers are popular among hobbyists.
Varied Filament Choice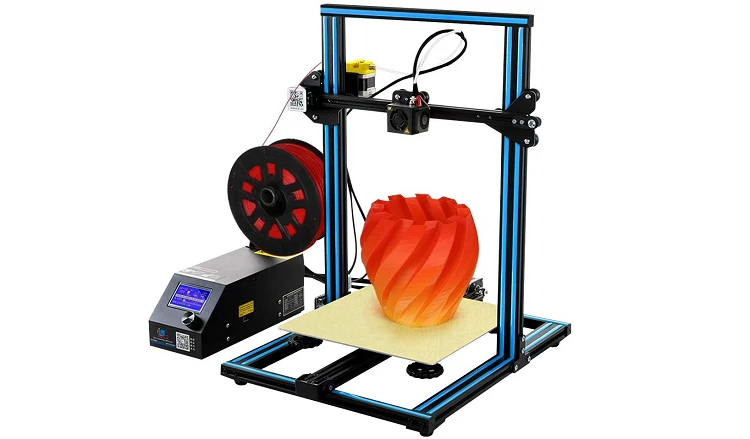 The last thing you want is to be restricted by the type of filament you can use in your printer. Fortunately, this isn't a problem with most FDM printers as they can be used with many different types of material.
These include:
PLA (Polylactic Acid)
PETG (Polyethylene Terephthalate Glycol)
ABS (Acrylonitrile Butadiene Styrene)
PET (Polyethylene Terephthalate)
Fast
Not only is it quick to get to grip with most FDA printers, but they are also able to print pretty quickly, meaning there's no waiting around, and you can be very productive.
Cons of FDM Printing
There are many great things about FDM printing, that's for sure. But, as with all things, it isn't without its downsides. Here are the cons you should be aware of.
Poor Print Quality
One of the major setbacks to FDM printing is the low-resolution print quality that this method produces. This is mainly due to the height of the printer and poor adhesion technology.
Fortunately, it's possible to eliminate the rough surfaces of a low-quality print with post-curing processes, but this adds another step and isn't ideal for long-term use.
Sometimes, the different layers that have been printed are visible on the finished product, and this low-resolution finish is bad news for experienced 3D printers who are looking for something of a higher quality.
Clogged Nozzle
This is a widespread issue in FDM printers, and it's also one of the most frustrating. As the nozzle layers the melted material, it sometimes begins to dry and prevents the nozzle from releasing any more filament.
Getting rid of these clogs can be both frustrating and time-consuming. Proper calibration can prevent clogs from occurring, but this might be difficult to achieve if you're working with a budget model.
Poor Layer Adhesion
Because FDM printers place one layer on top of another, they create a weak point which makes them unsuitable for specific applications. This is sometimes called layer shift. Unfortunately, it means that the objects printed by an FDM printer will break easily.
Difficult to Calibrate
FDM printers tend to need to be calibrated a lot more than some other types of 3D printers on the market. This is a time-consuming process and one that can be highly frustrating if you lack patience.
Many models come with automatic bed calibration, but this feature's rare to function correctly without any manual input.
Since it can be challenging to calibrate FDM printers, resulting in frequent nozzle clogs.
FDM Printers – My Recommendations
Here are three FDM printers I'd recommend.
Creality Ender 4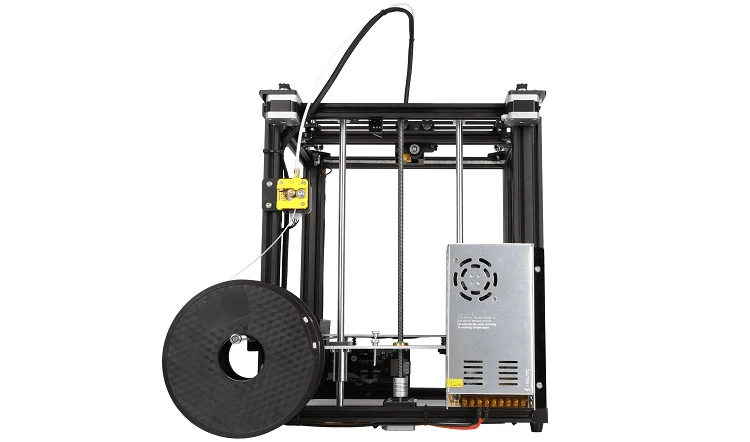 The Creality Ender 4 is an excellent budget choice for any 3D printing enthusiast, particularly those just learning the ropes.
| | |
| --- | --- |
| Build Area | 8.6" x 8.6" x 11.8" |
| Print Speed | 200 mm/s |
| Filament Types | PLA, ABS, FLEX, Wood PLA, Rubber (TPU), PETG |
| Layer Resolution | 50 microns |
| Extruders | 1 |
| Nozzle Diameter | 0.4 mm (adjustable to 0.2 – 0.8mm) |
| Price | Find the latest pricing here |
Creality is well known for its affordable 3D printers that still offer pretty good quality despite being available for under $500. In fact, one of the best things about purchasing a printer from this company is the excellent community support that's available online.
Though I'd primarily recommend the Ender 4 for beginners, it also offers ample features that will appeal to more seasoned hobbyists. For example, it's easy to modify, meaning you can change it to suit your needs as you progress.
Other pros include automatic bed-leveling and a large build volume.
While this is generally a good printer, you should also be aware that its H-Bot design can lead to excessive warping and misalignment over time.
Nevertheless, I think this is one of the best FDM 3D printers out there when it comes to value for money.
Prusa i3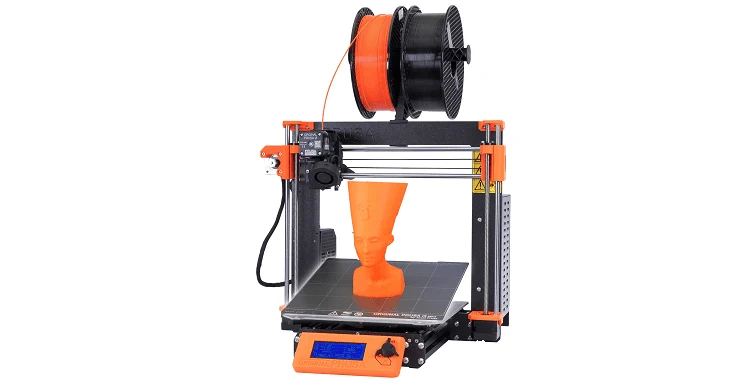 Few 3D printers have achieved as much hype as the Prusa i3, which first became available in 2017. In fact, it's still popular enough today to make it the standard for open source printers.
It's available either as a pre-assembled printer or a kit version that you put together yourself; both are popular options. Even as someone without much previous 3D printing experience, the latter is easy to do.
| | |
| --- | --- |
| Build Area | 9.8" x 8.3" x 8" |
| Print Speed | 200 mm/s |
| Filament Types | PLA, ASA, ABS, PETG, PC, Nylon |
| Layer Resolution | 50 microns |
| Extruders | 1 |
| Nozzle Diameter | 0.4 mm |
| Price | Find the latest pricing here |
The i3 boasts a durable frame, removable magnetic print bed, nine-point auto-calibration, and excellent build quality.
I love the fact that you have the option of buying the printer pre-assembled, so there's no need to waste time setting it up if you don't want to. As with the Ender 4, there are also loads of options for upgrades to make the printer better suited to your needs and preferences.
The only downsides are that the filament sensor doesn't work correctly with transparent filament and the bed adhesion is sometimes problematic. That being said, minor issues like this are expected in such a low price bracket.
Monoprice Maker Select V2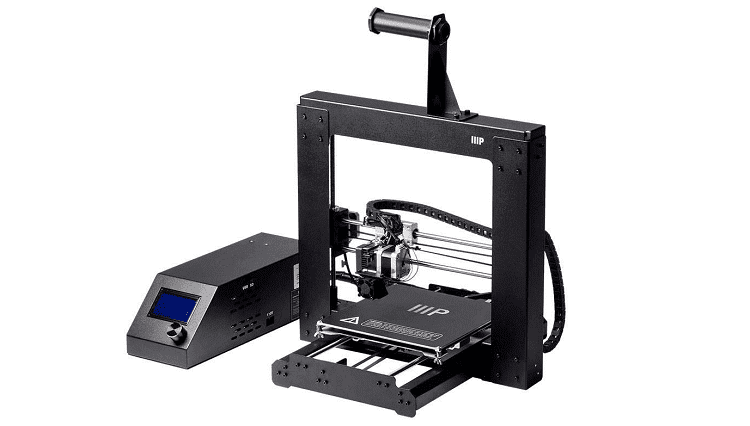 The Monoprice Maker Select V2 is one of my favorite affordable FDM printers primarily because it's such a great all-rounder. Whether you're a total beginner or a pro, there's plenty to love about this machine.
| | |
| --- | --- |
| Build Area | 7.9" x 7.9" x 7.1" |
| Print Speed | 100 mm/s |
| Filament Types | ABS, Conductive, Flexible Materials, HIPS, PLA, PVA, Wood |
| Layer Resolution | 100 microns |
| Extruders | 1 |
| Nozzle Diameter | 0.4 mm |
| Price | Find the latest pricing here |
Though it has a slower print speed than the other FDM printers I've included, it has better layer resolution, which makes all the difference in the quality of prints.
The Select V2 is open source – another strong advantage – and has USB port/SD card connectivity.
There's plenty of support available online – my only complaint would be about the external electronics unit that's bulky and seems awkward compared to the configuration of many other printers.
FDM Printer Alternatives
In this section, I will cover a few alternatives to FDM to help you decide which type of 3D printer is best for your needs.
Stereolithography
Stereolithography, also known as SLA, has always been a traditionally upmarket method of 3D printing, coming with a somewhat unattainable price tag for many.
However, there has been a fundamental shift in recent years, with many SLA printers becoming more affordable.
This process involves light-sensitive resin contained in the printer with a build plate that moves up and down. The resin solidifies when exposed to a specific wavelength of light (achieved by lasers).
Pros
Resin provides more support for designs
Can achieve finer details than FDM
Cons
Resin available in limited colors
Often restricted to manufacturer's resin
SLA Recommendation: Prusa SL1
The Prusa SL1 is my favorite SLA printer. It has a sturdy design, a motor tilted vat, fast print times, and a color touchscreen. Plus, it looks just as stunning as the prints that it produces. For more information, check out our full review.
Selective Laser Sintering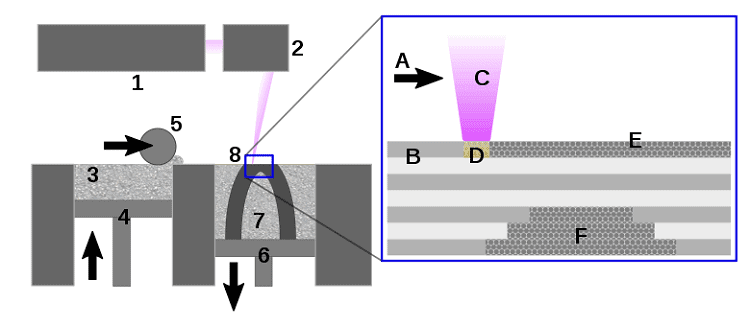 Selective laser sintering, also known as SLS, is a more rare type of 3D printing, primarily because it's so expensive. So if you're working with a tight budget, this method isn't for you!
It's similar to SLA in that it uses lasers to solidify the material. However, the material is a powder, and the lasers are high-energy as opposed to UV.
Pros
Provides complete support for the print so that the printer can handle almost any geometry.
It produces robust prints.
The powder can be messy.
Useful for real-world applications such as in medical settings.
Cons
Unfortunately, the price is too high for it to be feasible for many 3D printing enthusiasts.
SLS Recommendation: Red Rock 3D
Red Rock is a relatively obscure Russian 3D printing company, but the Red Rock nevertheless deserves a mention as one of the most impressive SLS options on the market.
A 5-inch touchscreen controls it, and the whole design is very visually appealing – it looks like the kind of printer that means business.
Frequently Asked Questions about FDM Printers
Question: Which Type of 3D Printer is the Most Affordable?
Answer: Generally speaking, FDM printers are the most affordable, and SLS printers are the least affordable. However, within each category, you will get printers that have been designed for different purposes and therefore have different price tags.
Question: What Materials Can You Use with FDM Printing?
Answer: This ultimately depends on the printer in question, but common materials include nylon, ABS, ASA, and PLA.
Question: Are There Any Other Types of 3D Printing?
Answer: Other types include selective laser melting (SLM) and binder jetting, but these are not very common and have not been included in this guide.
Question: What's the Difference Between 3D Printing and 4D Printing?
Answer: 4D printing is actually a type of 3D printing. However, whereas the products of 3D printing are static, 4D printed objects are programmed to move or change in some way.
FDM Printers – Final Thoughts
So, would I recommend FDM printers above other types of 3D printers? Well, as with so many things, it depends.
If you're relatively new to 3D printing and are still finding your feet, FDM printers really are a great starting point. Generally speaking, they're easy to use and pretty affordable.
Likewise, if you're on a tight budget, FDM printers are the best option.
Personally, though, my favorite type of printer is SLA. This is because SLA printers, though a bit more expensive, provide much higher quality outcomes. If you can afford one, I'd definitely recommend it.
Suggested reading: