Fusion3 F400 Review [2020]: Really Worth the Price Tag?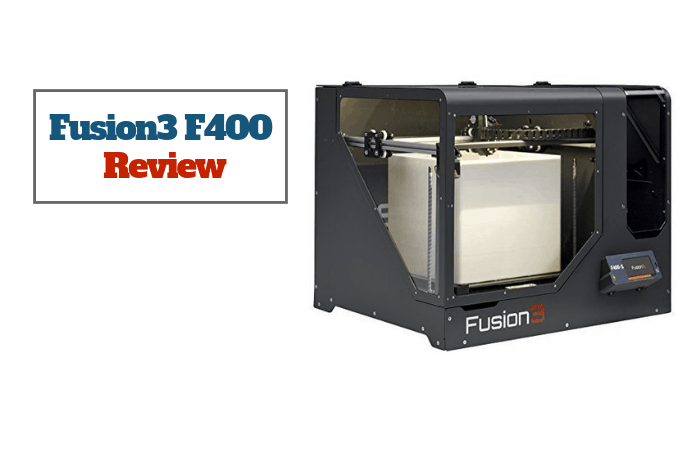 We all know how much the 3D printing industry changed over the last couple of years. We have been seeing the overall prices of the machines drastically drop. As well, we have seen the performance greatly increase. This is especially the case for desktop printers. But not so much for commercial printers.
If you are looking to get your hands on a high-performing 3D printer for your business, in the past you needed to pay upwards of $10,000. Not to mention the expensive filament, which is typically only good for one machine and one machine only. And the closed-source systems slow the advancement of the industry, thus keeping prices higher. The entry fees to bring 3D printing to your business typically outweighed the rewards.
Luckily, the days of expensive, commercial 3D printers are coming to an end. We are beginning to see a new trend of affordable industrial-grade 3D printers. This is great news for small businesses, entrepreneurs, and designers looking to incorporate the technology.
One of the printers leading this new push is the Fusion3 F400. This 3D printer embodies everything you see in an industrial grade printer – speed, precision, capability – and packs it in an affordable, easy-to-use machine. It has the look and feel of a desktop printer, but it is designed for the industrial world.
Fusion3 currently offers two different models of the F400, F400-S, and F400-HFR. The later is designed for higher speed production with a reduction in quality. For this particular review, we will be focusing on the F400-S. This model balance's print speed and print quality. So, let's dive into the good stuff.
Core Features of the F400-S
Key Specifications of the Fusion3 F400
Here are the key specs of the F400-S 3D printer:
Build Area

 

14"x14"x12.6"

 

Print Speed

 

250 mm/s

 

Filament Types

 

30+ types of filaments

 

Layer Resolution

 

20 – 300 microns

 

Extruders

 

1

 

Nozzle Diameter

 

0.4 mm

 

Open/Closed System

 

Open

 

Warranty

 

2 year

 

Our Score

 

/10

 

Price

 

$4,499

 
Pros of the F400-S
Cons of the F400-S
I'm not sure I can say anything negative about the F400-S, so I'll make some suggestions for what else I'd like to see.
Fusion3 F400 Alternatives
It can sometimes be hard to find the Fusion3 F400 in stock. It might also be a bit pricey for your budget. With this in mind, consider some of these alternatives:
Final Take – Industrial meets Desktop
Fusion3 has packed everything we always wished 3D printing companies would give us in one affordable, high-performing machine.
It beats the competition in almost every possible category. Price, performance, warrant, usability, parts and design, I mean just everything is lightyears ahead with the F400-S. It is a beautiful 3D printer that can outperform the most expensive printers on the market. And it does it all for a fraction of the price.
Whether you own a business, you are an educator, or for any other reason you want a 3D printer and can afford to pay for it, this is the 3D printer you need. It will not let you down. It will continually blow you away. Yes, I like the F400-S a lot.