The Peopoly Moai is a stereolithography apparatus (SLA) printer, which uses resins to create models, patterns, parts, and prototypes.
Simply put, it is a resin 3D printer. And to create a high-resolution three-dimensional product, it does its printing layer by layer.
The thing with SLA printers is that they are often more expensive than fused deposition modeling (FDM) printers. In fact, the Peopoly Moai costs more than $1,000, which is way more than the cost of some higher-end FDM printers.
Budget Pick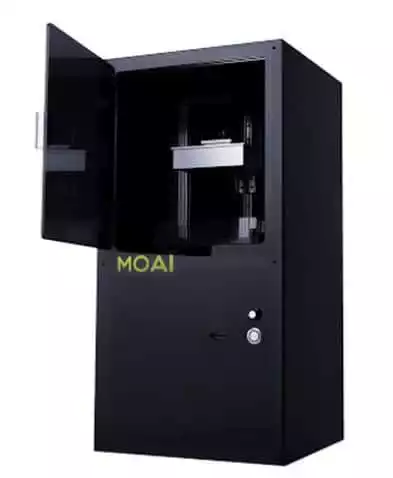 Peopoly Moai Laser SLA 3D Printer | Matter Hackers
The Moai SLA 3D printer is design for the type of filament needed for high quality dental molds. The advantage here is the relatively affordable price, compared to peers.
Check Price
We earn a commission if you click this link and make a purchase at no additional cost to you.
One thing that can describe the Peopoly Moai is that it's big. It stands around 26 inches tall and looks rather severe with its dark plastic casing. The front has the control dial, the small LED screen, and the power button.
When you open the door, you will find the 3D print area, which can create objects with dimensions of around 7 by 5.1 by 5.1 inches. This means that the Peopoly Moai can easily handle tall 3D prints.
The resin goes into the tray located at the bottom area of the printer. The resin printer trays cost around $50 to $60 and you will need to replace it once the 3D print degrades, which the manufacturer says is after you have used up around four liters of resin or so.
The print base is found just above the resin tray.
What Features Should You Expect from the Peopoly Moai?
The Peopoly Moai has a sizable build volume, measuring 5.1 by 5.1 by 7.1 inches. It also has a laser spot of about 70 microns, which means that you can get finer details. This 3D printer works with a wide variety of resins. This means that you can print anything using more expensive specialty resins or use more budget-friendly ones.
This 3D printer is also compatible with G-code. Moreover, you can use Cura and other slicing programs that you are already familiar with.
The Peopoly Moai is also compatible with just about any resin that you have. The company sells its own resins, but you can use products from other manufacturers.
When it comes to printing, you can get layers that are as thin as five microns, depending on the resin that you use.
Should You Buy the Pre-Built or the Kit?
The Peopoly Moai comes in three different versions. The original costs around $1,400
There's also the Moai 130 that comes in two flavors: Kit and Assembled. The Kit costs around $1,500 while the Assembled version costs around $1,600 (check MatterHackers here for the latest). The kit needs to be assembled: it's easy to do so, but it can take a lot of time.
What are the Differences Between the Original Moai and the Moai 130?
Looking at both printers side by side, you will see that nothing much has changed with the Peopoly Moai 130. It's still the same big and black printer. But inside, you will find that there are now better pieces of hardware. For instance, the Moai 130 has a new print plate that is very easy to level, unlike the aluminum block that came with the original.
You also have the FEP resin vat that means your print quality degrades over a longer period of time. You have to clean it less frequently, as well. The newer Moai model also has an LED UV lamp and a heater block.
in short, the Moai 130 tries to correct everything that people complained about in the original Moai. No more tedious leveling and you don't need to pay it as much attention as before.
What You Would Like About the Peopoly Moai
The biggest draw of the Peopoly Moai is the low cost. It's one of the most affordable SLA printers out there and it delivers quality prints as long as you know what you're doing. What's more, you can get support from an active community of users.
If you're an old-timer in 3D printing, you will certainly like the level of control that the Peopoly Moai gives you. You can change the settings to control every aspect of printing.
Peopoly Moai Pros and Cons
Peopoly Moai Pros
Solid and sturdy
Easy to assemble
Excellent support materials and guides
Compatible with third-party resins and software
Elegant look
Outstanding print quality with minimal post-processing work
What Can Be Better
The package doesn't include any resin, so you will have to buy them separately. But more than that, this 3D printer is not for beginners. Just preparing the 3D models is enough to confuse you if you don't have experience printing 3D models. It also doesn't have network connectivity and doesn't allow you to hook up any USB connections. You will need to use a USB card to load your files.
There is also no software or web camera to monitor your printing progress. Instead, you need to open the door to see if your print is done. However, Peopoly does give you a list of software that are compatible with their product, including Meshmixer and Cura.
Peopoly Moai Cons
Printing jobs can be messy
Leveling the bed can be a bit maddening
There is no air filter
The Bottom Line: Peopoly Moai
The Peopoly Moai may look like an introductory SLA 3D printer because of its simple and no-frills design and its relatively easy operation. But there are certain things about the Peopoly Moai that are not ideal for beginners.
For one, you will have to do a lot of tweaking in its settings and controls for you to get the best quality of 3D prints. And with the higher costs associated with SLA printers, trial and error with your prints should be at a minimum.
What's more, this printer has no complementary washing station and there isn't any guideline for how to deal with the mess of the SLA 3D prints. There is also no official Peopoly Moai software solution you can use for preparing 3D models for slicing.
However, the Peopoly Moai is pitched as an ideal machine for those who love to experiment on their 3D prints, given its flexibility and its ability to accept third-party resins. Users can use the Peopoly Moai to build their knowledge base on it.
Peopoly Moai users also contend that the main issue does not pertain to the printer itself but lies more in the learning curve if SLA technology. The printer offers joy in its design and in the products you get to create with it. As long as you have no qualms about getting your hands dirty, the Peopoly Moai may very well be the finest piece of equipment you can get in your foray into SLA 3D printing.
Frequently Asked Questions
We will try to answer some of the questions that people ask when it comes to SLA printers.
1. SLA vs FDM Printers: What is the Difference?
You may also want to know the difference between an SLA printer and an FDM printer before making the decision to get the Peopoly Moai. Knowing this should give you an understanding of how the Peopoly Moai differs from FDM 3D printers available today.
Materials and Colors
The main difference between an SLA printer and an FDM printer is the materials and colors they use. While an SLA printer uses resins, an FDM printer uses filaments that are made of plastic, nylon, and other materials and specialty products. An FDM printer creates a model or object by melting the filament and pushing it out of its extruders layer by layer.
While filaments are available in a variety of colors, depending on what you need and prefer, the color options for resins are very limited. Moreover, most SLA printers would require you to exclusively use resins from the same manufacturer. So, generally speaking, if a particular SLA printer manufacturer only makes white, gray, black, and clear resins, then you can only print objects in any of these colors.
Printing Precision
If you want to print a 3D object with minute details using an FDM printer, you primarily consider two things: the size of the printer's nozzle and the accuracy of its X/Y axis movements. If you are using an SLA printer, you consider the optical spot size.
So which of the two printers generally deliver finer and more accurate 3D prints? An SLA printer delivers a smoother and more accurate output than an FDM printer. This is because an SLA printer's resolutions rely on the size of the optical spot and less force is applied on the object while being printed.
Post-Print Processing
With an FDM printer, the printed objects are easy to remove. But with an SLA printer, removing the 3D prints can be a cumbersome task. It can also be rather messy, with a lot of resin left on the platform.
FDM and SLA printers also differ in the post-print processing they require. For objects printed using an FDM printer, you will need to remove the supports and all the excess plastic. You will also need to do some sanding for a smoother finished product.
Meanwhile, models created using an SLA printer need to be cleaned and cured. You will need to soak them in a cleaning solution, usually isopropyl alcohol, to get rid of any residue. Some people even use an ultrasonic cleaner. After the cleaning, you will have to cure the resin using a high wavelength UV light (UV resin light).
Cost
Over time, FDM printers are less costly. Aside from the fact that SLA printers are pricier than FDM printers, the materials you'll need for FDM printing are also not as costly. In fact, you can get filament for less than $30 per kilogram.
With SLA printers, on the other hand, you will have to stock up on resin, which is already rather pricey. Moreover, you will also need to change the resin tank after you use up two to three liters of resin.
Budget Pick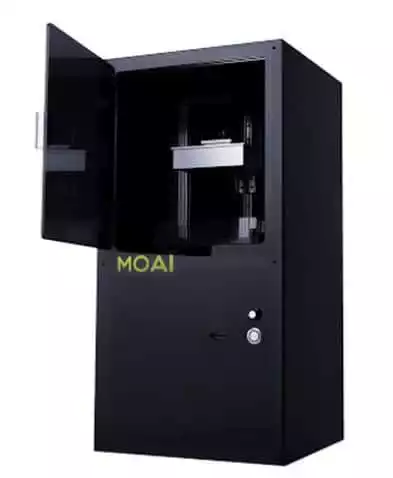 Peopoly Moai Laser SLA 3D Printer | Matter Hackers
The Moai SLA 3D printer is design for the type of filament needed for high quality dental molds. The advantage here is the relatively affordable price, compared to peers.
Check Price
We earn a commission if you click this link and make a purchase at no additional cost to you.
2. How Does an SLA Printer Work?
Before we go into the things you need to know about the Peopoly Moai, let's get one thing out of the way first: How does an SLA printer work?
An SLA 3D printer is equipped with an ultraviolet laser that hardens liquid resin contained in a reservoir to form your desired 3D shape. In other words, the printing process involves converting photosensitive liquid into a solid, three-dimensional plastic shape layer by layer using low-power laser and photopolymerization.
As the printer finishes one layer, if lifts the model to allow more resin to come in. It will then zap the new layer of resin with its UV laser.
3. When does it make sense to use an SLA printer?
If you are currently using FDM printers and you are thinking about trying out resin printing, here are some things that you should know:
If you are going for a budget SLA printer, then you should know that you are probably going to be limited to smaller build volumes.
SLA printing can be very messy.
SLA printing has more consumables.
Resin printing makes sense if you need to print in batches because cleanup is required after every print, no matter how big or small the job is.
When you consider resin printing, you should be aware that there are hidden costs to it. Unlike FDM prints where you only worry about the filaments, resin printing involves more than just the printer price and the price of a bottle of resin. Nevertheless, one of the best reasons why you should go for SLA printing is because the prints just look great.
Peopoly Moai Alternatives and Close Competitors
If you would like to explore your other options, here are a few alternatives to the Peopoly Moai that you might want to check out:
The Sonic Mini from Taiwanese manufacturer Phrozen is a budget resin 3D printer, launching at around $200. It is an LCD-based Masked Stereolithography (MSLA) printer. This professional high-speed machine can print models as fast as five centimeters per hour given optimal conditions.
Users love how this printer is easy to set up and a breeze to use. The Phrozen Sonic Mini is also touted for its LCD panel's ability to allow much more light through than that of other budget resin printers. As a result, it is able to cure a layer of resin in less than two seconds.
The print resolution is not as good as that of its competitors, but users would argue that the print quality is not so bad. In fact, considering that it prints fast and it is a cheap printer, they would say that the quality of the print is better than expected.
The Sonic Mini runs on an off-the-shelf ChiTu board and you can prepare the model using the user-friendly ChiTuBox software.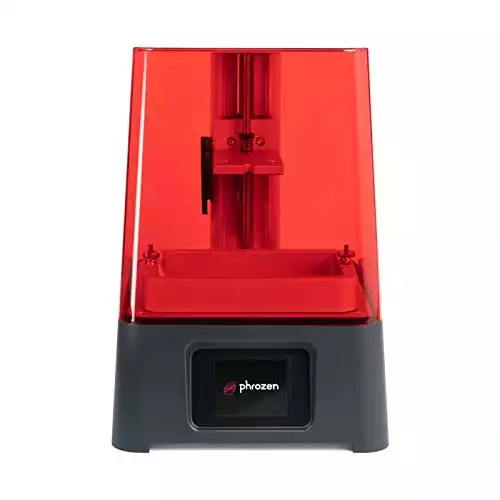 Phrozen Sonic Mini vs Peopoly Moai
The Sonic Mini is much cheaper than the Peopoly Moai, but it also has a lower print resolution. It does, however, print faster. Moreover, just like with the Peopoly Moai, you are able to use resin from third-party suppliers with the Sonic Mini.
Phrozen Sonic Mini: Pros
Affordable
Easy to set up and user-friendly
Fast printing
Phrozen Sonic Mini: Cons
Smaller than the average build volume
Slight resolution hit
Obscured USB input
Formlabs Form 3 is the ideal printer for printing small batches of excellent-quality, high-detailed prototypes. This printer introduces Low Force Stereolithography 3D printing to the desktop and offers the perfect balance between speed and detail, as well as reliability and high repeatability.
Moreover, the Form 3 boasts a custom-designed Light Processing Unit inside, as well as a compact system of integrated mirrors and lenses to consistently produce accurate prints. The printer's updated optical system features a dense and precise laser spot that also contributes to easy clean-up after printing and smoother parts for the 3D prints with tear-away light-touch supports.
The Form 3 does not need specialized training to operate. You can plug it and print it right out of the box. It also has user-replaceable components and, with a streamlined cartridge system, you can switch between materials in just a matter of seconds.
Additionally, the Form 3 is complemented by easy-to-use software. Not to mention Formlabs' post-processing tools: the Form Wash and Form Cure stations. The combination of all these tools allows you to handle a particular print job one-handed and with as less input and less contact with resin as possible – from the preparation stage to washing and curing.
However, while the Form 3 sounds like a dream, it comes with its own share of faults. For one, dust and particles accumulate on the LPU's glass window and block the light paths rather too soon. Another issue pertains to its disposable resin vats, which tend to wear out very quickly, as well.
Formlabs Form 3 vs Peopoly Moai
A traditional SLA setup like that of the Peopoly Moai uses a stationary laser to trace the model into the resin, with its beam directed by a pair of mirror-toting galvanometers.
However, the Form 3's LFS bounces the laser beam through an extended path – through a chain of a single galvanometer, mirror, and parabolic mirror – while rowing the laser module back and forth along the print's X-axis.
This extended path for the laser beam ensures that it can hit the resin perpendicular to a point on the print plate and this ensures print scalability and consistent edge-to-edge quality.
The Form 3 may be way more expensive than the Peopoly Moai, with prices ranging from $3500 to $9700, but it offers industrial prints at a price that is still a fraction of the price of traditional industrial printers.
Formlabs Form 3: Pros
Speedy printing without compromising print quality
Very accurate prints, with smooth surfaces and sharp details
One-click printing
Compatible software and post-processing tools from the same manufacturer
Formlabs Form 3: Cons
Early issues with dust collected in the laser unit
Wasteful resin cartridges
Can only use Formlabs resin
Absence of "off" button
With a price tag of around $390, the Creality Ender 5 Pro is another 3D printer under $500. However, it is an FDM 3D printer, so you can really expect it to be more affordable and budget-friendly than most SLA machines.
The Creality Ender 5 Pro carries the same specs and looks as its predecessor, the Creality Ender 5, but with upgraded features. For one, this 3D printer has a large metal extruder frame and an expanded build volume. The frame allows it to provide stronger pressure while pushing the melted filament through the printer's nozzle. It also works more quietly and has an improved filament tubing that produces a smoother printing output.
This printer has a 260 degrees Centigrade nozzle temperature, making it compatible with various filaments. In terms of output quality, the Ender 5 Pro can print shapes with a 100-micron resolution.
Like the Creality Ender 5 before it, the Ender 5 Pro is a relatively easy-to-build do-it-yourself kit with pre-assembled axes. All you need to do is just attach the Z-axis to the base, plug the printer in, and be ready to print. The assembly required for the Ender 5 Pro takes less than an hour to finish.
Moreover, the Ender 5 Pro's X- and Y-axis measurements are the same as its predecessor, but it has more print area on the Z-axis. Its double Y-axis control system is also a unique feature. Its Y-axis motor directs both sides of the gantry to simultaneously create a smoother movement and reduce any potential vibrations that may create flaws in your printed models.
Additionally, the Creality Ender 5 Pro has a flexible and detachable magnetic print bed that allows you to easily remove prints. This print bed is self-adhesive and can, therefore, be quickly mounted back onto the build plate (build platform).
Overall, the Ender 5 Pro is a solid and reliable printer that is able to quietly print smooth objects with fine details. You would also love how it has a power supply protection device, wherein it would stop then resume its printing function in case of a sudden power interruption.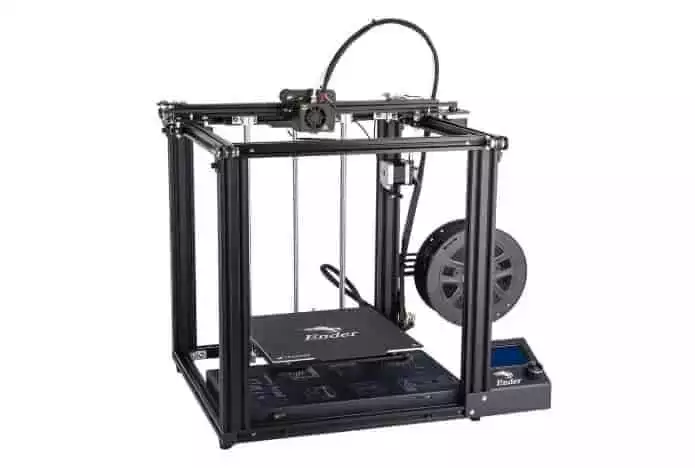 Ender 5 Pro 3D Printer | Creality3D
The Ender 5 3D printer is a very well-designed device, with faster printer, and more build volume than it's predecessors. If you can afford it, it's worth the additional investment long term.
Check Price
Buy at Amazon.com
We earn a commission if you click this link and make a purchase at no additional cost to you.
Creality Ender 5 Pro vs Peopoly Moai
It may be hard to compare these two 3D printers as they have different printing technologies. The Ender 5 Pro is an FDM printer that uses filaments while the Peopoly is an SLA printer that uses resin. However, both are affordable for a printer under their respective categories, and both of them offer solid print quality.
The Ender 5 Pro also has a significantly larger build volume than the Peopoly Moai at 220 x 220 x 300 millimeters versus the latter's 130 x 130 x 180 millimeters. And because the Peopoly Moai does not have its own proprietary software, you may use ones that are also compatible with the Ender 5 Pro, such as Cura and Simplify3D.
Creality Ender 5 Pro: Pros
Budget-friendly
Reliable
Solid print quality
Super quiet printing
Game-changing Capricorn Bowden tube
Power supply protection device
Power and micro USB slots are located at the front
Creality Ender 5 Pro: Cons
Flimsy magnetic bed
Wires can drag on the build plate
Bed leveling is tricky
No runout sensor for filament
Should You Buy the Peopoly Moai?
For those who already know the basics of 3D printing, the Peopoly Moai resin is a great tool to invest in. With this printer, you can get 3D shapes with excellent quality. And while it is significantly pricier than any comparable FDM printer, it has an entry-level price for an SLA printer.
In a nutshell, getting the Peopoly Moai is really a question of preference. If you are looking for something that is easier on your budget, then get an FDM printer such as Creality Ender 5. If better quality prints are your priority, then get an SLA 3D printer such as Formlabs Form 3. And if you want an SLA printer that is not too steeply-priced, then go for the Peopoly Moai.
Budget Pick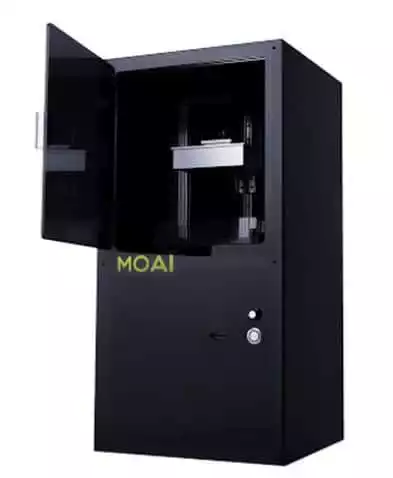 Peopoly Moai Laser SLA 3D Printer | Matter Hackers
The Moai SLA 3D printer is design for the type of filament needed for high quality dental molds. The advantage here is the relatively affordable price, compared to peers.
Check Price
We earn a commission if you click this link and make a purchase at no additional cost to you.
Further Reading on 3D Printing & Printer Model Evaluations: